Bellator 88: Alexander Shlemenko vs. Maiquel Falcao Play-by-Play & Live Results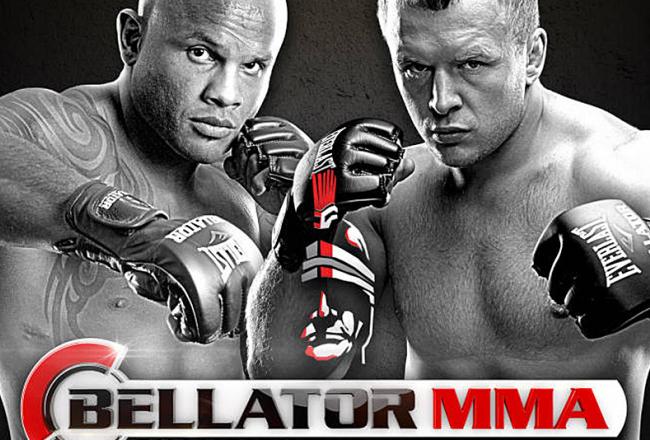 Photo Credit: Bellator MMA

Bellator MMA has all eyes on their middleweight championship, and we're here at Bleacher Report MMA to give you the live results of each fight on the card.
In the headliner for Bellator 88 on SPIKE tonight, two 185-pound tournament finalists and top world-ranked fighters will finally meet in the cage, as seasoned Russian veteran Alexander Shlemenko faces off against one-time UFC talent Maiquel Falcao.
This card also features three bouts in the Season 8 featherweight tournament, as Marlon Sandro, Akop Stepanyan, Fabricio Guerreiro, Magomedrasul Khasbulaev, Mitch Jackson and Mike Richman each compete to move one step closer to challenging 145-pound champion Pat Curran.
Full Results:
Bellator 88 Main Card (SPIKE)
[Middleweight Title Fight]
• Alexander Shlemenko (47-7) def. Maiquel Falcao (31-5-0-1) via TKO (Body Kick & Punches), Round 2 (2:18)
• Marlon Sandro (24-4) def. Akop Stepanyan (12-5) via Majority Decision
• Mike Richman (14-2) def. Mitch Jackson (19-3) via TKO (Head Kick & Punches), Round 1 (4:57)
• Alexandre Bezerra (15-2) def. Genair da Silva (13-5) via Submission (Armbar), Round 1 (1:40)
Bellator 88 Preliminary Card (SPIKE.com)
• Magomedrasul Khasbulaev (19-5) def. Fabricio Guerreiro (17-2-0-1) via Submission (Arm Triangle, Round 2 (1:15)
• Joe Elmore (6-5) def. Jerrid Burke (5-2), Round 2 (4:11)
• Ronnie Rogers (14-10) def. Shane Crenshaw (5-2) via Unanimous Decision
• Clay Harvison (10-5) def. Ururahy Rodrigues (5-5) via TKO (Knee & Punches), Round 3 (3:34)
• George Hickman (4-1) def. Stephen Upchurch (2-2) via Submission (Rear-Naked Choke), Round 1 (2:29)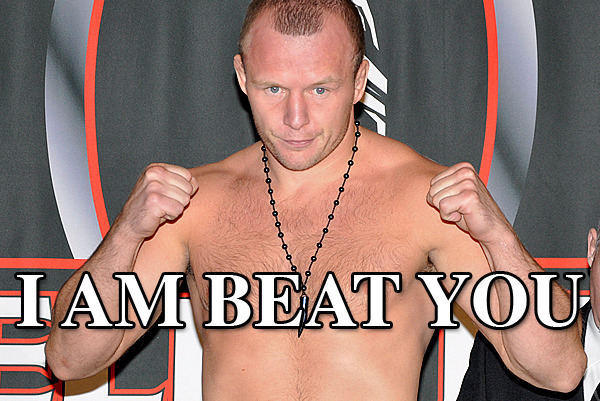 There you have it!
Bellator has a new middleweight champion, and I can't wait to see him again.
"I am beat you" - Alexander Shlemenko — Gary LaPlante (@GaryLaplante) February 8, 2013
"I am champion of Bellator. I am face of Bellator now. Who wants belt. Come in cage. I will beat you." - Alexander Shlemenko. — Josh Gross (@JoshGrossESPN) February 8, 2013
BEST.
POST-FIGHT INTERVIEW.
EVER.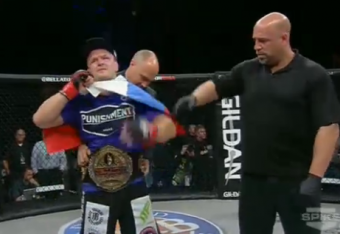 Middleweight Title Fight:
Alexander Shlemenko (47-7) def. Maiquel Falcao (31-5-0-1) via TKO (Body Kick & Punches), Round 2 (2:18)
Whole finish to that fight was brilliant. Shlemenko hits Falcao to the mat with a body kick, drops him with a short right punch, and a winded Falcao couldn't get back up.
After Falcao fell over, Shlemenko shrugged and dived on him with ground-and-pound punches.
Falcao had no answer, and he promptly went to sleep.
That was efficient, methodical and chilling work from Shlemenko. That title's well earned.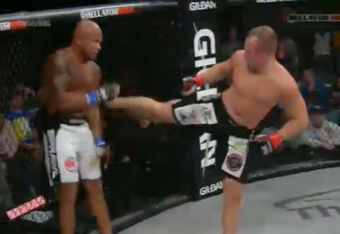 Middleweight Title Fight:
Alexander Shlemenko (46-7) vs. Maiquel Falcao (31-4-0-1)
Round 2 - Falcao lands some kicks, and Shlemenko answers right back. Falcao presses the issue with some more strikes, and Shlemenko presses him against the cage with a kick.
Falcao gets superior position on the fence, and they clinch. Shlemenko keeping it close on purpose, and he hits Falcao with some hooks. Falcao lands a jab, and Shlemenko counters. Falcao grabs a leg, and Shlemenko clinches while throwing knees.
Shlemenko drops Falcao with a side kick! OH OH! BIG PUNCHES and Shlemenko wins!
That was POWERFUL. Falcao is still out!
Middleweight Title Fight:
Alexander Shlemenko (46-7) vs. Maiquel Falcao (31-4-0-1)
Round 1 - Both men touch gloves. This should be good. Shlemenko ties up a bit, and Falcao backs him up with punches and knees. Falcao gets Shlemenko's back and takes him down briefly.
Shlemenko being pressed against the cage fence and he eats a few punches. Falcao with a quick punch over the top, and he's looking a lot faster than Shlemenko.
Shlemenko eating kicks and punches as Falcao whips out several strikes. Shlemenko gets in close and trips Falcao to the mat.
Shlemenko doesn't do anything on the mat, and they get stood up. Shlemenko lands a nice body punch. Falcao with a kick, and Shlemenko fires back with looping hooks.
Falcao presses Shlemenko to the fence and they grapple for position as Falcao tries to take Shlemenko's back. Falcao attempts a throw, but Shlemenko ends up on top and they grapple against the cage fence on the feet.
Shlemenko backs Falcao off the cage, then turns around and holds him against the fence. Not much striking going on, and there's a smattering of boos as the round ends. Not much to score. Slight 10-9 advantage to Falcao in Round 1.
Holy God. Sherdog says Schlemenko is just 28 years old but he looks at least 50. Man Siberia must age a man. — Jonathan Snowden (@mmaencyclopedia) February 8, 2013
Shlemenko vs Falcao is one of the greatest middleweight fights you will ever see outside of UFC. Impossible not to enjoy this one. #Bellator — MiddleEasy (@MiddleEasy) February 8, 2013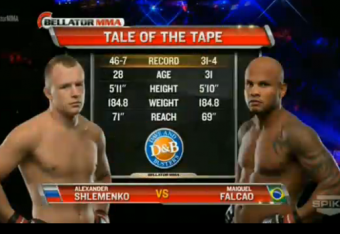 OK, Bellator Middleweight Championship on the line next.
If most of you have seen Maiquel Falcao in action, he got cut from the UFC for winning a fight in the first two rounds and purposely coasting in the third without doing anything.
Alexander Shlemenko is the favorite here, and he should be.
Wait, is Shlemenko walking out to Nightwish? Whatever it is, I like it.
That decision was horrific.Marlon Sandro is garbage. — Bauzen (@Bauzen) February 8, 2013
The Unified Rules say "When round is over, the referee shall assess the foul and notifyboth corners, the judges and official scorekeeper" — Jonathan Snowden (@mmaencyclopedia) February 8, 2013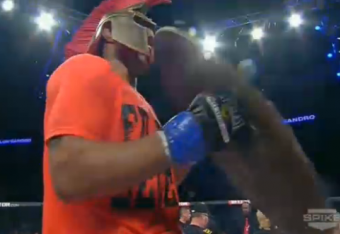 Featherweight Bout:
Result: Marlon Sandro (24-4) def. Akop Stepanyan (12-5) via Majority Decision
Wow.
Don't agree with that at all. Only one judge called it a draw, and the other two gave it to Sandro.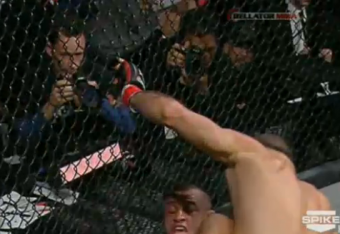 Featherweight Bout:
Marlon Sandro (23-4) vs. Akop Stepanyan (12-4)
Round 3 - Whoa, the referee took a point off from Stepanyan before the round started. Good call, but weird timing.
Sandro gets a takedown on Stepanyan, and he goes into Stepanyan's guard. Stepanyan tries to control Sandro's head and tie him up. Sandro is landing elbows and short punches to the torso and thighs, and the referee is taking a close look. Both men get stood up.
Stepanyan throws a side kick from the reset, and Sandro takes him down off a missed spinning kick. That's a good tactic, and could win him the fight.
Stepanyan stuck on the bottom, and Sandro is going his best to not get tied up. Sandro thudding away with body punches, and they sound pretty heavy. Stepanyan gets a short slam. Another short slam, but Stepanyan's closed guard isn't breaking. Another two short slams and Sandro lifts both their bodies.
Stepanyan opens up his guard and Sandro postures up a bit with ground-and-pound. This is close.
Round winds down to an end as Sandro punches away from the top. Stepanyan can't do anything, and the crowd boos to the final bell. Hmm. With the point deduction, that could be a 28-28 draw.
Featherweight Bout:
Marlon Sandro (23-4) vs. Akop Stepanyan (12-4)
Round 2 - Stepanyan is all over Sandro with punches and big, whipping kicks. One eventually catches Sandro behind the ear, and he's on shaky legs.
Stepanyan tries to follow up with punches, but Sandro regains his senses and fires back enough to get Stepanyan off him. Stepanyan whips out a kick, Sandro catches the leg and tries to trip takedown, but Stepanyan lands right on top of him.
Some brief top position from Stepanyan, but he steps up and stalks Sandro. After a matter of seconds, Sandro gets to his feet, but Stepanyan isn't backing up.
More kicks, and Sandro is only blocking. Stepanyan stuffs a takedown. Stepanyan with his hands pretty low, and another thudding body kick. There's a HUGE impact with every single one. Sandro eats a punch and he's starting to bruise up. Sandro attempts a takedown and Stepanyan ends up on top after grabbing the cage, again.
Not sure if the referee will take off a point between rounds. Regardless, that puts Stepanyan up 20-18.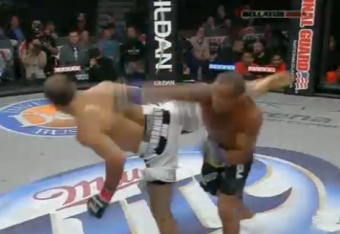 Featherweight Bout:
Marlon Sandro (23-4) vs. Akop Stepanyan (12-4)
Round 1 - Both fighters strike and circle, with Stepanyan striking a little more than Sandro. Stepanyan is whipping out kicks and they're pretty loud.
Sandro diving on takedowns, and Stepanyan is grabbing fistfuls of the fence to stop it. It's blatant enough the referee warns he'll dock points next time he catches it.
Stepanyan is hitting spinning back-kicks all over the place and Sandro misses one of his own.
Stepanyan lands a body kick and Sandro is seeming pensive.
Sandro hits a right hand, but ate a big spinning kick from Stepanyan just before. Sandro tries a takedown and Stepanyan gives up his back.
Sandro gets the takedown, but can't do anything with it before the round ends—10-9 for Stepanyan in Round 1.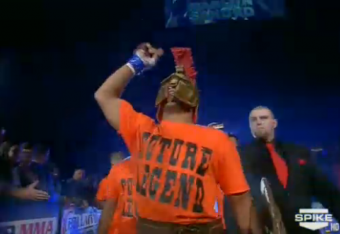 Marlon Sandro walks out to the theme from Gladiator.
Like a total BOSS.
yo spike tv. you got yall fake fightin mixed in with the god's real fightin. get the fuck outta here son. — GFKonMMA (@GFKonMMA) February 8, 2013
Marlon Sandro vs. Akop Stepanyan is next.
Video packages for both men.
Akop Stepanyan talks about losing three straight fights and being nearly homeless in Russia with hardly any food left to eat. Thankfully, he hit a 12-fight winning streak and turned his career around.
Marlon Sandro talks about losing his first two Bellator featherweight tournaments and "choking on his tears." Says that the love of his children and God can push him be a champion.
So, in this year alone, Dwayne "The Rock" Johnson is starring in G.I. Joe: Retaliation, Fast and Furious 6, Pain & Gain, Snitch and Empire State.
And he's also doing WrestleMania, which should accrue about a bajillion PPV buys if everyone who sees any of these movies buys that show this year.
Thus far, the Bellator 88 main card is approximately 7374862855897568745% better than the Bellator 88 undercard. — Robert Sargent (@MMARising) February 8, 2013
Yeah, I don't think Dixie Carter watches Bellator MMA at all.
Nice try, though.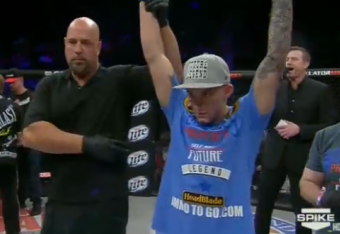 Featherweight Bout:
Result: Mike Richman (14-2) def. Mitch Jackson (19-3) via TKO (Head Kick & Punches), Round 1 (4:57)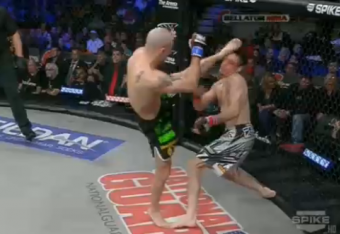 Featherweight Bout:
Mitch Jackson (19-2) vs. Mike Richman (13-2)
Round 1 - Huh. Fight records say that Jackson has 19 wins, but Bellator says 20 wins.
Dan Mirgliotta is the referee here, but he's been on-point tonight (so far). Jackson and Richman feel out the distance with probing jabs and Jackson fails a far takedown attempt.
Richman backs him off, but Jackson hits a punch-and-kick combination to keep him wary.
Richman drops Jackson with a right hook, but Jackson recovers quickly. Richman with another hook, and he catches a weak takedown attempt from Jackson. It looks like Jackson's cut over his right eye. Richman drops Jackson again with a left punch.
Uh-oh! Jackson gets dropped again with another short punch and Richman dives on top of him. Richman trying to create space for some ground-and-pound, but he may not get the chance. Richman hitting Jackson with thudding shots, but they get stood up by the referee.
Jackson tries another takedown attempt, but Richman fields it without much trouble. Richman blocks a head kick and takes control of the center of the cage. OH WOW! Richman clocked Jackson HARD with a well-timed head kick of his own!
Brutal.
Richman followed up with uppercuts and Jackson went OUT.
OK, we've got Mitch Jackson vs. Mike Richman next.
Bellator shows a small video package for each fighter.
Jackson is a long-time veteran getting his big break after pushing a seven-fight winning streak on the regional circuit.
Richman's video package focuses on deceased parents. Poor guy's an orphan. Dad died in an unsolved murder. Mother died in a car crash shortly after.
This article is
What is the duplicate article?
Why is this article offensive?
Where is this article plagiarized from?
Why is this article poorly edited?