Kentucky Basketball: Ranking the Wildcats' Most Exciting Players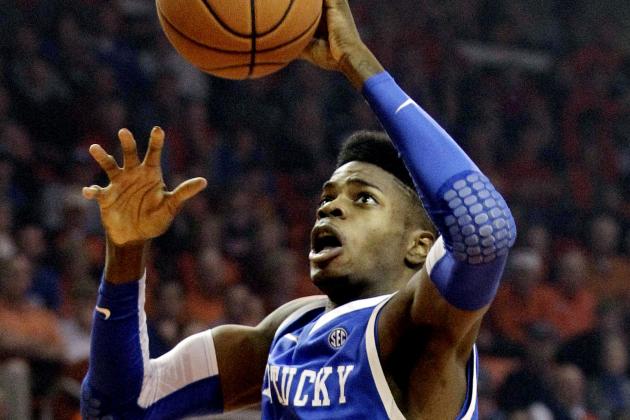 John Reed-USA TODAY Sports

When describing the 2012-13 season for the Kentucky Wildcats, exciting may not be the word that comes to mind. Enraging, confusing or disappointing might be more descriptive.
But John Calipari's squad has been exciting. The No. 1 recruiting class (according to Rivals) hasn't quite lived up to their potential, but the potential is there.
And they have shown it. Exciting blocks and dunks are frequent for the hyper-athletic Wildcats, even if the team experiences mental lapses from time to time.
Here are my rankings for the most exciting Wildcats this season.
Begin Slideshow

»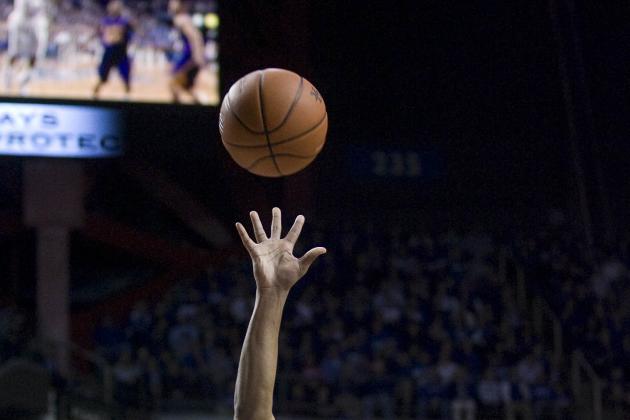 Mark Zerof-USA TODAY Sports

Nothing against Uncle Julius, but he's not the most exciting player on the Kentucky basketball roster.
Mays brings experience to the Kentucky team. That, however, does not equate to "excitement."
He doesn't have the "wow" factor, and his most thrilling plays come when he's leading a fast break (which is rare) or draining a three.
His value to the Wildcats is not expressed through his athleticism.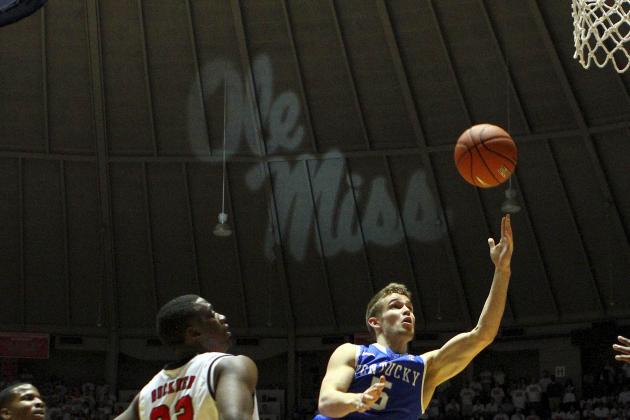 Spruce Derden-USA TODAY Sports

Like Julius Mays, Jarrod Polson's athleticism is not the brightest part of his game.
Polson will, however, make the occasional crafty layup/ floater/some other shot in the lane (as shown here).
We don't see much of Polson, however. He's averaging 11.8 minutes per game, and in that time, he is nothing more than a placeholder at the point guard position.
He rarely turns the ball over, and he does a fine job of initiating the offense.
That doesn't equate to "excitement."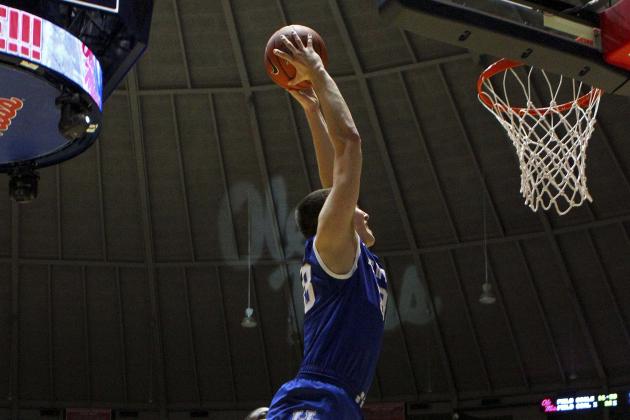 Spruce Derden-USA TODAY Sports

The Kyle Wiltjer you see here, that is, the Kyle Wiltjer that showed up against Ole Miss, could be the most exciting player on the Kentucky team.
Alas, Wiltjer doesn't always show his brilliance on offense.
His slow, methodical post moves are simply stunning.
But in two games since his 26-point outbreak against Ole Miss, Wiltjer has scored only 15 points on 3-of-8 shooting from the floor.
More 26-point games equals more excitement.
Mark Zerof-USA TODAY Sports

Ryan Harrow's quickness and explosiveness could put him at the top of this list.
Harrow had a streak of eight games where he scored in double figures, from Dec. 15 to Jan. 19.
His statistics in the other 10 games (not including the four games he missed at the start of the season) aren't as flattering: 6.4 points and 2.6 assists per game.
So, like most other Kentucky players this year, Harrow has been inconsistent. That takes away from his nightly excitement, although he's capable of ankle-breaking crossovers and impressive dunks.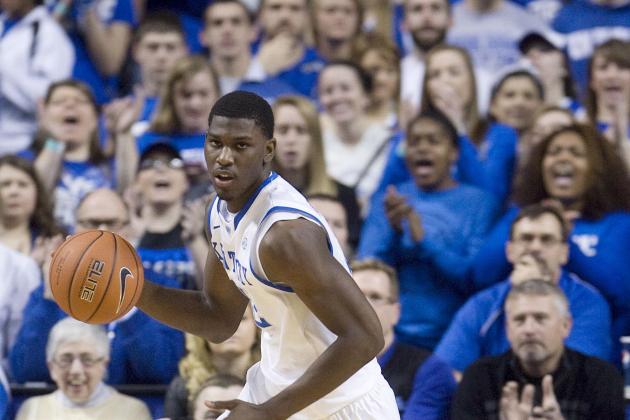 Mark Zerof-USA TODAY Sports

Alex Poythress could be anywhere on this list on any given night.
Against Texas A&M on Feb. 2, Poythress was nowhere to be found.
But then he'll have dunks like this that remind us all what he can do on the court, leaving no doubt that he can be the most physically imposing player on the Kentucky roster.
Poythress draws comparisons to Terrence Jones and for good reason. Both are incredible athletes that don't always play up to their potential.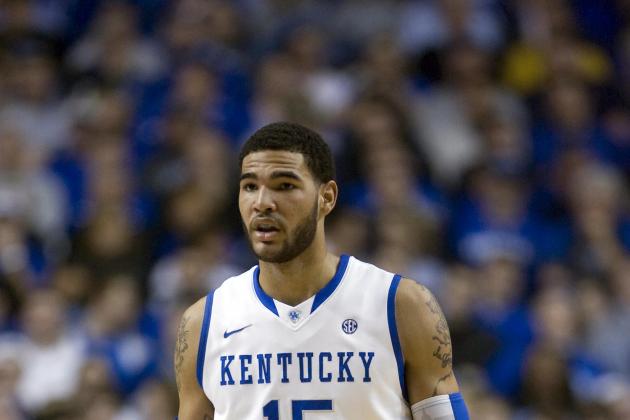 Mark Zerof-USA TODAY Sports

The most surprising Kentucky Wildcat has been Willie Cauley-Stein.
Like his other freshman companions, Cauley-Stein is raw.
But his motor is always on, which makes him one of the most exciting players on the team. He may not have Kyle Wiltjer's scoring skill or Alex Poythress' all-around game, but his effort surpasses both players.
His effort is inspiring, and he's a Big Blue Nation favorite.
Diving for the ball, blocking shots and dunking at full speed are all part of Cauley-Stein's game.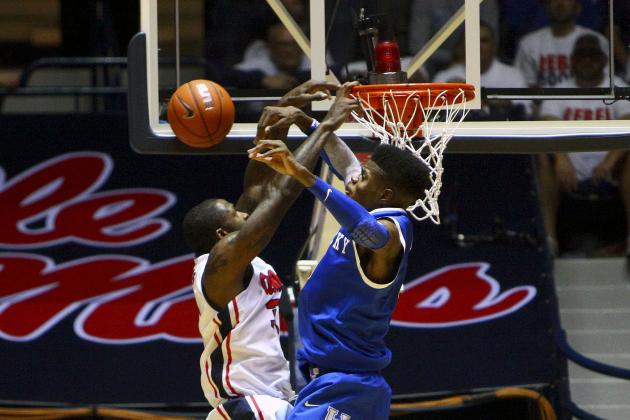 Spruce Derden-USA TODAY Sports

Nerlens Noel has impacted every game for the Wildcats this season.
His defense is mesmerizing.
Exciting, you could say.
Every time an opponent drives into the lane and Noel shifts his feet, everyone in the gym knows what the outcome will be.
Noel's shot-stuffing ability has out-shined any other aspect of his game. His offense is improving, he's fouling less and he continues to pass well for a big man.
Noel is simply fun to watch.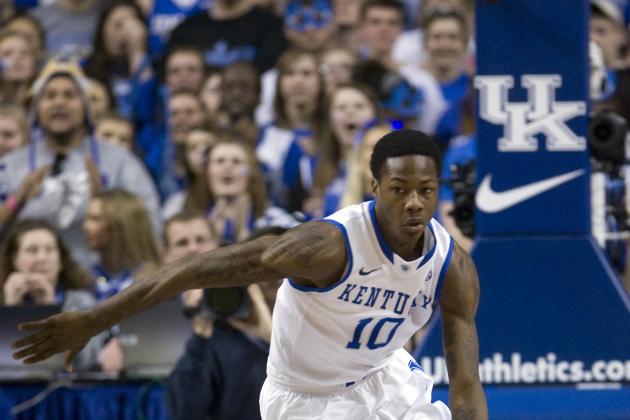 Mark Zerof-USA TODAY Sports

The way Archie Goodwin plays basketball raises the blood pressure of every Kentucky fan.
He's out of control. He's wild. He's fast.
He can get to the rim as well as any player in the country.
And when he finishes, it's a top 10 nominee. Like this. Or this. Even this.
Can you disagree with the fake Eli Capilouto in this tweet?
Probably not. Goodwin is the most exciting player on the Kentucky roster, for better or worse.