Winners and Losers of Ole Miss' Amazing Signing Day Class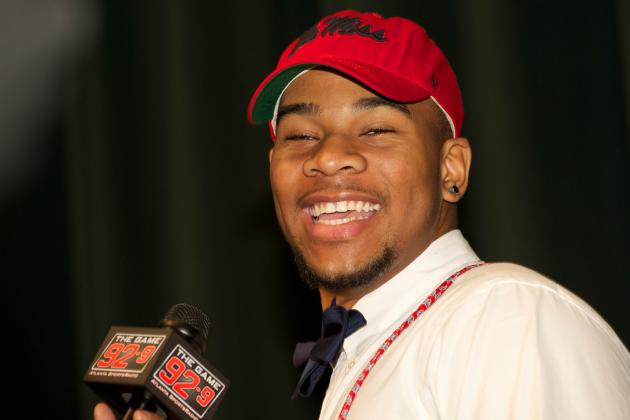 Dale Zanine-USA TODAY Sports
Ole Miss DE signee Robert Nkemdiche
The Ole Miss Rebels were the stars of national signing day on Wednesday, closing strong with No. 1-overall prospect Robert Nkemdiche, No. 4-overall prospect Laremy Tunsil and five-star safety Tony Conner.
Head coach Hugh Freeze's signing day surge vaulted the Rebels to the No. 6 spot in the 247Sports.com team composite rankings.
With the class, the Rebels announced that they are no longer the SEC West pushover that they were in 2010 and 2011, and that they are ready to play big-boy football in the nation's toughest football conference.
Who were the winners and losers of Ole Miss' 2013 recruiting class?
Our picks are in this slide show.
Begin Slideshow

»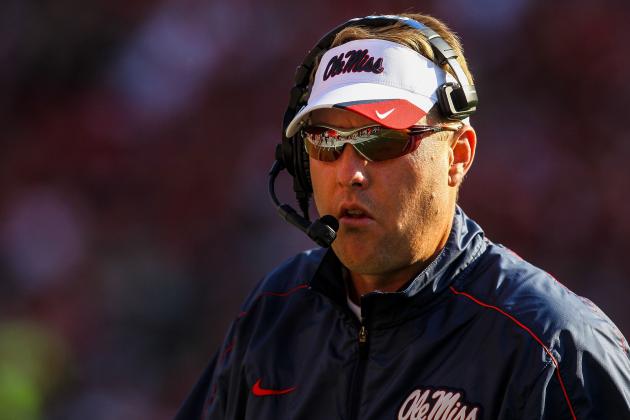 Daniel Shirey-USA TODAY Sports
Ole Miss head coach Hugh Freeze
Hugh Freeze was remarkably successful in his inaugural season as the head coach of the Rebels, leading the team to a surprising 7-6 record, which included their first win over in-state rival Mississippi State since 2008.
But that's not good enough. Freeze wants Ole Miss to be more than just a state power; he wants it to become a national power.
The buzz generated from this recruiting class is going to go a long way towards making that happen.
Will this class translate into an SEC West title and perhaps more? We'll see.
Having linebacker Denzel Nkemdiche on the roster and helping him succeed at such a high level as a redshirt freshman in 2012 certainly got Freeze's foot in the door with Robert Nkemdiche and several other top prospects.
Whether Ole Miss is a one-hit wonder on the recruiting trail, a budding dynasty or something in between, it's certainly the talk of the town right now.
Freeze deserves a ton of credit for that.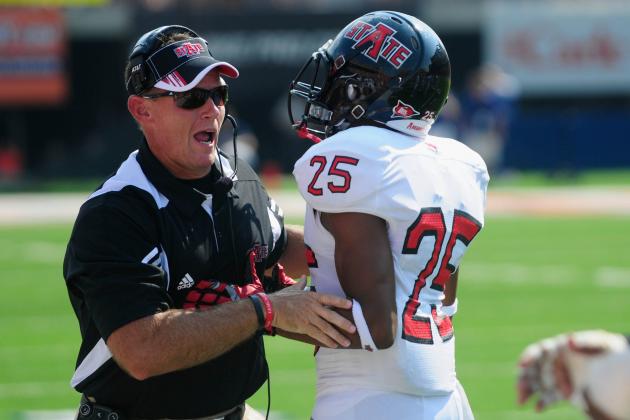 Reid Compton-USA TODAY Sports
Ole Miss defensive coordinator Dave Wommack while at Arkansas State
The entire Ole Miss coaching staff is going to enjoy the new players on the roster, but particularly defensive coordinator Dave Wommack.
Wommack will get an injection of talent on his side of the ball when all of the new signees make their way to campus prior to the 2013 season.
The addition of defensive end Robert Nkemdiche will give the Rebels three big-time pass-rushers, complementing rising sophomore Channing Ward and rising junior C.J. Johnson. That will allow Wommack to rotate studs on his defensive line to keep them fresh all game long.
The 6'1", 203-pound Tony Conner has the size, speed and athleticism to step in and be a perfect fit at safety or in the hybrid linebacker/safety spot. He's not afraid to step in and be a force against the run, but is great in coverage as well.
Wommack got some great new pieces to use in 2013 and beyond, and for that, he's a winner.
USA TODAY Sports
Georgia head coach Mark Richt
Ole Miss' success was at the expense of the Georgia Bulldogs, who lost out on five-star offensive tackle Laremy Tunsil on national signing day.
Tunsil is the nation's No. 4-overall player, according to the 247Sports.com composite index, and it had been assumed for quite some time that Georgia and Alabama were the favorites to secure his services.
Georgia wasn't blindsided by Robert Nkemdiche's decision to sign with Ole Miss, as the Grayson, Ga. native had already narrowed his list of contenders down to the Rebels, LSU and Florida. But they were in the mix initially, along with Clemson and Alabama.
When the consensus No. 1-overall prospect is a 30-minute drive away, and you can't even become a finalist, that hurts.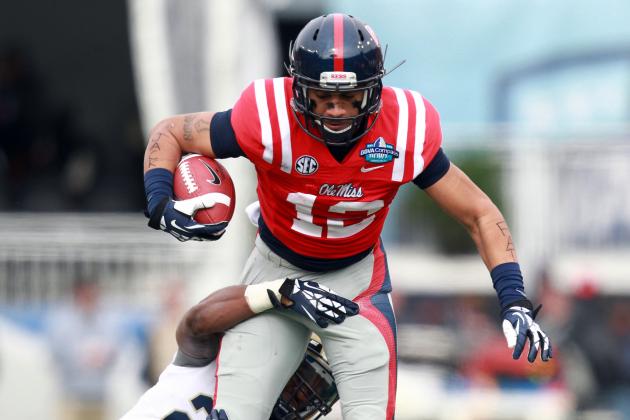 USA TODAY Sports
Ole Miss WR Donte Moncrief
The phrase "feed Moncrief" became more and more popular among fans of Ole Miss as the 2012 season progressed, as sophomore wide receiver Donte Moncrief became more and more of a star in Hugh Freeze's offense.
Moncrief closed out the season with 365 receiving yards and five touchdowns over his final three games, cementing his spot as one of the top wide receivers in the SEC.
He may not get "fed" as much in 2013 as he did in 2012, but it will certainly be easier for him to find space when he does get the ball, thanks to the presence of five-star wide receiver signee Laquon Treadwell.
The 6'3", 195-pound speedster will see the field as as true freshman, and lining up opposite Moncrief will create plenty of options for Freeze, plenty of space for Moncrief and plenty of headaches for opposing defensive coordinators.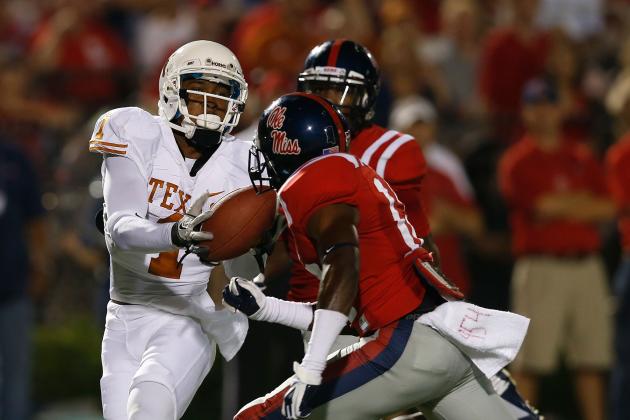 Scott Halleran/Getty Images

While the obvious answer to "who is the loser of Ole Miss' signing class" is "the rest of the SEC," that'd also be the incorrect one.
The biggest losers are all of the other conferences that now have to deal with another SEC recruiting juggernaut.
Five of the top 11 classes in the 247Sports.com team composite rankings hail from the SEC West. That's 45 percent of the top 11 from ONE DIVISION.
It's a bit of a stretch to say that Ole Miss' hot streak on the recruiting trail will definitely continue next season, since the brother of the top recruit in the country isn't on the Rebels' roster.
But it could.
The thought of that has to make fans and coaches of teams in other conferences nervous.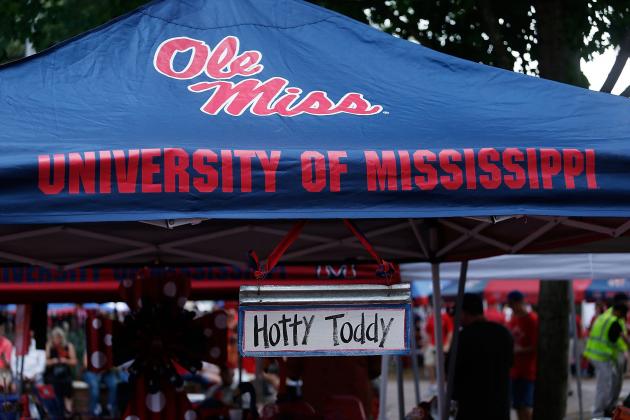 Scott Halleran/Getty Images

The name Chris Kiffin may not have resonated on a national level before.
But after Ole Miss reeled in its stellar class of 2013, it should now.
Kiffin, Ole Miss' defensive line coach and recruiting coordinator for defense, was directly credited by Tunsil during his announcement ceremony in Lake City, Fla.
"From Day 1, I've said it's all about the relationships and that's what I had with Chris Kiffin," Tunsil told Sporting News after his announcement. "I need somebody to talk to, and he's that guy."
Kipp Adams of ESPN.com also noted that Kiffin was a big part of Nkemdiche's recruitment, as he and co-defensive coordinator Wesley McGriff took in Nkemdiche's high school games "seemingly every week."
Recruiting is a contact sport, and Ole Miss' staff—Chris Kiffin in particular—proved it.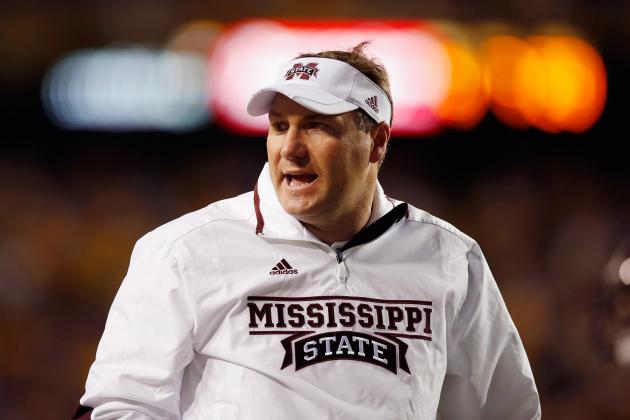 Chris Graythen/Getty Images
Mississippi State head coach Dan Mullen
During Mississippi State's run of three straight Egg Bowl victories over Ole Miss, head coach Dan Mullen and the Mississippi State administration introduced the "this is our state" campaign and continually referred to Ole Miss as the "school up north."
In one short season, state power has done a complete 180 and now rests in Oxford, thanks to the Rebels' 41-24 victory over the Bulldogs and a recruiting class from Mississippi State that ranks 10th in the SEC in the 247Sports.com team composite rankings.
State power has already shifted, and that gap is getting wider.
That's bad news for the Mississippi State Bulldogs.