Kansas Basketball: Suddenly Jayhawks Facing More Questions Than Answers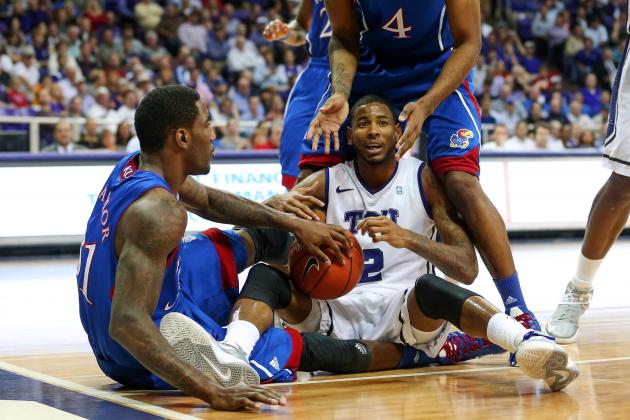 Kevin Jairaj-USA TODAY Sports

In most cases when the Kansas basketball team loses a midweek contest at the beginning of February it would be wise to not overreact. After all, the Jayhawks are eight-time defending Big 12 champions and a regular in the later rounds of the NCAA tournament.
But Wednesday's loss to lowly TCU was historically alarming.
The Horned Frogs were 0-8 in conference play and a full 270 spots below Kansas in Ken Pomeroy's extensive rankings system. The loss also brought the Jayhawks' 264 consecutive games without back-to-back losses streak to an end.
Throw in the fact that Kansas had a mere two points 13 minutes into the game, and there is some reason for concern. Read on to see some questions Bill Self's team is suddenly facing.
Begin Slideshow

»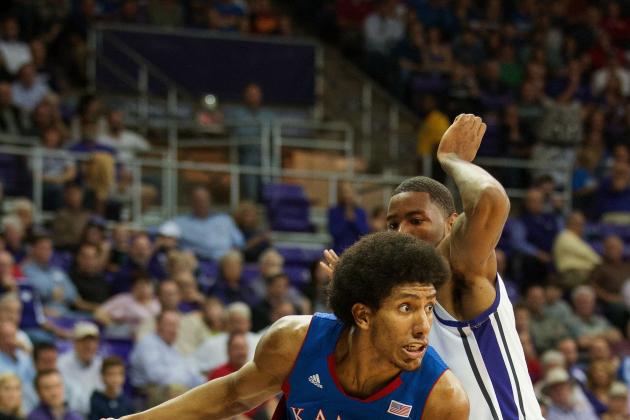 Kevin Jairaj-USA TODAY Sports

Kansas ranks 52nd in the nation in points per game, which isn't incredible, but it's not exactly concerning either. However, the offense has been slumping a bit since a victory over Iowa State on January 9.
Those recent struggles culminated in the worst shooting performance for a Kansas squad under Bill Self in his 344 games at the helm (29.5 percent) on Wednesday night.
The Jayhawks have failed to reach the 70-point plateau in seven of their last eight games, and the one they did they actually lost to Oklahoma State. The shooting percentages have been down, and the winning margins have been dangerously small.
What's worse, turnovers are starting to become an issue. The Big 12 may not be at the same level as the Big Ten or Big East this year, but it is difficult to win in any league if you cough the ball up frequently.
The next four contests include trips to Oklahoma and Oklahoma State and a home date with rival Kansas State. If the offense doesn't turn things around quickly, another Big 12 title won't come as easily as Jayhawks fans once assumed.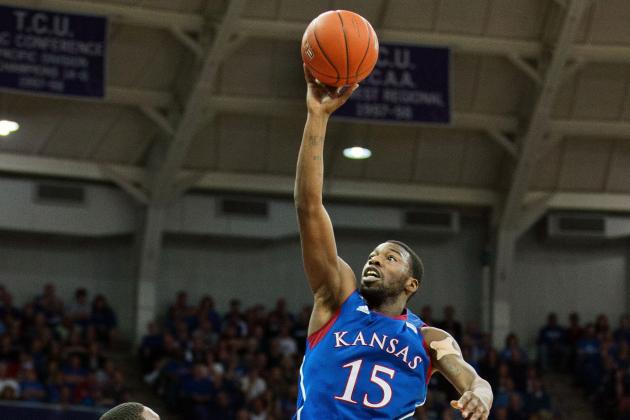 Kevin Jairaj-USA TODAY Sports

Heading into the season there were some question marks surrounding Kansas' point guard play. It wasn't going to be easy to replace someone like Tyshawn Taylor no matter who took the reins.
Difficult task or not, Elijah Johnson has simply not lived up to the job thus far in Big 12 play.
He has 35 assists and 34 turnovers in nine league games, which means the ever important assist-to-turnover ratio for point guards sits a hair above one-to-one. He is also shooting 30 percent from the field in conference.
During Wednesday's loss to TCU, Johnson was three-of-12 from the field, including two-of-eight from downtown, and turned it over three times (he only had one assist). He was a putrid three-of-14 from the field, including one-of-seven from three-point territory, in the loss to Oklahoma State in the game before.
Johnson doesn't have to be Taylor, but Bill Self is going to need significantly better play from his floor general going forward in Big 12 play and into March.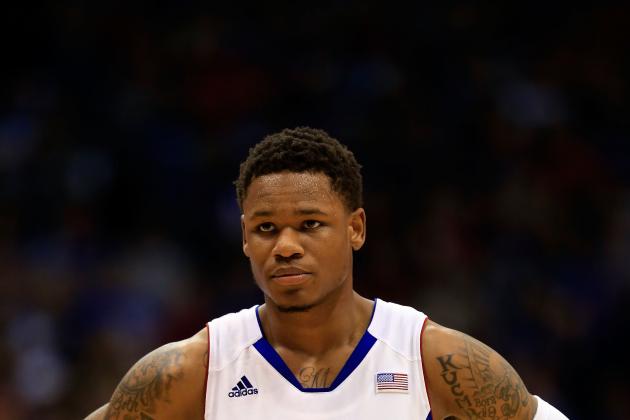 Jamie Squire/Getty Images

Ben McLemore is one of the premier college basketball players in the entire country and is a legitimate candidate for Big 12 and even national player of the year discussions.
If there is someone with credentials like that on your roster, it is easy to become too reliant on his play-making abilities in tight contests.
However, McLemore struggled at TCU on Wednesday. He was only six-of-16 shooting and missed all six of his three-point attempts.
It is a testament to his overall greatness that he still had such an impact on the game with nine rebounds, three assists and a block even as he was struggling with his shot.
Kansas' offense looked Northern Illinois-level bad in the first half though when McLemore was struggling. There are other players on this roster that are more than capable of scoring, but it really didn't look like it at TCU.
It's unfair to assume McLemore is going to be great every night. Therefore, the Jayhawks are going to need their other pieces to be ready to step up during games that he is struggling.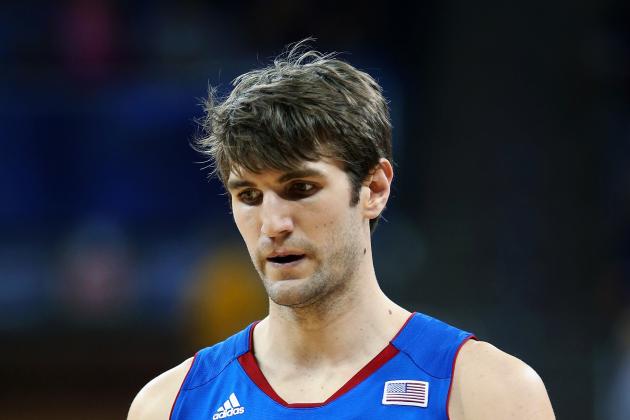 Kevin Jairaj-USA TODAY Sports

You really have to make an effort to overstate how shocking TCU's win over Kansas was on Wednesday night.
We are talking about a squad that lost to the likes of SMU, Houston and Tulsa in the nonconference portion of its schedule. Furthermore, the Horned Frogs lost by double-digits in every other Big 12 game they have played except a nine-point loss to Texas Tech.
The argument could be made before the game that TCU was the worst power conference team in America.
Yet somehow they dominated play from the tip against the eight-time defending conference champions and No. 5 team in the nation.
Unless TCU's players stole Kansas' talent a la the Monstars in Space Jam, this one falls on the Jayhawks.
Perhaps Bill Self's team, which is so used to steamrolling its way through the Big 12 on the way to bigger and better things in March, got somewhat complacent heading into its previous two games, especially the one against TCU.
Complacent teams rarely win, even if they are playing against one of the worst teams in the sport.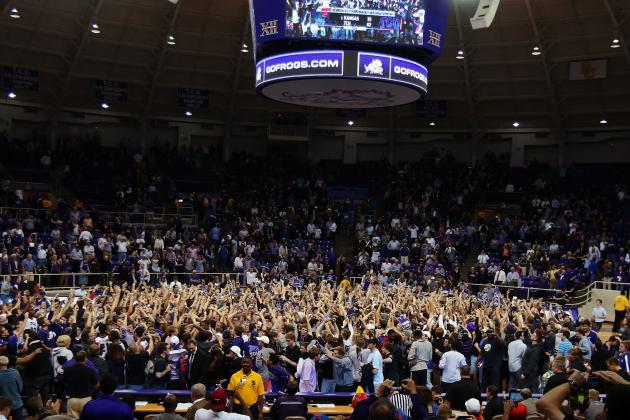 Kevin Jairaj-USA TODAY Sports

This isn't necessarily a Kansas issue as much as it is an entire sport of college basketball issue.
During the past three Wednesday slates, No. 1 Duke was destroyed by Miami, No. 9 Butler was shocked by La Salle, No. 12 Minnesota fell to Northwestern, No. 17 Creighton lost to Drake, No. 10 Oregon lost to Stanford, No. 17 Missouri was surprised by LSU, No. 16 Creighton fell to Indiana State, No. 17 Cincinnati dropped one at Providence and a talented UNLV squad was shocked by lowly Fresno State.
If we extend that out further, No. 15 San Diego State and No. 14 North Carolina State both fell to unranked foes the Wednesday before that stretch.
Kansas' two previous Wednesday games saw the Jayhawks fall to a horrible TCU team and get outplayed by Iowa State for 39 minutes before finally pulling away in overtime.
Consider this a public service announcement for all coaches of Top 25 teams looking to avoid Kansas' complacency it showed at TCU—Wednesday nights are dangerous no matter the opponent.