Gonzaga Basketball: Midseason Report Card for the Zags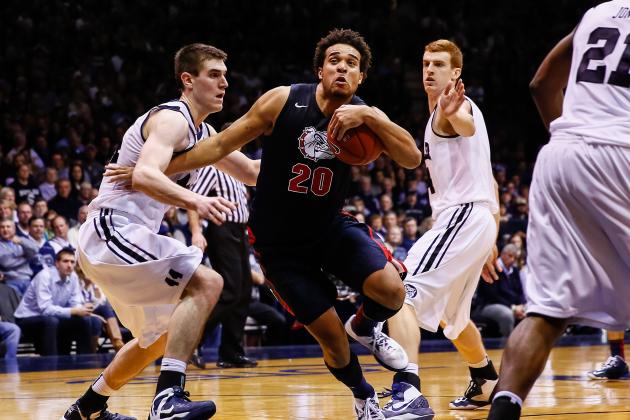 Michael Hickey/Getty Images

Gonzaga basketball is the first team to reach 21 wins, and they have their excellent play to thank for it.
Behind their impressive starting five, including a maturing backcourt and one of the nation's best frontcourts, is a deep bench and fantastic coach.
Gonzaga is not without weaknesses though.
After a close call victory over University of San Diego, it is a great time to take stock of what Gonzaga does well and what they must improve on.
Without further ado, here is a midseason report card for the Zags.
Begin Slideshow

»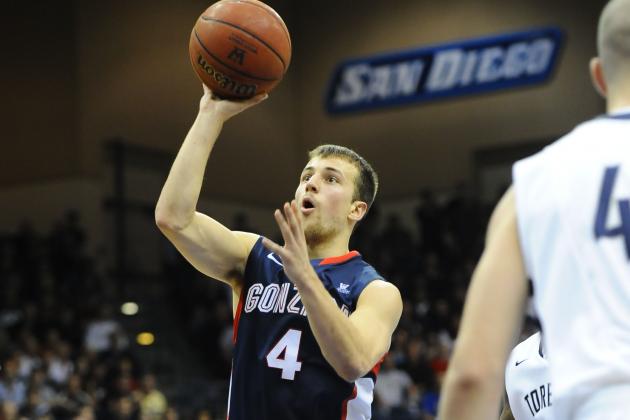 Christopher Hanewinckel-USA TODAY Sports

Point guard Kevin Pangos has come out of his sophomore slump shooting, and his numbers have improved because of it.
Pangos, one of the nation's best three-point shooters, is always a threat to bury a dagger from downtown.
This season, he has made 50 three-pointers and is shooting 44.6 percent from beyond the arc. He has had several games with multiple connections from deep, including Gonzaga's win over Baylor that included seven three-point hits for the Canadian guard.
Pangos' continued ability to shoot the ball from the perimeter has allowed Gonzaga's formidable frontcourt to operate with more space in the lane.
If there is one criticism of Pangos' game, it is that he is not a true point guard. His assist numbers from last year to this are unchanged, roughly 3.4 APG, and while he has great vision in the fast break game, David Stockton is still a better option to run the point in the half court set.
Grade: A-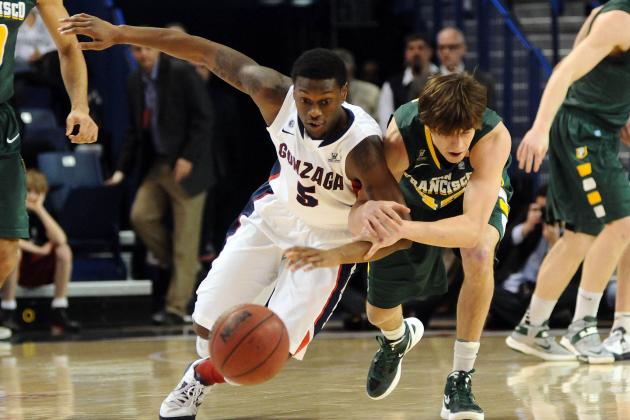 James Snook-USA TODAY Sports

Gary Bell Jr. has had an up and down season to date.
His numbers are down across the board, but that has more to do with the talented players around him than anything else.
When in it comes to Bell, defense is his specialty.
Every game, Mark Few asks Bell to defend the best backcourt member of the opposing team, and he has rewarded Few with excellent on-ball defense.
Bell has recently shot out of his shooting slump with an impressive five three-pointers in the first half against LMU.
While Bell is not on the hook to score in double figures every night, he is more than capable of doing so. This mix of elite defense and potent scoring ability is a great asset for the Zags.
Grade: B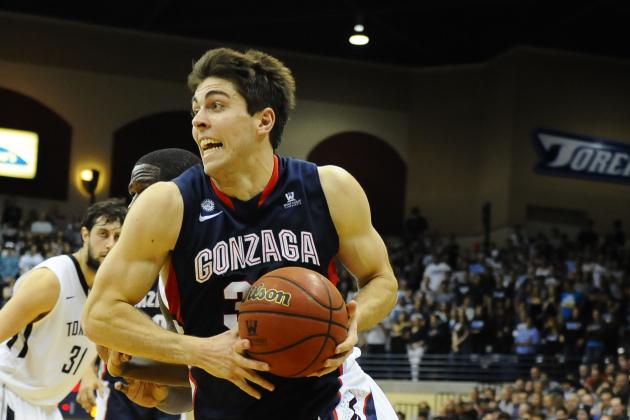 USA TODAY Sports

Mike Hart has embedded himself in the starting lineup because of his tenacity as a defender and as a glue guy.
The ball seems to find his hands like metal to magnets. He ends up with rebounds and loose balls that he has no place tracking down with his incredible hustle.
Hart also brings great defense to the table. As a non-essential scorer, Hart is able to focus the entirety of his efforts on the defensive end and has turned in great performances against scorers such as Tyler Haws of BYU and Kevin Foster of Santa Clara.
On the surface, Hart's greatest weakness lies in his inability to score the basketball. Is it really a weakness though?
Hart averages just two points per game, but this comes on just 14 shot attempts in his 354 minutes of play this season. Hart only shoots when he is wide open, and for that reason, he shoots 63.6 percent from the field and 58.3 percent from beyond the arc.
I'd argue that Hart's inability to score stems from his realization that there are four better scorers on the floor with him, and that his true role on this team is to play defense and create for his skilled teammates.
Grade: B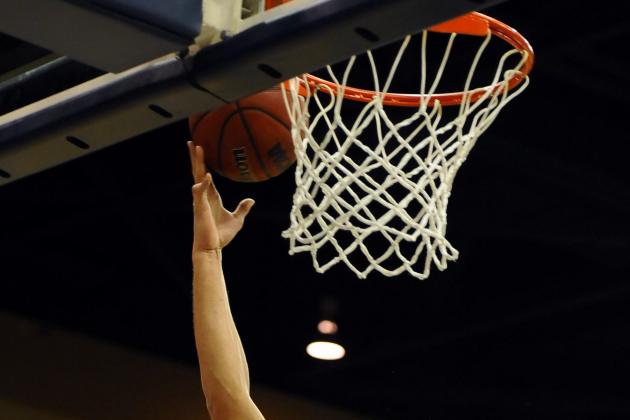 Christopher Hanewinckel-USA TODAY Sports

Elias Harris is having a phenomenal senior season, showcasing the incredible talent he led many to believe he was capable of achieving as a freshman .
Harris is averaging 15.1 PPG and 7.1 RPG, and he is doing it with fantastic effort and physical strength.
What Harris does best as an undersized power forward is create matchup problems. He is too fast to defend with a true power forward, but he is too big and physical to defend with a wing.
Harris has formed a formidable frontcourt with Kelly Olynyk in part because he knows how to feed Olynyk in the post. Harris' ability to play the high-low offense effectively has led to many open looks, both for him and his Canadian counterpart.
The senior out of Speyer, Germany has stepped up his game, and he is the exact kind of do-it-all leader that a NCAA Tournament bound team like Gonzaga needs to make a deep run come March.
Grade: A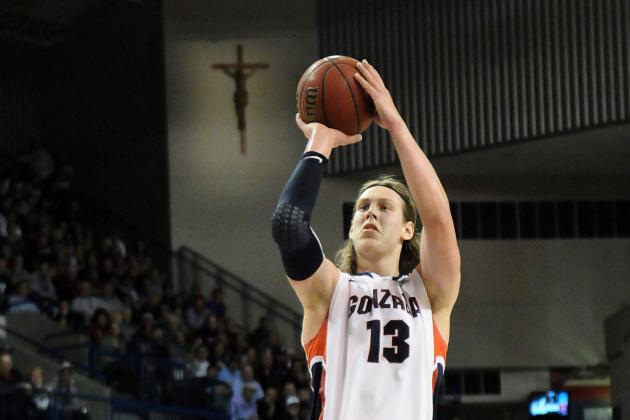 James Snook-USA TODAY Sports

Kelly Olynyk has been nothing less than spectacular this season.
In the span of one redshirt year, Olynyk went from a face-up big man who could shoot to a true seven footer that can score in multiple ways.
Olynyk is on the radar of Player of the Year voters and NBA scouts alike—and for good reason.
The big man out of Kamloops, Canada has averaged an incredible 17.9 PPG and seven RPG in just 25.3 MPG.
With a FG percentage of 64.3 percent, there are very few scorers who are more efficient than Olynyk.
There is something about watching a seven-footer with a mullet score with either hand in the lane that is simply exciting to watch.
Kelly Olynyk is quite simply one of the best scorers in college basketball, and he is the exact kind of player that is capable of leading the Zags deep into the tournament.
Grade: A+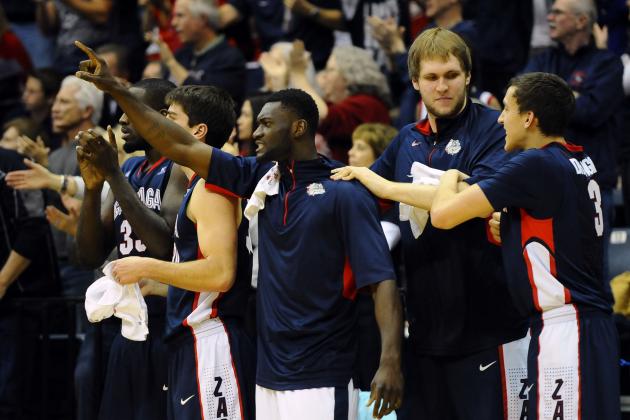 Christopher Hanewinckel-USA TODAY Sports

Gonzaga's bench has been phenomenal since the start of conference play.
While Gonzaga still faces tough competition, especially on the road, the level of competition is simply not up to Gonzaga's level.
Consequently, the Zags bench sees a lot of playing time. In fact, there are 10 players on Gonzaga's roster that averages double digit playing time.
Of note are David Stockton, who, despite his slip-up at Butler, provides stability and excellent passing in slow paced games, and frontcourt reserves Sam Dower and Przemek Karnowski, two big men who provide different looks to opposing defenses.
If Gonzaga will have one advantage moving into March, it will be that their starters will be fresh, and their bench will be more experienced.
Grade: A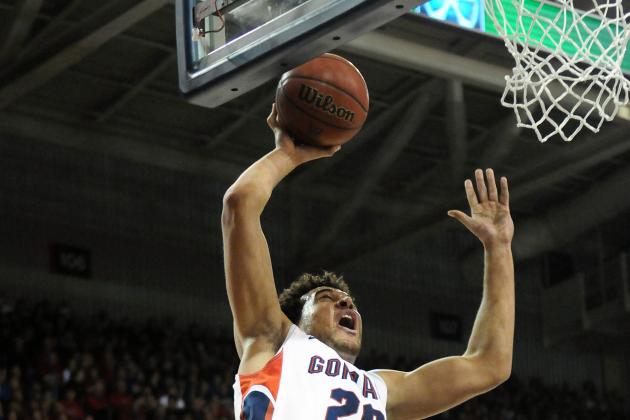 James Snook-USA TODAY Sports

Gonzaga boasts one of the best offenses in the country.
With the ability to dominate the paint with Harris and Olynyk and shoot the ball out to the perimeter with Pangos and Bell, Gonzaga can give most defenses more than they can handle.
The Zags are an incredibly tough team to scout, because there are so many different looks they can give you with their starters and their deep bench.
Gonzaga ranks No. 10 in the nation in PPG with 78.7 and No. 2 in the nation in FG percentage with 50.9 percent shooting from the field.
The Zags can push the ball in transition or pick apart man-to-man or zone defenses, and as a team, they average 15.6 APG and just 11.8 turnovers each contest.
Come March, look for opposing defenses to have trouble slowing the Bulldogs potent offense.
Grade: A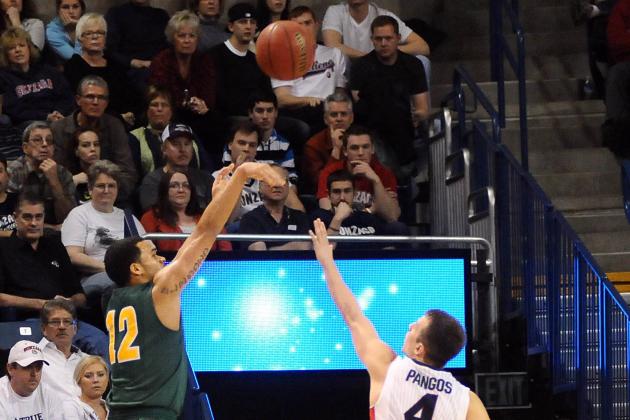 James Snook-USA TODAY Sports

Gonzaga's overall team defense has steadily improved this season, but overall, it has not impressed.
With their undersized guards, Gonzaga is susceptible to being bullied by bigger, more athletic guards such as Marcus Smart and Brandon Paul.
Recently, Gonzaga has turned in mixed performances.
While they were able to hold Tyler Haws of BYU to just one point, they were abused by Johnny Dee of USD to the tune of 21 points.
While Gonzaga tries to shore up their team defense, they would do well to work on defensive rebounding as well.
In Gonzaga's recent two-point win over USD, they were out rebounded 35-29. USD clearly pushed GU around in the post and tracked down more long rebounds.
Until Gonzaga is able to fix these problems, they will struggle against more physical teams.
Grade: B-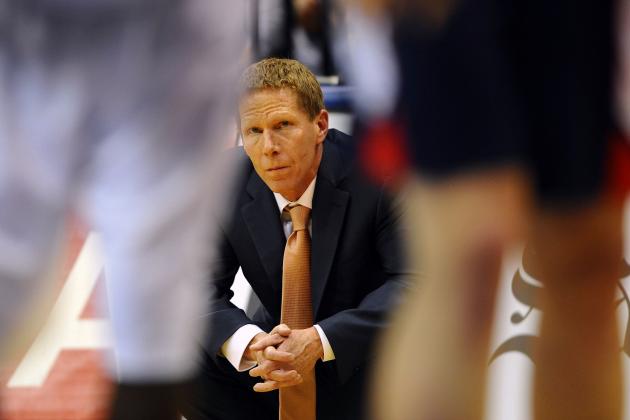 Christopher Hanewinckel-USA TODAY Sports

Mark Few has done an excellent job to get the Zags to their 21-2 record.
The Bulldogs are undefeated in the WCC and have the inside track to win the conference this season.
Few's remaining challenge is to keep his team playing at 100 percent, no matter who the competition is.
Gonzaga cannot afford to drop games to lesser talents in the WCC, and all it takes is one mental lapse to slip up.
If Few can keep his team playing to their potential, they should coast into the tournament with a high seed and a great chance to do some damage in March.
Grade: A-