Auburn Football: The Good and Bad of National Signing Day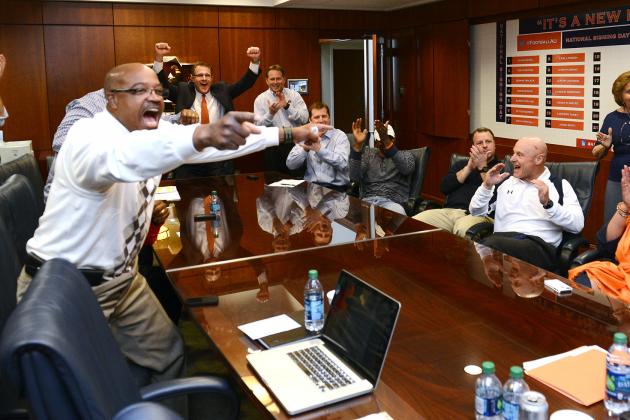 Phil Sears-USA TODAY Sports
The Auburn coaching staff reacts to Montravius Adams announcing for Auburn. Photo credit: Todd Van Emst
The newly-minted Auburn coaching staff gathered around a mahogany table in a large conference room in the Auburn athletic complex to see if their hard work had paid off with 5-star defensive tackle Montravius Adams.
Adams had offers from nearly every school in the country and it had come down to Auburn, Clemson, Alabama and Georgia.
Just to the left of Auburn head coach Gus Malzahn sat a board full of the newest Auburn Tigers. At the top, it read "It's a new day."
A loud roar echoed down the halls.
As Adams displayed his custom-made Auburn shirt (with a graphic of himself in an Auburn jersey) and donned an Auburn hat, the countless hours of work over the last two months became well worth it.
Grown men acted like the students that they urge to get loud and crazy in the Jordan-Hare Stadium student section at Auburn home games.
It was their turn to celebrate.
Adams was just one highlight from Malzahn's first recruiting class as the Tigers' head coach. It went nearly perfectly.
"We feel like this class really meets our needs, and I really want to complement our coaching staff, our support staff and our administration," said Malzahn in his signing day briefing with the media. "Our staff really did a wonderful job in developing those relationships in a short amount of time."
Auburn may not be completely done in this recruiting cycle. A couple of spots are left open to signees that have opted to sign later in the process. April 1 is the deadline.
Regardless of what those others do, the Auburn coaching staff has reason to celebrate its first recruiting class. It is one that ranks No. 11 in the 247Sports composite rankings.
Here is the good and bad for Auburn's 2013 national signing day.
Begin Slideshow

»
Phil Sears-USA TODAY Sports

One word describes the defensive line class that Auburn pulled in.
Monstrous.
Auburn signed four defensive linemen in the 2013 class. All of them were ranked 4-star or higher.
Adams is the most high-profile defensive line prospect.
"I think this is going to be my eighth year to coach college, and I don't know if I've ever seen a bigger, more athletic guy than [Adams]," Malzahn said in his press conference. "I really feel like the sky is the limit with him. Coach Rodney Garner had a great relationship with him that really helped get him here. He's a very good person with a great family."
Defensive end Carl Lawson was the highest-ranked prospect to sign with Auburn in the last 12 years.
Five-star DE Carl Lawson becomes the highest rated @rivals prospect to sign with #Auburn in the last 12 years.

— Justin Hokanson (@JHokanson) February 6, 2013
The 5-star DE, with as quick of a first step off of the edge as you'll see in college football, will be an immediate force on Auburn's defensive line.
DE Elijah Daniel and DT Ben Bradley also bring much needed quality depth to a defensive line that was pushed around for much of 2012.
All four signees will likely be in contention to play immediately on Auburn's defensive line.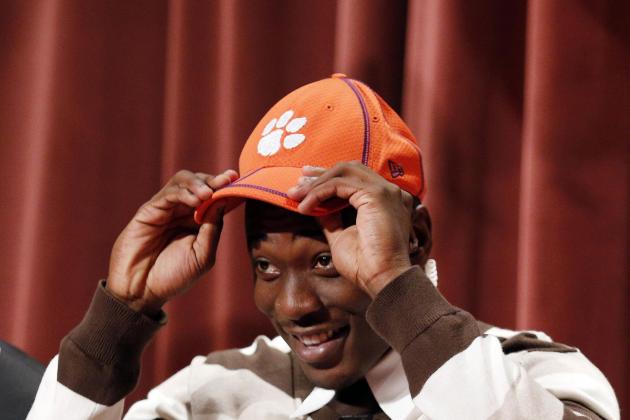 USA TODAY Sports

Auburn had a great day on Wednesday, but it did not have a perfect batting average. The Tigers lost out on CB Mackensie Alexander, DL Dee Liner, LB Reuben Foster and LB Zach Cunningham.
Liner and Foster were not expected to sign, although Auburn was in their final choices.
After Alexander's brother, Mackenro, signed with Auburn, many thought that Mackensie would follow. Instead, the twin brothers decided to go down separate roads. Mackensie signed with Clemson.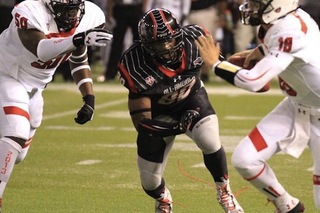 Elijah Daniel. Photo via 247sports.
As we all know, being verbally committed doesn't mean much to opposing coaching staffs. The only official commitment there is occurs when a team receives the national letter of intent from a prospect.
Coaching staffs remain relentless when recruiting players verbally commit to other schools.
The relentlessness of the Auburn coaching staff paid off on Wednesday when Auburn "flipped" two big-time prospects.
DE Elijah Daniel had been committed to Ole Miss, but after an official visit to Auburn on the final weekend before signing day, the 5-star decided to continue his academic and athletic career at Auburn University.
Daniel's flip was big because former Auburn commitment Tashawn Bower flipped to LSU.
The other SEC school in Mississippi also felt the impact of Auburn's new coaching staff.
One-time Mississippi State commitment, Deon Mix, flipped from the Bulldogs to the Tigers. The 6'4", 305-pound guard from Panola, Miss., will shore up an offensive line that was getting thin at the guard position.
Other flips occurred earlier in the recruiting cycle when safety Khari Harding flipped from Arkansas and running back Peyton Barber flipped from Ole Miss.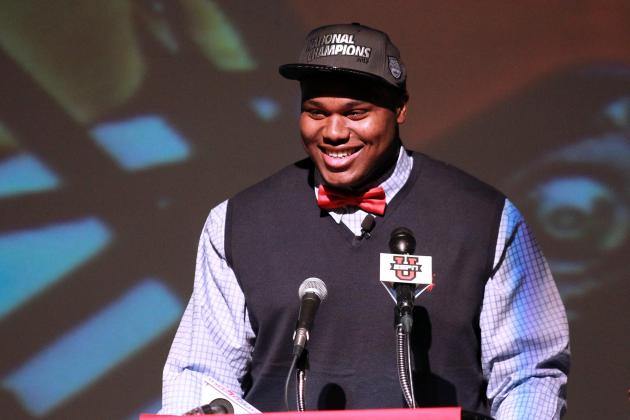 Marvin Gentry-USA TODAY Sports

According to the 247Sports composite ranking, only two of the top 10 players in the state of Alabama will play their college ball at Auburn in 2013.
Six will play for Alabama, one will play for Ole Miss and one will play for Vanderbilt. Yes, that Vanderbilt.
In 2012, Auburn only signed one of the 247Sports composite's top 10 in Alabama. It signed five in 2011.
Alabama and Auburn will always have fierce battles for the top recruits in the Yellowhammer state. With Auburn's geography, it has fertile recruiting grounds in Georgia, Florida and Alabama.
Recruiting success will always begin within the borders of the state, though. To keep up with the Joneses, Auburn should aim to land at least half of the top 10 players in the state of Alabama each year.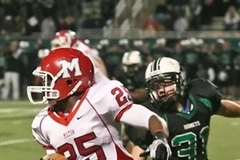 Peyton Barber. Photo via 247sports.
Running back Tre Mason established himself as a featured back for the Tigers in 2012. Despite his successful 1,000-yard season, Auburn lacked a true power running back. With RB Onterio McCalebb graduating and RB Mike Blakely departing, depth in the backfield was starting to become a concern.
After the 2013 recruiting class, depth should no longer be a concern.
January enrollee Cameron Artis-Payne will go through spring practice with Auburn. He has the ability to run between the tackles and be a power RB in the mold of former Auburn RBs Ben Tate and Michael Dyer.
Auburn also landed former Ole Miss commitment Peyton Barber and got a letter of intent from one of the state of Alabama's top RBs in Jonathan Ford.
With a high-tempo offense like Malzahn's, RB depth is very important.
Auburn should now have fresh legs at all times in the backfield with Mason, Artis-Payne, Corey Grant, Barber and Ford.
Fullback Jay Prosch also showed the ability to run and catch the ball out of the backfield in 2012. He will likely be used in the same way that Phillip Lutzenkirchen and Eric Smith were used in Malzahn's offense.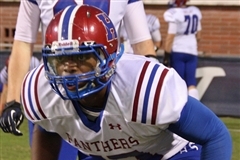 Auburn signee Cameron Toney. Photo via 247sports.
Make no mistake about it. Auburn is undoubtedly very happy in the two linebackers it signed on Wednesday. The quantity, not quality, is the concern.
LBs Cameron Toney and Kenny Flowers will have a chance to contribute immediately.
Auburn was aiming to sign four LBs in this class and getting two may be an issue down the road. Unofficially, Auburn now has seven scholarship LBs, including Toney and Flowers.
Auburn was likely expecting Reuben Foster to join the fold and gave up recruiting a guy like LB Zach Cunningham. Cunningham chose Vanderbilt over Auburn on Wednesday, despite the Tigers being his first choice at one point in the process.
LB Zach Cunningham to Vandy:"At one point, [Auburn] was my 1st choice.They told me they were holding out for Reuben Foster"

— Kyle Burger (@kyle_burger) February 6, 2013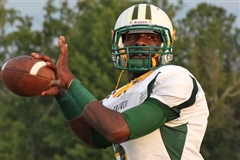 Jeremy Johnson. Photo via 247sports.
It is no secret that Auburn's quarterback play in 2012 was well below par. With Kiehl Frazier's and Jonathan Wallace's struggles in the passing game, along with Clint Moseley's decision to give up football, Auburn needed some QBs who could come in and compete for a starting spot immediately.
On Wednesday, the Tigers signed three who can immediately battle Wallace and Frazier to be Auburn's starting QB in 2013.
The Auburn QB race has become an annual occurrence on the Plains since 2008.
Nick Marshall is a story that Auburn fans have heard before. He went to another SEC school (UGA), got in trouble, went the JUCO route and put up Nintendo-like numbers before finding a landing spot in Auburn. He will get a shot at QB.
What is concerning about Marshall is his high number of interceptions. He threw 20 INTs, compared to 18 touchdown passes, last year at Garden City Community College in Kansas. If QB does not work out for him, he will likely move to the secondary.
Jeremy Johnson is one of the top QBs in the country and he is expected to immediately be a factor to start for Auburn in 2013. The 6'5" QB threw for nearly 3,200 yards for Carver High School in Montgomery, Ala., in 2013. He may also get a chance to help out Auburn basketball coach Tony Barbee on the hardwood.
Jason Smith is another athlete who can move around if QB does not work out for him. He seems to be confident in his ability to fight for the QB spot, though.
"I think I've got a good chance to maybe even start," Smith said Wednesday after signing with the Tigers. "Not putting the other guys down, but this is an offense that I love to run." (via Mike Herndon, al.com)
Smith will likely end up as a slot receiver in Malzahn's offense if the QB thing doesn't work out for him. He won MVP of the Alabama-Mississippi All-Star game in December.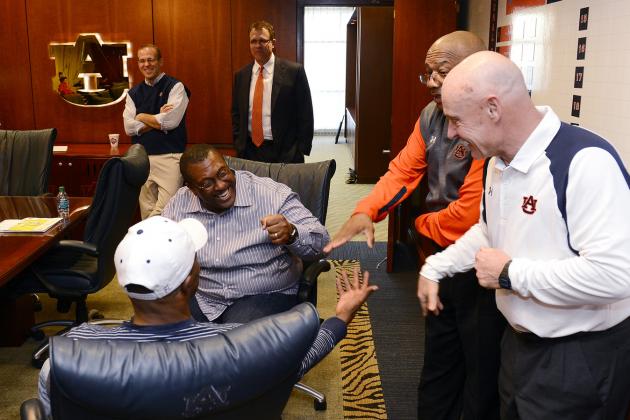 Auburn assistant coaches Rodney Garner, Melvin Smith, JB Grimes and Dameyune Craig share a moment on Football signing day on Wednesday, Feb 6, 2013 in Auburn, AL. Photo credit: Todd Van Emst
Any Auburn fan that is disappointed with this class needs a serious dose of reality.
Considering the 3-9 season and coaching change that Auburn just went through, there really isn't a reason that the Tigers should have a borderline Top 10 class.
Auburn filled needs that can have an immediate impact by bringing in junior college players. It shored up its maligned defensive front with a stellar recruiting class. It brought in playmakers at wide receiver and running back.
And all of that happened in roughly two months. Imagine what it can do with a full year on the recruiting trail.
Now, Malzahn will truly prove "it's a new day" if these elite players are developed to their full potential.