Breaking Down Shelby Miller, Trevor Rosenthal Spring Battle to Replace Carpenter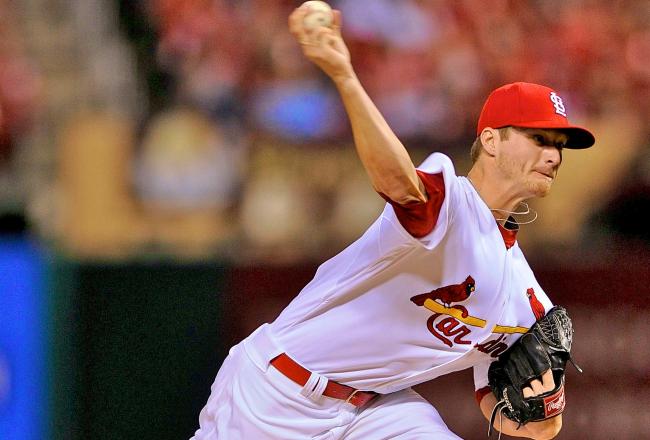 The St. Louis Cardinals announced on Tuesday that Chris Carpenter is unlikely to pitch in 2013, as the right-hander continues to experience pain in his neck and shoulder.
Carpenter missed nearly the entire 2012 season after undergoing surgery for thoracic outlet syndrome, but made a triumphant return to the mound that included three starts in the postseason.
However, his latest setback may mark the end of his impressive, 15-year career in the major leagues. According to the St. Louis Post-Dispatch, the 37-year-old stated earlier this offseason that he would likely retire rather than rehab back from another serious injury.
Carpenter's absence in the 2013 starting rotation is actually a manageable situation for the Cardinals. Provided that they don't re-sign free-agent Kyle Lohse—which is possible, but unlikely at the moment—the organization seems prepared to audition their young right-handers, Shelby Miller and Trevor Rosenthal, for the vacant spot in the rotation.
Considered the team's top prospect before the arrival of Oscar Taveras, Miller, 22, had a disastrous first half of the 2012 season at Triple-A Memphis that included a 7.91 ERA in June. Pitching in the hitter-friendly Pacific Coast League, the right-hander left too many fastballs up in the zone and sequenced his secondary pitches poorly.
However, Miller righted the ship after the All-Star break, registering a 2.91 ERA with 53/4 K/BB in 37.1 innings in August. His late-season surge ultimately led to a major league promotion as a September call-up. Working out of the Cardinals' bullpen throughout the month, the 22-year-old posted a 2.50 ERA with 9/2 K/BB in 7.2 innings.
More importantly, Miller was dominant in his first (and only) start in the major leagues in game 162 against the Reds, as he allowed only one hit over six scoreless innings. The right-hander fanned seven batters and walked two, and impressed by throwing 52-of-72 pitches for a strike.
Employing a repeatable delivery with a fluid arm action, Miller explodes toward the plate following a modest foot strike. His fastball is actually pretty straight, though it's one of those rare swing-and-miss heaters at 92-95 mph with late life. In general, he commands the pitch well throughout the strike zone, and isn't afraid to work inside against both right- and left-handed hitters.
The right-hander's curveball will need to get sharper, but it still befuddles opposing hitters when thrown off his well-located fastball. With improved refinement and sequencing, his low-to-mid-80s changeup could emerge as a viable weapon next season in the major leagues.
Also competing for a spot in the Opening Day starting rotation is Trevor Rosenthal, who has never garnered as much hype as Miller, but has just as high of a ceiling.
A 21st-round draft pick in 2009 out of a Kansas community college, Rosenthal enjoyed an excellent breakout campaign in 2012. Opening the season in the Double-A rotation, the 6'2" right-hander quietly emerged as arguably the top arm in the system, as he registered a 2.78 ERA with 83/37 K/BB 94 innings. Equally impressive was the fact that the hard-throwing right-hander allowed only 67 hits during that span, six of which left the yard.
Recognizing Rosenthal's electric arm and knack for missing bats, the organization promoted him to the big league bullpen mid-July. However, it wasn't until his second stint in the majors in late August—following a brief trip to Triple-A Springfield—that the right-hander emerged as a top-flight reliever. In his final seven appearances during the regular season, Rosenthal allowed only three hits over in 7.1 scoreless innings.
And then there was his performance in the postseason, when Rosenthal allowed two hits and two walks while recording 15 strikeouts in just 8.2 innings.
Yet, despite his overwhelming success last season as a late-inning weapon, the 22-year-old's highest ceiling is still as a starter. But if he fails to win a spot in the rotation, expect the Cardinals to utilize Rosenthal as a reliever once again.
At 6'2", 190 pounds, the right-hander's delivery is stress-free relative to his power arm and above-average command. As a starter, Rosenthal's fastball registers in the mid-to-upper-90s with excessive sink and arm-side movement. But when he's used in shorter stints out of the bullpen, he'll sit in the high-90s and routinely hit triple-digits—as we all witnessed last October.
Rosenthal's breaking ball gives him a second plus pitch with a late, sharp wipeout break out of the strike zone. Given his elite velocity as a reliever, the offering is essentially a second out-pitch due to its swing-and-miss shape and pace. Finally, the right-hander's changeup is an average offering that steadily improved over the course of the 2012 season, though the pitch will need significant refinement to be effective as a starter in the major leagues. Out of the bullpen, however, the pitch is somewhat unnecessary and takes a seat to his plus-plus fastball-breaking ball combination.
Although Rosenthal arguably has better stuff, Miller has been groomed over the last two seasons to assume a spot in the starting rotation. Previously, the Cardinals resisted the urge to promote their top-pitching prospect despite his success at each minor league stop. However, after a strong showing in the majors to conclude the 2012 season, Miller appears to be the early favorite to break camp in the rotation.
Although reports on Jaime Garcia's shoulder injury suggest that the left-hander will be ready for Opening Day, there's no guarantee that he'll make it through the 2013 season. Therefore, it may not be long before Rosenthal follows Miller at the back end of the Cardinals' starting rotation.
This article is
What is the duplicate article?
Why is this article offensive?
Where is this article plagiarized from?
Why is this article poorly edited?