WWE: No Undertaker for WrestleMania 29? No Problem.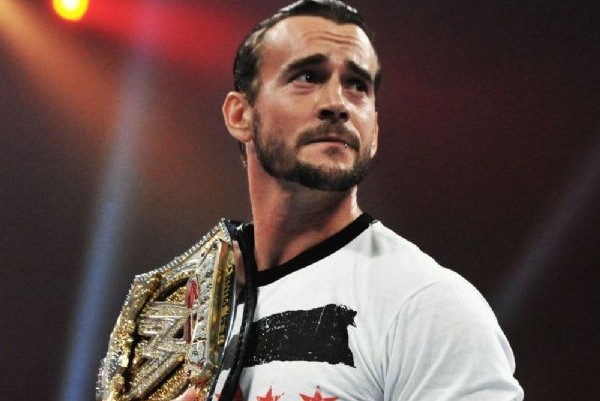 Photo Credit: topwwe.com
While it's been only rumored by the internet wrestling media thus far, The Undertaker's health keeping him out of WrestleMania 29 looks to be a real possibility. While at the end of the day, I think Taker finds a way to get out there, Vince McMahon and World Wrestling Entertainment has to be racking their brain figuring out how to replace the phenom on his marquee show.
The man most affected by this loss is not The Undertaker, it's CM Punk. Of course, Punk has a chance to regain the WWE Championship at Elimination Chamber, but I wouldn't bet on it. The Rock will face John Cena at WrestleMania and the big rumor among the internet wrestling community was Punk facing The Undertaker at WrestleMania 29 with a chance to end the streak after establishing a streak of his own earlier in the year.
On paper, the match doesn't sound as spectacular as maybe Shawn Michaels or Triple H, but it's hard to argue with some level of intrigue in a Punk/Undertaker match. There would be more intrigue if Punk still had the WWE Title and the streak that came along against The Undertaker's historic WrestleMania streak, but let's be real, that wasn't a possibility.
Instead, we were left with the idea that Punk could tout his recent title streak and mention that The Rock and John Cena are playing with his title, but he's ready to end another streak, an unmatched streak of big-show dominance that The Undertaker carries.
It would be an awesome build, I'm sure of it, but let's not get ahead of ourselves or get too excited. It may not happen.
What happens if The Undertaker is unable to wrestle at WrestleMania 29? What becomes of CM Punk? Whom does he face? The following are a few scenarios for CM Punk. I also give a rating at the end of each portion for my desire to see that particular matchup. Be mindful that this overall rating deals with not only in-ring, but also how desirable of a build and story the match would have and how it would affect both characters in the future.
This article also appears on VoicesofWrestling.com
Begin Slideshow

»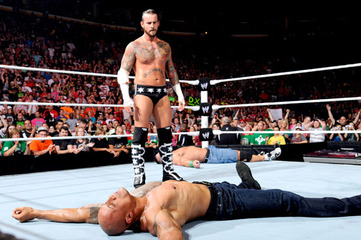 Photo credit: WWE.com
Ugh. Let me start off by saying, this is the most likely scenario because for some god forsaken reason the WWE loves Triple Threat matches, especially as top WrestleMania matches. Granted, only thee have occurred in the past seven years, in my mind, that's three too many. WrestleMania 20 is perhaps the most famous of these as Triple H, Shawn Michaels and Chris Benoit battled in one of the better WrestleMania matches of the decade.
Just two years later at WrestleMania 22, Kurt Angle, Rey Mysterio and Randy Orton did the triple threat dance and while it was a solid match, it was a definite step down from WrestleMania 20's Triple Threat main event. Most recently, John Cena, Edge and The Big Show met in the semi-main event of WrestleMania 25 for a less-than-stellar triple threat match.
I'll put it right out there, I hate Triple Threat matches. I hate them more than I hate just about any other match in wrestling. The only Triple Threat match I've really enjoyed from bell to bell recently was Low Ki/Prince Devitt/Kota Ibushi from New Japan Pro Wrestling's WrestleKingdom 7.
I just don't like them, they were the worst match type in any wrestling video game career mode and I really hate the way they are built psychologically. This mainly stems from the fact that they all follow the same pattern. At some point, two of the guys decide to team up to beat the other guy, then one goes for a pin and the other knocks him off. Oh my! …Yawn. At some point, one guy took a huge move and is out of the ring for minutes at a time while the other two work. We get a double suplex at some point, a stupid both guys trying to pin another spot, overall it just ends up being a joke.
I mean, sure, Triple H, Benoit and Michaels put together an awesome Triple Threat, but c'mon. Like Ibushi, Low Ki and Devitt, we're talking apples and oranges in comparing those guys to The Rock, John Cena and CM Punk.
That's not taking away from the star-power of any of those three. In fact, from a purely star-power standpoint, that's probably your best match (and likely why it will be chosen) but in-ring, I'm not confident those guys would put together something decent.
Big fights and big matches don't have three guys; they have two. That's just how it is. It fits better on a post, it makes more sense, and it's easier to build up. Keep the WrestleMania main event one-on-one, even if it keeps CM Punk out of the WWE Championship picture this WrestleMania.
Rating: 5/10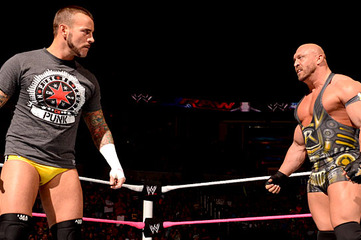 Photo credit: WWE.com
You know how I hate Triple Threat matches? Guess what I hate just slightly less? Four-way matches. Similar concept to Triple Threat, but at the very least you have two matches going on at most times. That alone is a reason why I'd avoid it at all costs as a potential WrestleMania main event.
This is especially true since this month's Elimination Chamber will feature multiple multi-man matches, we really don't WrestleMania littered with them.
History also tells us how dangerous and disappointing four-way main events can be for WrestleMania. The 2000 edition featured McMahon-a-Mania (a McMahon in every corner, hooray!) with The Rock, Triple H, Mick Foley and The Big Show battling in one of the more disappointing WrestleMania main events ever.
It wasn't that the match itself was that awful, it was good. The issue was it didn't get good until it was Triple H vs. The Rock for the last half of the match. Once the four-way elimination match was down to the one on one matchup it should have been, it became a great match. I don't think that's a shock to anyone.
This match especially would suffer with Ryback in the main event. Ryback may be over, but we've seen enough of him in main events to know that in-ring he just can't hang. He's just not made for long matches, or matches beyond five minutes.
You could eliminate him quickly, as WrestleMania 2000 did with The Big Show, but then what's the point.
I'd avoid a four-way match like the plague. I have no desire to see this whatsoever.
Rating: 1/10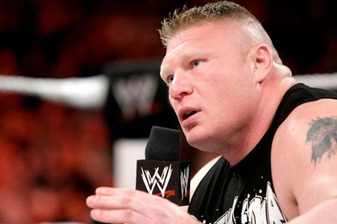 Photo credit: http://latimesblogs.latimes.com
Wait, what are you talking about? Aren't both of them Paul Heyman guys? Well, maybe that's the problem. Maybe CM Punk doesn't want to be second fiddle to Brock Lesnar in Paul Heyman's mind. Maybe CM Punk thinks Heyman turned his attention to Lesnar and forgot about him.
Yeah, it's a stretch, but if there is a fear that Punk needs to be in a major singles match and for whatever reason they want to turn him face, this is a great matchup.
Is it something I want? Absolutely not. I don't want Punk as a face just yet and I'd shiver to think of Lesnar being a face at this point either. I love both of their allegiances to Heyman, so I hope that doesn't go away.
Then again, I'm not Vince McMahon and I'm not staring at a glaring hole at WrestleMania without The Undertaker. This would be a total "knee-jerk"/reactionary matchup and I'll keep my fingers crossed it doesn't come to this, but if it does, I'll at least mark out of the in-ring. This has the potential to be great, but should be avoided at all costs.
Rating: 4/10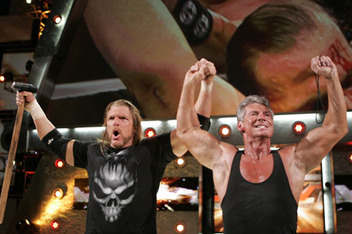 Now THIS tag match I could get with. I'm not exactly pining to see Vince McMahon in the ring again and given his recent hip replacement surgery, it's probably not happening. Still though, I can't help but have some intrigue for this matchup. It just works on too many levels. Punk and Lesnar are doing Heyman's bidding, son-in-law teaming up with his father to get their revenge. It's just too cool. The promos would be out of this world as well.
In-ring, obviously, is going to be a huge issue. Vince won't be able to go or at least shouldn't try after his hip replacement. Triple H is still solid, but very slow these days. Punk is Punk and Lesnar, while sloppy in some sense, gives an aura that is unmatched by anyone in mainstream American wrestling. He gives that aura of danger and shoot fighting that nobody in the WWE or TNA can come close to matching.
I have no doubt that this would be a good match with a super-hot crowd and an awesome buildup, but I worry about where it leaves Punk. Not only is he the secondary man in this match, the guy rather shoehorned into the Lesnar/Triple H feud, but also more disappointing, he'd probably have to lose.
Triple H is getting his win back and it's going to be at the expense of Brock Lesnar whether or not Punk is tagging with him. I'd like to avoid Punk losing if at all possible (it would make three consecutive losses).
This one would be cool, but it's not realistic and the ramifications of another CM Punk loss could be large, especially if he's in a secondary role in this tag team match. If there's no better option, I like this a lot, but there is another option I REALLY like.
Rating: 6/10
I hadn't thought about this matchup until I did some more research for this article and let me say, I'm sold.
In-ring, we're probably not looking at a five-star affair given the state of Foley's body, but my god can you imagine the promos leading up to this? I mean, seriously, those promos.
Foley has been known to rise to the occasion for WrestleMania and while I'm confident we can get something out of him, I wonder just how much he has left in the tank. I'd imagine there's not much but there is enough to have a solid WrestleMania semi-main event type match.
The seeds were planted for this feud when Foley questioned Punk's allegiance to Paul Heyman. The angle was small and meaningless at the time but can come to the forefront when needed.
Let me remind you again, Heyman, Foley and Punk cutting promos on each other. Yeah, okay, just wanted to make sure you didn't forget.
Rating: 8/10
This article/slideshow also appears on VoicesofWrestling.com.