Duke Basketball: 5 Keys to Beating NC State in ACC Showdown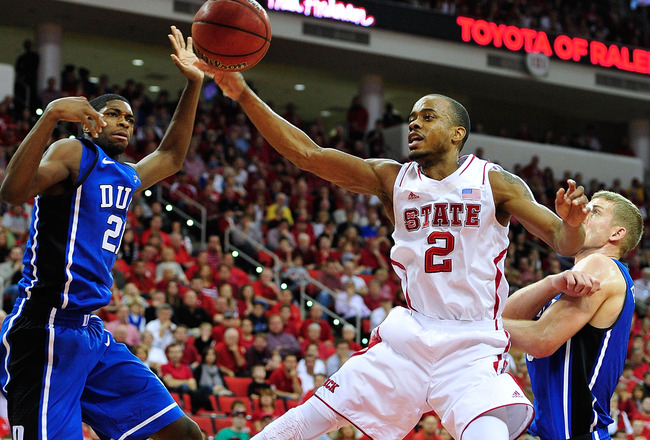 Grant Halverson/Getty Images
The Duke Blue Devils look to avenge their first loss of the season when they take on the NC State Wolfpack in Cameron Indoor Stadium on Thursday night.
On January 12, NC State defeated Duke 84-76 in a game some believed signaled the rise of the Wolfpack as the ACC's best team.
However, NC State has struggled since, and the Blue Devils appear to be learning how to play without Ryan Kelly. Now Duke must win to remain within striking distance of Miami, which sits atop the ACC standings.
Here are five keys to beating NC State in this ACC showdown.
(All stats via StatSheet.com)
Contain Richard Howell on the Glass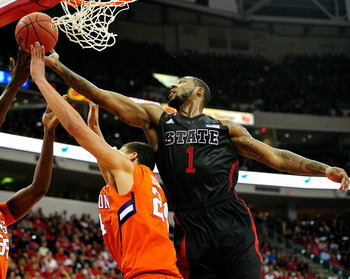 Richard Howell is a monster on the boards.
Grant Halverson/Getty Images
In the first game between these two teams, Richard Howell was an unstoppable rebounding force for NC State.
He finished the game with 18 rebounds, including six offensive boards.
Howell is averaging 10.9 rebounds per game, and Duke should be fine if his rebounding total is around there. However, he enters into a sort of "beast mode" if his rebounding total gets near 15 or 16, which could mean trouble for the Blue Devils.
Against a team with as much offensive firepower as NC State, it is critical that Duke limit the Wolfpack's possessions and second-chance opportunities.
Disrupt Scott Wood's Shooting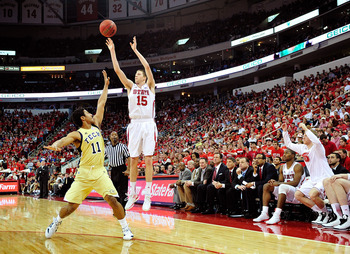 Duke can't let Scott Wood get hot.
Grant Halverson/Getty Images
In NC State's six losses this season, Scott Wood has scored in double figures only once—10 points in a loss to Michigan.
Whether it's Rasheed Sulaimon, Seth Curry or Tyler Thornton who draws the assignment of guarding Wood, it is important for that player to chase Wood off the three-point line and force him to put the ball on the floor.
Wood has yet to show he can beat a defense with his driving ability, and his primary role is as a catch-and-shoot specialist.
If Duke can disrupt Wood's rhythm, particularly early, there's a good chance he will be a nonfactor for the Wolfpack.
Rasheed Sulaimon Must Attack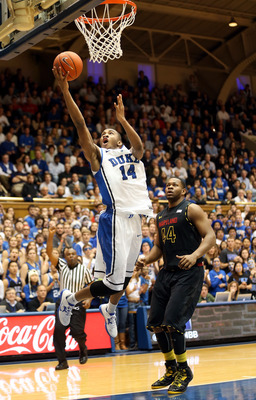 Rasheed Sulaimon could be the difference.
Streeter Lecka/Getty Images
Rasheed Sulaimon appears to have broken out of his shooting slump and is back to playing great basketball for the Blue Devils.
The freshman from Houston, Texas, looked very impressive in Duke's 79-60 win over Florida State on Saturday, scoring 14 points on 6-of-11 shooting.
Most impressive was the confidence Sulaimon displayed in attacking with the dribble and using his midrange shooting ability. Duke will need Sulaimon to play with that confidence against NC State.
Sulaimon scored only four points in the first game between these two teams. One would think he can't wait to have a better showing in the rematch.
Keep Mason Plumlee out of Foul Trouble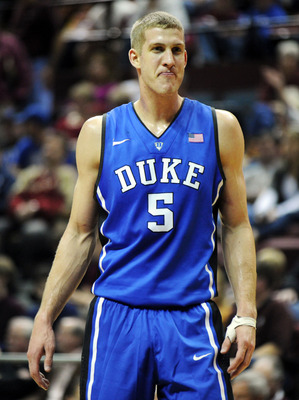 Mason Plumlee must stay on the court for Duke.
USA TODAY Sports
I previously mentioned the importance of keeping Richard Howell under control on the boards, and the bulk of this responsibility will fall on Mason Plumlee.
To do this, he needs to stay on the court.
Because NC State has two talented frontcourt players in Howell and C.J. Leslie, Plumlee will need to play good help defense without fouling.
He will also need to be smart and avoid silly fouls going for offensive rebounds or risky plays near the perimeter.
Coach Mike Krzyzewski has put a lot on Mason Plumlee this season, and the senior is averaging 34 minutes per game.
If Plumlee can manage his fouls, don't expect to see him getting any rest on the bench.
Make the NC State Guards Defend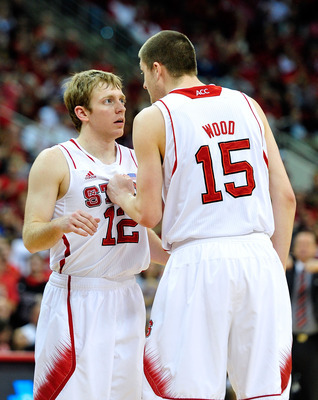 The Blue Devils must attack NC State's guards.
Grant Halverson/Getty Images
NC State coach Mark Gottfried still isn't sure if Lorenzo Brown will be able to play against Duke.
The junior point guard is recovering from an ankle injury sustained in a loss to Virginia on January 29.
However, even if Brown is able to play, it's unlikely he will be anywhere near 100 percent. If Brown doesn't play, the point guard responsibilities will fall on freshman Tyler Lewis.
Quinn Cook, Seth Curry and Rasheed Sulaimon must take advantage of these vulnerable NC State guards and attack them. This is a game where Quinn Cook's ability to beat people off the dribble could create major problems for NC State.
Keep Reading

Duke Basketball: Like this team?