New Jersey Devils: Why Lou Lamoriello Remains One of the Best GMs in the NHL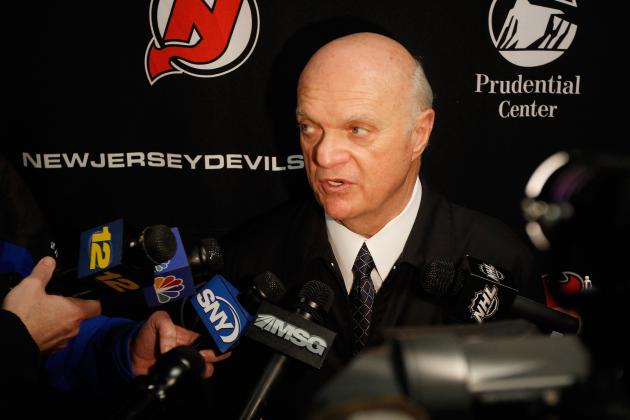 Mike Stobe/Getty Images
Lou, along with Martin Brodeur, is the foundation of the Devils organization.
Lou Lamoriello is the longest-tenured general manager in the NHL. Since 1987, he has been calling the shots in New Jersey, and the Devils have been among the NHL elite ever since.
A strict disciplinarian set in his tight-lipped ways, Lou has a formula that has survived three lockouts, rule changes and a risky arena switch.
But even with a surprise run last spring, Lou and the Devils haven't raised the Stanley Cup in almost 10 years. Some wonder if his conservative philosophy both on and off the ice is outdated and can not succeed in the new-age NHL.
I could list past accolades until the cows come home. Instead, I'll focus on the present climate that shapes the Devils. Here are six moves that prove Lou still has it. I'm feeling extra soulful today, so the slides are titled with Isaac Hayes songs. Of course, there's always a theme involved.
Begin Slideshow

»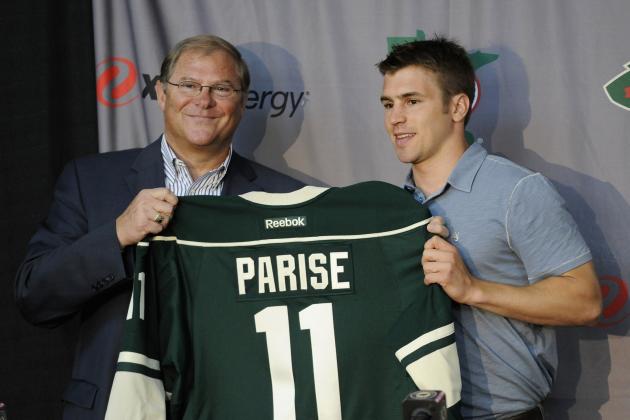 Hannah Foslien/Getty Images
Like he did with others, Lou let Zach Parise walk away this past offseason.
"Walk on by" just happens to be my favorite Hayes jam.
It was tough for teammates and fans to watch as the face of the franchise in Zach Parise signed a free-agent deal with the Minnesota Wild. The heart and soul of the team, Parise was willing to do whatever it took to win on both ends of the ice.
Still, he isn't worth the contract he got from Minnesota, and Lou knows this. A 13-year-deal worth nearly $100 million for an undersized winger? Don't get me wrong, Parise is everything you can ask for in a player. But his game revolves around relentless effort more than breathtaking speed or skill. In a one-on-one scenario, he's not going to blow by the defenseman. He is more likely to snap one off through his legs.
In other words, he is a really, really good scrappy player.
In recent years, Lou has watched Scott Niedermayer, Bobby Holik, Scott Gomez (who has never been the same), Brian Rafalski and Brian Gionta walk out of the door. And while it hurts, Lou was prepared to see Parise go the same route. The Devils are already going to have one outrageous contract on their team. They don't need two.
It's this levelheadedness that keeps things so consistent in New Jersey.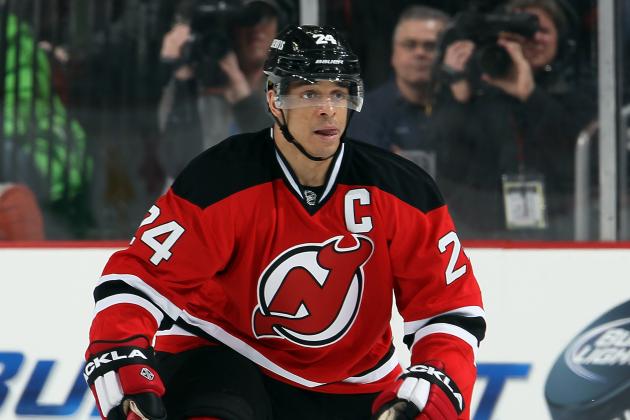 Elsa/Getty Images
Bryce Salvador is New Jersey's leader on and off the ice.
I'll admit it was hard to find a title for this slide. Had to dig into movie soundtracks. It'll do.
When Parise took off, he left the Devils captain-less. With several good candidates, it was up to the the big man upstairs to pick a new leader. This isn't high school hockey where a player's popular vote decides it.
The obvious choice was Ilya Kovalchuk. He is the team's most talented player. The guy locked up long term. Then he pulled that little stunt and missed the start of training camp.
Lamoriello and head coach Pete DeBoer named defenseman Bryce Salvador as captain. He is just the hard-nosed type of player that embodies the identity Lou has worked to establish. He battled a career-threatening concussion to return to this team.
Anointing Kovalchuk would have sent the wrong message to the rest of the team. Lamoriello knew that and made the right choice in Salvador.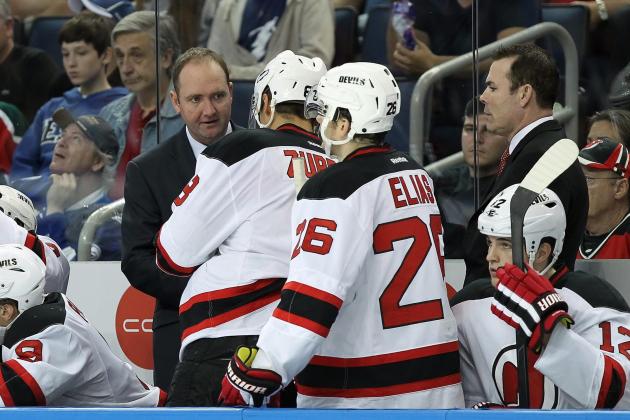 Kim Klement-USA TODAY Sports
Pete DeBoer took New Jersey to the finals in his first year with the team.
When Lou Lamoriello hired Pete DeBoer prior to last season, he had three seasons coaching the Florida Panthers under his belt, with none of them resulting in a playoff appearance. In fact, over the course of those three years, his teams got progressively worse.
This did not deter Lou, who was charmed by DeBoer's cerebral approach to the game. He sees eye to eye with Lamoriello's hard-lined, defensive approach but also knows the importance of an aggressive forecheck. The latter was a big reason behind the Devils' success last postseason.
For Lou, it's not always "what have you done for me lately," but more what can you do for me in the future.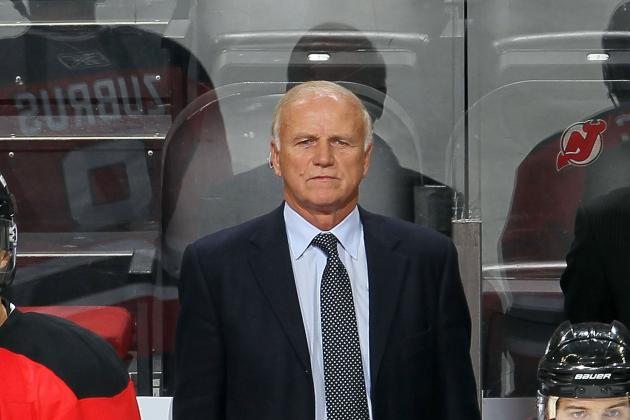 Jim McIsaac/Getty Images
Lemaire behind New Jersey's bench in 2010.
Jacques Lemaire's first stint as Devils coach was from 1993-1998. He helped to capture New Jersey's first championship in 1995. After an eight-year absence, Lou Lamoriello brought him back in 2009. That was supposed to be just a one-year reunion tour. But things went awry with John MacLean in the beginning of the '10-11 season and Lou asked his old buddy to help clean up the mess. He put on a torrid second half, just falling short of a miraculous playoff appearance.
After three separate coaching stints, ol' Jacques is still around—now as an adviser. Lemaire is a master of the game. As a player, he won the Stanley Cup eight times with the Canadiens and is a Hall of Famer.
Lamoriello knows the value of his infinite wisdom and convinced him to stick around and help guide the younger players.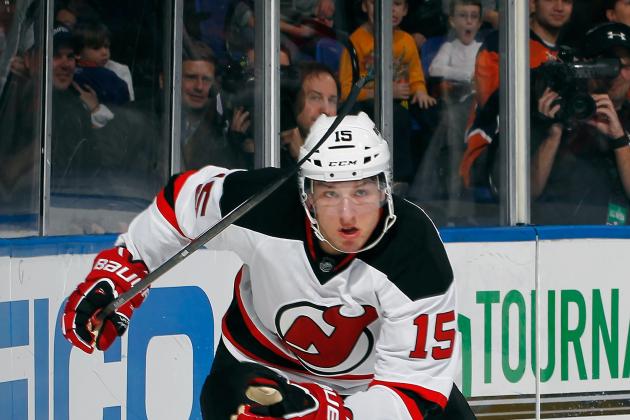 Andy Marlin/Getty Images
Stefan Matteau may not play another game for the Devils this year, but that doesn't mean he's returning to juniors just yet.
If Stefan Matteau plays one more game in a Devils uniform this year, his rookie contract will kick in and he will have only two years left.
The 18-year-old has impressed with his size and instincts but is still very raw. Conventional wisdom says it's wise to send Matteau back to his Canadian junior team and let him mature at his own pace.
While this will probably happen eventually, Lou isn't willing to buy that plane ticket quite yet.
He doesn't play in games. But Matteau still practices and travels with the team, absorbing the ins and outs of the NHL lifestyle. There is no rush to get him back to the QMJHL. This exposure is invaluable and will benefit both him and the Devils in the long run.
Bruce Bennett/Getty Images
Lamoriello appreciates everybody in the organization from top to bottom.
As reported by Tom Gulitti's "Fire and Ice" blog, the Devils plan to honor longtime goaltending coach Jacques Caron in a pregame ceremony March 16.
Not many organizations would honor a goaltending coach this way. Lamoriello doesn't overlook Caron's contribution to the franchise. More than anything, he has been with Martin Brodeur every step of the way. Although he lives in Florida now, Caron still works with the Devils. This is his 20th year.
Who do the Devils play March 16? Why, the Montreal Canadiens, of course. A team Jacques Caron probably rooted for when he was growing up in Quebec. Coincidence? Doubt it.
Lou's at it again. Talk about a dude who's got soul.