2013 UEFA Champions League Round of 16 1st-Leg Predictions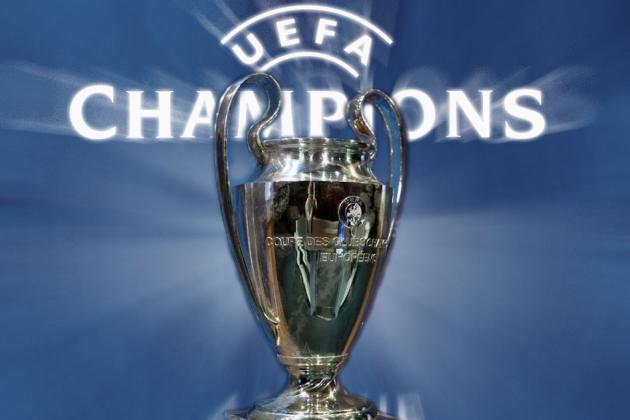 Champions League First Round Action Gets Underway February 12th
With the return of the first round of the Champions League, the eyes of the soccer world will be fixed on the 16 remaining teams as the first legs start Tuesday.
There has been at least one major shock in the group stage with Celtic defeating Barcelona in the second leg and finding a spot in the final 16.
Also, the addition this season of Zlatan Ibrahimovic and Ezequiel Lavezzi has Paris Saint-Germain in the Champions League round of 16 for the first time in eight seasons where they never advanced beyond the group stage.
Some of the familiar teams to be playing next week including Bayern Munich (finalists last season), Juventus, Manchester United, Barcelona and Real Madrid.
Which teams are more likely to have an early victory in the round of 16?
Read ahead to find out.
(updated 2/20/13)
My predictions are 4-4 currently
Begin Slideshow

»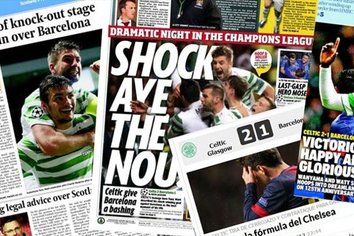 Will Celtic recreate the magic?
Date: Tuesday, February 12, 2013 at 2:45 p.m. EST
Venue: Celtic Park, Glasgow
Celtic Analysis
Celtic came through the qualifying rounds to earn a spot in the group stage. There they defeated Spartak Moscow twice, Barcelona once and drew even with Benfica once. Also, they currently have a commanding 15-point lead in the Scottish Premier League.
Celtic have a somewhat sizable match this weekend against second-placed Inverness, which takes place three days before this Champions League match.
They have played well as of late scoring seven goals in their last two competitions and are 9-2-2 (league record) at home, with 26 goals for and only eight allowed.
Juventus Analysis
The current leaders of the Serie A and reigning Italian champions had a slow start to their Champions League before winning the last three games in the group stage and not conceding a goal in any of them (4-0 FC Nordsjaelland, 3-0 Chelsea, 1-0 Shakhtar Donetsk).
Juventus have struggled recently by being defeated in the Coppa Italia by Lazio and drawing at home against Genoa. They will face Fiorentina at home this weekend before travelling to Celtic Park.
They are 8-2-1 (league record) on the road, scoring 23 goals and only allowing eight.
Prediction
Celtic 1-1 Juventus.
Both teams are so evenly matched that it is difficult to see either team having a decided advantage over the other. Juventus starting slow before turning on the gas combined with Celtic's raucous crowd seems to favor an early goal for Celtic followed by a late equalizer from Juventus.
Outcome
Juventus 3-0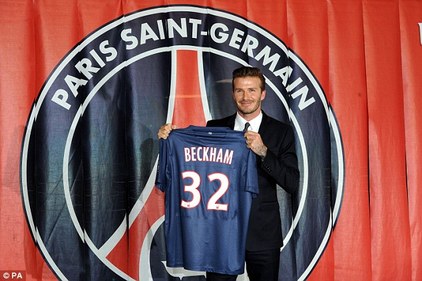 Can David Beckham give PSG the edge against Valencia?
Date: Tuesday, February 12, 2013 at 2:45 p.m. ET
Venue: Estadio Mestalla, Valencia
Valencia Analysis
Valencia tied Bayern Munich on points in the group stage but claimed second place due to goal differential. Recently, they were ousted from the Copa del Rey by Real Madrid before scoring a pivotal draw with Barcelona at home a few days ago.
Valencia have struggled at home in La Liga this season with a 7-2-3 record and allowing 21 goals while only scoring 23.
PSG Analysis
PSG have had a tremendous season with the addition of the scoring machine Ibrahimovic. Currently, PSG have an incredible streak of 11 games in all competitions without a loss (10 wins and 1 draw). They have not tasted defeat since December 1.
In the group stage, PSG went 5-1 with their only loss being to FC Porto and claimed first place. The leaders of the French Ligue 1 are definitely hitting their stride.
Prediction
Valencia 1-2 PSG.
PSG are playing better on the road than at home (23 goals scored compared to 19 at home) and Valencia conced too many. Look for Valencia to get down early and struggle in this competition.
Outcome
PSG 2-1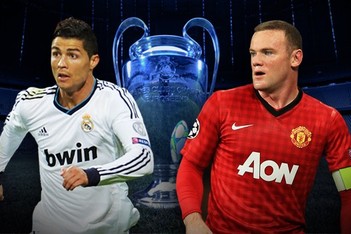 Cristiano Ronaldo faces his former teammate Wayne Rooney
Date: Wednesday, February 13, 2013 at 2:45 p.m. ET
Venue: Estadio Santiago Bernabeu, Madrid
Real Madrid Analysis
Real Madrid are in the midst of a difficult spell of games (Copa del Rey against Barcelona, Champions League against Manchester United, heated race in third place of La Liga), and Cristiano Ronaldo is claiming that he is not 100 percent fit.
Real Madrid endured the group of death and came out with a second-place finish.
At home, they are playing absolutely superbly. They have yet to lose (8-2-0) and have scored 32 goals while only allowing eight.
Manchester United Analysis
Man U claimed an early lead in the group stage (four wins) and squeaked by in the final two with losses while trying to hold back from sustaining any more injuries.
United have developed a commanding lead in the English Premier League with February and March providing the easier part of the schedule (QPR, Reading, Norwich City, West Ham and Sunderland).
They do have concerns with the defense and goalkeeper and are more susceptible on the road (9-2-2 with 16 allowed goals). However, the addition of Robin van Persie has brought a tremendous amount of firepower to United's front.
Prediction
Real Madrid 2-1 Manchester United.
At home, Madrid is deadly and with United's question marks in the backfield, it will be hard for United to get many chances to score.
Outcome
1-1 draw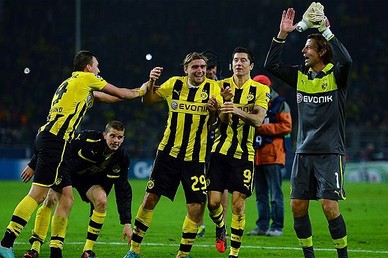 Borussia Dortmund conquered first place in the group stage over Manchester City and Real Madrid
Date: Wednesday, February 13, 2013 at 2:45 p.m. ET
Venue: Donbass Arena
Shakhtar Donetsk Analysis
The Ukrainian League reigning champs and current leaders have a nice 10-day layoff from their previous game until they meet Borussia next week.
They struggled against better talent in the group stage (losing to Chelsea and Juventus).
They are 17-0-1 in league play with an amazing 52 goals scored and only eight allowed.
Borussia Dortmund Analysis
Borussia made it through the group stage without one loss to top-level talent and currently sit second in the Bundesliga.
They have won the past five games in all competition by a score of 19-4 and are 6-4-1 in away league matches. They have allowed 14 goals while scoring 26.
Prediction
Shakhtar 2-2 Dortmund.
It is hard to know how good Shakhtar is against the opponents they face in Ukraine. Also, Borussia has shown that they can play with any team. I see both teams scoring and Borussia claiming the critical away goals with the second leg being the deciding matchup.
Outcome
2-2 draw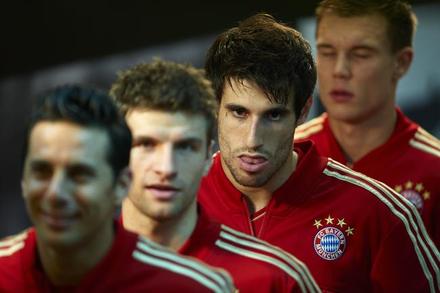 Bayern Munich have been unstoppable in Bundesliga this season
Date: TUESDAY, FEBRUARY 19, 2013
Venue: Emirates Stadium, London
Arsenal Analysis: Arsenal has had a down year in the Premier League but has surprisingly stayed competitive in all competitions. They are currently sixth in their club league but have advanced to Round 5 of the FA Cup and find themselves in the Group of 16 in the Champions League. Their defense has been suspect at times while they have shown an ability to attack with Giroud and Walcott.
Bayern Munich Analysis: Bayern Munich has been on fire since the end of October winning 12 games, drawing four and losing zero. In fact, the past four games Bayern has not even conceded a goal. Mandzukic and Muller have combined for 25 goals. On the road, Bayern has only conceded one goal all season while scoring 25. Their performance speaks highly of how well they are playing.
Prediction: Munich 2-0. Munich have been so strong away that it is very difficult to see Arsenal having much luck getting a goal much less a win.
Outcome
Bayern 3-1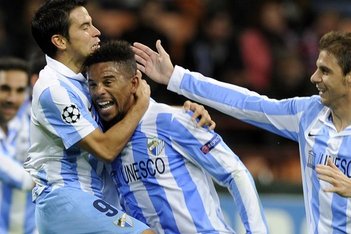 Malaga finished in first place in Group C
Date: Tuesday, February 19, 2013 at 2:45 p.m. ET
Venue: Estadio do Dragao, Porto
FC Porto Analysis
Current Portuguese Liga leaders with an astounding 9-0-0 record at home and 26 goals for with only one conceded, FC Porto look unbeatable on their home field. They also were undefeated at home during the group stage and pitched four shutouts in the six games played. Jackson Martinez has 21 goals this season as Porto look dangerous in this first leg.
Malaga Analysis
Malaga made it to the group stage by defeating Panathinaikos in the playoffs before claiming first place in Group C over AC Milan. Malaga went undefeated in group stage, winning the first three games and drawing the last three.
On the road in La Liga, Malaga have had a difficult time scoring with only eight goals scored and six onceded in 10 matches and 4-3-3 record.
Prediction
FC Porto 1-0 Malaga.
Porto are very strong at home, while Malaga are stingy on defense but lack a strong scorer. Porto should easily get the win but probably will not score too many in the process. I would be shocked if Malaga recorded a goal.
Outcome
Porto 1-0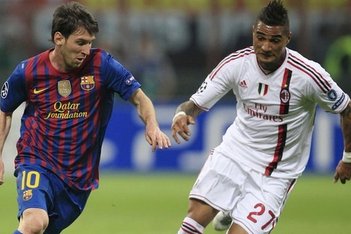 Can Barcelona advance past the first round for the sixth straight year?
Date: Wednesday, February 20, 2013 at 2:45 p.m. ET
Venue: Stadio Giuseppe Meazza, Milan
AC Milan Analysis
Milan had a very slow start in Serie A losing five of their first eight games, being ousted from the Coppa Italia in the quarterfinals and only winning two of the six games in group stage. However, with the addition of Mario Balotelli and the superb striking of Stephan El Shaarawy and Giampaolo Pazzini, they have won four of the last five in Serie A and have moved up to fourth in the club table.
At home, they are 8-0-4 with 20 goals scored and 11 conceded.
Barcelona Analysis
Barcelona started the season absolutely on fire winning 18 of their first 19 games in La Liga before cooling down. They still remain on top with a sizable lead and Lionel Messi leading the way with 34 goals thus far this season.
Their only loss this season in La Liga has been on the road where Barcelona is 10-1-1 with 38 goals scored and 17 allowed.
Prediction
Milan 2-2 Barcelona.
Barcelona will easily get one or two away goals at AC Milan, but will Milan score against the suspect defense of Barcelona? I believe that they will, and this will be brought back to Spain with the second leg deciding who moves on.
Outcome
AC Milan 2-0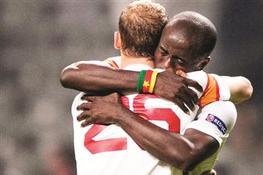 Galatasaray edged out CFR Cluj-Napoca for second place in Group H
Date: Wednesday, February 20, 2013 at 2:45 p.m. ET
Venue: Turk Telekom Arena
Galatasaray Analysis
Galatasaray have been able to sign Wesley Sneijder and Didier Drogba recently. This will prove pivotal in their race for the Champions League trophy.
Currently, the team is atop the Turkish Super Lig and has a 5-2-1 home record with 16 goals scored and nine allowed.
Schalke 04 Analysis
Schalke 04 sit sixth in the Bundesliga currently and are miles behind leaders Bayern Munich. Schalke came away unscathed in group stage winning three and drawing three.
They have struggled, though, in their past 11 games by recording six losses, three draws and only two wins. In fact, on the road they are 2-3-4 with 16 goals allowed and only 12 scored. They have some problems attacking on the road.
Prediction
Galatasaray 3-1 Schalke.
With Schalke's problems on the road and the recent additions for the Turkish team, it seems almost too easy to say that Galatasaray will win by two goals. However, it is difficult to find any way that Schalke can stay competitive in this match.
Outcome
1-1 draw