New England Patriots: What These 5 Patriots Must Improve in 2013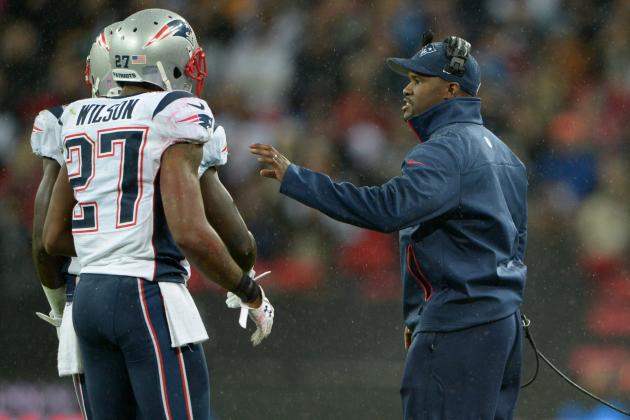 Kirby Lee-USA TODAY Sports
It's the offseason, and that means it's time to begin coaching 'em up.
At least one member of the New England Patriots played golf on Super Bowl Sunday.
That's a fact, not just a cliche.
With only a few years left in QB Tom Brady's career, the Pats need to make improvements throughout the roster to ensure Brady is working on a different kind of fade before next year's Super Bowl.
We've heard a lot about the draft and free agency, so let's keep it internal this time. What can returning members of the Patriots improve on next year?
Let's take a look.
Begin Slideshow

»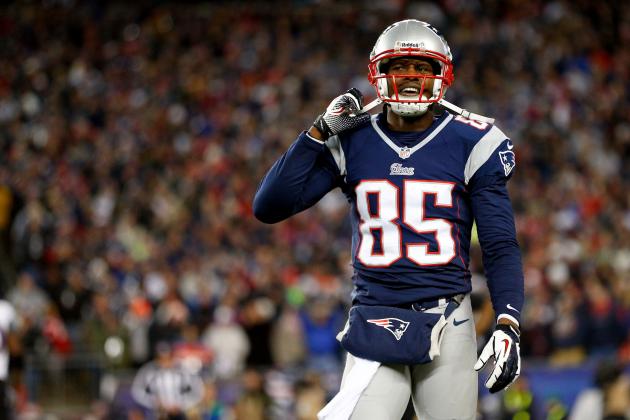 Jim Rogash/Getty Images

Brandon Lloyd had a fine inaugural season as a Patriot, posting 74 receptions for 911 yards.
These days, Chad Ochocinco would kill for numbers like that.
Lloyd wasn't the deep threat fans hoped he might be, and that's fine going forward. No one is expecting a soon-to-be-32-year-old wide receiver to suddenly reignite the burners—at least not without a few helpings of deer antler.
But if Lloyd is going to continue to be a mid-range workman along the perimeter, he's going to have to improve his short-area route-running.
Lloyd has nice strides and sinks his hips well into breaks, but too often you'll see him round off his routes when quick cuts are required. That's especially true on out patterns—he'll get a lot more targets if he makes sharp cuts and squares his shoulders to show Brady that he's open.
Lloyd also needs to work on his hot routes and options, as the Patriots offense puts a lot of responsibility on the receivers to make good pre-snap reads to find soft spots in the defense.
As Lloyd's familiarity with the complex Pats offense improves, we'll hopefully see more trust between him and Brady next season.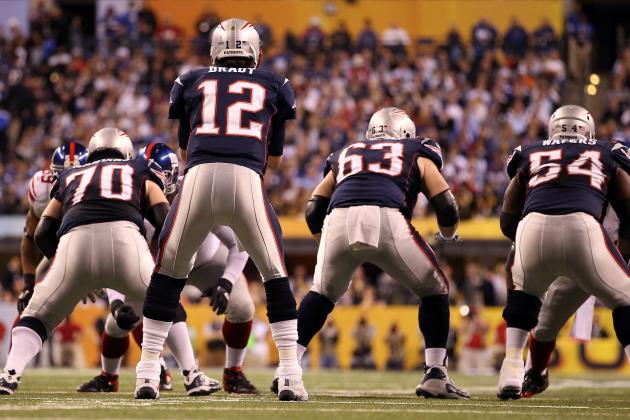 Ezra Shaw/Getty Images

Connolly plays an important role in the Pats offense (beyond his obvious one as RG): He's the primary puller, and he is excellent at identifying and blocking defenders at the second level.
So this offseason, I'd like the Pats' intelligent RG to work on a few things at the first level.
Connolly has relatively short arms (32 inches), and as a result, he sometimes gets beat by interior speed moves. To that end, he needs to work on getting a quick first step and not oversetting (getting in too wide of a stance off the snap).
If he works on getting into his stance as quickly as possible, he'll compensate for his short arms and average lateral quickness. Then he'll be able to use his excellent initial punch to bully speed rushers before they can make their move.
Against the run, the 6'4" Connolly needs to keep his pad level lower in order to drive back stronger defensive linemen. Just as importantly, he needs to consistently bend his knees when engaging—he occasionally locks his legs, which weakens his base, explosion and drive off the line.
That allows strong defenders to drive him into the backfield—not a good thing.
Connolly may be the weak point along the line, but he has the smarts and the talent to improve next year.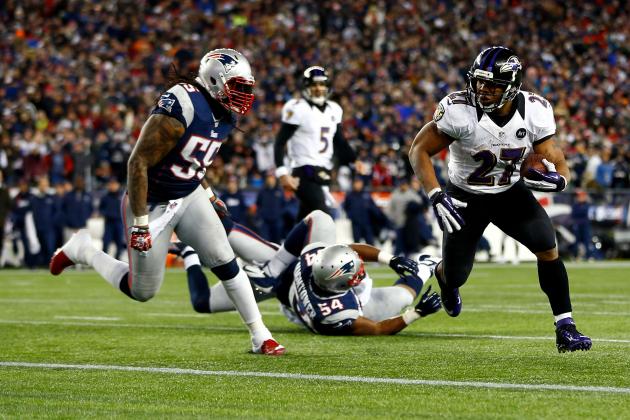 Jared Wickerham/Getty Images

I know, I know—Why do I want to dilute the aggressiveness of the Pats' most menacing player with "discipline?"
Because Spikes, whom I like very much, sometimes crosses the line from playing hard to playing dumb.
Spikes is a run-stuffer at heart—he lives to haunt the dreams of ball-carriers. Sometimes, I think Spikes gets as much satisfaction from laying the hit stick as chiropractors do from cracking bones.
But in that pursuit of the big play against the run, Spikes sometimes plays without the discipline required of a middle linebacker.
In an effort to stuff the runner for a loss, Spikes often sells out to gaps. While that works sometimes, it's often bad news when he guesses wrong. Instead, Spikes must learn to pursue down the line and meet the runner in the hole he does pick. After all, giving up three two-yard gains is better than stuffing the runner twice and yielding a 20-yard gain on third down.
Against the pass, Spikes is already a step slow in coverage, and to makes matters worse he often gets caught peeking in the backfield on play action (there's that run-stuffer mentality again).
Spikes is an elite run defender who has shown some skill on timing blitzes, but he took a step back in coverage at the end of the year. Though some of that regression may have been the result of his ankle injury, he makes things harder on himself with his lack of discipline.
My advice to Brandon? Keep playing hard, but always be smart.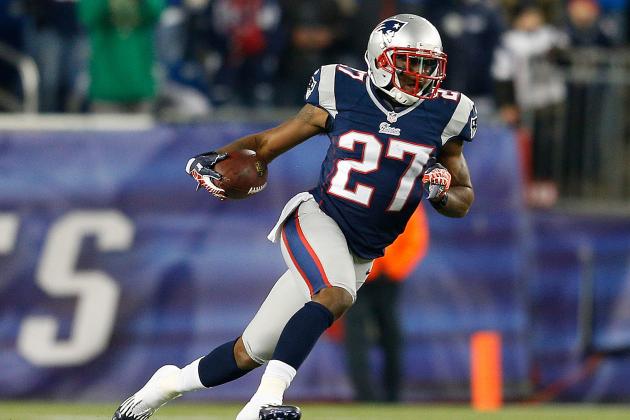 Jim Rogash/Getty Images

Tavon Wilson was a surprising second-round pick in last year's draft—the kind of guy that has Mel Kiper rampaging through his notes to find something to say on air.
Though Wilson played limited snaps as New England's third safety for much of the year, he demonstrated some value as a rookie. His ball-hawking skills resulted in four INTs and six passes defended, along with two fumble recoveries.
He also played a lot on special teams: 237 snaps, to be exact.
Wilson has proven that he has potential, but he's got work to do if he hopes to take the next step and crack the starting lineup.
Wilson's range is negated by his tendency to fall for double moves (Sidney Rice agrees). If Wilson can't get adequate depth in coverage to prevent big plays, it affects his credibility as a deep-shell cover safety.
If he keeps falling for false steps and can't adequately mirror receiver's routes, then he also doesn't project to be an ideal option in man coverage as, say, the third safety in a big nickel package.
The Fighting Illini safety has the range and instincts you want out of a young safety. But DBs make their money in coverage, and Wilson hasn't shown enough consistency in man or deep-zone coverage to warrant a starting position.
Hopefully we'll see a big leap in his second year.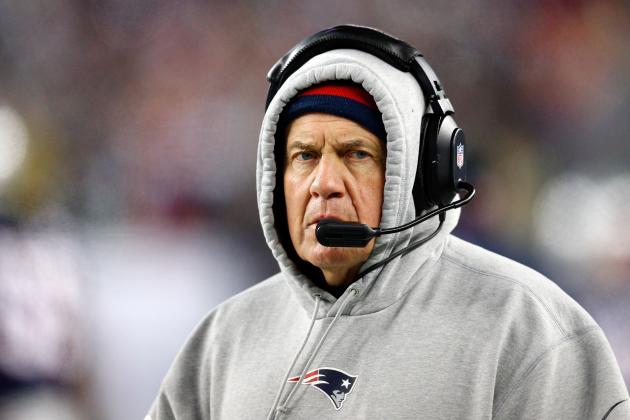 Jim Rogash/Getty Images

Once again, Darth Hoodie put together a menacing Death Star of football efficiency. And once again, it had a fatal flaw.
The Pats' failure can't be blamed on a thermal exhaust pipe the size of a womp rat, but it might be blamed—at least in part—on poor clock management at crucial times.
That falls primarily on the coaching staff.
Belichick and company seem to have lost their fastball with respect to clock management. They've been overly conservative with timeouts at the end of the first half, instead opting to try to catch the defense off guard with the hurry-up as the clocks winds down.
It hasn't worked in key situations this year, most notably in losses to the Seattle Seahawks and, of course, the AFC Championship Game defeat at the hands of the Baltimore Ravens.
Belichick preaches situational football, but he himself should figure out his role in leaving points on the table in those situations. He needs to maximize opportunities to score points as the clock winds down, and that means ending this frustrating tendency to let the clock run when they have timeouts to spare.
Belichick wears a lot of hoodies for the Pats, including GM and head coach, and he's demonstrated over the years that he's among the best in league history at talent acquisition and coaching.
But he needs to make sure he's always putting that talent in the best position to win, and that means tightening up his own issues with managing the clock.