Top 5 Super Bowl National Anthems of All Time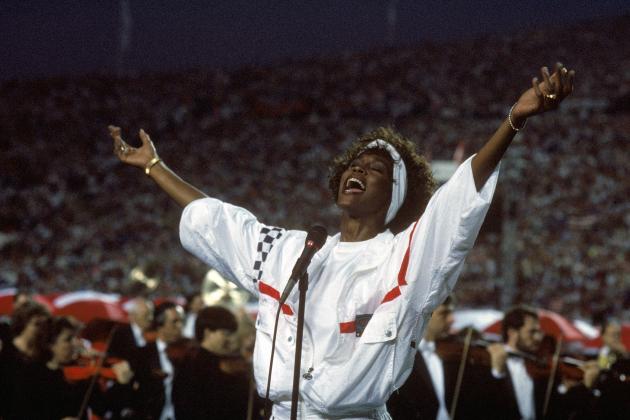 George Rose/Getty Images
Few have sung the National Anthem with half the passion of Whitney Houston prior to Super Bowl XXV.
Whitney Houston is probably turning in her grave after Alicia Keys' long-winded jazz rendition of the Star-Spangled Banner at Super Bowl XLVII fell flat.
Many have tried, but few have done it quite like Whitney, whose ensemble with The Florida Orchestra is one of the greatest National Anthem performances not only in Super Bowl history, but of all time.
That being said, there have been more than a few memorable performances of our country's beloved anthem during the 47-year history of the Super Bowl, as we've seen everything from solo, "a cappella" acts to full choirs with instrumentation, implying that there's no specific criteria that makes a Star-Spangled performance shine, it just does.
A masterful performance of such a meaningful song can send shivers to your spine, goosebumps to your arms and tears to your eyes, invoking emotions you weren't sure existed in a world of hot wings, beer and pigskin.
Only a great few can transcend the game, demanding your attention, if just for a short while, in order to honor the magnanimous nation that brought us the sport we love so much.
Those are the performances that comprise this list.
Begin Slideshow

»
While less well-regarded than many performances—largely due to the fact it was recorded in 1970—Al Hirt, famous New Orleans' jazz musician, laid down a beautiful performance while an off-beat orator recited the words to our Star-Spangled Banner at Super Bowl IV.
There is just something chilling about this performance. Maybe it's the fact it's the oldest recorded performance available on the internet. Maybe it's the orator's voice, or the shrill, yet melodious sound of Hirt's horn.
No matter, this rendition checks in at number five based on its historical relevance and Hirt's jazzy anthem conclusion. Not to mention it's the only National Anthem that wasn't sung while also not simply being an instrumental.
Despite lip-syncing the performance, Jennifer Hudson delivered a powerful, heart-felt rendition of the national Anthem that awed the Tampa crowd.
Adding to the fact that she sounded incredible, she was making her first public appearance since the brutal murders of her mother, Darnell Donelson; her brother, Jason Hudson; and her 7-year-old nephew, Julian King.
This one has all the characteristics of a transcendent National Anthem: vocals, passion, and existential circumstances that only Hudson could understand.
The former American Idol champion Kelly Clarkson is known for her powerful voice, and she certainly put it on display during last year's Super Bowl national anthem.
Clarkson performed admirably, accompanied by a children's choir and a patriotic snare-drum rhythm that really added a special element to her interpretation, hitting every note without over-extending or adding falsetto to every word.
Maybe it's personal bias, but I think simple is better in terms of our national song. Kelly killed it, in a good way.
Everyone remembers Faith Hill, and how could you forget?
Her stirring national anthem from Super Bowl XXIV is one of the best ever. Not only does she have a triumphant, amazing voice, but she also exudes an almost unmet passion for the song in both her voice and her face.
Like Clarkson, Hill performed over a background of snare drums and refused to stretch and malign Francis Scott Key's work with gaudy vocals. Instead, she delivers one of the simplest, most powerful anthems in history.
Finally, the No. 1 national anthem of all time goes to the infamous yet endearing Whitney Houston.
Before her well-documented, drug-riddled marriage, Whitney was one of the greatest female vocalists in history.
As unfortunate as it is that her career ended in such a negative light, at least we were blessed enough to hear her heavenly voice before she left the Earth.
Moving past the nostalgia, it's easy to understand why this is probably the greatest Super Bowl national anthem of all time, as the pop superstar brings down the house in honor of those serving in the Persian Gulf, USA track suit and all.
She made the national anthem what is today by setting the standard for anthem greatness. She made it her own and proceeded to own it.
And, regardless of her voice, that track suit is incredible.
Bring on the goosebumps, Ms. Houston.