WrestleMania 29: Who Should Induct Trish Stratus into the WWE Hall of Fame?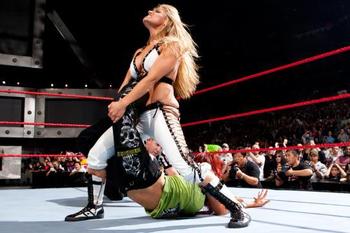 (WWE.com)
A few days ago it was announced that Trish Stratus was going to be inducted into the 2013 WWE Hall of Fame.
At the age of 37, Stratus will be the youngest person inducted into the hall.
She will be the sixth woman inducted, joining the likes of The Fabulous Moolah, Mae Young, Sensational Sherri, Sunny and Wendi Richter.
As induction night gets closer, chances are that we will find out who has the honor of inducting Stratus.
Until then, let's take a look at some of the best options (in no particular order) that have ties to her WWE career.
Tensai (Albert)
Unfortunately, T&A cannot induct Stratus due to the untimely passing of Andrew "Test" Martin.
However Tensai, the other half of that tag team is currently employed with the company.
Stratus broke into the WWE as the manager of the team of Test and Albert. She began her in-ring career while still managing them, often competing in matches like the one shown in the video above.
Trish managed T&A for almost a year before going off on her own to pursue a singles career.
The one thing holding Tensai back as being a potential candidate is his character. Tensai's character is all over the map, and I am not sure WWE would want him showing up at a WWE event looking "normal."
Mae Young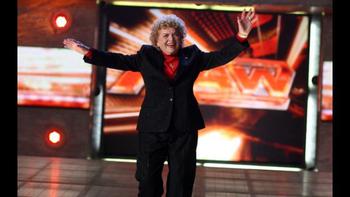 (WWE.com)
Of all of the Divas currently in the hall, Mae Young would be the best fit to induct Stratus.
Young and Moolah were the original WWE Divas.
Young seems to pop up on WWE TV at least once a year, thus making her still relevant to the WWE audience.
It would almost be poetic if she were to induct the first of the major modern day Divas into the hall.
Chris Jericho/Christian
In the months leading up to WrestleMania XX, Stratus was involved in an on-camera love triangle with Christian and Chris Jericho.
Christian and Jericho started the triangle by using Stratus and Lita, leading to the match above. Stratus would then fall for Jericho, only to betray him at WrestleMania XX by aligning herself with Christian.
Christian and Jericho are still with the company, although we haven't see Christian on TV in a while.
Aside from their in-ring work, these three share a Canadian bond with each other.
Mickie James
One of the greatest Diva storylines ever was Stratus and James.
Mickie James played the obsessed fan role perfectly. Each week she would turn up the crazy more and more, making it more uncomfortable for everyone watching.
Stratus and James had many memorable matches, such as the one above.
James might be a stretch given her current ties to TNA, but anything is possible, right?
Just imagine James coming out during the ceremony dressed like Trish. It would be quite the moment.
Lita
Lita may be the most obvious choice to induct Stratus into the hall.
Lita and Stratus have had many memorable battles, as both heels and faces.
They also have shared many memorable moments, like that time Trish interrupted Lita's wedding with Kane.
In her final match in 2006, Stratus defeated Lita for the WWE Women's Championship.
We have seen the two of them appear together on WWE TV in recent years, so it would be no surprise to see them together the night of the induction.
Conclusion
This year's WWE Hall of Fame Ceremony is shaping up to be a very memorable event.
Trish Stratus has earned the right to join the legendary WWE Divas that came before her by being enshrined in the hall.
Do you think there is a better person out there to induct Stratus?
If so, be sure to let me know.
The WWE Hall of Fame ceremony will take place the night before WrestleMania 29.
Keep Reading