Miami Dolphins: 5 Biggest Offseason Priorities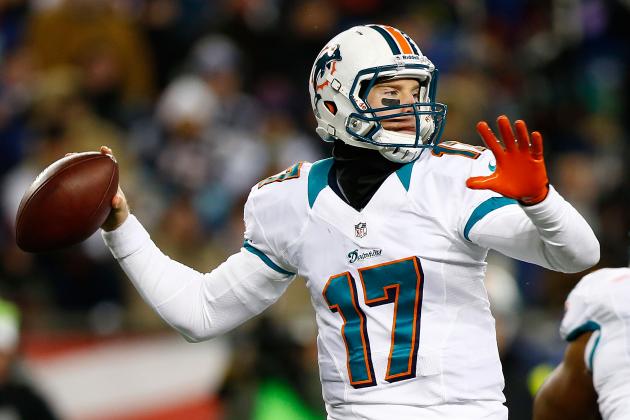 Jared Wickerham/Getty Images

In the NFL, the offseason can be as tumultuous as the regular season. With free agency, the draft, training camp and plenty of other unseen factors, the offseason can shipwreck a team that isn't prepared.
The Miami Dolphins could very well be playoff contenders if they can successfully navigate the 2013 offseason. Miami has a handful of needs to fulfill and should have the money to fill most of them.
But the Dolphins would be very wise to have a plan to follow. Of course, the folks who run the team aren't fools; they surely have a strategy laid out on how to attack the vicious offseason.
Let's assume, however, that general manager Jeff Ireland is heading into the offseason with a cavalier attitude and has ditched anything even resembling plans. That would be bad.
To give Ireland a hand, here are a list of five priorities Miami should adhere to in the upcoming offseason.
Begin Slideshow

»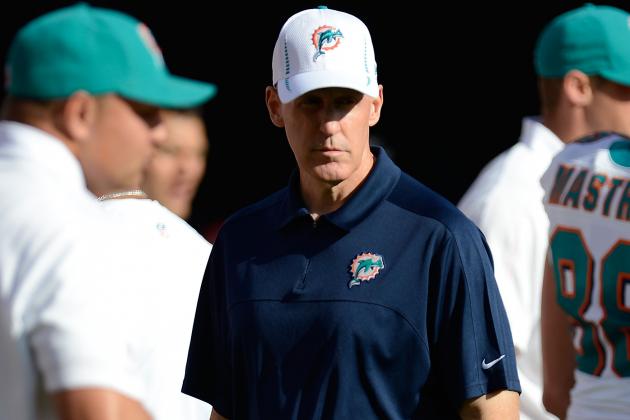 Thearon W. Henderson/Getty Images
With his rookie season in the books, Joe Philbin must improve in his sophomore year.
By many accounts, Joe Philbin had a fine season in his first year as an NFL head coach. Near the end of the season, I graded his efforts a solid "B."
Philbin managed to turn a largely unimpressive roster into a 7-9 football team that had all the grit of an undefeated squad.
The head coach deserves congratulations, but it's hardly the time for Philbin to get comfy, and I'm sure he knows it.
Philbin's solid first year was not without controversy. He was widely criticized for benching Reggie Bush for nearly an entire game after one fumble, as well as pulling Cameron Wake and Jared Odrick off the field during a crucial defensive series in which Miami gave up a crippling touchdown.
Play-calling was also occasionally an issue for Miami in 2012-13. Offensive coordinator Mike Sherman called the plays, and while he also did a mostly solid job, he would sometimes inexplicably go off the deep end with bizarre calls.
Philbin's old-school disciplinarian attitude and philosophy has served Miami well so far, but he must learn to loosen his grip at times. When the on-field product is being hurt because of a principle came up with in an office, it's time to reexamine things.
Mike Sherman must also improve in 2013-14. The Dolphins can ill-afford another season of inconsistent play-calling.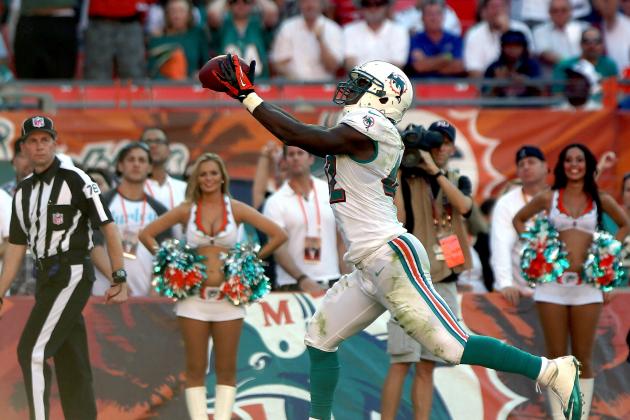 Marc Serota/Getty Images
Clay extending for a touchdown grab, one of his most exciting plays in 2012.
The Dolphins are a team with a lot of youth. For the most part, they got a lot of production out of their young players. Even if the numbers weren't there, some guys showed enough flashes to give hope.
It is imperative that Miami continues to develop its young talent.
Ryan Tannehill is the most obvious. The rookie quarterback started every game in 2012-13 despite a minimum amount of experience, yet he turned in a very respectable season. He's marketed as Miami's next big franchise quarterback, and he's shown enough already to make a believer out of at least one writer (hint: it's me).
But the Dolphins must continue to groom Tannehill properly, lest he regress and join the defunct list.
In addition to Tannehill, guys like tight end Charles Clay, fullback Javorskie Lane, offensive tackle Jonathan Martin and halfback Lamar Miller showed a ton of promise in 2012-13. But each of these players needs further education and training to unlock all of their potential.
If developed properly, the Dolphins could have a roster full of exciting, youthful talent.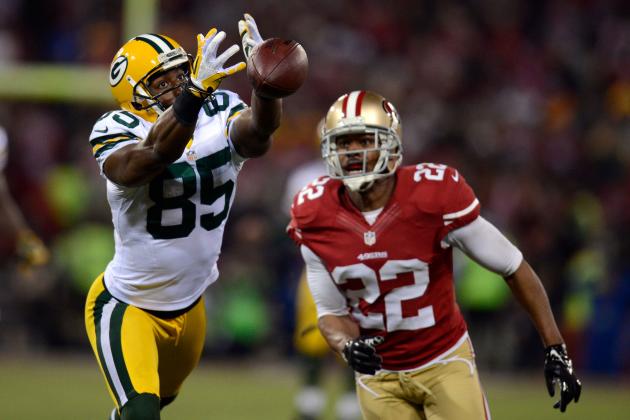 Thearon W. Henderson/Getty Images

First things first: Miami must handle its own free agents delicately.
A handful of key players are looking for new contracts, either from Miami or from other teams. Bush, Brian Hartline, Sean Smith, Jake Long, Chris Clemons and Randy Starks are just a few players the Dolphins must make a decision about.
Despite having a large bank account to play with this offseason, Miami should be wary when it comes to re-signing players. Miami should make a hard push to bring back its talented players, but it should avoid overpaying people.
What that means is Long is a goner. If Smith wants to be paid like a top-flight corner, he can—but it will be by another team. Don't be mistaken, the Dolphins should not be cheap. But they should spend their money carefully.
That same philosophy should apply to Miami's endeavors with other free agents.
The Dolphins should add an elite wide receiver, an athletic tight end and possibly a veteran cornerback in free agency. To add those players, Miami should pay big bucks. You see, these are crucial needs for Miami and the Dolphins should not be shy about coming out of pocket to fix them.
It's the unnecessary splurging that the Dolphins must avoid in free agency.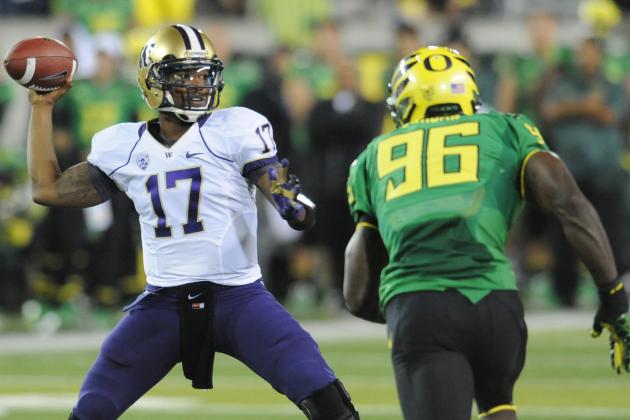 Steve Dykes/Getty Images

The Dolphins should look to build a roster that will be formidable for years in the 2013 NFL draft.
With five picks in the first three rounds alone, Miami should be able to do that. If free agency goes as planned, immediate needs like wide receiver and cornerback can be put off until the second or third round where Miami can still unearth a few gems.
If the immediate need of a receiver or corner is removed, the Dolphins can afford to do some playing with their first round pick. Instead of perhaps reaching for a guy like Tennessee wide receiver Cordarrelle Patterson, Miami could draft a menacing defensive end to bolster its pass rush.
The Dolphins should obviously fill its needs in the draft, because that's how you build a team for the future. But they shouldn't completely ignore the best available talent just because it's at a position that may not need an immediate fix.
Jared Wickerham/Getty Images

The Dolphins were a young team in 2012-13. In 2013-14, they could be even younger. For that reason alone, it will be important for those within the organization to manage their expectations.
Tannehill may not turn into Drew Brees next season, but that doesn't mean the front office should lose faith in him. Lamar Miller may not set the world on fire in 2013-14, but that doesn't mean a bucket of water should be emptied upon him.
The Dolphins will be young, raw and mostly inexperienced. From coaching staff to players, let them grow organically. Don't rush development because of a misguided desire to win it all in 2013-14.
This one is for the fans, too.
When the Dolphins turned out not to be the train wreck everyone expected after watching last year's Hard Knocks, enthusiasm mounted in South Florida. With the exception of a few negative hold outs, many people expect big things out of the Dolphins in 2013-14.
Let's pump the brakes for a second.
Yes, it's reasonable to believe that the Dolphins could be a playoff team in 2013-14 if the right players are added this offseason. But that doesn't make it a certainty. If the Dolphins miss the playoffs again next year, it's okay.
As long as the team doesn't show regression, don't panic. Everything will be okay. This franchise will turn itself around eventually. Just make sure you're along for the ride.