Ranking Chris Sale Among MLB's Top Starting Pitchers Under 25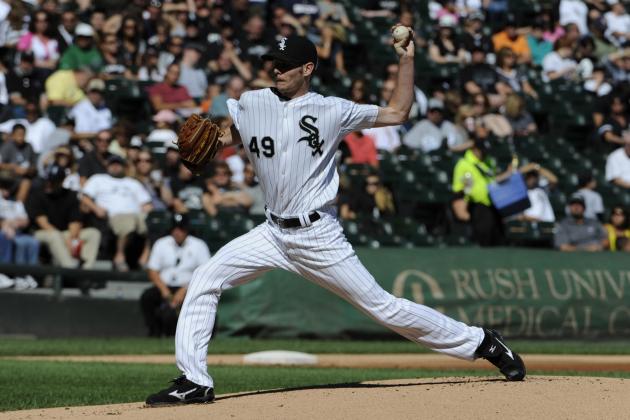 David Banks/Getty Images

Chicago White Sox left-hander Chris Sale is in select company as a MLB pitcher under the age of 25 who has already inserted himself into the national conversation. As the White Sox prepare for the 2013 season, the task for Sale, 23, will be to exceed the bar he set in 2012.
Among under-25 starters in the American League, the ace of the White Sox staff has already established himself as the best.
Matt Moore, from the Tampa Bay Rays, and the Seattle Mariners Michael Pineda have the talent, but they have not yet had the results. There are others, but Sale stands at the front of the class in the AL.
Where does Sale—who may get the nod on opening day for the White Sox—rank among starters under the age of 25 in all of MLB, though?
Let's take a look at how he stacks up against MLB's collection of elite, young pitchers.
*Statistics courtesy of BaseballReference.com, while velocity information was taken from FanGraphs.com.
Begin Slideshow

»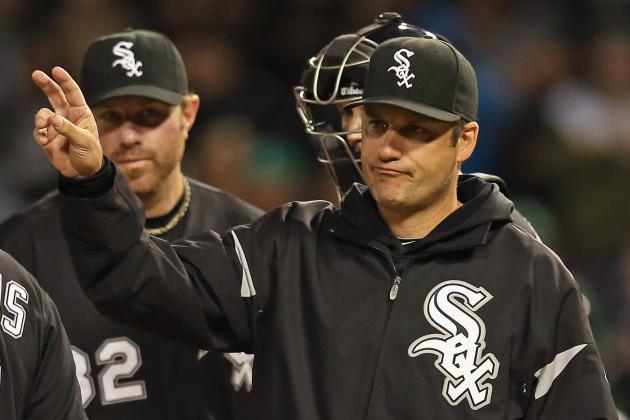 Jonathan Daniel/Getty Images

In order to compile the rankings, a baseline was set using each pitcher's total number of wins, along with their ERA, innings pitched, strikeouts, and WHIP. The rest of the pitching statistics—while important—are secondary to the ones above.
Five points were awarded to the pitcher with the best set of 2012 stats in each category, and one point for the worst.
Using an inverse formula, the conclusions are clear.
There was one tie, which was broken by looking at the total number of victories each pitcher amassed.
Also, only five pitchers are profiled because they had—far and away—the best statistical body of work during the 2012 season.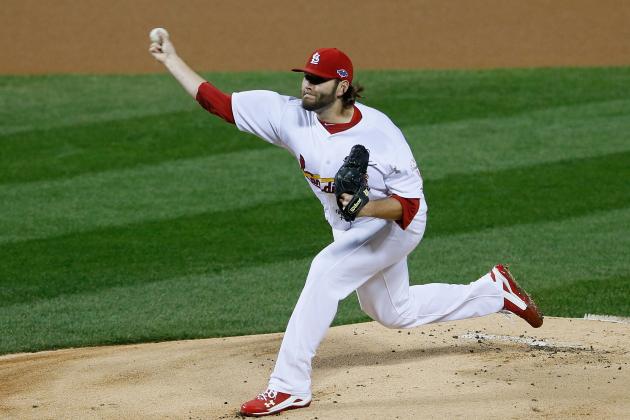 Kevin C. Cox/Getty Images

Inverse formula point total: 10
St. Louis Cardinals right-hander Lance Lynn is a curious case.
He had the highest ERA (3.78) of any of the qualifiers here by a wide margin but finished with the most victories. For a majority of the season the NLCS Game 5 starter was the beneficiary of some very nice run support en route to 18 wins.
Lynn's WHIP (1.318) was out of control last season, but he pitched well enough to win, and that really is all that matters.
Sale has the edge in every category—except victories—by a very wide margin and will have the benefit of going into spring training knowing he has a spot in the rotation.
That is not the case for Lynn.
RotoWorld.com noted that Cardinals general manager John Mozeliak thinks that the 25-year-old is merely the "front runner" for the fifth spot.
Be that as it may, Lynn checks in at No. 5 on the list.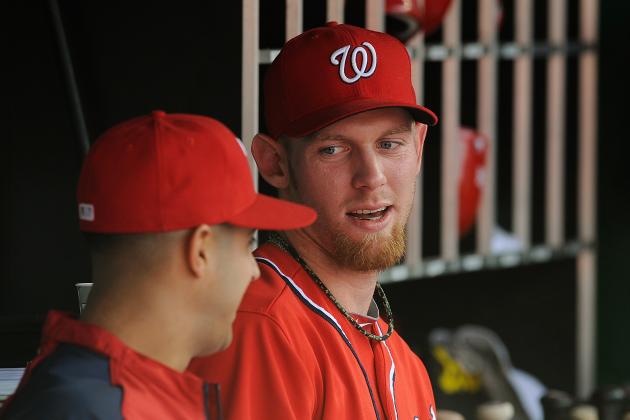 Patrick McDermott/Getty Images

Inverse formula point total: 11
Stephen Strasburg is a much better strikeout pitcher (197 K in 159.1 innings) than Sale is thanks in large part to a rising fastball. Baseball Scouting Reports wrote that the young phenom "gets consistent swings and misses, as the pitch looks hittable and simply rises over the bat upon swing."
Baseball Scouting Reports also noted that his two-seam fastball, curveball and changeup are all better than average and contributed greatly to his 1.155 WHIP.
No doubt Strasburg took a hit here in the point total because he was shut down early by the Washington Nationals to protect his arm.
Even if Strasburg's win total was higher, though, Sale would still hold an edge in three out of the five measured categories.
What really separates Sale here is that he had a better ERA than the 24-year-old in 32.2 more innings of work.
Strasburg would have had to throw multiple shutouts to bring his ERA down far enough to finish in the same neighborhood. Sale also finished with a better WHIP.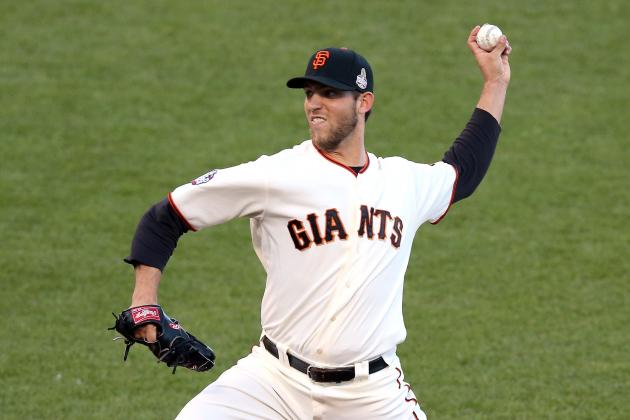 Ezra Shaw/Getty Images

Inverse formula point total: 16
Like Sale, the San Francisco Giants Madison Bumgarner is a tall lefty who already has an advantage over the batter before he throws the ball.
Adam Foster from RotoWorld.com noted that the 23-year-old "throws across his body from a low-3/4 arm slot. It's a bit of an abnormal delivery for a starter."
Bumgarner keeps opposing batters off-balance and uses his curveball quite well. That, in turn, helps make his fastball look a bit better than it is.
Overall, Bumgarner had a better WHIP (1.114) and more strikeouts (208) last season, but Sale finished with more wins, more innings pitched and had a better ERA in 2012.
Sale's slider is what separates him from Bumgarner, whose off-speed pitches—other than the curveball—need a bit of work. He more than makes up for it with his mound presence and ability to locate effectively.
As we will see in just a moment, Sale's consistency helped him quite a bit.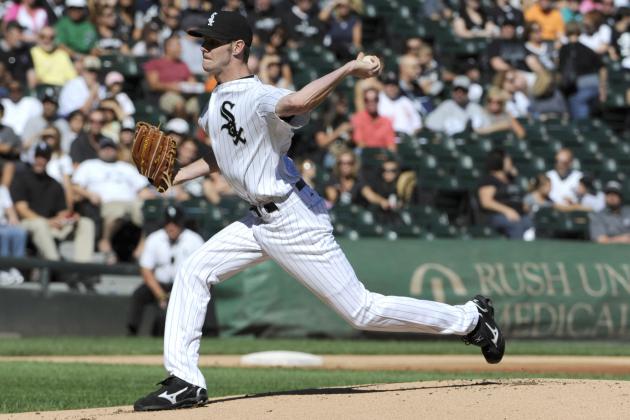 David Banks/Getty Images

Inverse formula point total: 16
Sale is the future face of the White Sox. He is that good.
The first-year starter—who finished sixth in the American League Cy Young Award voting last year—found more success than many expected. A major factor is his slider.
Ben Duronio, from Fangraphs.com, had this to say about Sale's strikeout pitch.
The key with the slider is the movement, rather than the speed. At about 79 miles per hour, it's not a pitch that derives much of its success from power. No left-handed starter in the league averages more horizontal movement with their slider. And his vertical movement ranks No. 4 among all pitchers in the league. His delivery has a lot to do with the movement on the pitch, since the lower your arm slot, the more movement on the pitch.
Much like Bumgarner, Sale has an unorthodox delivery and effectively keeps hitters off-balance throughout the course of each at-bat.
Unlike Bumgarner, though, Sale was quite consistent in 2012. Out of the five pitchers ranked, Sale finished right in the middle in four categories—ERA (3.05), innings pitched (192.0), Ks (192) and WHIP (1.135)—while ending last season with the second most (17) victories.
If it weren't for the next guy, Sale would be the best under-25 pitcher in baseball.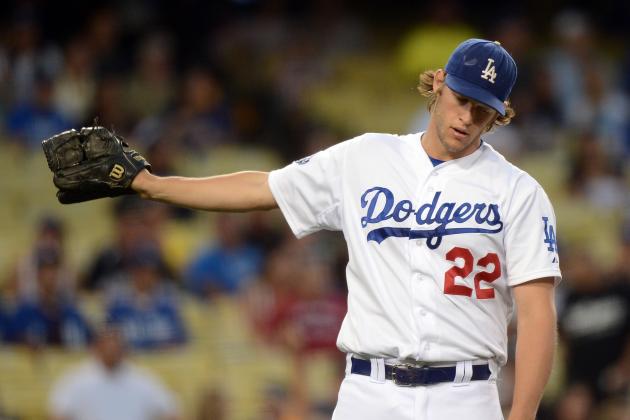 Harry How/Getty Images

Inverse formula point total: 21
Clayton Kershaw—who finished second in National League Cy Young Award voting last year—may be the best pitcher in baseball.
The left-hander's 2012 stat line for the Los Angeles Dodgers was incredible. And with a 2.53 ERA, 229 strikeouts, 227.2 innings pitched and a 1.023 WHIP, Kershaw blew the other pitchers here out of the water.
He only finished with 14 wins, but a majority of that can be attributed to the rather anemic Dodgers offense. Kershaw could easily have finished with more than 20 wins if he had just a bit more run support.
From a pitching perspective, Sale and Kershaw are actually quite similar.
Both of them use the slider particularly well. At 85.4 MPH, Kershaw's slider compliments a low 90's fastball and sets up a powerful curveball perfectly. He is as dominant as they come and has been for the past few seasons.
Sale may get to Kershaw's level one day, but for now, he is a distant second.