Ohio State Basketball: Midseason Report Card for the Buckeyes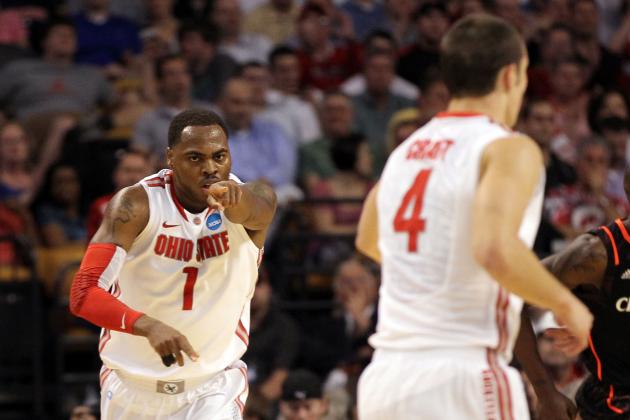 Jim Rogash/Getty Images

It may seem like just yesterday that Aaron Craft and his teammates were wiping up condensation from an aircraft carrier before a cancelled season opener against Marquette, but Ohio State's Big Ten campaign is already half over.
While the Buckeyes may not be as talented as their top-five preseason ranking indicated early on, they are still a dark-horse Final Four contender that has enjoyed a 17-4 start to the year.
Deshaun Thomas is leading the Big Ten in scoring, Craft is bringing his typical tenacity to the defensive end and Thad Matta has used a deeper bench than in the past.
Read on to see how they—and the other Buckeyes—have fared thus far this season.
Begin Slideshow

»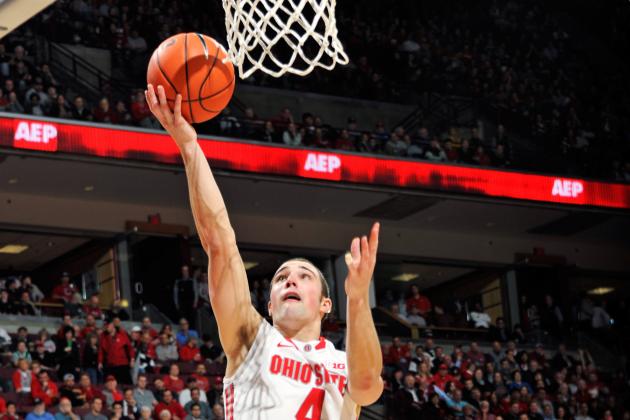 Jamie Sabau/Getty Images

Aaron Craft is a fan favorite and a coach's dream thanks to his defensive intensity and constant harassment of opposing point guards.
He is averaging about two steals a game and successfully contained his personal foe and leader of his team's archrival Trey Burke. What's more, thanks to moments like drawn charges and deflected passes, the overall defensive statistics do not even begin to capture the full impact Craft's defense has on the game.
On the flip side of the ball, Craft has been a mixed bag on offense. He holds a better than two-to-one assist-to-turnover ratio, which is key for a point guard, and is averaging nearly 10 points a contest.
He has also looked much better in the past few games driving the lane and slicing through the defense.
However, he is still dead last on the roster in field-goal percentage among scholarship players, which is concerning because he has taken the third most shots.
As long as Craft continues to play formidable defense and display his leadership skills, there won't be many in Buckeye Nation complaining about the offense. But I don't think anyone will complain if the field-goal percentage comes up either.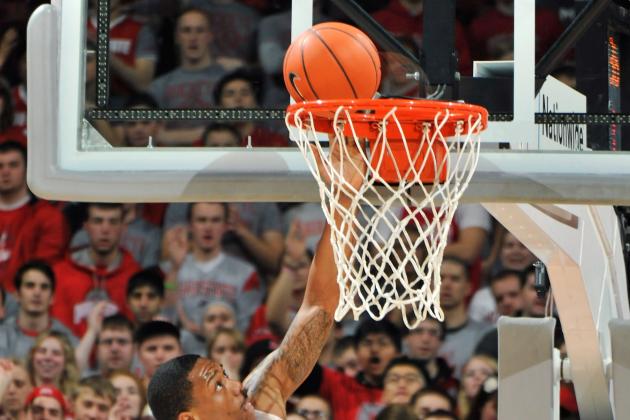 Jamie Sabau/Getty Images

On paper, Lenzelle Smith Jr. has had a fairly productive campaign thus far.
He is Ohio State's second-leading scorer at 10.5 points per game and has developed into perhaps the team's best rebounder given his size. In fact, only Deshaun Thomas grabs more rebounds a night than Smith, which is impressive considering Smith starts in the shooting guard position.
What's more, Smith is shooting 46 percent from the field and better than 42 percent from downtown, so efficiency has not been an issue.
Smith's ultimate value comes down to the level of consistency with which he plays. There are some nights when he is the best player on the floor, like the last game against Nebraska where he scored 21 points on an incredible six-of-six shooting and three-of-three from three.
There are also other nights, such as Ohio State's loss at Michigan State, where he seems to disappear (Smith tallied six points on two-of-seven shooting).
It wouldn't be fair to ask Smith to score 21 points a night and be perfect from the field every time out, but Thad Matta would settle for a consistent effort in the scoring, rebounding and defensive departments.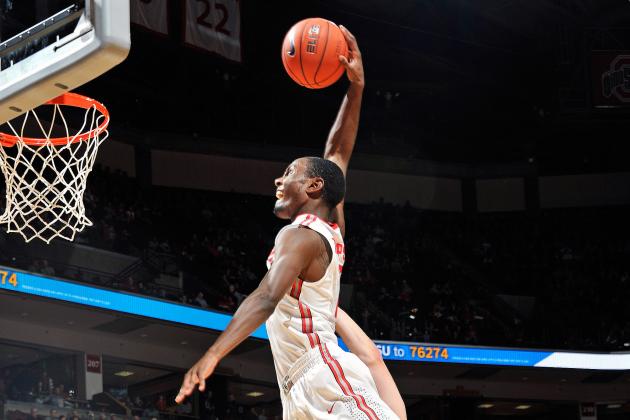 Jamie Sabau/Getty Images

Coming into the season many expected LaQuinton Ross to earn the starting small forward spot for Thad Matta. However, behind his athleticism and superior defensive play, Sam Thompson seized the role and hasn't let up since.
Thompson may have made a name for himself with his aerial displays above the rim on fast breaks and alley-oops, but he has brought more to the table in his sophomore campaign.
He is a force on defense (he averages nearly a steal and a block per game in somewhat limited minutes) and is almost always more athletic than the man he is guarding or the one guarding him. As the season has progressed he has become more comfortable driving the lane and using his speed to find ways to score.
Thompson is never going to be a lights out three-point shooter, but he has given Matta about all that can be asked. If he improves his shot selection and doesn't force the long ones, he should continue to develop as he gains experience.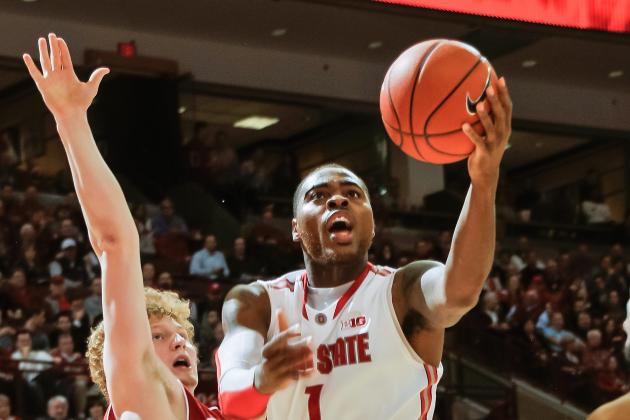 Jamie Sabau/Getty Images

Deshaun Thomas leads the Big Ten in scoring and has been a one-man show when the Buckeyes have the ball, plenty of times this season.
He has also racked up those numbers rather efficiently and is shooting 47 percent from the field, 40 percent from downtown and 82 percent from the free-throw line. What's more, he has faced a number of double teams and is always the focus of opposing defenses.
During Big Ten play, Thomas has scored 32 percent of his team's total points, which is rather incredible considering the fact that Thad Matta has consistently used an eight-man rotation.
Thomas has made strides in other ways besides his scoring, which is the primary reason he received an A here. He leads the team in rebounding, is playing better defense and has looked comfortable passing out of double teams.
He is Ohio State's best player and a serious contender for Big Ten Player of the Year.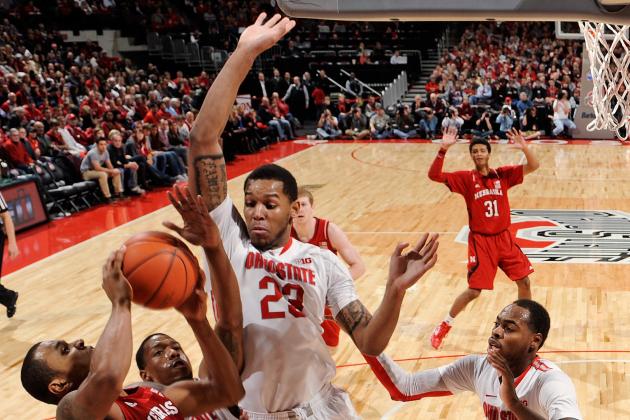 Jamie Sabau/Getty Images

The C+ may seem a bit low for Amir Williams, but that is primarily because of the high expectations that were placed upon his shoulders heading into the season.
He does lead the Buckeyes in blocks at better than 1.5 a night, but the 6'11" Williams just hasn't lived up to the hype that accompanied him coming out of high school. However, he is still only a sophomore and has plenty of time to do so.
Perhaps the biggest concern is the fact that Williams is only averaging four rebounds a game. Yes, he is receiving fewer minutes than plenty of his teammates, but he is almost always the tallest player on the floor and should be swallowing boards when he is in the game.
That being said, Williams has looked better in the past few games and even hit most of his free throws against Nebraska (he is shooting only 56 percent on the year). Look for him to make significant strides next season.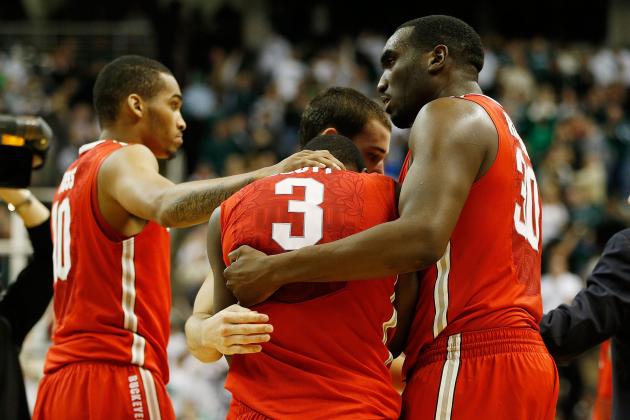 Gregory Shamus/Getty Images

In years past, the inclusion of a slide for Thad Matta's bench would have been virtually unnecessary. However, this season Matta has consistently utilized an eight-man rotation and has received productive minutes from three key bench players.
Evan Ravenel began the season as the starting center but selflessly gave up his role to the younger Amir Williams. That has proven beneficial to the Buckeyes because Ravenel is the higher-energy player and has given the team a spark off the bench a couple of times this year.
His six points and nearly five rebounds a night are both better than Williams' totals, and he plays solid defense for someone who is somewhat undersized in the lane.
Shannon Scott has been a breakout player for the Buckeyes this year, and it is apparent that he has learned from Aaron Craft. Scott is tenacious on defense and can fly with the ball in his hands. If he can develop a jump shot he will be a formidable force in the future for Thad Matta.
No player has been more polarizing for Buckeye fans that LaQuinton Ross.
Some want him to play significantly more minutes because of his raw talent and the potential that drew the attention of so many college coaches in the first place. Others have grown tired of his inconsistency and turnovers.
The good news for all involved is that Ross has picked it up as of late. He scored a crucial eight points behind two threes in the Wisconsin game last week and has made noticeable strides on the defensive end.
If Ohio State hopes to hang with the likes of Indiana and Michigan down the stretch, it is going to need these three players to deliver.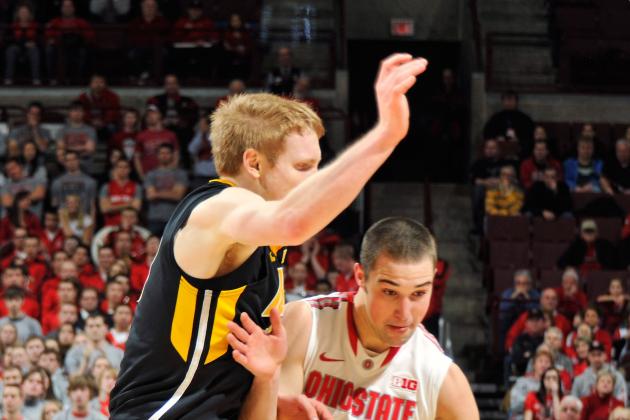 Jamie Sabau/Getty Images

Ohio State's half-court offense has caused Thad Matta to lose even more hair this season.
It sputtered in key nonconference games against Duke and Kansas, costing the team first-half leads, and was nearly responsible for a massive collapse down the stretch against Michigan. It was also atrocious in a blowout loss at Illinois and struggled to come through in the clutch in East Lansing.
While there have been contributions from other players at times, Deshaun Thomas is the be-all, end-all for the Buckeyes' when it comes to putting the ball in the basket. He leads the conference in scoring and is the one player that has consistently contributed on the offensive end.
Aaron Craft, Lenzelle Smith Jr., LaQuinton Ross and even Sam Thompson have shown at times that they are capable of helping Thomas. Matta just needs them to show it every time if the Buckeyes are going to compete for another Big Ten crown.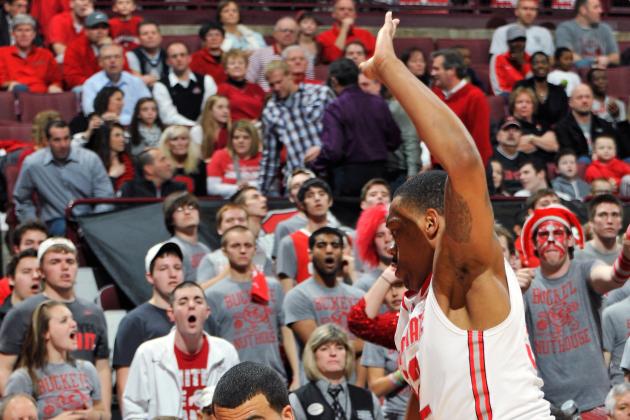 Jamie Sabau/Getty Images

Ohio State's defense has been the lifeblood of the team thus far in the season.
Aaron Craft will always be the general when it comes to this category for the Buckeyes, but other players like Shannon Scott, Sam Thompson and even Amir Williams have contributed to the stifling defense.
In fact, in Big Ten play Ohio State has only allowed one opponent to reach the 70-point plateau and three opponents to score 60 points. It shut down Michigan's powerful attack, which is ranked first in the nation in Ken Pomeroy's pace-adjusted offensive efficiency rankings, and makes life miserable for almost everyone it goes up against.
Considering the Buckeyes' offensive struggles, the fact that they sit at 17-4 and 7-2 in the conference is a testament to their lockdown defense.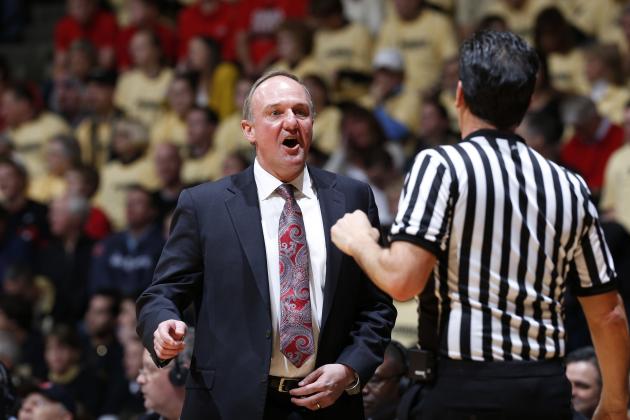 Joe Robbins/Getty Images

Thad Matta has a reputation among many in Buckeye Nation as a coach who is an excellent recruiter but who doesn't trust his bench when the season heats up.
He is certainly going against that mold thus far this season.
There are eight Buckeyes that average better than 16 minutes a night, and Matta has established a fairly consistent rotation with his bench. He also made a savvy move by switching Amir Williams into the starting center role and using Evan Ravenel off the bench.
That is not to say Williams is necessarily the better player of the two, only that Ravenel is more suited to provide instant energy off the pine when needed. He is not afraid to mix it up a bit and plays with more consistent enthusiasm than the younger Williams does.
While the argument can be made that Matta should be giving LaQuinton Ross more playing time in an effort to tap into his vast potential, he has coached the talent he has rather well this year. What's more, his team plays with great effort almost every night out, something that is not always the case in college basketball.
The Buckeyes may not accomplish their goals of a Big Ten title and a trip to the Final Four, but it won't be because of a lack of effort or coaching.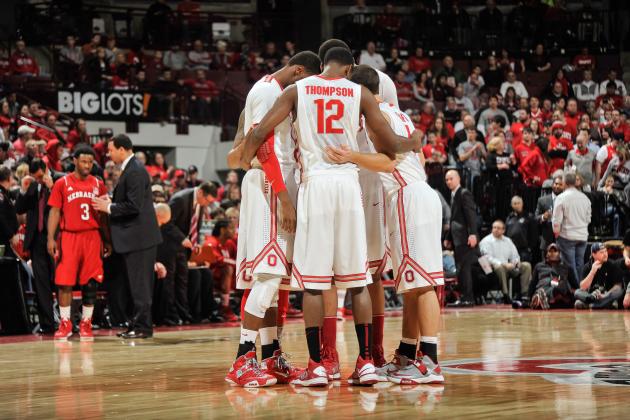 Jamie Sabau/Getty Images

Ohio State was a bit overrated heading into the season as a top-five team in the nation, but that doesn't mean it has been an entirely unsuccessful year up to this point.
The Buckeyes are still 17-4 overall and 7-2 in Big Ten play, which is currently good enough for a tie for second in the nation's toughest conference. They have taken care of business against lesser foes and still control their own destiny in the conference race.
The defense has been stellar, and even though the offense has struggled at times, Deshaun Thomas is one of the premier scorers in the game.
The only real black mark thus far is the 1-4 record against ranked opponents (at the time of the game), but the good thing about playing in the Big Ten is that there will be plenty of chances to improve that total down the stretch.