The Baltimore Ravens are the new NFL champions after defeating the San Francisco 49ers, 34-31, in Super Bowl XLVII.
The Ravens dismantled the 49ers in the first half, but after a delay due to a power outage in the third quarter, the Niners came roaring back to ensure an exciting finish.
Although both teams have stout defenses, the stars on offense were extremely motivated and delivered a high-scoring game.
Once again, the Super Bowl was a tightly contested matchup that featured surprises both on the field and in the Superdome's electrical wiring. These two evenly matched teams provided an entertaining battle, but ultimately, John Harbaugh bested his little brother, Jim.
Here are the highlights from the social media reaction to this year's Super Bowl.
Twitter Reaction
The battle between the Harbaugh brothers was one of the dominant storylines of this Super Bowl , and Pac-12 Digital's Bryan Fischer noted that the older brother now has some serious bragging rights:
John beats Jim.

— Bryan Fischer (@BryanDFischer) February 4, 2013
Awful Announcing pointed out the other well-publicized angle, and Ray Lewis will certainly be a large part of the post-game festivities:
Let the Ray Lewis show begin!

— Awful Announcing (@awfulannouncing) February 4, 2013
Bleacher Report provided a GIF from the CBS broadcast of the game's first score, and ESPN Stats & Info noted that Anquan Boldin certainly peaked at the right time this season: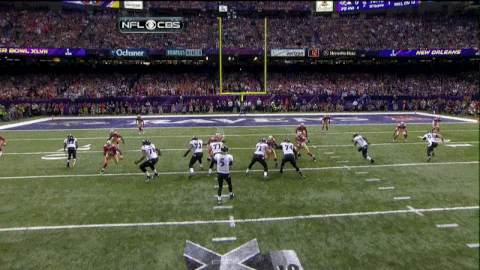 Anquan Boldin has now caught as many TD this postseason (4) as he did during the regular season

— ESPN Stats & Info (@ESPNStatsInfo) February 3, 2013
There has been plenty of talk this season about mobile quarterbacks redefining the position. Well, Colin Kaepernick has certainly rewritten the postseason record books, as both SportsCenter and ESPN Stats & Info noted:
With 218 rush yards, Colin Kaepernick just set the all-time record for rush yards by a QB in a single postseason. #SB47

— SportsCenter (@SportsCenter) February 3, 2013
Colin Kaepernick's 15-yard TD run is longest by QB in Super Bowl- previous record was 6-yard run-- Joe Montana

— ESPN Stats & Info (@ESPNStatsInfo) February 4, 2013
Baltimore's Jacoby Jones took the second-half kickoff 108 yards for a touchdown, and celebrated by busting a move in the end zone. San Francisco's Delanie Walker let Jones know he was not fond of his dance on a later kickoff, with Bleacher Report providing GIFs of both incidents via the CBS broadcast: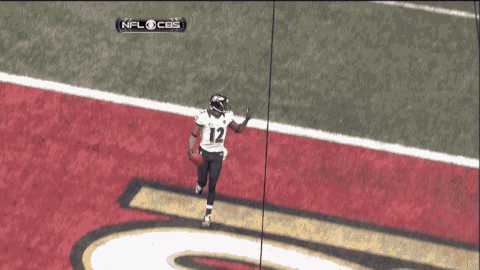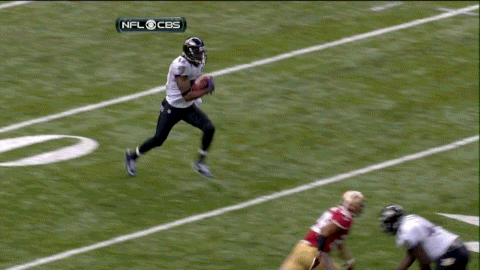 What's a Super Bowl broadcast without a few memorable commercials? GoDaddy.com had one of the more shocking ads, with BuzzFeed providing a GIF from the spot that features supermodel Bar Refaeli showing her affection for some guy supposedly named Walter:
Yeah, we GIF'd that Go Daddy kiss twitpic.com/c0q21g

— BuzzFeed (@BuzzFeed) February 3, 2013
But the best action of the night certainly happened on the field. Bleacher Report provided another GIF from CBS' broadcast, showing Kaepernick's record-breaking touchdown run: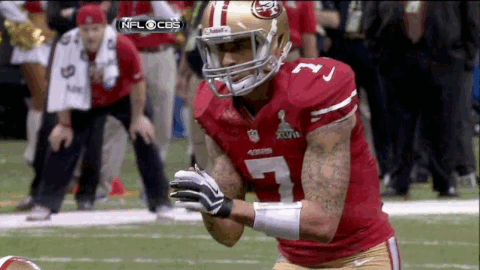 As Comcast Sports Network's Ray Ratto noted, this was a strange game, but that made it even more entertaining to watch:
This was a very good game without the blackout. With it, was fantastic.

— Ray Ratto (@RattoCSN) February 4, 2013
After a memorable game, a few memorable quotes were delivered. John Harbaugh had this to say, via the Baltimore Ravens' Twitter feed:
John Harbaugh: "It's never pretty. It's never perfect. But that's us."

— Baltimore Ravens (@Ravens) February 4, 2013
The Baltimore Sun's Aaron Wilson delivered a quote from Reverend Ray Lewis:
Ray Lewis: 'It's simple when God is for you, who can be against you.'

— Aaron Wilson (@RavensInsider) February 4, 2013
Jim Harbaugh was understandably on the other end of the emotional spectrum, and Comcast Sports Networks' Matt Maiocco notes that the losing coach had this to say:
49ers coach Jim Harbaugh: "No question in my mind there was a pass interference and a hold on Michael Crabtree on that last one."

— Matt Maiocco (@MaioccoCSN) February 4, 2013
ESPN's Mike Sando points out that the 49ers will likely look over the stat sheet from this game and wonder how they lost:
49ers lose with a 300-yard passer, 100-yard rusher and two 100-yard receivers. Imagine that is tough to do.

— Mike Sando, ESPN.com (@espn_nfcwest) February 4, 2013
It would have been a travesty if a major event in Baltimore sports history went by without a reference to The Wire. Thankfully, ESPN's Trey Wingo stepped up:
Somewhere.. Bunk and McNulty are pounding right now....

— trey wingo (@wingoz) February 4, 2013
Amid all the excitement, Grantland's Bill Barnwell alluded to the post-Super Bowl depression that will set in for football fans tomorrow morning:
What a great game. Will miss you, football.

— Bill Barnwell (@billbarnwell) February 4, 2013
Finally, ESPN's Adam Schefter let the stadium crew know that they can turn off the lights for good this time:
Turn out the lights.

— Adam Schefter (@AdamSchefter) February 4, 2013
That does it for the 2012 NFL season. Fans can only hope next year's Super Bowl is equally exciting.