2013 NFL Draft: 5 Positions the Pittsburgh Steelers Should Avoid in the 1st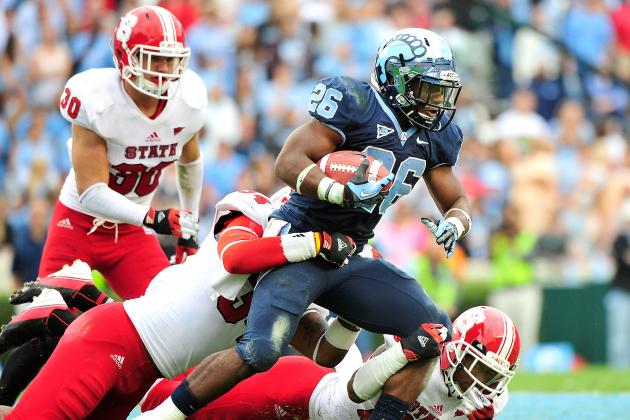 Grant Halverson/Getty Images

For a team that finished 8-8 and missed the playoffs, it is pretty bold to say that there are positions outside of kickers and punters that the Pittsburgh Steelers should avoid in the first round.
There is room for improvement across the board on the Steelers' roster. Whether it is finding replacements for free-agent departures or for veterans who are no longer effective, there is a lot of work to be done in the draft.
There is so much work that general manager Kevin Colbert didn't rule out selecting any positions.
"We won't close the door on any position in any round," Colbert told Ed Bouchette of the Pittsburgh Post-Gazette. "We can't…Once we get into free agency and the draft, I don't see any position that's off limits."
Though leaving the door open on any position in the first round is a good idea in theory, it just isn't realistic. There are a number of positions that the Steelers don't need to draft in the first round and shouldn't draft in the first round.
Here are five positions that the Steelers should avoid drafting in the first round.
Begin Slideshow

»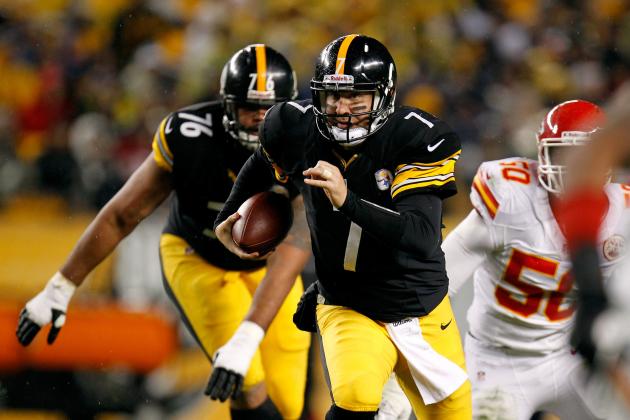 Gregory Shamus/Getty Images
How many good years does Ben Roethlisberger have left?
Ben Roethlisberger was on pace to have the best statistical season of his career, but then he suffered multiple injuries against the Kansas City Chiefs. He never looked the same.
It was the second straight season that Roethlisberger suffered an injury that led to late-season struggles.
Over the past two seasons, Roethlisberger has played in seven games in December or January after an injury and has only once completed above his career completion percentage of 63.1 percent. That came in the season finale this past season when he completed 65.2 percent of his passes against the Cleveland Browns.
Besides injuries piling up on the now 30-year-old quarterback, Roethlisberger hasn't demonstrated the same clutch factor that he has in the past. Over the three weeks of the season, Roethlisberger threw two late-game interceptions that cost the Steelers potential wins.
But despite these issues, the Steelers should not invest in a first-round quarterback who would not start until 2016 at the earliest—unless they plan on cutting Roethlisberger prior to then.
On top of being years away from starting, this year's quarterback class is very weak on paper.
Geno Smith, Tyler Wilson, Matt Barkley and Ryan Nassib all have NFL potential, but not one appears to have the same upside that Andrew Luck and Robert Griffin III did a year ago. It could be argued that not a single one of them will be a true franchise quarterback.
The Steelers will have to draft a replacement for Roethlisberger at some point, but he has at least a few years of good football left in him and is still one of the best in the league. This is definitely not the year to find his replacement in the first round.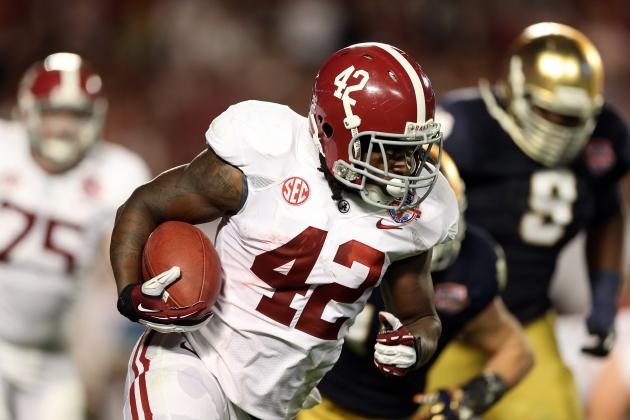 Streeter Lecka/Getty Images
The Steelers can avoid a running back in the first with quality backs like Eddie Lacy that can be had in the second round or later.
Unlike the quarterback position, the Steelers are in need of a running back and could take one in the first round, but that doesn't mean they should.
The last time they took a running back in the first round, the Steelers selected Rashard Mendenhall, and that didn't exactly work out as they had hoped.
Now that he is likely to depart via free agency, the Steelers need to find someone besides Jonathan Dwyer or Isaac Redman to carry the load.
Giovani Bernard is likely to be the first running back off the board, but is more of a late first-round prospect.
Bernard has been very productive while at college both as a runner and a receiver out of the backfield, but there are too many other good options that the Steelers could find in the second round or later.
Eddie Lacy would be a perfect power back for the Steelers and may be available in the second round, while running backs such as Stepfan Taylor, Mike Gillislee, Joseph Randle and Montee Ball are all second- or third-round prospects.
The Steelers could wait even later and take Ray Graham in the fifth round or take a shot on Marcus Lattimore in the third round or later.
There are too many quality running backs that can be selected outside of the first round, and the Steelers should wait to find their next feature back.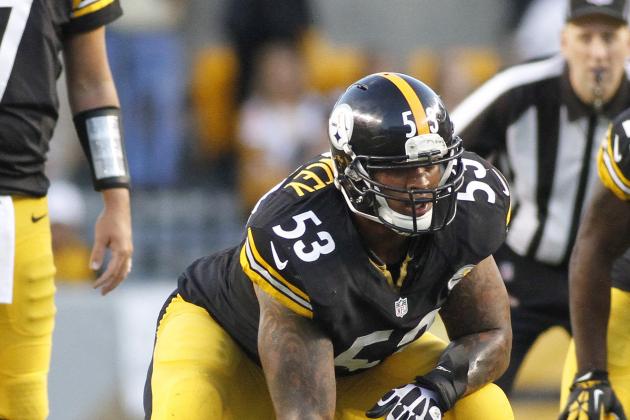 Justin K. Aller/Getty Images
Maurkice Pouncey is firmly entrenched as the starter at center. However, the Steelers could find an upgrade at backup center.
There is no arguing that the Steelers could upgrade Willie Colon at left guard or select a franchise left tackle to take over for Max Starks in the first round.
If a player such as tackle Eric Fisher or guard Chance Warmack falls to the 17th selection, the Steelers would be wise to snatch up either player and put the finishing touches on rebuilding their offensive line.
But those are two positions in need of an upgrade. The one position that they do not need to upgrade is center.
Maurkice Pouncey established himself as an elite center as a rookie, and while he may have had his struggles since then, he is still a very good center and will man this spot for a long time.
Where the Steelers do need to upgrade is the backup slot behind him.
Doug Legursky is a valuable lineman in the sense that he can play both center and guard, but that is where it ends. He is not very effective while on the field, and the Steelers could do better.
Backup centers are not drafted in the first round, and this is one area that the Steelers can wait on until the back end of the draft.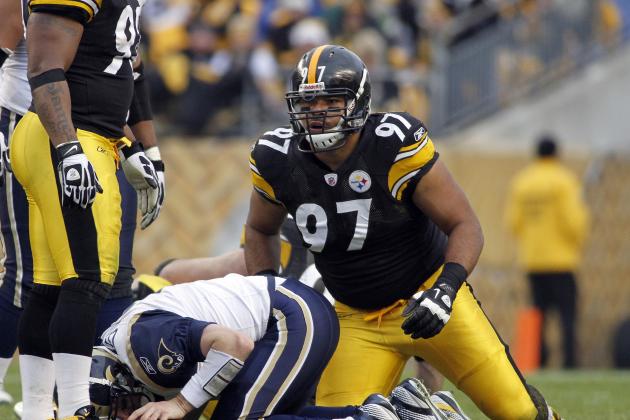 Justin K. Aller/Getty Images
Cameron Heyward will be expected to make an impact in 2013.
Games are won in the trenches, and that is why the Steelers have invested so many high draft picks on the offensive and defensive lines in recent years.
Ziggy Hood (2009) and Cameron Heyward (2011) are two first-round selections at defensive end that will need to be better this season.
Hood has been starting at defensive end and has yet to make his mark. He routinely gets negative attention from Steelers fans, and rightfully so, but he is not as bad as some think that he is.
While Hood has yet to establish himself as a force against the pass and rush, he is an average player who gets better at the tail end of the season. If he could bring the same effort all season that he does in December, he would be a very respectable player.
Heyward can barely find the field, but when he did late in the season, he flashed a lot of potential and should earn more playing time next season.
Though Heyward is not likely to replace either Hood or Keisel right away, he should see plenty of snaps on both sides as these guys rotate in and out of the lineup. As the season progresses, if he proves himself, Heyward should earn a starting job.
The Steelers have invested a lot in defensive ends in recent years. Both of these players are now at the point of their respective careers where they should be ready to showcase what they are made of as a defensive end in the Steelers' system.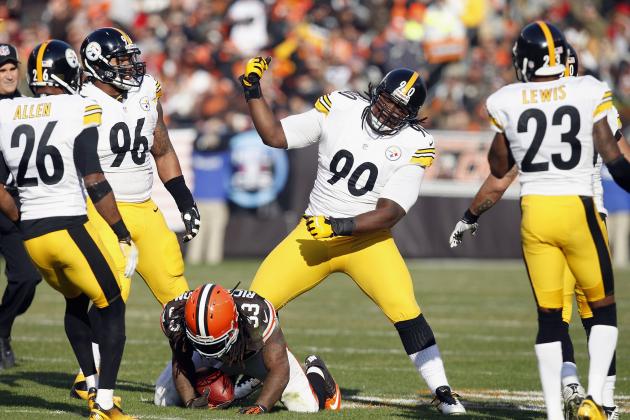 Matt Sullivan/Getty Images
Steve McLendon will bring a different set of skills to the nose tackle position than what Casey Hampton brought.
With Casey Hampton likely on his way out of Pittsburgh, the Steelers will have a hole at nose tackle. The spot won't be open for long as it will be plugged up by Steve McLendon.
McLendon had an outstanding training camp and preseason last year, yet rarely saw the field. When he did, he was very productive.
In 16 games, McLendon had two sacks, two stuffs and a forced fumble. While these may not blow you away, they are very good for how few snaps he got this season and the fact that he played nose tackle in the Steelers' 3-4 defense.
While McLendon won't be the run-stuffer that Hampton was, that should not be much of a problem as the NFL shifts to more passing-oriented offenses. This is where McLendon's skill set comes into play.
McLendon is a terrific penetrator and can get pressure up the middle. Because of this, it may actually be wise for the Steelers to shift him to left defensive end where he could use his skills better and move Hood to nose tackle.
Whether the Steelers move any of their linemen around, though, is not an issue when it comes to spending a first-round pick on a nose tackle.
The Steelers have McLendon and Alameda Ta'amu at the position right now and should not take a player who is primarily a run-stuffer in the first. There is always a possibility that a good nose tackle falls to them in the second round as well.
That is not to say the position isn't important. A top nose tackle is essential to the success of the defense and one who can occupy two blockers should also benefit the pass-rusher.
But right now the Steelers appear to have a pretty good nose tackle with McLendon, and they should not try to find a replacement for Hampton in the first round. McLendon is too good to keep off the field, and the job should be his.