Kansas Basketball: Midseason Report Card for the Jayhawks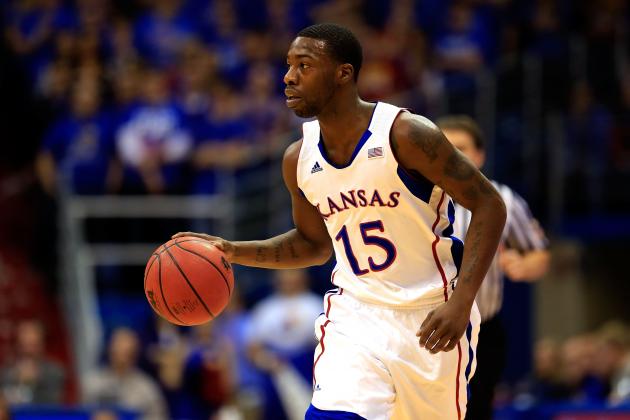 Jamie Squire/Getty Images

The Jayhawks might be 19-2, owners of a top-5 national ranking, and in line for a high seed come March, but their midseason report cards reveal a load of question marks and bad grades.
Bill Self has seen his offense take a critical nose dive in the last month, as KU eclipsed 67 points on Saturday for the first time since January 9th.
Unfortunately, their harassing defense yielded 17 offensive rebounds in a loss to Oklahoma State, a loss that showed the Jayhawks' small margin for error.
"We have less of a margin for error than any team I've had since I've been here," Self said following the 85-80 defeat.
The 2012-13 midseason grades are as inconsistent as KU's offense, but they do showcase an impressive 19-2 start and leave room for optimism.
Begin Slideshow

»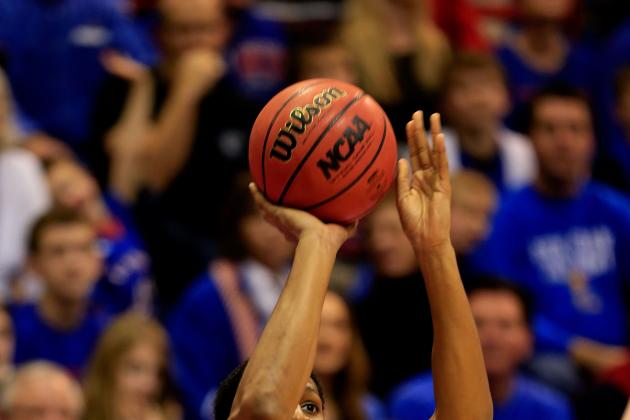 Jamie Squire/Getty Images

While the trio of Elijah Johnson, Ben McLemore and Travis Releford were expected to provide adequate perimeter offense, the Jayhawks knew they could use occasional production from freshman Andrew White III.
Has the shooting guard exceed the unclear expectations? His overall shooting percentage (38.5) suggests he has not, and his three-point clip (30.8) is also inadequate.
White remains an adequate weapon off the bench and appears set for a breakout late-season performance.
Grade: B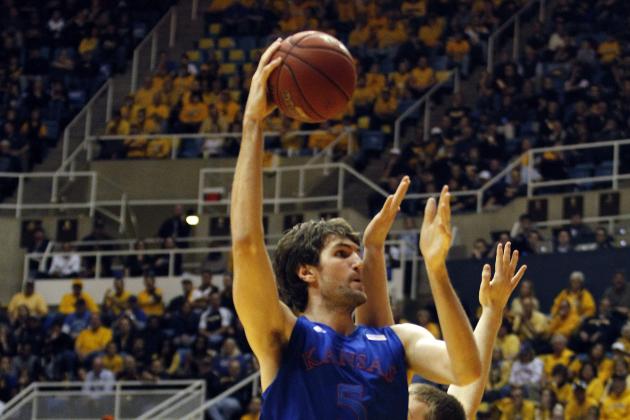 Justin K. Aller/Getty Images

Jeff Withey quickly became an All-American candidate at center as he barreled toward the KU all-time blocks record.
The fifth-year senior has been named to a handful of midseason watch lists for Player of the Year, mostly for his contributions to KU's staggering defensive numbers.
He is averaging 13 points per game on 55.5-percent shooting and has greatly improved his passing, but he must consistently gain better position on potential entry passes.
Kansas has obvious point guard issues, and Withey must help alleviate pressure on the perimeter.
Grade: A-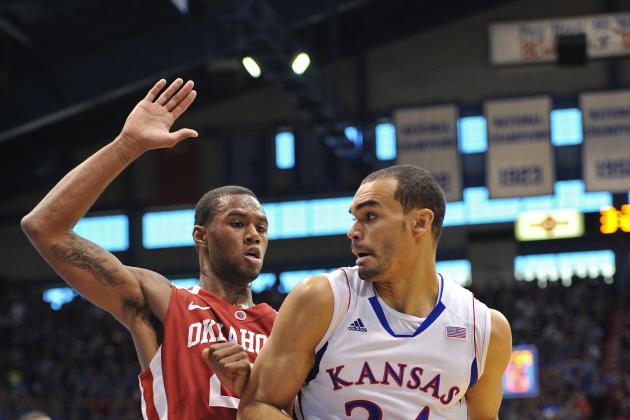 USA TODAY Sports

It oftentimes appears that Perry Ellis does not realize he is 6'8" and does not understand how to efficiently use that size inside the paint.
Ellis is a tremendously gifted athlete with great quickness and versatility inside the arc for a potential power forward. In order to capitalize on these assets, the freshman must do a better job of gaining consistent position.
The field goal percentage is a small concern (42) and his free-throw clip must climb from 63.3 percent if he continues to keep opposing big men off-balance, thus drawing contact. The improved instincts and court awareness will likely come with experience.
Grade: C+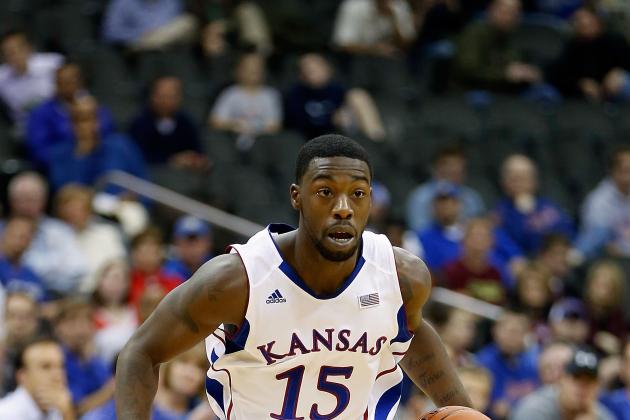 Jamie Squire/Getty Images

"We don't have a guard," Bill Self said following their loss to Oklahoma State last weekend. "We don't have a point guard."
Ouch.
The Jayhawks' offensive efficiency has been horrendous over the last month, and unfortunately, senior point guard Elijah Johnson is a major reason.
He is averaging 3.2 turnovers per game and has at least four turnovers in 11 games this season. Johnson is also shooting sub-40 percent from the floor and 33.3 percent from beyond the arc.
While he has occasionally penetrated the lane for aggressive lay-ins in crucial situations, his fumble in the closing seconds on Saturday leaves a much greater impression than his few highlights in the recent weeks.
Grade: D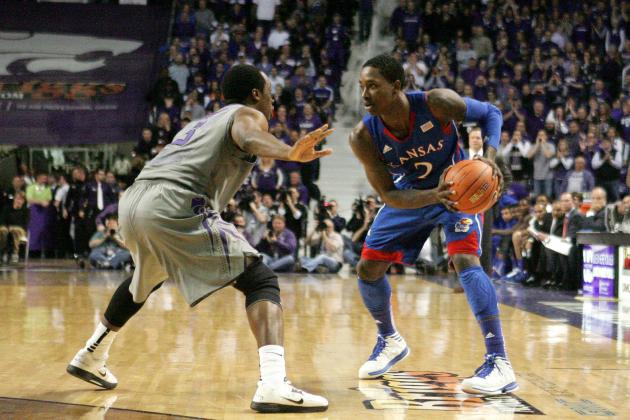 Scott Sewell-USA TODAY Sports

Is Rio Adams a point guard or a shooting guard?
I'm not sure Bill Self knows quite yet, but he does know Adams is significantly more athletic than advertised or given preseason credit for.
It is hard to impress in 4.1 minutes per game, but a 29.4 field-goal percentage and 1 turnover per 10 minutes played is certainly not helping.
Adams has oftentimes been inserted late in the first half due to foul trouble, but routinely appears uncertain and out-of-position on both ends. Like Ellis, instincts and reaction time to defensive sets will improve, but overall not much is expected from the young 6'3" guard as a freshman behind Johnson, Ben McLemore and Naadir Tharpe.
Grade: C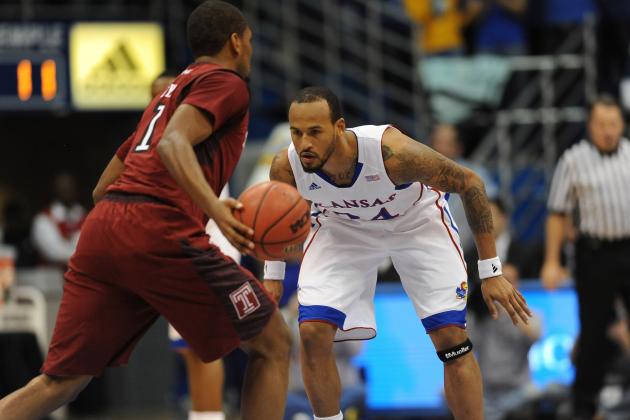 Denny Medley-USA TODAY Sports

Travis Releford is a fifth-year senior averaging a team-high 33 minutes per game and is easily the most efficient player on the team.
He is averaging career highs in minutes, points (12.6), shooting percentage (61), free-throw percentage (86.9), and steals (1.4), amongst numerous others.
Releford always receives the toughest defensive assignment, and aside from Saturday's 85-point team defensive performance, he is the biggest reason the Jayhawks boast one of the nation's best units.
Grade: A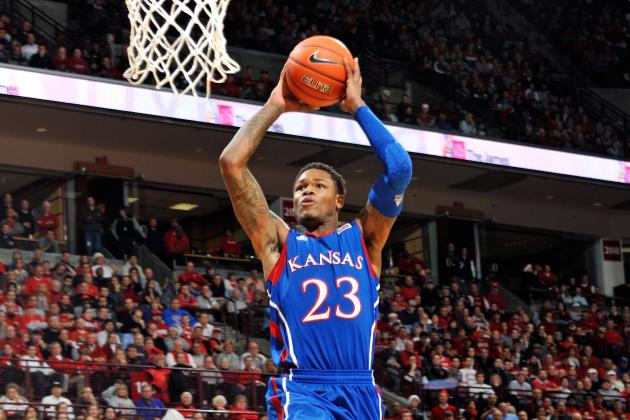 Jamie Sabau/Getty Images

Like Releford, there is plenty to love about Ben McLemore's performance at the midway point of KU's conference schedule.
It was obvious Kansas lacked reliable offensive firepower in their run to the Final Four last season, with many wondering if the redshirted McLemore could have been the difference against Kentucky.
He is certainly making up for a lack of absence this season, as he seeks to record the greatest statistical freshman season in Kansas basketball history and become their second consecutive First Team All-American selection.
McLemore is shooting nearly 56 percent from the floor and a staggering 55 percent from three-point range in Big 12 play.
Grade: A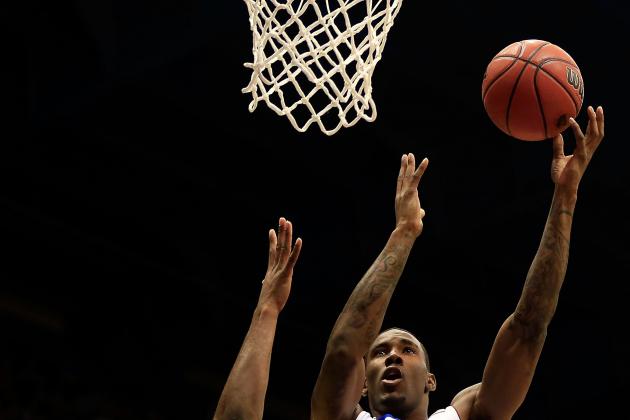 Jamie Squire/Getty Images

Similar to Perry Ellis, redshirt freshman Jamari Traylor must realize that his assets of size, quickness, and versatility can be properly used to abuse over-assuming opposing forwards.
Quite simply, the 6'8" powerful big man is not doing enough in his 10-plus minutes per game. Traylor averages nearly two fouls and one turnover per 10 minutes played, and while his hustle numbers are good (2.7, 0.9 blocks, and 0.6 steals per game) he must provide greater consistency off the bench.
Despite major discipline improvements, the Jayhawks' Kevin Young still gets in foul trouble, committing at least three fouls in seven games this season, giving Traylor ample opportunity.
He must move away from the ball better and understand that his offensive game does not have to rely on put-backs.
Grade: C+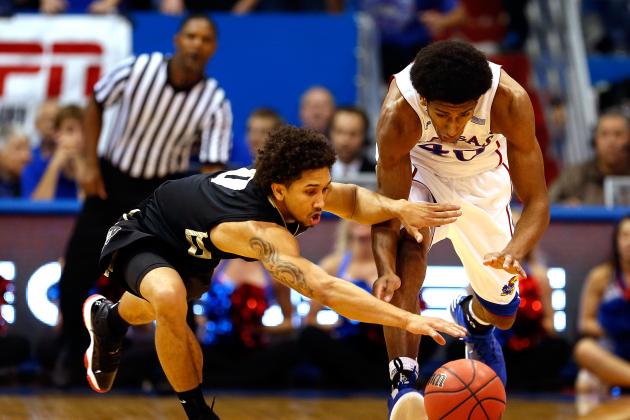 Jamie Squire/Getty Images

Almost no one knew Kevin Young when it was announced he'd transferred to Kansas shortly before the 2011-12 season.
Most certainly, no one knew he'd soon become an integral piece to the Jayhawks' Final Four puzzle.
He has doubled his minutes, points, and rebounding numbers from a year ago while hitting an efficient 52.8 percent of his field-goal attempts.
Young's hustle, passion and persistence make him one of the most difficult matchups for opposing coaches. The lanky 6'8" forward can run the floor like a 2-guard but will battle for an offensive board like a bulky 7'0" center.
Not much more can be asked of the high-energy, high-enthusiasm and highly efficient Kevin Young.
Grade: A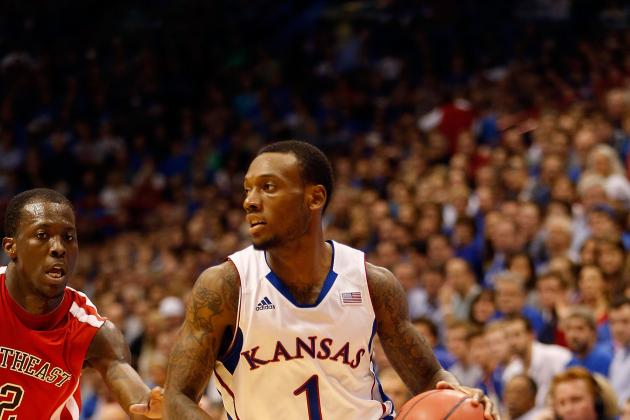 Jamie Squire/Getty Images

Anyone else waiting for Naadir Tharpe to finally grasp one of his numerous opportunities at point guard?
His shooting remains inadequate at 35.6 percent, and he commits too many turnovers (1.2 in just under 18 minutes played per game), but he drips potential.
He might be the quickest Kansas point guard in years but he has failed to prove he can string productive possessions together,
Bill Self appears ready to give Tharpe the full-time duties, evident by his repeated benching of Elijah Johnson and his post-game quote regarding the senior point guard, "We were definitely a better team when he was sitting down next to us and put somebody else in the game."
Grade: C+