Olivier Giroud: Why Arsenal's French Striker Could Be the Key to Their Future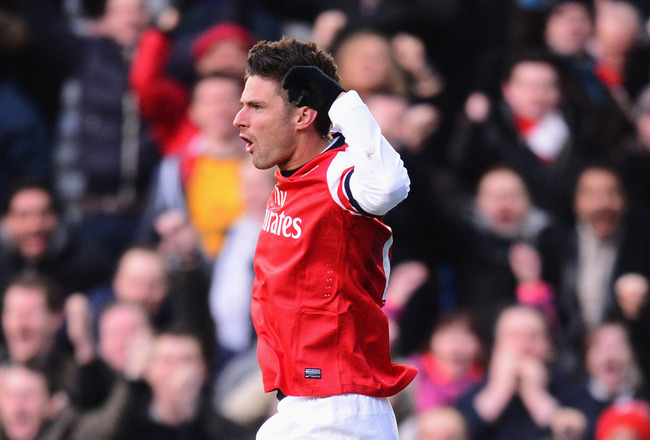 Olivier Giroud celebrates against Brighton earlier this season.
Mike Hewitt/Getty Images
Olivier Giroud's recent form has made him the man of the moment at Arsenal. However, with rumours of long-term interest in David Villa, the question remains: will he still be a key figure in the future?
Over the next few slides we look at the case for Olivier Giroud to become a critical figure for tomorrow as well as today.
He Provides a Different Option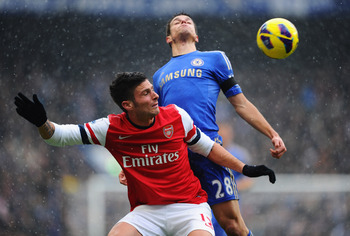 Olivier Giroud shows his strength.
Laurence Griffiths/Getty Images
For most of Arsene Wenger's reign at Arsenal he has favoured a quick, technical centre-forward. Ian Wright, Nicolas Anelka and Thierry Henry all fit that mould.
Throughout that time, pundits and fans alike implored Arsene Wenger to embrace an alternative type of striker. Sometimes, when the going gets tough, you need a forward prepared to play within the confines of the penalty box and wrestle opposition defenders for space.
Arsenal fans hoped Marouane Chamakh might be the man to provide an alternative option. Sadly, his form dwindled and he fell out of contention.
Olivier Giroud looks a far more realistic contender to fill that void.
Arsenal have plenty of speedy, skillful players. They have very few like Giroud. When the intricate passing of Mikel Arteta, Jack Wilshere and Santi Cazorla fails to break down a defence, they can now fall back on the Frenchman's collection of attributes.

In short, if Cazorla can't pick the lock, Giroud will smash it.

I don't want to do Giroud a disservice by suggesting that his qualities are solely physical. They're not: he has real technical ability, as his immaculate first-touch demonstrates. It's simply that it's his strength that makes him unique and subsequently invaluable among Arsenal's forwards.

Already this season he has competed in 159 aerial duels, winning more than half of them. To put that in context, Arsenal's primary alternative at centre-forward, Theo Walcott, has competed in just 17 (via EPLIndex.com).

Giroud brings variety to Arsenal's attacking play. Even if they add another centre-forward in the Henry mould, he will remain an important option.
His Partnership with Theo Walcott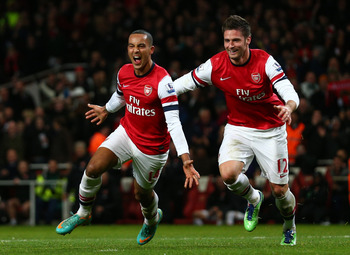 Olivier Giroud and Theo Walcott are an ideal combination.
Clive Mason/Getty Images
Having secured Theo Walcott on a lucrative long-term contract, Arsenal will be hoping to see his partnership with Olivier Giroud flourish over the coming seasons.

Although Arsenal typically play with a front three, Walcott and Giroud in particular seem to have struck up an instantaneous understanding.

Last season, Walcott's connection with Robin van Persie was the key to Arsenal's qualification for the Champions League. In that respect, Giroud has stepped neatly in to Van Persie's boots. His perfectly-measured lay-off for Walcott's blistering recent strike against Liverpool was evidence of the blossoming combination.

Who knows? Perhaps the burgeoning relationship between Walcott and Giroud will see Arsene Wenger consider a return to the 4-4-2 formation which brought them such success in the early part of his reign.
He Will Only Get Better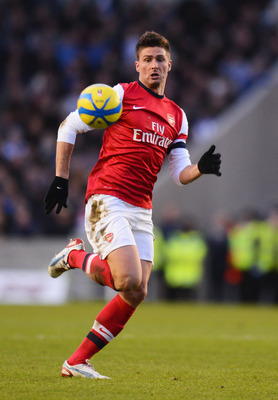 Olivier Giroud is still young for a target man.
Mike Hewitt/Getty Images
Arsene Wenger has openly admitted he had to make a choice between signing either Olivier Giroud or Demba Ba in the summer. Presumably one of the factors in his ultimate decision was the age of the players: while Ba is 27, Giroud was only 25 when he put pen to paper at Arsenal.

For a target man, that is very young.

The defining striker in last season's Champions League was Didier Drogba. At the time when he scored the winning penalty for Chelsea in the final against Bayern Munich, he was 34 years of age.

Giroud will get better with age. He doesn't have much pace to lose, and his confidence and game intelligence will only improve with experience.

It is easy to forget that Giroud only made his international debut in November 2011, without a single appearance for any of the French national youth teams to his name. This season is his first in the Champions League.

Like Drogba, he is a late bloomer. Arsenal will want him to be around when he arrives at his peak.
Keep Reading

Arsenal: Like this team?