Football Hall of Fame 2013: Top Snubs NFL Must Induct in 2014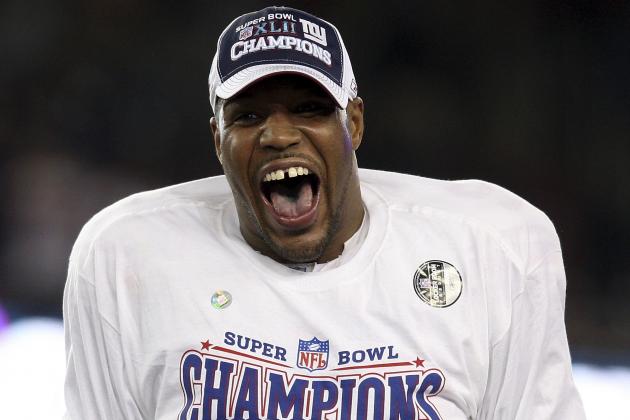 Elsa/Getty Images
Michael Strahan after winning Super Bowl XLII.
On Saturday the NFL announced its 2013 inductees for the Pro Football Hall of Fame.
2013 Hall of Fame Class: Larry Allen, Cris Carter, Jonathan Ogden, Bill Parcells, Dave Robinson, Warren Sapp, Curly Culp. #HOF

— NFL Network (@nflnetwork) February 2, 2013
As a result, there are also those that didn't receive induction. Michael Strahan of the New York Giants then expressed his view via Bob Glauber of the New York Newsday:
"I'm honored to be in the top 10, and I look at it like I'll get in eventually," Strahan said in an interview with Newsday after the voting.

"Hopefully, it comes around next year, which would be incredible to happen in New York," he said. "It would be awesome. If not, I'll just keep moving on."
To that end, let's get ahead of the curve for 2014 and see who must get enshrined next year.
Begin Slideshow

»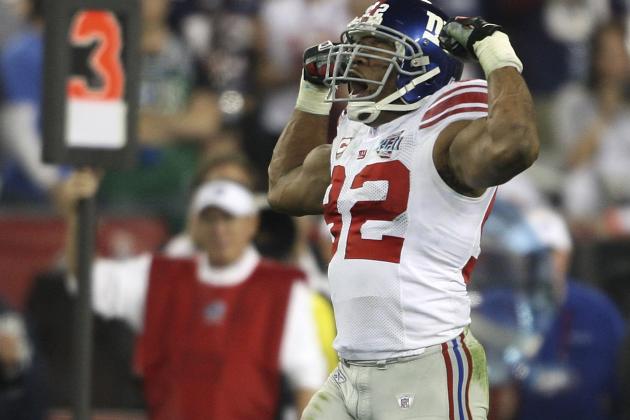 Elsa/Getty Images

Easily one of the best pass-rushers of his era, Michael Strahan finished with a career 141.5 sacks.
In addition, Strahan collected 22.5 sacks in 2001 which remains a single season NFL record.
Factor seven Pro Bowls, six All-Pro selections and two Super Bowl appearances (one victory), and Strahan was the anchor of this century's Big Blue Wrecking Crew. Even more impressive was his Super Bowl XLII performance against Tom Brady and the undefeated New England Patriots.
There, he recorded three tackles and one sack and defended one pass. The Patriots were no longer perfect.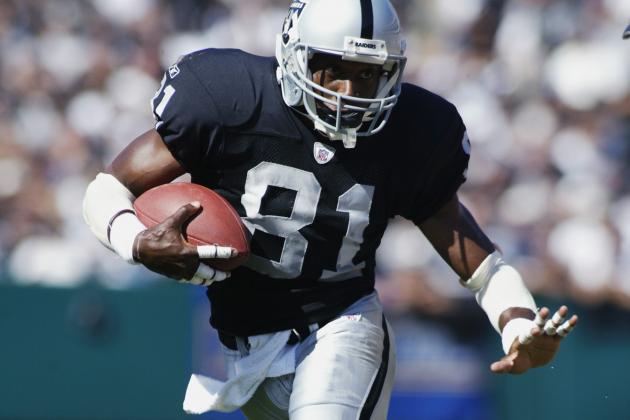 Jed Jacobsohn/Getty Images

Tim Brown is among the greatest Raiders of all time.
And that's saying a lot given the franchise's history.
Originally drafted by the Los Angeles Raiders, Al Davis moved the team back to Oakland before the 1995 NFL season. The location change didn't affect Brown and he continued on a spectacular path.
Finishing with 14,934 receiving yards on a 1,094 receptions and scoring 100 touchdowns, Brown's ability to accumulate yards after the catch was a rarity. Earning nine Pro Bowl selections, Brown also played in three AFC title games and one Super Bowl.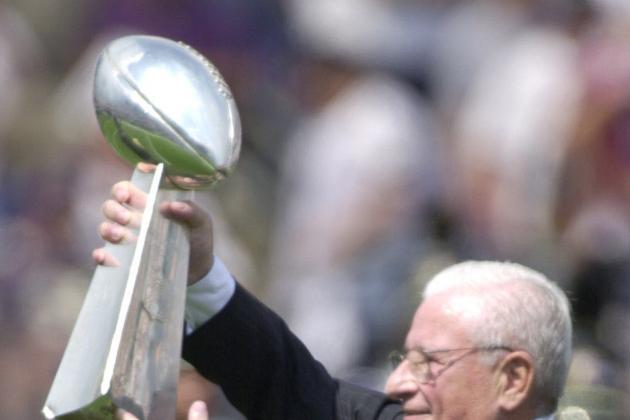 Doug Pensinger/Getty Images

Art Modell is a polarizing figure in NFL history for moving the original Cleveland Browns to Baltimore after the 1995 NFL season.
Lest we forget, though, he was also the Browns' owner when the franchise won the 1964 NFL Championship.
In professional sports, that title is the most recent for the city of Cleveland.
Modell then finally got a Super Bowl with the Ravens, which came in the franchise's fifth season. Similar to his immediate success when first buying Cleveland, Modell replicated that in Baltimore.
Not to mention his hiring of Ozzie Newsome. That decision has greatly impacted the franchise's consistent success throughout the 21st century.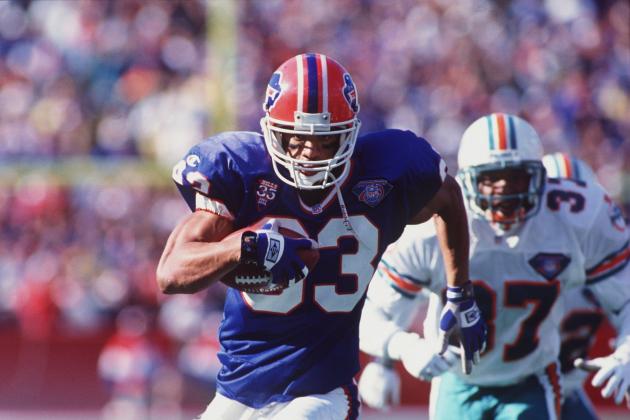 Rick Stewart/Getty Images

From 1988 through 1994 Andre Reed made the Pro Bowl.
Within that same span, Reed was part of the Buffalo Bills' four consecutive AFC championship teams.
Averaging almost 14 yards per reception throughout his career, Reed finished with 13,198 receiving yards and caught 951 passes. Considering all of Buffalo's other offensive talent in Thurman Thomas and James Lofton, Reed's production speaks volumes.
Plus, putting up these numbers in a cold weather city with an outdoor stadium significantly enhances Reed's impact.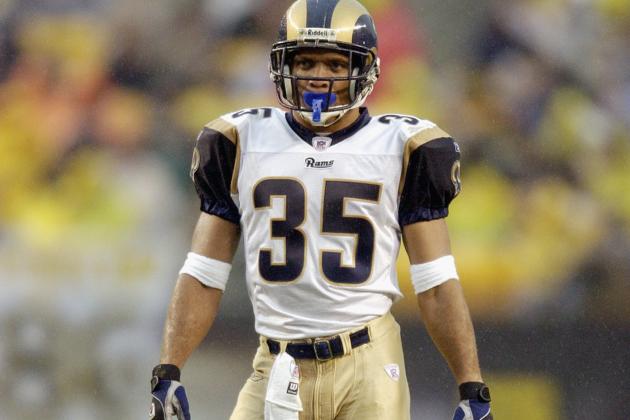 David Maxwell/Getty Images

Aeneas Williams was one of the more underrated defensive backs of his era.
Partially because he played for the Arizona Cardinals for 10 seasons (1991 through 2000) and appeared just once in the playoffs during his tenure.
He also squared off against the great receivers of Michael Irvin, Jerry Rice and Cris Carter within the NFC. Still, Williams was among the most productive in recording 55 picks and earning eight Pro Bowl selections.
Williams also played for the St. Louis Rams from 2001 through 2004.
In St. Louis, Williams had arguably his best season in 2001 (14 defended passes, four picks, two touchdowns, 72 tackles), the same year he appeared in his only Super Bowl.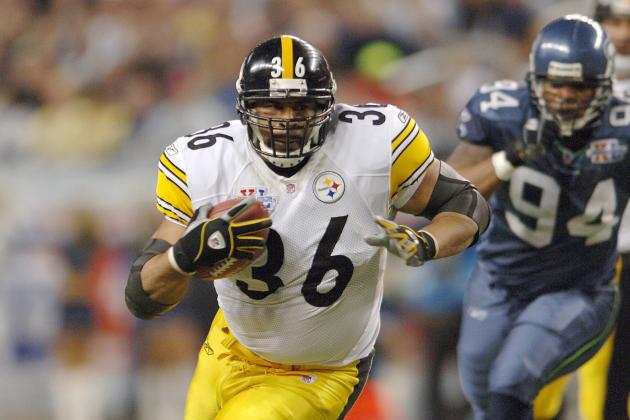 A. Messerschmidt/Getty Images

It's 4th-and-goal and you're down by five.
Jerome Bettis is one of the few running backs in NFL history any offense would feed in that clutch situation.
Aside from Barry Sanders, Jim Brown, Earl Campbell and Marcus Allen, The Bus could punch through the biggest, meanest and toughest of defensive lines. Eight times did Bettis rack over 1,000 rushing yards and appear in four AFC title games, winning one and a Super Bowl.
The Bus' wheels came to a stop at 13,662 rushing yards and 91 rushing touchdowns. Given his size, Bettis still proved to be more than just your typical Brahma Bull in pro football.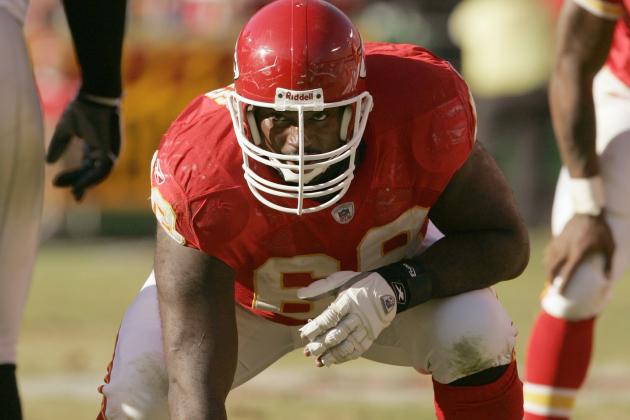 Brian Bahr/Getty Images

Will Shields is the epitome of consistency in the trenches.
Playing guard for the Kansas City Chiefs from 1993 through 2006, Shields earned 12 Pro Bowl and eight All-Pro selections.
He started 223 consecutive games, which began in Game 2 of his rookie campaign and lasted through his retirement. During Shields' tenure with K.C., the Chiefs saw running backs Marcus Allen, Priest Holmes and Larry Johnson achieve dominant success on the ground.
Nine times did Kansas City rank in the top 10 for rushing offense during Shields' days, so it's no surprise he was a constantly making the trip to Hawaii.