Indiana Basketball: 10 Things We Learned from the Win Over Michigan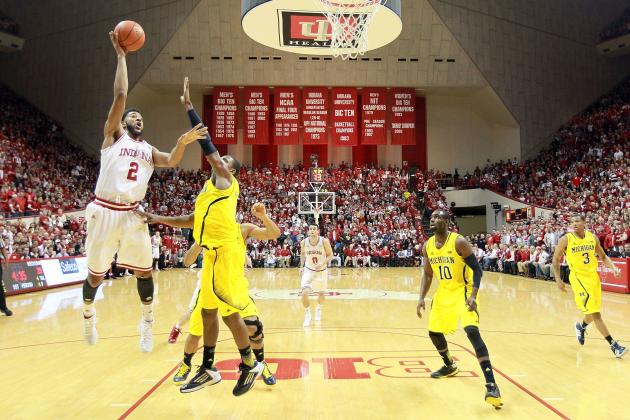 Andy Lyons/Getty Images

Indiana staked a solid claim to being the Big Ten's top team with its 81-73 victory over Michigan Saturday night. With a strong balance of offensive skill, defensive grit and the inimitable advantage from the sixth man at Assembly Hall, the veteran Hoosier squad harassed the Wolverines' own veterans and all but erased two of UM's touted freshmen.
The game was expected to tell us a lot about both teams, and there were certainly plenty of truths told. Here are 10 takeaways from the victory and what they may herald for IU going forward.
Begin Slideshow

»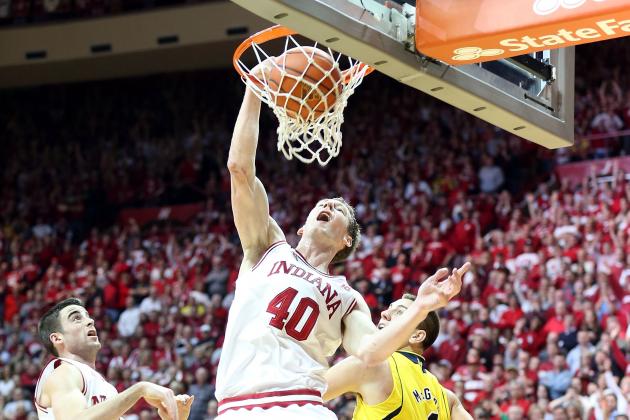 Andy Lyons/Getty Images

Indiana center Cody Zeller slumped his way through games against Penn State and Michigan State, but the Hoosiers still earned strong victories in each.
Whatever ailed Zeller during that off week, it cleared up in time for the past week's games at Purdue and against Michigan. After struggling against the massive Michigan State platoon of Derrick Nix and Adreian Payne, questions were inevitable about Zeller's outlook against equally bulky freshmen A.J. Hammons of Purdue and Mitch McGary of Michigan.
Saturday night, Zeller fell one rebound short of his second straight double-double and made a few highlight plays with vicious putback dunks against McGary.
Zeller brought his best game to the big game, and his relentless hustle after a loose ball to keep possession in the final two minutes symbolized this game's importance. Even if he's facing a bigger man, Zeller should be expected to perform under the big spotlight.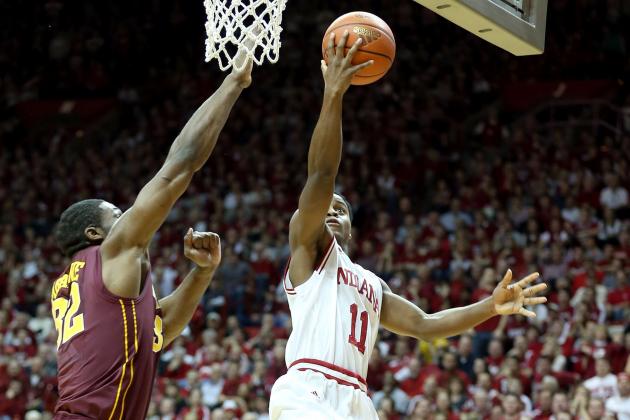 Andy Lyons/Getty Images

Multiple Hoosiers spent time bodying up on Michigan All-American Trey Burke. While Burke forced Yogi Ferrell into two fouls before halftime, the Michigan offense looked so out of sorts that the Wolverine star was brought to the bench four minutes in to compare notes with coach John Beilein.
Ferrell led the Hoosiers with a plus/minus rating of plus-20, and Michigan could seemingly only close the gap when he was on the bench. In the 12 minutes Ferrell was out of the game, Michigan outscored the Hoosiers 24-12.
Offensively, Ferrell showed a veteran's ability to focus in the clutch, knocking down eight straight free throws in the final minute and 42 seconds to keep the scrappy Wolverines at bay. Future opponents will need to think long and hard before deciding to foul the freshman and hope for a choke.
Yogi has frustrated guards like Michigan State's Keith Appling, Penn State's D.J. Newbill and Northwestern's Dave Sobolewski this season. He still has another matchup with both Burke and Appling, plus two battles with Ohio State's Aaron Craft. Don't be surprised if he doesn't back up an inch.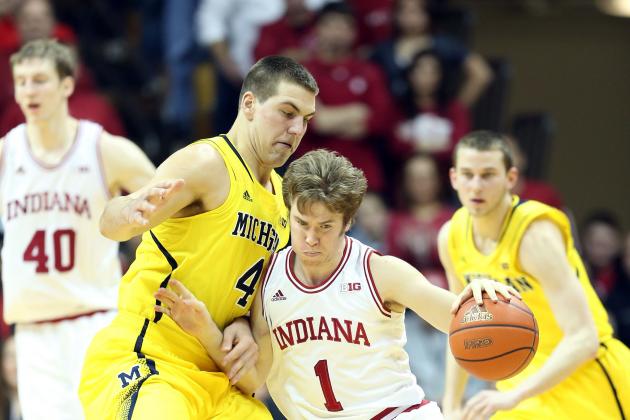 Andy Lyons/Getty Images

The Hoosiers are one of America's best teams at getting to the foul line, carrying a free-throw rate (FTA/FGA) of nearly 50 percent. Michigan wasn't used to opponents getting charity tosses against them, allowing only 20.2 foul shots per 100 field-goal tries coming into Saturday.
Indiana's Saturday FT rate? 50 percent.
The irresistible force had its way with the immovable object, the Hoosiers recording a 50-plus FTR for the 11th time this season. While the rate was inflated by 12 foul shots—against only one field-goal try—in the final two minutes, Indiana showed impressive focus in making all 12 attempts.
Indiana is nearing 72 percent conversion at the line in Big Ten play, good for second in the league. When the games get close in February and March, the Hoosiers will have great late-game experience to draw on.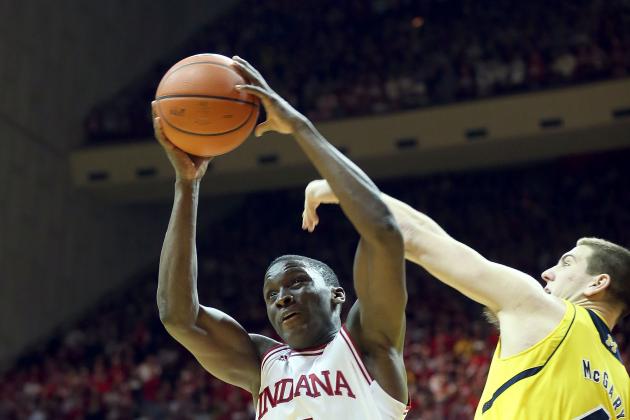 Andy Lyons/Getty Images

Indiana kept Michigan in the game by committing 11 first-half turnovers. The Wolverines kept hanging around by forcing timely mistakes, but the well ran dry with four minutes to go.
IU's final turnover led to a Mitch McGary putback that made the score 64-60. From there, Indiana kept control and worked its offense all the way up to free-throw time.
The final total of 16 turnovers looks ugly, but the Hoosiers have committed more errors in four different games this season, all victories. The downside of those wins is that they came against Bryant, Mount St. Mary's and Penn State (twice).
Indiana gave away 16 turnovers against Michigan State and now the same number against Michigan. In both games, the power of Assembly Hall helped the Hoosiers persevere. In March, though, the opposition will be stiff and the venues will be neutral, so ball security remains a question going forward.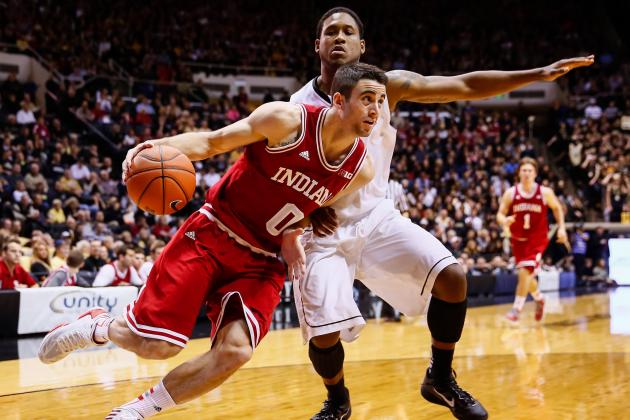 Michael Hickey/Getty Images

When all five of IU's starters score in double figures, bench scoring is not a major issue. That's a common truth for most teams. But, how many teams can rely on getting 10-plus out of all five starters every night?
The Purdue and Michigan games were only the second and third times in conference play that Indiana's five starters all scored 10 or more. The Hoosiers reserves were able to show off a bit in the blowout over the Boilermakers, but against Michigan, the bench shot only 3-of-12 en route to a combined eight points.
Will Sheehey's recent offensive resurgence hit a bump with his 1-of-6 night, even though he did rip five rebounds and play his usual rugged defense. Overall, the most positive relief performance may have come from freshman Jeremy Hollowell (see next slide).
In the Big Ten tournament, when games come on consecutive days, and in the NCAA tournament, with only one day between rounds, IU's starters will need the occasional rest. Sheehey, Hollowell and the rest of the Hoosiers bench will be counted on for more productive minutes than they've provided recently.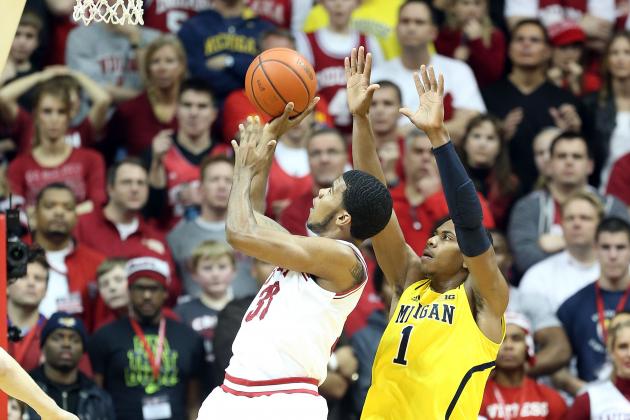 Andy Lyons/Getty Images

In the Hoosiers' keys to beating Michigan, we spotlighted the potential impact that Jeremy Hollowell could have on the game. While our expected plan had Hollowell being used to nullify Nik Stauskas, in the end, it was Glenn Robinson III made most miserable by Hollowell's efforts.
Hollowell stuffed a Robinson layup midway through the first half, and the Michigan sensation may as well have gone into witness protection from there. Robinson didn't get another shot up until the 10:19 mark of the second half. That one was also blocked by Jeremy Hollowell.
The 6'8" Indianapolis native only produced four points, but he also added three offensive rebounds, two of which produced his baskets. Even if he's not scoring baskets, he can be a disruptive defender in future games. Scorers like Brandon Paul and Deshaun Thomas are still on IU's schedule, and Hollowell's length and quickness could make life difficult for those elite players.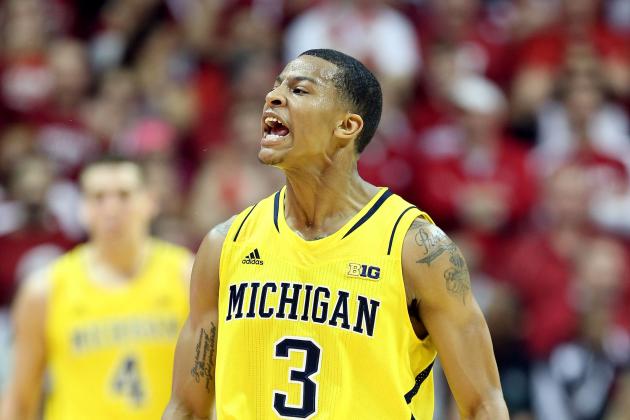 Andy Lyons/Getty Images

We alluded to Glenn Robinson III's rough night in the previous slide. His classmate, Nik Stauskas, was equally frustrated for most of the game. IU stifled the freshmen by preventing point guard Trey Burke's patented drive-and-dish game.
With his lanes to the basket closed off, Burke settled for three-point shots on 12 of his 24 attempts, equaling the number of triples he had attempted in his three previous games. Yogi Ferrell, Victor Oladipo, Will Sheehey and Christian Watford all saw time covering Burke, giving him varying levels of quickness and length.
Stauskas went 1-of-8 in the first half, and Robinson had the aforementioned 20-minute drought between attempts. Stauskas in particular has thrived on being left alone when his defender sags to help on Burke.
Overall, the Wolverines produced only 1.06 points per possession, their second-worst performance of the season. IU's work on the freshmen should be required viewing for all of the Wolverines' future opponents, but how many of those opponents have the variety of defensive stoppers that the Hoosiers threw at Burke?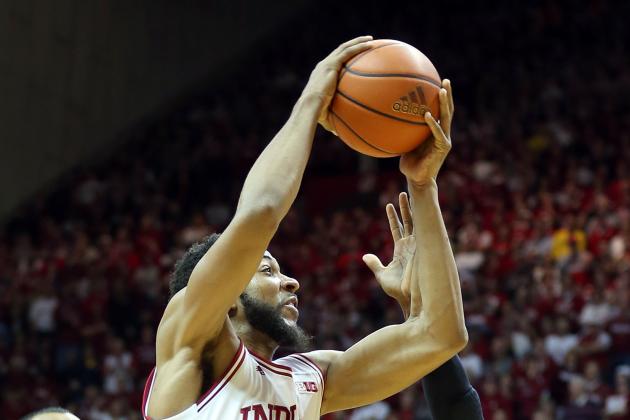 Andy Lyons/Getty Images

Last season, Christian Watford's defining moment was, of course, The Shot to beat Kentucky.
This season, some fans may hear his name and flash immediately to his ugly 1-of-9 performance against North Carolina, a night where nearly nothing else went wrong for the Hoosiers.
Since Big Ten play began, however, Watford has shown up and gone to work while the majority of the media attention has focused on Cody Zeller and Victor Oladipo. Over those nine league games, the senior has put in 13.3 points and 7.2 rebounds per game.
Against Michigan, Watford produced five of the Hoosiers' last seven defensive rebounds over the game's final six minutes. When he entered the game, Michigan had produced three straight offensive boards. They had one the rest of the way.
His 14 and 10 against Michigan mark his first Big Ten double-double this season, and it may not be his last. The Hoosiers will be hard to beat if all three of their main options are producing at their present levels.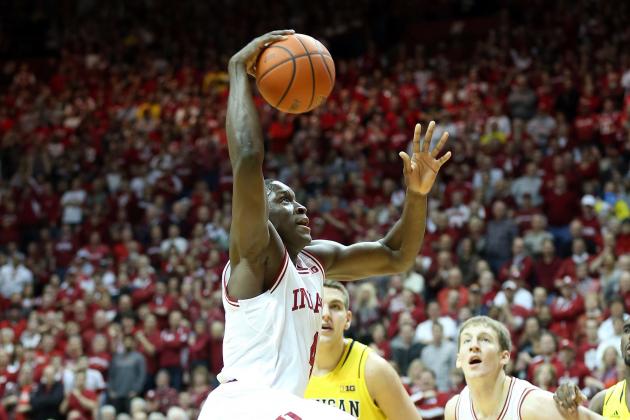 Andy Lyons/Getty Images

Victor Oladipo scored 15 points against Michigan, but the rest of his line doesn't leap off the page: three rebounds, two assists, two steals and three turnovers.
His true impact in the victory required a bit more scrutiny.
ESPN analyst Jay Bilas tweeted that Oladipo allowed only four points in 45 possessions guarding four different players. Bloomington Herald-Times reporter Dustin Dopirak claimed the actual total was seven points, but, either way, it was a phenomenal defensive game for a man who guarded a succession of talented scorers.
The freakish athlete is getting the most attention for a dunk that he could not complete, but his defensive versatility and superb offensive efficiency should easily place him on the majority of ballots from writers choosing the nation's top 10 or 15 players at season's end.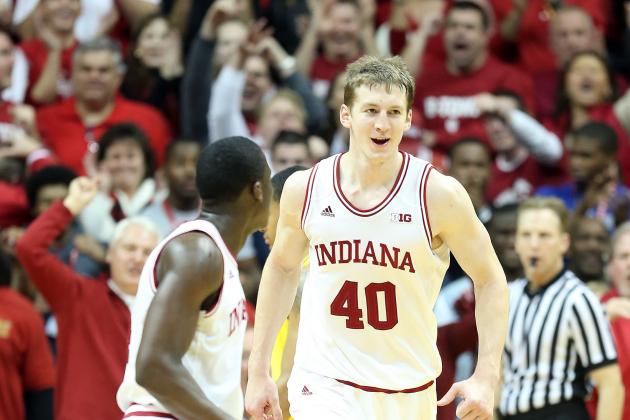 Andy Lyons/Getty Images

The Hoosiers were able to slow one of the nation's most efficient and multifaceted offenses in Michigan. The coming schedule features offenses that are one or the other, but not both.
Illinois and Ohio State are led by singular talents in Brandon Paul and Deshaun Thomas, but the chances of either upsetting the Hoosiers rest on the sporadic production from both men's supporting casts. Also, Indiana visits both opponents, so the sixth man will need to make those venues every bit as hostile as Bloomington is for its visitors.
Following those matchups, IU returns home to await visits from Nebraska and Purdue, neither of whom can even boast a singular dominating force and often struggle to get out of their own ways. Purdue's already suffered a crushing loss to the Hoosiers on its own home court, while many of IU's veterans still remember last season's upset loss in Lincoln. Walk-ons may get involved late.
A February 19 trip to the Breslin Center for a rematch with Michigan State may be the next challenge that tests the Hoosiers to the degree that Michigan did. Gary Harris, Branden Dawson, Keith Appling and the Payne-Nix duo give the Spartans just as many potent weapons as IU boasts.
For more from Scott on college basketball, check out The Back Iron, home of the exclusive Back Iron Index and Bracketometry, telling us which teams SHOULD be in the NCAA tournament come March.