NY Rangers: 4 Ways to Improve Awful Power Play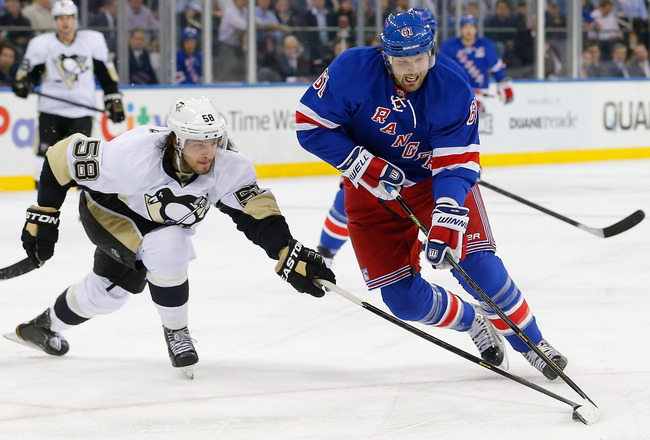 Paul Bereswill/Getty Images
Despite a great win against a hot Lightning team Saturday night, the Rangers still have a lot of room for improvement.
Tampa Bay scored its only goal on the power play, but the Rangers were zero for two on the power play. They haven't scored in their last eight power-play opportunities.
The Eastern Conference is packed with good teams this season, and if the Rangers want to move to the front of the pack, they need to play better when they have more skaters on the ice.
Though troubling, the Rangers' deficiencies on the power play are all basics of hockey and will be corrected soon. It may be a short season, but it is still only eight games old. Think of the stupid things you did when you were eight.
Here are some suggestions to break the Rangers' power-play drought.
Shots! Shots! Shots! Shots! Shots! Shots!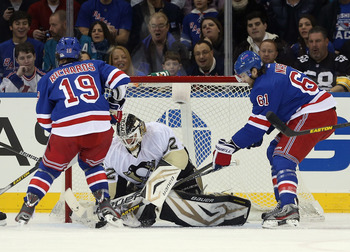 Bruce Bennett/Getty Images
The Rangers have had 30 power-play opportunities and only 36 shots on those opportunities.
I'm trying as hard as I can to avoid cliches about not being able to score without shooting but it wouldn't be an old cliche if it weren't true.
The Rangers have had their fair share of air shots and untimely, errant or deflected passes, but the lack of shots on the power play is most likely due to a lack of possession.
Possess the Puck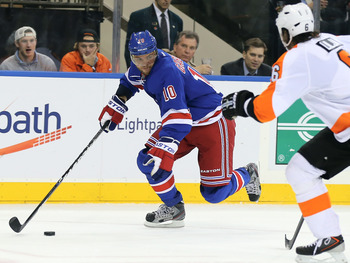 Elsa/Getty Images
It seems to take the Rangers a long time to set up their power play.
In five-on-three chances, the Rangers have scored only once, despite having over five minutes of two-man advantage time so far this season.
The goal of the power play is to have the greatest time of possession possible to exploit a man advantage from different angles.
So few shots during the power play is evidence of a lack of possession. The lack of possession has two main contributors: losing faceoffs and weak forechecking.
Win Faceoffs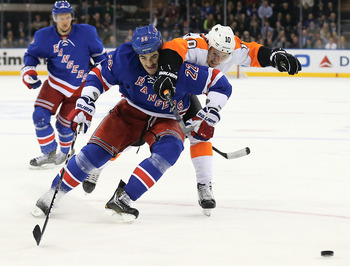 Elsa/Getty Images
Brian Boyle is the only Rangers player who has taken more than 10 faceoffs and won more than 50 percent of his draws, and he's at 52.7 percent.
Jeff Halpern was in the top 10 in the NHL last season for faceoff wins and he is right at 50 percent for the season, but he has taken half as many faceoffs as Boyle or Derek Stepan.
Brad Richards actually does a better job winning faceoffs on the power play (19 wins versus 14 losses), but Stepan and Boyle have both lost more power play faceoffs than they have won.
Forecheck with More Effort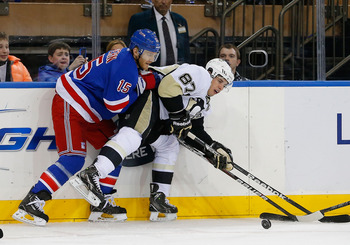 Paul Bereswill/Getty Images
Forechecking is vitally important on the power play and the Rangers need to put more effort into keeping the puck trapped deep in the zone.
Some of the Rangers' best goals of this early season have been created by determined forechecking to win back the puck in a dangerous position. The power play should be no exception.
More hunger on the forechecking will lead to more possession, which will lead to more shots and subsequently more goals.
It's not groundbreaking, but it's also still very early in the season. The Rangers will get it right and though they probably won't ascend to become one of the top power plays in the league, they better improve from being the second worst.
Keep Reading

New York Rangers: Like this team?