Arsenal vs. Stoke: Six Things We Learned from Gunners' 1-0 Win
Michael Regan/Getty Images

In one of their grittier performances of the season, Arsenal beat Stoke 1-0 at home thanks to a deflected Lukas Podolski free-kick.
The chant from Arsenal fans toward the end of the match was "One-nil to the football team," and that was a wonderfully appropriate summary of the action at the Emirates Stadium.
During long stretches, especially during the first half, almost nothing noteworthy would happen, and I was often starved for material for my live blog of the match.
Stoke sat back and were content to let Arsenal keep the ball for long stretches. On one incredible occasion, everyone stood still with the ball static just outside the box during open play. Such was the Potters' reprehensible, willing negativity.
But in the end, partly due to luck, Arsenal found their break through Lukas Podolski. The German smashed a low free-kick from about 20 yards out that took a big deflection and bounced past a helpless Asmir Begovic.
Let's look at six things we learned from the football team's 1-0 victory.
Begin Slideshow

»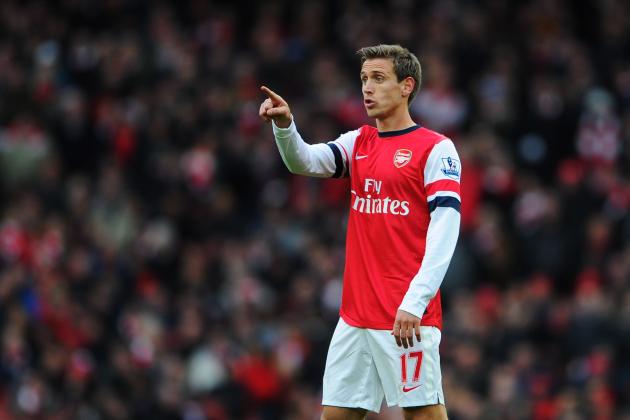 Michael Regan/Getty Images

There were some fears before the match that new boy Nacho Monreal might not be able to stand the test of the most physical team in the Premier League.
And, while the Nacho Man did not have a whole lot of defensive work to do (which will be his real test in subsequent games), he looked very solid and not nearly as error-prone as the man he is replacing: Andre Santos.
There were occasional moments of obvious quality in his touches and crisp passing, and it looks as though he knows how to deliver a good cross. A couple of his balls into the box made Stoke's defense a bit nervous.
So, while it's far too early to make any definitive judgments, Monreal looks to be money well-spent, even if he might not have been the most necessary acquisition.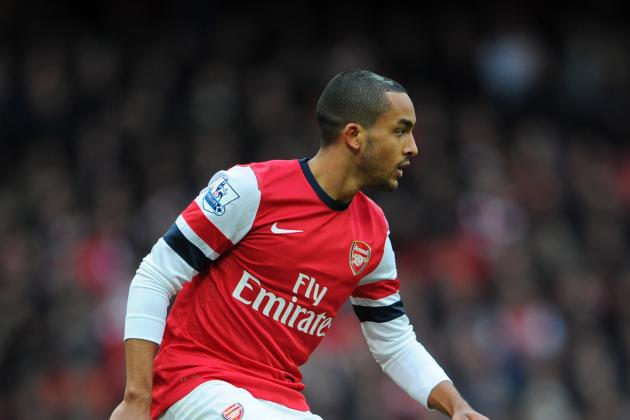 Michael Regan/Getty Images

In past years, Theo Walcott would have gone into his shell against Stoke and had one of "those games" where a team that sits deep and defends completely neutralizes his pace.
But, as Arsene Wenger said after the game on Arsenal.com, Arsenal's second-newest signing "has become a different player recently."
Walcott really has, too. He gave Andy Wilkinson a torrid time all game, blowing past him with ease on several occasions and attempting to impose himself on Arsenal's attacking play.
Far from disappearing, he was Arsenal's most threatening player on the day. And that is a massively encouraging sign for the club.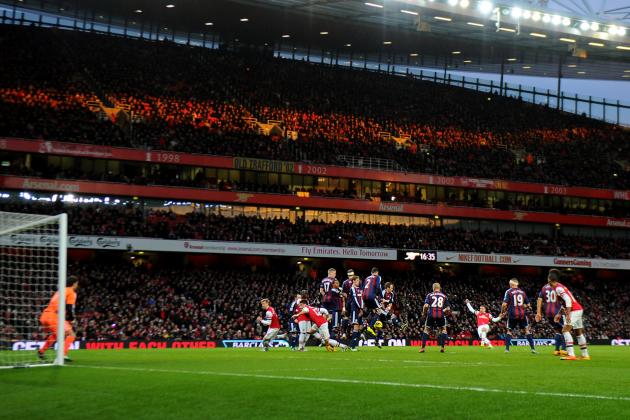 Michael Regan/Getty Images

For all the pressing and positive play that Arsenal created during the first hour or so of the game, the Gunners won it in the 68th minute when Arsene Wenger brought on Lukas Podolski and Santi Cazorla.
Those two—normally starters, of course, but temporarily relegated to the bench—added incisiveness and quality that had been lacking from an already good starting XI.
In games like this, when the opposition is doing all they can to stifle you and play for a point, it often takes one moment of magic from a great player to steal three points.
Podolski's deflected free-kick was not exactly one of these moments, but it was fitting that the winning goal (and almost a second from Cazorla) came from two of the more impactful substitutions Arsene Wenger has made recently.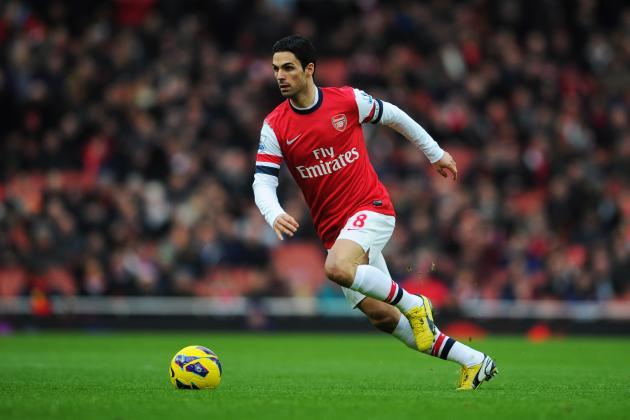 Michael Regan/Getty Images

Once again, Mikel Arteta demonstrated that being the leader of a football team is not solely a position awarded by virtue of a piece of cloth around one's arm.
The Spaniard was, of course, wearing the captain's armband for the day. But he isn't the captain of the club: That honor is officially Thomas Vermaelen's, but both play an equal part in leading Arsenal.
As he always does, Arteta led by example with his fine midfield play, dictating the flow of possession and distributing the ball from his deep-lying role.
But towards the end of the game, when the lid started to come off, he was the one to make peace with the referee and Michael Owen, settling down his players and seeing the match to its rightful conclusion.
Vermaelen might nominally be captain, but Arteta is, as Arsene Wenger has called him (via The Guardian), "a tactical leader and a winner."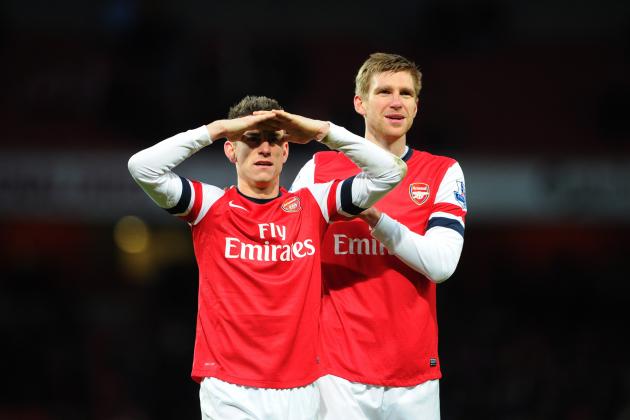 Michael Regan/Getty Images

Credit to Arsenal's defense for recording only their second clean sheet since Dec. 22. When Laurent Koscielny, Per Mertesacker and Co. were called into duty, they performed their jobs well against a very tough side that included battering ram Peter Crouch.
But let's not get ahead of ourselves; this one game does not come close to proving that the Gunners have fixed their problems at the back.
Even against a more ambitious side, one game wouldn't be a portent of anything, but Stoke came forward with all the fervor of a rabbit in a lion's cage.
It was necessary for Arsenal to get the confidence that a clean sheet brings, but they have not come close to solving their various problems at the back.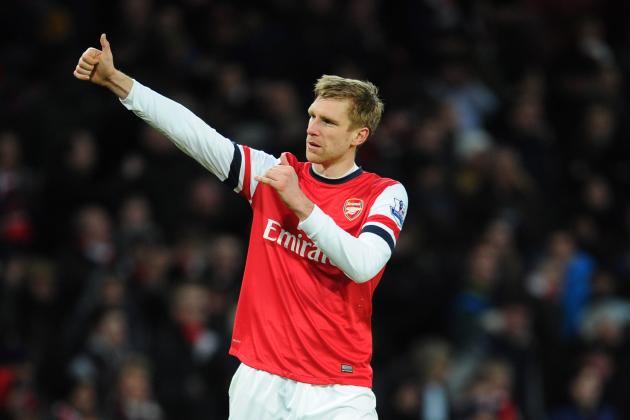 Michael Regan/Getty Images

At the time of writing, Arsenal sit in the famous fourth place, just two points behind Chelsea one spot above them and one point above Everton below them. Tottenham are two points back, in sixth, but with two games in hand.
Despite all the doom and gloom surrounding much of Arsenal's season, the Gunners are still in an excellent position to qualify for the Champions League. These are one-game margins; not double-digit gaps like that which lay between them and Spurs last season.
With their victory over Stoke, Arsenal picked up two points on Everton—who were lucky to scrape out a draw against Aston Villa—three on Chelsea, and perhaps more on Tottenham, who have not played yet.
Arsene Wenger said after the game that Arsenal couldn't afford to drop points today, and they didn't. With a gritty performance from a sometimes flimsy team, they showed that there is no obstacle to victory when the whole team really goes for it.
Finishing in the top four is still well within the Gunners' grasp if they can harness their quality, and improve their dismal record (one win in seven games) against teams in the top six.