4 NY Rangers That Have Not Lived Up to Expectations in 2013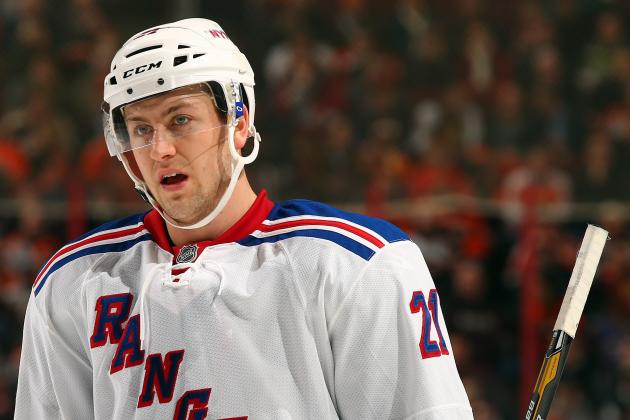 Elsa/Getty Images

The New York Rangers have struggled so far this season and there are four players in particular who have not lived up to expectations in 2013.
The Rangers came in with high hopes, but injuries and poor play have put a serious damper on their postseason plans.
If the team doesn't change its ways, it could be on the outside looking in.
To ensure a playoff berth, these four players need to pick up their games.
Which guys have not yet lived up to expectations in 2013?
Read on to find out.
Begin Slideshow

»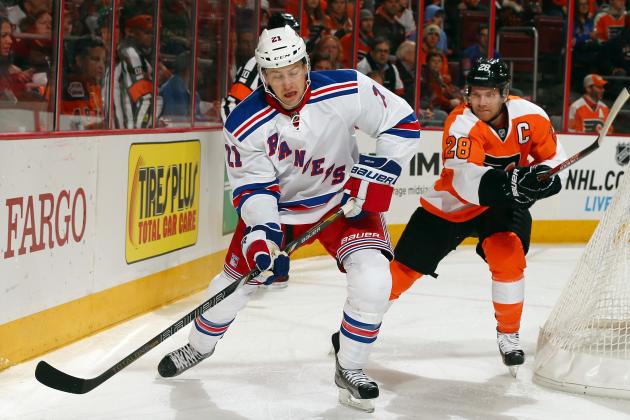 Elsa/Getty Images

Derek Stepan is expected to center the second line and provide secondary scoring.
He hasn't.
Stepan has one goal and four assists this season.
I've been a critic of Stepan in this space before, and I will continue to be so. I have not seen evidence of him being a truly great player. His performance this season has done nothing to change my opinion.
With Ryan Callahan out, Stepan needs to take on a bigger role.
He hasn't.
Stepan has not been a factor on the power play and his second line has had only one good game (against Tampa Bay) so far.
For the Rangers to be successful, they need Stepan to provide secondary scoring. Until he does, the Rangers will not be able to reach their potential.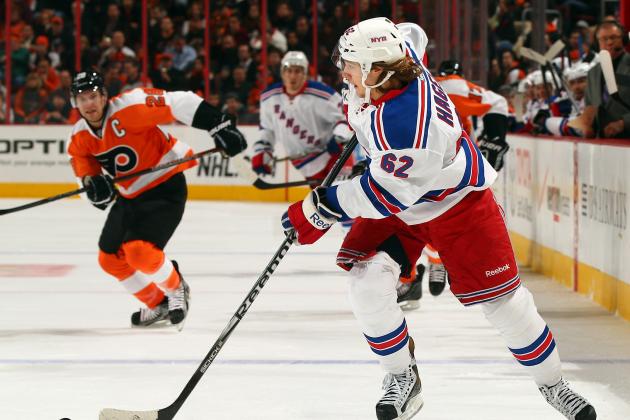 Elsa/Getty Images

Carl Hagelin has finally found the back of the net, scoring his first goal since April of last season.
He has only five points in his last 35 games. That's unacceptable for a second line winger.
Hagelin still has his speed, but he hasn't been able to consistently turn that speed into chances for himself or his teammates.
He's shown flashes in the past few games, but his offensive drought has been long. This is someone the Rangers need to provide secondary scoring. Without it, Hagelin gets reduced to a bit player and the Rangers suffer.
We'll see if his recent two point game against the Tampa Bay Lightning gets him on track, but all signs indicate that he'll continue to struggle putting the puck in the back of the net.
That's bad news for the Rangers.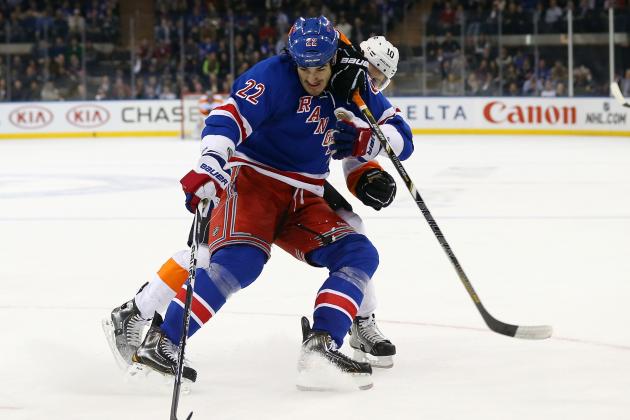 Elsa/Getty Images

Expectations were set too high after Brian Boyle scored 21 goals in the 2010-11 season.
He's not a goal scorer., but he is better than this.
Boyle has only one point this season—an assist—and has been largely invisible on offense.
He's still a rock as a penalty killer, but this is someone who's had 61 points in the past two seasons.
Boyle is capable of providing 30 points a year, but he does not seem to be able to come close to that this season.
The Rangers need Boyle to crash the net more and use his size to set up teammates.
He's productive as long as he keeps it up on the penalty kill, but with the Rangers putting all their eggs in their first line, a productive secondary scorer is key.
Boyle can provide that, but he's been disappointing thus far.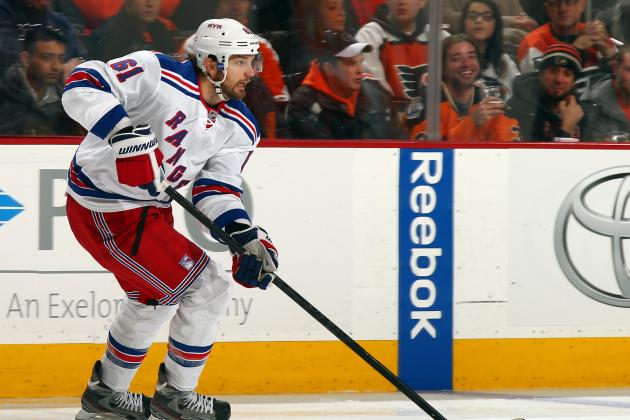 Elsa/Getty Images

Rick Nash has been part of a first line that's been dominating opponents, but he really hasn't been scoring.
So far, Nash has only two goals on the year. That's not enough for a player who was brought into be an elite goal scorer.
Yes, he's taking attention away from Marian Gaborik, who has five goals on the season, but Nash is the pure goal-scorer and it's Nash who needs to step up his game.
He can't simply be a decoy. He needs to be more active on the power play. He needs to be using his body to bully his way into the slot and use his powerful slap shot more often.
If he does that, the goals should start coming.
But, given the price the Rangers paid and the expectations placed on him, he's been a big disappointment.