Rating the Arsenal Players vs. Stoke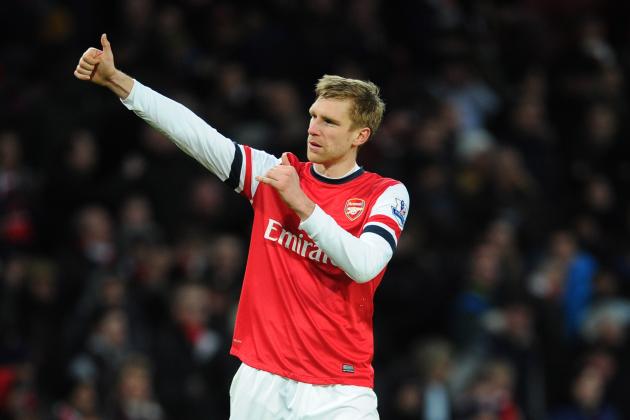 Michael Regan/Getty Images
Per Mertesacker salutes a crucial Arsenal victory.
Games between Arsenal and Stoke are always combative affairs, and Arsenal will be delighted to have emerged from this game clutching three valuable points.
In a bad-tempered game, Arsenal had to show more tenacity than technique, but ultimately a deflected Lukas Podolski free-kick was enough to grant them victory.
Go to the next slide to see how the individual Arsenal players rated in this match.
Begin Slideshow

»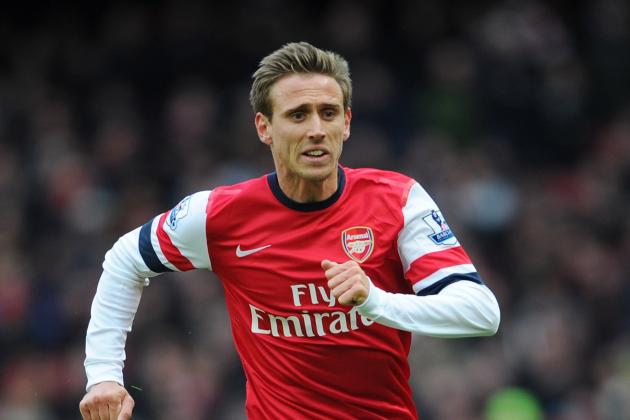 Michael Regan/Getty Images
Nacho Monreal made his debut for Arsenal.
GK Wojciech Szczesny (6/10)
On a night of surprises, there was no greater surprise than the
DR Bacary Sagna (8/10)
Perhaps because of the absence of Kieran Gibbs and Lukas Podolski on the left flank, most of Arsenal's attacks in this game seemed to develop on the right-hand side. Bacary Sagna was a crucial part of that, and his relentless running gave Arsenal a constant outlet on that wing.
Sagna is a warrior, and he comfortably won his battle against Matthew Etherington, nullifying the Stoke winger's attacking threat and keeping him on the back-foot for the majority of the game.
CB Per Mertesacker (8/10)
This is the sort of match Arsene Wenger had in mind when he signed Per Mertesacker, and the big German responded with an excellent performance.
Although he concedes an inch in height against Peter Crouch, Mertesacker did relatively well in their aerial duels. When he failed to win the ball, he made sure he did enough to prevent Crouch from directing his knock-downs into dangerous areas.
CB Laurent Koscielny (7/10)
Laurent Koscielny stood in for Thomas Vermaelen and did rather well, mopping up the debris from the battle between Crouch and Mertesacker and launching counter-raids for Arsenal.
Koscielny could be set to play a crucial role in Arsenal's season. With Arsenal's troubles at left-back, Vermaelen could be asked to play at full-back in the Champions League tie with Bayern Munich.
That will almost certainly mean a start and a massive opportunity for Koscielny in the middle.
DL Nacho Monreal (7/10)
There is no greater culture shock for a newcomer from La Liga than a match against Stoke. Considering this, Nacho Monreal will be satisfied with a competent first appearance in an Arsenal shirt.
He coped well with a physical opponent in Stoke's Jonathan Walters and grew as an attacking force as the game went on.
Arsenal fans will be looking forward to monitoring Monreal's continued development during Kieran Gibbs' absence.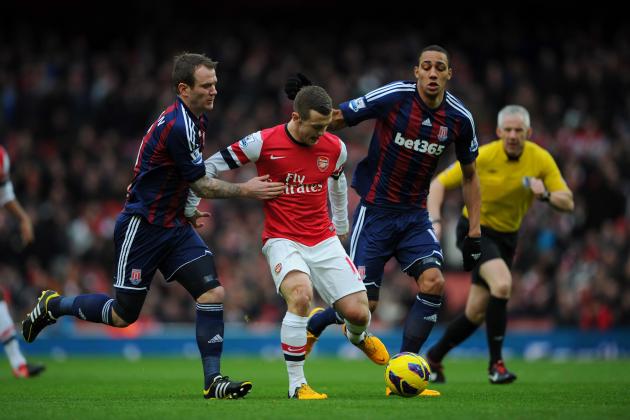 Michael Regan/Getty Images
Jack Wilshere bursts between two Stoke midfielders.
CM Mikel Arteta (8/10)
Mikel Arteta's return to the side immediately reminded Arsenal fans what they've been missing. He was authoritative and influential from the first minute until the last.
Crucially, he also had the positional intelligence necessary to cope with Stoke's long-ball game. He was able to make a number of crucial interceptions to win the all-important second balls, and thus keep Arsenal in control of the game.
CM Abou Diaby (6/10)
Since returning from a three-month layoff, Abou Diaby has not managed to recapture his sparkling form of the early part of the season.
In this match, there was some rusty passing and a tendency to dally on the ball for too long. However, there was also an encouraging willingness to hurtle in to challenges without hesitation.
Although far from a spectacular display, this was a good step along the road to recovery for Diaby.
AM Jack Wilshere (7/10)
Jack Wilshere was handed the advanced role in midfield, but struggled to have the same impact he has previously had in the position.
He looked a little tired, although it is impossible to ever question his courage or commitment. The way he stood up for his teammates against Stoke's physical onslaught showed the leadership and character of a player far more advanced in years.
Subs
AM Santi Cazorla (7/10)
The introduction of Santi Cazorla immediately gave Arsenal the creativity they had previously lacked.
He looked far more sprightly having had an hour on the sidelines and instantly added fluency to the attack.
The only black mark against him was an eye-catching miss after collecting a ricochet to go one-on-one with Asmir Begovic.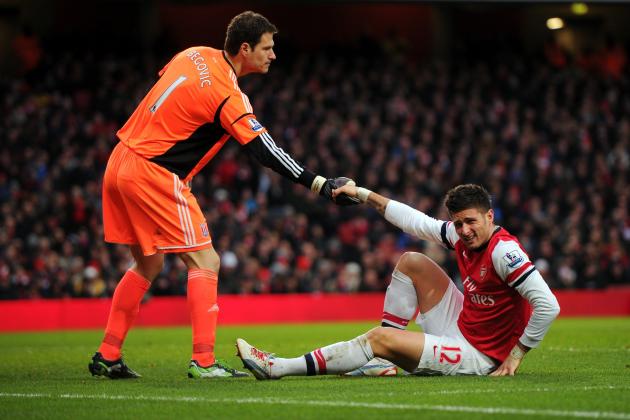 Michael Regan/Getty Images
Olivier Giroud worked hard against an impressive Stoke defence.
RW Theo Walcott (8/10)
This match was an interesting insight into the new Theo Walcott.
He received plenty of rough treatment from the Stoke defenders, but never let it get to him.
He didn't go to ground easily or plead for decisions from the referee. He just got up and got on with his game. Eventually, his persistence was rewarded when he won the free-kick from which Arsenal grabbed their only goal.
CF Olivier Giroud (7/10)
Olivier Giroud worked hard against the titanic pair of Ryan Shawcross and Robert Huth. Opportunities to score were few and far between, but like Walcott he continued to make himself available for his midfield players, and also dutifully defended at set-pieces when required.
Giroud will have far easier days in the Premier League, but he didn't disgrace himself against two of the toughest centre-backs around.
LW Alex Oxlade-Chamberlain (7/10)
Alex Oxlade-Chamberlain is having a difficult season. The form of Walcott and Lukas Podolski means opportunities in the wide areas have been hard to come by.
The consequence of this is that when he is picked, he often seems to try too hard to make a memorable impact. He attempts impossible dribbles, tries too many tricks and fires off shots that could politely be described as very ambitious.
This game fitted into that pattern, and Oxlade-Chamberlain will be frustrated to have missed a very presentable one-on-one opportunity.
However, his willingness to try things offers a certain exuberance to the proceedings, and he worked hard to offer protection to Nacho Monreal.
Subs
LW Lukas Podolski (8/10)
As soon as he entered the field of play, Lukas Podolski offered Arsenal his usual direct, uncompromising style.
He scored a direct, uncompromising goal too. His free-kick may have taken a heavy deflection, but it had enough power to take it beyond Asmir Begovic and into the net.
Podolski now has 12 goals this season. If he keeps up that level of productivity, he will reach 20, which would be some achievement for a wide player in his first season in English football.
RW Aaron Ramsey (5/10)
Aaron Ramsey was introduced to help shore up Arsenal's midfield and protect the lead. He didn't get much time to make an impact, but it was nice to hear the crowd support his introduction with resounding cheers. His recent form seems to have won over the majority of the Emirates crowd.
What did you make of Arsenal's players against Stoke? Have your say below.