UFC 156 Superlatives: Best and Worst from the Entire Fight Card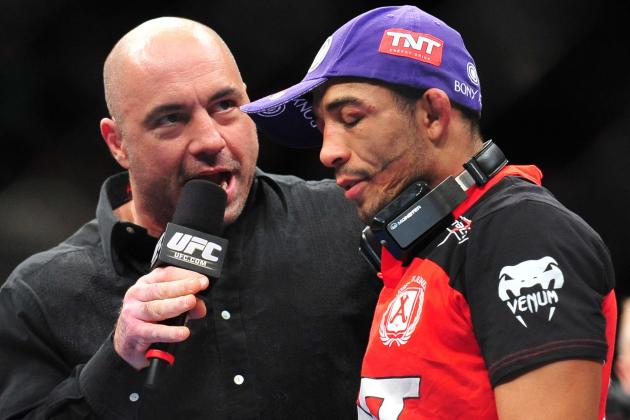 Gary A. Vasquez-USA TODAY Sports

Frankie Edgar nearly came back from early adversity to beat featherweight champion Jose Aldo, but he simply swayed the momentum too late in the fight to make up the ground he had lost in the initial rounds.
Now, Edgar has lost in three straight title fights and may need to make another move to the bantamweight division in order to remain in title contention. Considering the ease with which he appeared to hit 145 pounds, the 135-pound bantamweight limit shouldn't be out of reach.
That being said, the former lightweight champion would not commit to anything regarding his MMA future following the loss to Aldo.
Instead of looking ahead, let's take a minute to look back at UFC 156 and the best and worst from the entire fight card.
Begin Slideshow

»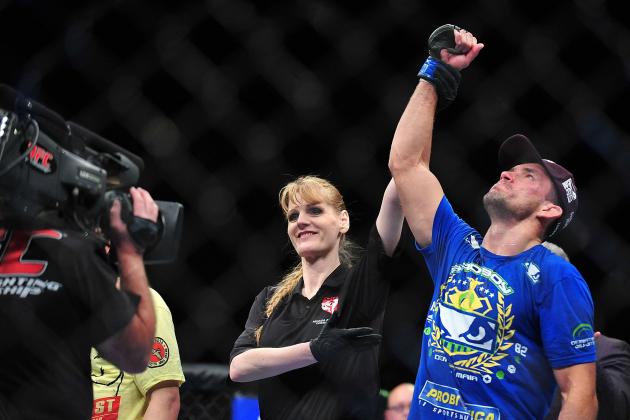 Gary A. Vasquez-USA TODAY Sports

Some fighters picked up more meaningful wins at UFC 156, but no one was as dominant against a tough opponent as Demian Maia was in his bout against Jon Fitch.
Maia repeatedly took Fitch to the ground and controlled the American Kickboxing Academy product for almost the entirety of the 15-minute fight.
With his third straight win since moving to the welterweight division, Maia established himself as a 170-pound contender with his performance on Saturday.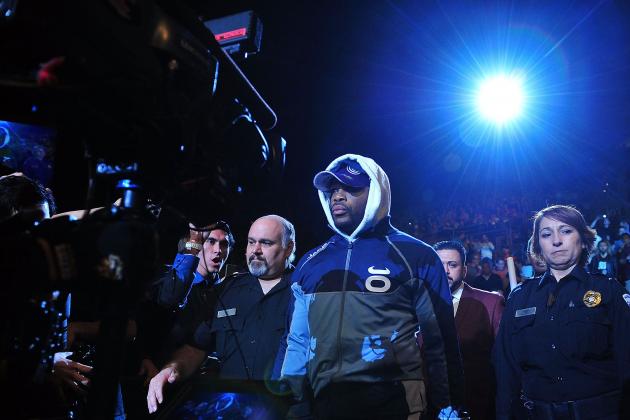 Gary A. Vasquez-USA TODAY Sports

Rashad Evans was the most significant favorite on the entire UFC 156 fight card, but he came up short against Antonio Rogerio Nogueira.
Not only did Evans come up short, he looked worse than he ever has in his long UFC career, failing to mount any significant offense against an opponent he was expected to dominate.
Evans scored only one takedown in the entire three-round fight and would not commit to any combinations when standing with Nogueira.
Gary A. Vasquez-USA TODAY Sports

Initially, it appeared Jose Aldo would run away with a dominant victory over Frankie Edgar at UFC 156. However, with his typical never-say-die attitude, Edgar battled back and turned the fight into a much closer one than it started out as.
Though his face and lead leg were battered, Edgar never stopped pressuring the champion and ended up winning the final two rounds in the eyes of many. That wasn't enough for Edgar to win the fight, but it did further his legacy as one of the toughest fighters to ever step inside the Octagon.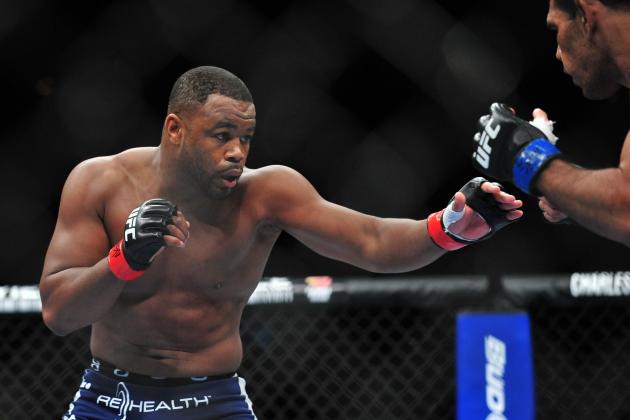 Gary A. Vasquez-USA TODAY Sports

Rashad Evans is not known as a frequently boring fighter, but the former light heavyweight champion was abnormally hesitant against Antonio Rogerio Nogueira at UFC 156.
One of the best wrestlers in the light heavyweight division, Evans spent most of the fight gauging his distance. When he did look for takedowns, Evans was shut down surprisingly easily, and that led to a very uneventful stand-up bout.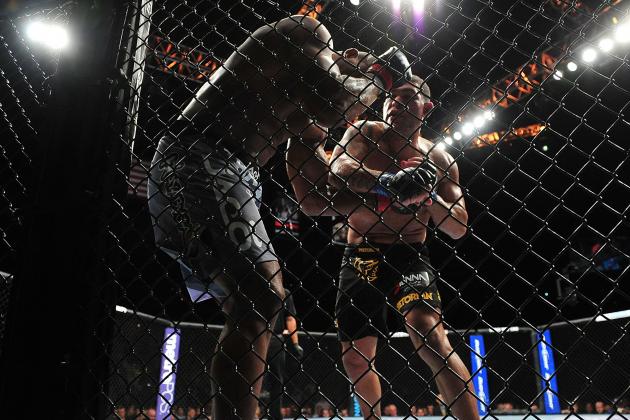 Gary A. Vasquez-USA TODAY Sports

Antonio Silva was a massive underdog heading into his fight with Alistair Overeem, and that seemed to have "The Reem" looking past Saturday night's bout.
Although Overeem controlled the action for the most part through the first two rounds, his lackadaisical approach ended up backfiring when Silva turned up the pace in the finale frame.
Silva clipped Overeem on the inside and began firing his massive fists at his opponent's head. Eventually, Overeem folded over and was unable to defend himself.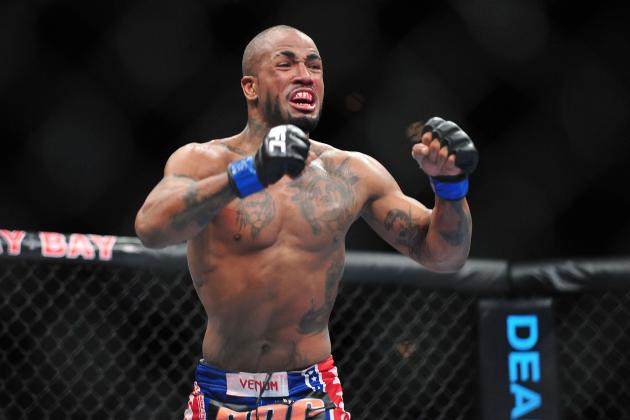 Gary A. Vasquez-USA TODAY Sports

Facing tough opposition in his UFC debut, Bobby Green did not leave the result of his fight up to the judges, as he caught Jacob Volkmann in a rear-naked choke with less than one minute left in the final round of the bout.
After making a good first impression with the UFC brass, Green should see some big fights coming his way. The former Strikeforce fighter suddenly has a bright future ahead of him.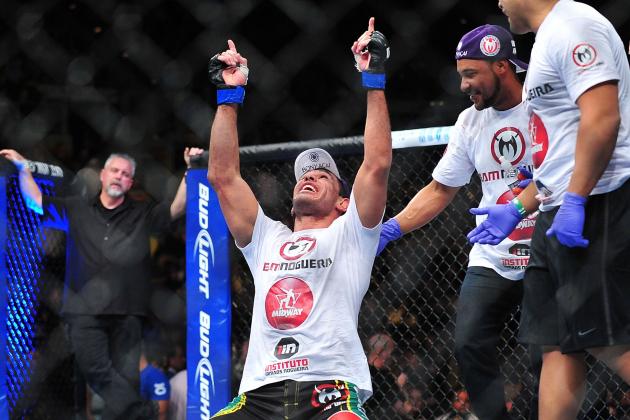 Gary A. Vasquez-USA TODAY Sports

Antonio Silva's win over Alistair Overeem was more impressive, but Antonio Rogerio Nogueira was the biggest underdog on the UFC 156 fight card and still found a way to win against Rashad Evans.
Facing one of the best wrestlers in the light heavyweight division, Nogueira's takedown defense was nearly impenetrable. On his feet, Nogueira wasn't overly active, but he did a good job of avoiding Evans' strikes and countered with straight left hands frequently.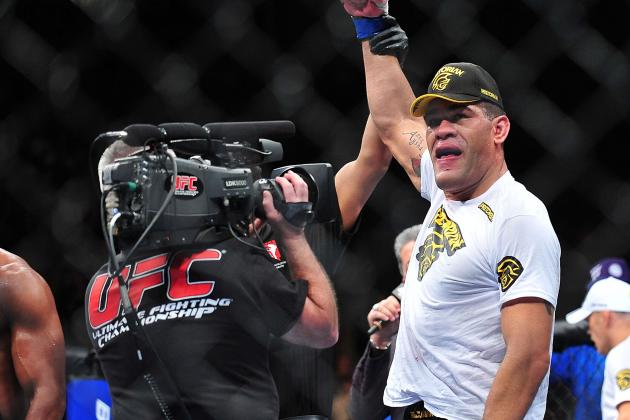 Gary A. Vasquez-USA TODAY Sports

Alistair Overeem coasted through the first two rounds of his fight with Antonio Silva. Though many thought he'd steamroll the Brazilian, Overeem was not overly aggressive.
In the third round, Silva opened up his offense and took advantage of the overconfident Overeem by landing a hard shot in close. Overeem covered up, and Silva began unloading.
While he's not the most technical striker out there, a fighter can only take so many punches from Silva, and Overeem eventually collapsed to the canvas.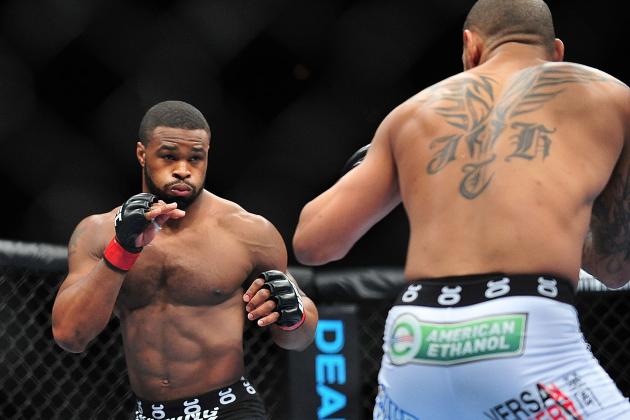 Gary A. Vasquez-USA TODAY Sports

Making his UFC debut after a run with Strikeforce, Tyron Woodley showed he has the potential to be a serious contender in the welterweight division.
Woodley wasted no time in stopping Jay Hieron at UFC 156, landing a right hand and following up with some ground-and-pound for the first-round finish.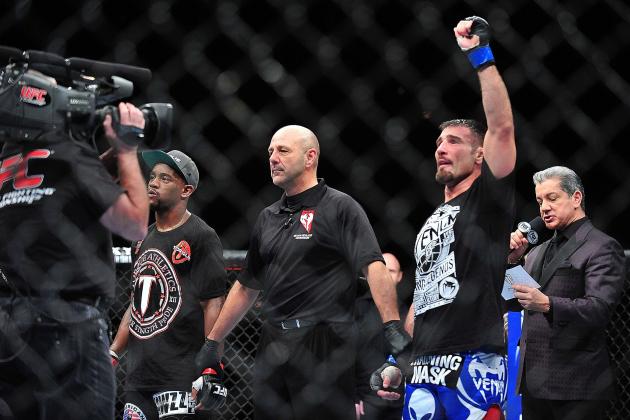 Gary A. Vasquez-USA TODAY Sports

Although Isaac Vallie-Flagg was the aggressor in his fight with Yves Edwards at UFC 156, the UFC veteran was the more effective striker, landing more solid strikes with higher accuracy.
The judges did not see things that way, though, awarding Vallie-Flagg the split-decision victory.
Edwards did fade late in the fight and had trouble keeping up with Vallie-Flagg's pace in the final round, but the work he did in the first two frames should have been enough to earn him the win.