Grading Strength of Each Position on Steelers Roster Heading into Free Agency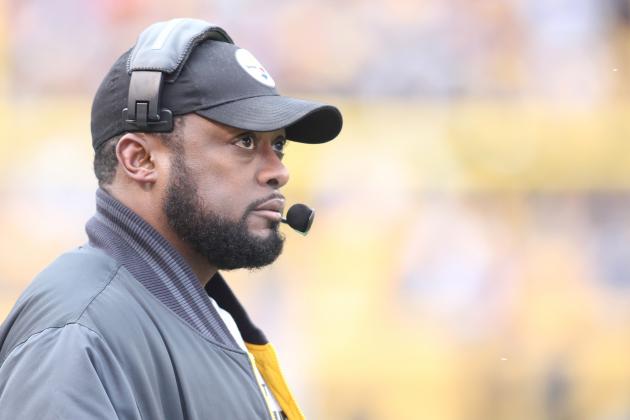 USA TODAY Sports
Mike Tomlin and the Steelers have a lot of decisions to make this offseason.
The Pittsburgh Steelers rarely make a big splash in free agency, and 2013 likely will be no different considering their salary cap situation.
The Steelers are projected to be at least $10 million over the salary cap, according to the Pittsburgh Post-Gazette. They're required to be under the cap by 4 p.m. on March 12.
It's highly unlikely the Steelers will find the money to sign a marquee free agent. However, they almost always find the money to sign bargain free agents, and many of them contribute as role players.
We'll grade each positional unit in terms of how the Steelers could benefit from such a signing.
Here's our grading system:
A=No free agent signing is needed.
B=Free agent could provide depth.
C=Free agent could see significant playing time and compete for a starting job.
D=Steelers have a hole at this position that could be plugged with a bargain free agent.
F=If the Steelers sign one non-special teams free agent this offseason, it should be at this position.
The 2013 NFL free agency period begins March 12.
Begin Slideshow

»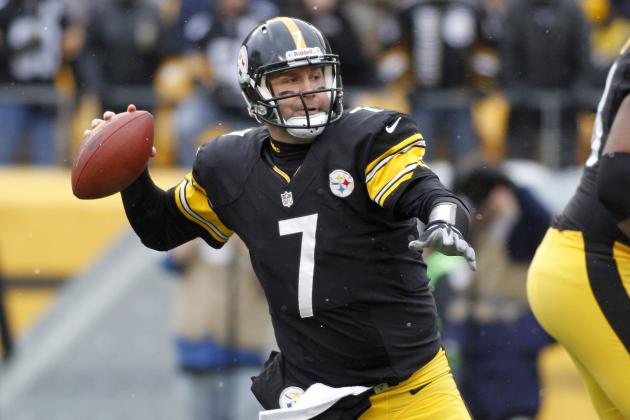 Justin K. Aller/Getty Images

The Steelers obviously don't need to look for a starting quarterback in free agency. Ben Roethlisberger has taken the Steelers to three Super Bowls. Before injuring his ribs and shoulder in the ninth game of the 2012 season, he was on his way to having perhaps his best year, with 17 touchdown passes and four interceptions.
Assuming Roethlisberger's throwing arm is fully functional again in 2013, the Steelers' only concern is at backup quarterback.
The Steelers could lose 38-year-old Charlie Batch and 33-year-old Byron Leftwich in free agency. Roethlisberger will be 31 next season, so the Steelers need to get younger at the position.
It might be feasible for the Steelers to scrape together the cash to sign a backup quarterback with a little upside.
Grade: B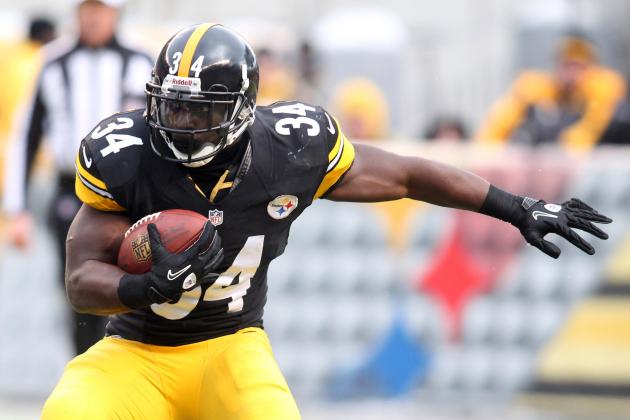 Charles LeClaire-USA TODAY Sports

The Steelers shouldn't expect unrestricted free agent Rashard Mendenhall back. He quite likely wrote his ticket out of Pittsburgh by not showing up at Heinz Field after being told he wouldn't play against the Chargers Dec. 9.
Mendenhall's departure would leave the Steelers with Jonathan Dwyer and Isaac Redman as the featured running backs. Dwyer ran for 623 yards (4.0 yards per carry) with two touchdowns in 2012. Redman had 410 yards (3.7 yards per carry) with two touchdowns.
Dwyer and Redman both are complementary backs, as is Baron Batch, who gained just 49 yards on 25 carries with a touchdown.
The Steelers were 26th in the NFL in 2012 with 96.1 rushing yards per game. They need to find a starting-caliber running back.
Grade: F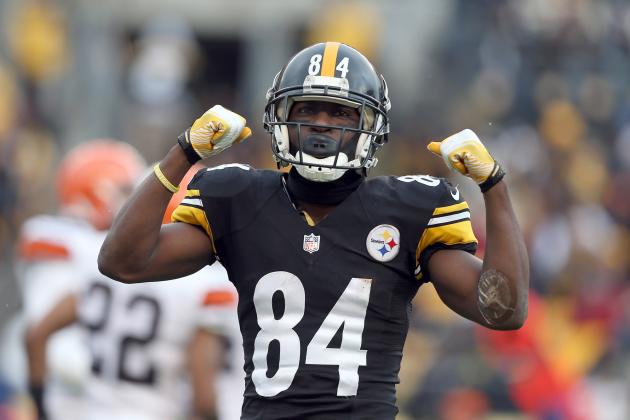 Karl Walter/Getty Images

Mike Wallace, the Steelers' primary deep threat, is likely to be wearing another uniform next season.
Wallace's training camp holdout in 2012 didn't sit well with the Steelers' front office, according to the Pittsburgh Post-Gazette, and his production declined. He was third on the team with 64 receptions and averaged a career-low 13.1 yards per catch.
With Wallace gone, Antonio Brown would become the Steelers' top receiver. Brown was the Steelers' Most Valuable Player in 2011, but he disappointed last season. If it weren't for two costly fumbles, the Steelers might have finished 10-6 instead of 8-8.
Brown caught 66 passes in 2012, but he went from 16.1 yards per catch in 2011 to 11.9 yards per catch in 2012.
Brown needs to rebound next season, and Emmanuel Sanders must pick up where he left off.
Sanders caught a career-high 44 passes in 2012 and played in all 16 games for the first time in his three-year career.
Brown, Sanders and Jerricho Cotchery, who has caught just 33 passes in his two years in Pittsburgh, would be the Steelers' only experienced receivers on the roster if Wallace signs elsewhere and they don't bring back Plaxico Burress.
In four games with the Steelers last season, Burress caught three passes. He'll be 36 in 2013.
If the Steelers don't find a speedster to replace Wallace, they could use this opportunity to acquire a possession receiver and convert their passing game into one that methodically moves up the field a few yards at a time with high-percentage, intermediate-route passes.
Either way, they'll need more manpower at wide receiver in 2013.
Grade: C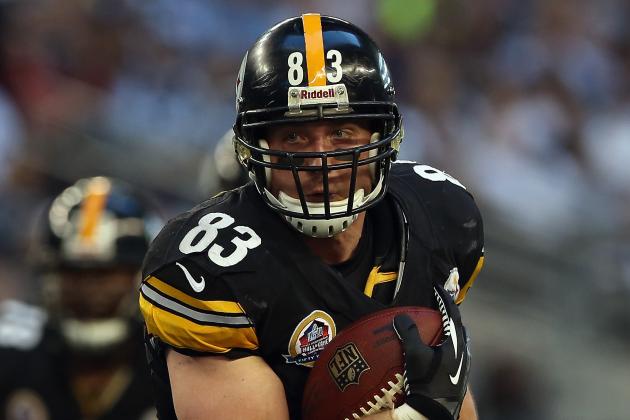 Ronald Martinez/Getty Images

It's hard to grade the Steelers' free agency needs at tight end. Heath Miller's comeback from ACL and MCL surgery is a question mark.
The Steelers should hope for the best, but prepare as if Miller won't be ready for opening day. David Paulson showed promise in his rookie season with seven receptions.
Leonard Pope was a typical Steelers spare-part free-agent signing last season, and he wasn't one of the better ones. He caught just three passes, two for touchdowns.
If Miller is still on the shelf when the 2013 season starts, Paulson likely would be thrust into the starting job.
The Steelers should at least have their eye out for a free agent who might do a better job keeping the seat warm until Miller returns.
Grade: B-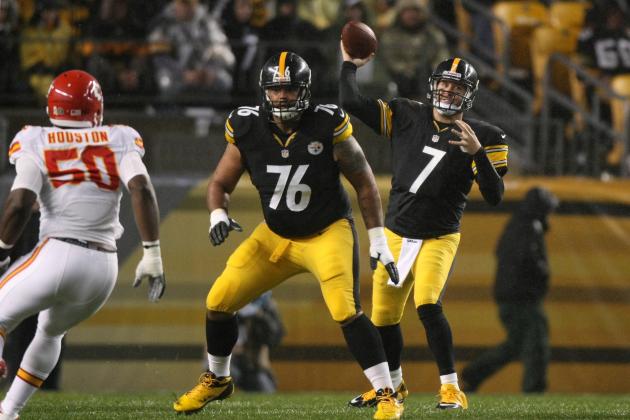 Jason Bridge-USA TODAY Sports

The Steelers' salary cap restrictions probably will prevent them from re-signing left tackle Max Starks.
The current plan, according to the Pittsburgh Post-Gazette, is to start Marcus Gilbert at left tackle. It's an iffy proposition to entrust Ben Roethlisberger's blind side to a player who missed the last 11 games of 2012 with an ankle injury.
Right tackle seems a little less of a worry with second-year man Mike Adams slated to start there. Steelers running backs ran for 100 yards just three times in 2012, and Adams started in each of those games.
Kelvin Beachum started the final five games of 2012 at right tackle and can provide depth.
Grade: C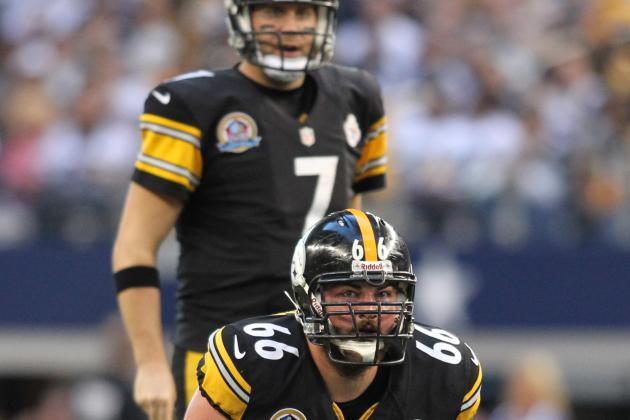 USA TODAY Sports

The Steelers plan to enter the 2013 season with David DeCastro starting at right guard and Kelvin Beachum starting at left guard, according to the Pittsburgh Post-Gazette.
As rookies in 2012, they combined to play in 11 games with eight starts. Beachum showed some promise and as a first-round draft pick DeCastro is expected to produce.
Willie Colon's last three seasons have been curtailed by injuries and he could be released. Ramon Foster is an unrestricted free agent who the Steelers won't have the cap room to re-sign.
If DeCastro and Beachum stay healthy and continue to develop, the Steelers could be set at guard for a few years. However, they'll need some depth.
If Colon is released, the only other guard currently on their roster is John Malecki, who has appeared in one game.
Grade: C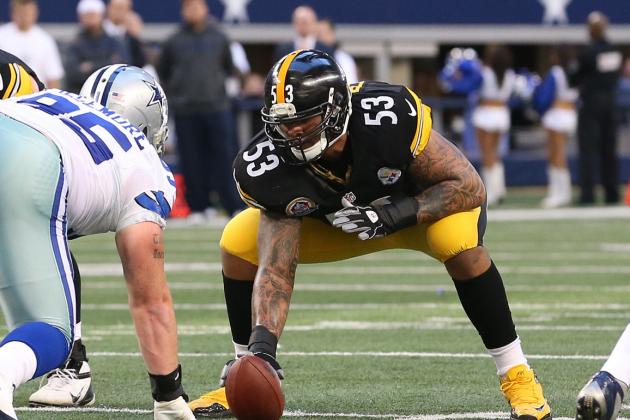 USA TODAY Sports

Maurkice Pouncey has been a Pro Bowler in each of his three seasons. He might be a little overrated, however.
Pro Football Focus says "He does his job, but unlike a lot of linemen in this league he doesn't pop out on tape as someone who makes a massive difference."
Pouncey finished the season healthy for the first time in 2012, although he did miss one game with an injury.
Doug Legursky is an unrestricted free agent who is way down on the Steelers' list of priorities, but besides Pouncey he's the only true center on the Steelers roster. If he leaves, the Steelers will need a backup center in 2013.
Grade: B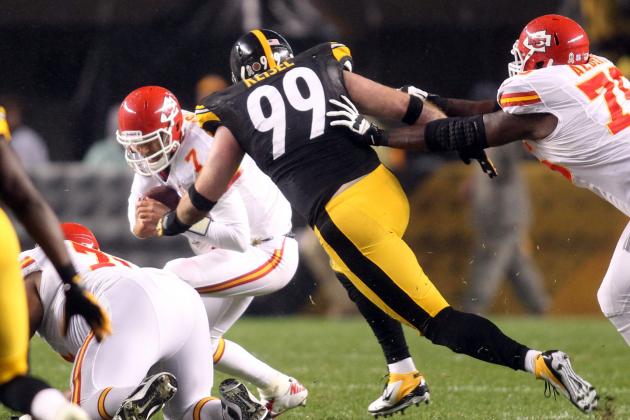 Charles LeClaire-USA TODAY Sports

Brett Keisel, 34, had 4.5 sacks in 2012, his most in a season since 2006. He also led the Steelers with 40 quarterback pressures, according to the Pittsburgh Post-Gazette. He only broke up one pass, however, after breaking up six in 2011 and seven in 2010.
Although Keisel can fill up the stat sheet, the function of Steelers defensive ends can't readily be measured with numbers. Their job is to occupy blockers and free up the linebackers.
Ziggy Hood might not have the tangible impact expected from a first-round draft pick, but he's at least been adequate as the starting defensive end opposite Keisel.
Keisel and Hood aided a Steelers run defense that was second in the NFL in 2012, allowing 90.6 rushing yards per game.
Cameron Heyward, drafted in the first round in 2011, might have had his best game as a Steeler in the 2012 season finale with four tackles and a shared sack. If he can carry that over into next season, perhaps he'll be ready to take over for Keisel when age slows him down.
Grade: B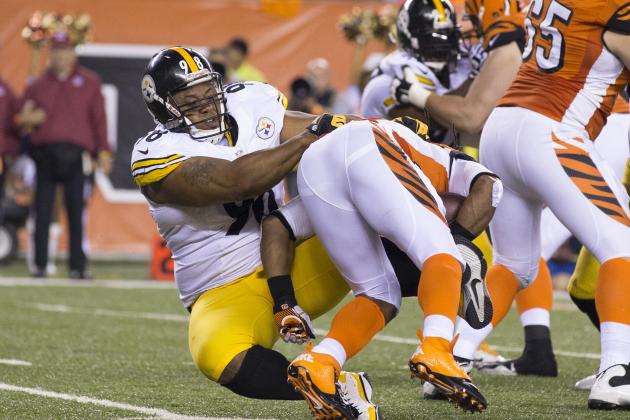 Greg Bartram-USA TODAY Sports

Casey Hampton, the anchor of the Steelers' defensive line for the last dozen years, is expected to depart as an unrestricted free agent.
The Steelers have been grooming 27-year-old Steve McLendon to take Hampton's place.
McLendon has made a few splash plays in his three years with the Steelers. However, Hampton performed so well in 2012 that McLendon didn't get a ton of playing time.
If McLendon is the Steelers' starting nose tackle in 2013, he'll be backed by Al Woods and Alameda Ta'amu, the Steelers' fourth-round draft pick in 2012 who so far has been a disappointment both on and off the field.
It wouldn't hurt if the Steelers had another body to bolster this position.
Grade: B-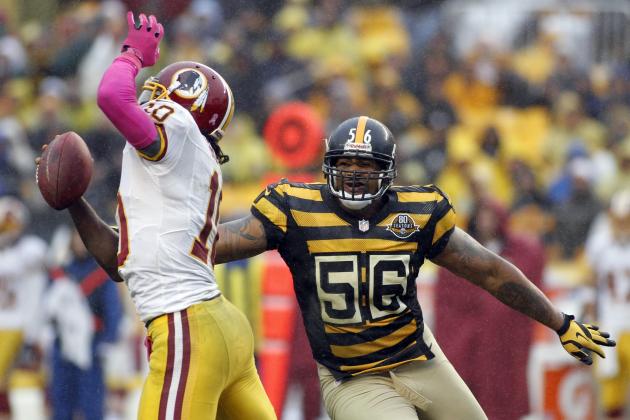 Justin K. Aller/Getty Images

James Harrison will be 35 next season and is starting to show his age. He's missed parts of the last two seasons with injuries and gone from 10.5 sacks in 2010 to nine sacks in 2011 to six sacks in 2012.
Harrison isn't worth the $10 million he's scheduled to make next season and must take a pay cut if he's going to stay with the Steelers.
LaMarr Woodley had nine sacks in the first eight games of 2011 before going down with a hamstring injury. He hasn't been the same player since. He had just four sacks in 2012, missed three games and sat out long stretches of a lot of games he did play.
Dejan Kovacevic of the Pittsburgh Tribune-Review hinted at the end of the season that Woodley's conditioning might need a little work.
Whatever it is, Woodley needs to get back to making life difficult for opposing quarterbacks.
Jason Worilds, drafted in the second round in 2010, has slowly improved and could be the starter if the Steelers release Harrison. Worilds played in all 16 games last season with three starts and five sacks.
Even if Worilds becomes the starter, it's difficult to see him dominating like Harrison and Woodley have. Perhaps Steelers fans have been spoiled.
Chris Carter looked promising in limited playing time as a rookie in 2011. Last season, he started the first three games in place of Harrison, then missed the second half of the season with an abdominal injury, according to Rotoworld. There's still time for him to make an impression.
The Steelers' linebacker strength depends on players' improvement. Woodley must play like he did through the first half of 2011. Worilds and Carter must continue to develop.
Grade: C+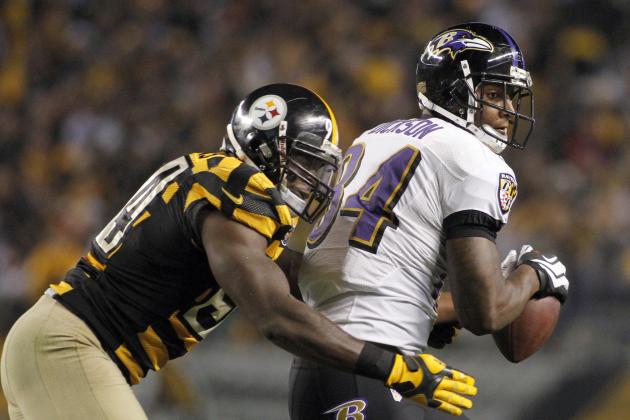 Justin K. Aller/Getty Images

The Steelers don't have to worry about Lawrence Timmons.
The 26-year-old was second on the team with 106 combined tackles in 2012. He tied for the team lead with six sacks and he led the Steelers with three interceptions.
The bad news is the one Steeler who had more combined tackles than Timmons was fellow inside linebacker Larry Foote, and the 32-year-old Foote is an unrestricted free agent.
Sean Spence, the Steelers' third-round pick in the 2012 draft, tore up his knee in the preseason. According to Ed Bouchette of the Pittsburgh Post-Gazette, Spence's recovery has been "painfully slow." If Spence does get on the field in 2013, he'll essentially be a rookie and have a lot to learn.
Stevenson Sylvester isn't a rookie. He'll be entering his fourth year and has played mainly on special teams. He'll have to improve to be a candidate to replace Foote at inside linebacker.
Adrian Robinson was a special-teamer as a rookie last season. He could be in the mix if he makes significant strides.
If the Steelers don't keep Foote, they'll somehow need to address his inside linebacker spot.
Grade: D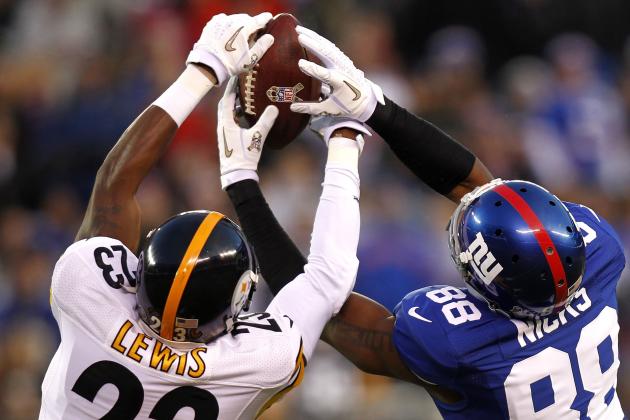 Jeff Zelevansky/Getty Images

If the Steelers only keep one of their unrestricted free agents, it must be Keenan Lewis.
In his first season as a starter, Lewis was second in the NFL in 2012 with 23 passes defended, according to STATs LLC via the Washington Post.
On the other side, 32-year-old Ike Taylor remained a shutdown corner and showed no signs of slowing down before a fractured ankle ended his season Dec. 2 at Baltimore.
Taylor broke up 13 passes before his injury. It can be argued that Taylor's injury was more of a factor in the Steelers missing the playoffs than Ben Roethlisberger's injury.
If Lewis is playing for another team next season, it would mean the Steelers feel comfortable starting Cortez Allen opposite Taylor.
In his second season, Allen broke up 10 passes. Allen provides the Steelers secondary with a ball-hawking ability that Taylor and Lewis lack. He started the final two games of the season, defending three passes, intercepting two passes and forcing three fumbles.
Curtis Brown was drafted one round earlier than Allen in 2011 and has contributed on special teams, but in the secondary he's at best a nickelback.
The Steelers' fortunes at this position depend on Taylor's health and their ability to keep Lewis. If both of those factors are in their favor, they'll be fine at cornerback.
Grade: B+ (if Lewis stays)
Grade: C+ (if Lewis leaves)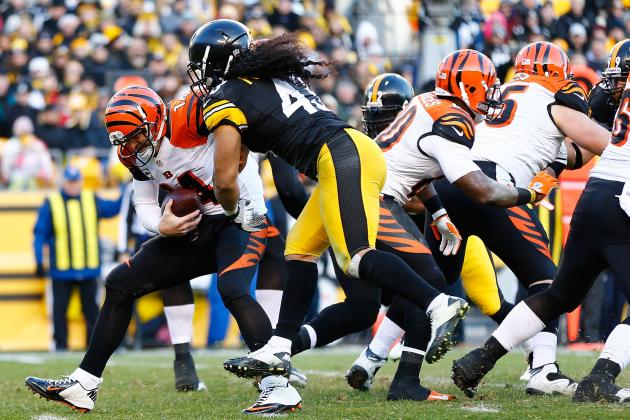 Jared Wickerham/Getty Images

The Steelers should be set for at least another year with Troy Polamalu and Ryan Clark as the starters.
There's little depth behind them, however. Clark will be 34 next season and Polamalu will be 32, and with his injury history the Steelers can't count on Polamalu to play a full season.
Will Allen started seven games and did a solid job in place of Polamalu last season. But he's an unrestricted free agent, and Polamalu injury insurance is a luxury the cap-strapped Steelers probably can't afford.
Allen usurped Ryan Mundy as Polamalu's replacement. Mundy is an unrestricted free agent who the Steelers probably don't mind losing.
Robert Golden saw occasional duty as a rookie in 2012. He's someone to keep an eye on.
Grade: B-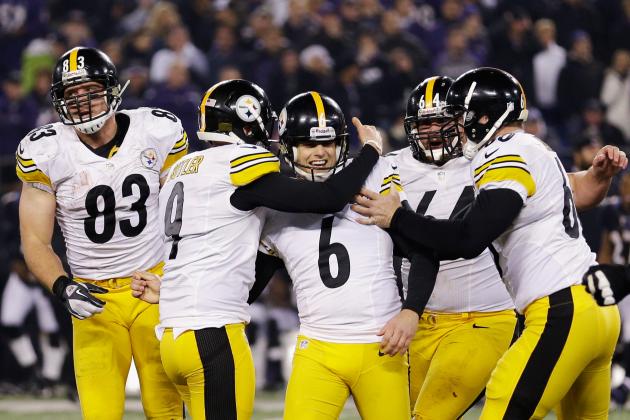 Rob Carr/Getty Images

There's no reason to look for an upgrade at kicker. Shaun Suisham made 28 of his 31 field-goal attempts, including 52-yarder, in 2012. Two of his misses were from 53 and 54 yards and were attempted because of questionable coaching decisions.
Punter is another story. Drew Butler was 28th in the NFL with a net average of 37.8 yards per punt. It wouldn't cost the Steelers much to bring in a couple of punters who can challenge Butler.
The Steelers often tap the free agent pool for special teams regulars, such as Keyaron Fox in 2008 and Brandon Johnson last season. That might be the only type of outside free agent the Steelers can afford this offseason.
Grade: C