WWE WrestleMania: Power Ranking the Events of the Last 10 Years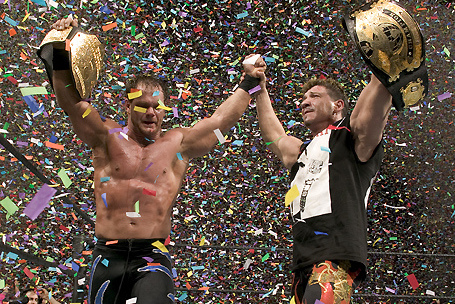 Photo by rebel_angel031 on Flickr
WWE WrestleMania 29 is fast approaching, and while East Rutherford's showcase must aim high to beat some of WWE's recent grandiose offerings, in regards to other WrestleManias, that may not be hard to do.
From 2003-2012, WWE produced ten extremely memorable events, from the record breaking WrestleMania 23 to the outdoor adventures of WrestleMania 24 and 28 and also WrestleMania 25, featuring the acclaimed clash between Shawn Michaels and The Undertaker.
While several of these shows featured sublime, well constructed entertainment, some failed to live to expectations. In this slideshow, I'll look to examine why that came to be.
Here, I'll analyse each WrestleMania of the past decade, based on main-event matches, magical moments and mid-card matches, in an attempt to separate the contenders from the pretenders in regards to their value in WWE history.
Begin Slideshow

»
Main-event matches: 3/5
WrestleMania 27 was arguably one of WWE's weakest offerings during the last decade, featuring numerous decisions and matches that were confusing rather than entertaining.
With The Rock featured as the guest host, expectations were heightened approaching the event, but Rock's only lasting highlight was costing John Cena the WWE Championship against The Miz.
That match itself was tremendously disappointing, and the crowd's weary response throughout was in part due to WWE's teased notion that Rock would become involved in proceedings, given his heavy involvement in the feud.
Rock really should have been the special guest referee for this match, as the fans in attendance at the Georgia Dome were obviously delaying any outreach of emotion until the arrival of the "Great One".
Elsewhere, business picked up as Triple H challenged The Undertaker's WrestleMania streak, Randy Orton fought CM Punk in an excellent match, while Edge defended his World Heavyweight title against Alberto Del Rio.
Magical moments: 3/5
The moment that perhaps shines brightest from 2011's offering was actually not one that fans were aware of at the time.
When injury forced him into retirement shortly after WrestleMania, this event was Edge's last ever pro wrestling match, and the fact he was victorious made for a lovely, heart-warming ending to the career of the "Rated R Superstar."
Undertaker's battle against Triple H was an enthralling, violent affair and undoubtedly the match of the night. Having Undertaker carried from the ring provided an unnerving ending, which felt much more uncomfortable than it should have been.
Mid-card matches: 2/5
While Stone Cold Steve Austin returned for the showcase, not even he could prevent Michael Cole vs. Jerry Lawler becoming one of the most embarrassing 13-minute matches in WrestleMania history.
Few words could portray the horror that occurred that night, but Cody Rhodes vs. Rey Mysterio offered some redemption, while at least Nicole "Snooki" Polizzi's appearance was fairly brief.
An eight-man tag-team match featuring The Corre against Kane, Big Show, Kofi Kingston and Santino Marella was also surprisingly abrupt, in a night where very few superstars emerged in a positive light in regards to the progression of their careers.
Total: 8/15
Main-event matches: 4/5
Incredibly, the majority of the build for WrestleMania 23 was centred on Vince McMahon potentially having his hair shaved in Detroit.
McMahon selected Umaga as his gladiator to face Donald Trump's Bobby Lashley in a "Battle of the Billionaires" Hair vs. Hair match, which was refereed by the incomparable Stone Cold Steve Austin.
This was an unusual (and long) match to say the least, but Undertaker's supreme World Heavyweight Championship battle with Batista offered value for money, as did John Cena's terrific WWE title bout with Shawn Michaels.
Magical moments: 3/5
McMahon having his locks chopped was a prolonged, somewhat unsettling image, but Undertaker's world title win was enjoyable, with his first title reign since 2002 seeing the "Dead Man" and Batista produce top-drawer performances.
Elsewhere, despite the Cena vs. Michaels match offering exactly what it said it would on the tin, in the end Cena's victory lacked the satisfying finale to really salvage an otherwise fairly average event.
Mid-card matches: 3/5
In a wonderful opening match, Mr. Kennedy prevailed in the Money in the Bank Ladder match, featuring a terrific spot where Jeff Hardy crashed through Edge and saw a ladder broken in half.
The Great Khali's eight-minute match with Kane ground the event to a halt, while Chris Benoit's United States title battle with MVP deserved more time. The ECW Originals' eight-man tag-team match with The New Breed proved surprisingly enjoyable.
Sadly, there wasn't really too much to note about WrestleMania 23, but it did end up setting the scene for a gripping Batista vs. Undertaker feud that was finally settled inside Hell in a Cell later that year.
Total: 10/15
Main-event matches: 4/5
Analysing WrestleMania 25 in a harsh light admittedly seems rather disrespectful, especially due to the impact of Shawn Michaels vs. The Undertaker, which instantly garnered a reputation as one of WWE's greatest ever matches.
Their 30-minute classic rewrote the textbook in telling a story through pro wrestling, revealing both men's tremendous acting and honed in-ring skills. Undertaker eventually defeated Michaels to go 17-0 at WrestleMania.
That match was head and shoulders above its company on this card though, with Triple H's WWE title match against Randy Orton received very coolly. On the other hand, John Cena's World Heavyweight title victory against Edge and Big Show was predictable to say the least.
Magical moments: 4/5
When Michaels kicked out of the Tombstone Piledriver, Undertaker's face was laden with despair, which was a humbling, humanised look from the "Dead Man" we had not previously seen at the event.
The two superstars stole the show, admittedly, despite his remarkable ability to keep overcoming the odds. The sight of Cena stacking up Big Show and Edge on his back was truly a jaw-dropping moment, going some way to justifying an otherwise bland match.
CM Punk's second straight success in Money in the Bank also proved a lively talking point. But such was the brilliance of the Undertaker-Michaels bout that everything else largely faded into anonymity.
Mid-card matches: 3/5
The term "hit and miss" is not one this author uses lightly, but it beautifully sums up WWE's mid-card offering to perfection at WrestleMania 25.
Things began excellently with Punk's Money in the Bank triumph, but became decisively shaky soon after when Santina Marella won a 25-Diva Battle Royal.
Rey Mysterio needed just 21 seconds to beat John "Bradshaw" Layfield. Matt and Jeff Hardy produced a creative offering in their Extreme Rules match. Meanwhile Chris Jericho's talents were somewhat wasted as he lay waste to Roddy Piper, Ricky Steamboat and Jimmy Snuka.
There were certainly enough highlights to ensure this PPV is worth revisiting, but were it not for Undertaker's clash with Michaels, this was largely a forgettable show.
Total: 11/15
Main-event matches: 4/5
Featuring a rare occurrence, WrestleMania 21 was the only "Showcase of the Immortals" in the last decade where both the WWE Championship and World Heavyweight title ended up changing hands.
With Batista defeating Triple H for the World title and John Cena claiming the WWE Championship strap from John "Bradshaw" Layfield, two huge new stars were both on this night in Hollywood.
The elevation of both superstars on the grandest stage of them all echoed a new era for WWE, and while both matches were entertaining, it was the outcome of each match that fans remember.
With Kurt Angle vs. Shawn Michaels also on the card, this was a tremendous production of main event matches that left very few disappointed on the night.
Magical moments: 4/5
The images of Cena's first WWE title win are still displayed to this day. Batista's journey to the WHC strap felt wholly satisfying after "The Animal" knocked off his former mentor.
Elsewhere, it was at this event that the Money in the Bank Ladder match made its debut, and after a pulsating match where Edge prevailed, it was clear that this was not going to be a one-time feature.
Michaels' 27-minute with Angle was also spectacular, with this masterpiece the match of the night by some way, featuring blistering action that saw Angle triumph against "HBK."
Mid-card matches: 3/5
Amidst the curiously devised Sumo match between Big Show and Akebono, there were intermittent moments of real quality in the mid-card offerings.
Rey Mysterio's battle with Eddie Guerrero was electric, while Undertaker's meeting with Randy Orton elevated the latter to the higher echelons of WWE superstars.
Trish Stratus defended her Women's championship against Christy Hemme, and overall this was an extremely solid WWE show which took enormous strides towards establishing the future stars of the company.
Total: 11/15
Main-event matches: 4/5
WrestleMania 24, the second WrestleMania to be held outdoors, was arguably one of the most consistent events in WWE history, with each match making a stellar contribution to the evening's festivities.
While The Undertaker vs. Edge headlined the event, it was the career threatening bout of Shawn Michaels vs. Ric Flair that produced the most exhilarating matchup, as Flair retired from WWE after an emotionally fuelled battle.
Elsewhere, John Cena, Triple H and Randy Orton battled for the WWE Championship, which featured somewhat of a shock win for Orton, while Floyd Mayweather prevailed in a surprisingly entertaining marquee battle with Big Show.
Magical moments: 4/5
The dying embers of Michaels' match with Flair, where Flair begged "HBK" to finish the match were as moving as they were intense. That match wonderfully managed to encapsulate just what pro wrestling superstars mean to fans around the world.
As one icon moved away, another's legacy continued to grow as Undertaker went 16-0 at WrestleMania, claiming the World Heavyweight title from Edge in the process.
There was little else to really hold too much sentimental value, but few will deny that Flair's battle with Michaels wasn't worthy of holding the nostalgic card all by itself.
Mid-card matches: 4/5
WrestleMania 24 outshone itself in regards to the mid-card scene, with a Belfast Brawl between Finlay and John "Bradshaw" Layfield opening the event, before CM Punk triumphed in a spectacular Money in the Bank Ladder match.
World champion at the previous year's show Batista was paired up with Umaga in a solid battle, before Kane captured the ECW title from Chavo Guerrero to ensure that the crowd were riled up to perfection before the main action got underway.
Overall, few WrestleManias compare in regards to the sheer entertainment that was seen on this night and thankfully, the heavens didn't open on the fans that had travelled the world to witness the spectacle.
Total: 12/15
Main-event matches: 4/5
WrestleMania 26 had the potential to be one of the greatest shows in WWE history, but its occasionally flat, awkward vibe prevented it from becoming a true classic.
What the PPV did feature though was a spectacular grudge match between The Undertaker and Shawn Michaels, which was the first main event since WrestleMania 11 not to feature a World Heavyweight or WWE title.
Having lost to Undertaker the previous year, "HBK" put his career on the line for this Career vs. Streak match, and suffice to say, the 24-minute masterpiece did not fail in producing a compelling tale that saw a decorated career come to an end.
Further down the card, John Cena challenged Batista for the WWE Championship, but the other two marquee matches produced incredibly disappointing affairs.
Edge's fight with former friend Chris Jericho was seemingly dismissed by the live crowd, while Bret Hart's return to the WWE ring after 13 years away ended up being an uncomfortable nightmare against Vince McMahon.
Magical moments: 4/5
Michaels retiring on the stage where he earned the moniker "Mr. WrestleMania" was about as emotional a moment as WWE has ever seen. Ending on a bittersweet note gave 2010's event a unique feel to it.
John Cena vs. Batista was a surprising gem. But the event could have been so much more if the Phoenix crowd were not decisively bored during Jericho vs. Edge, and if Hart's violent affair with McMahon had ended five minutes earlier.
This night really did belong to Michaels though, and his retirement ensured that fans will remember this PPV in a positive light regardless of whatever their thoughts were regarding the rest of the event.
Mid-card matches: 4/5
WWE handled its mid-card superbly on this night, with the surprise treat delivered by Triple H and Sheamus, whose 12-minute match was thoroughly enjoyable.
In a move that proved genuinely shocking, Jack Swagger was a shock victor in the Money in the Bank ladder match, while Rey Mysterio defeated CM Punk in a battle that should have be awarded more time.
Randy Orton commenced his face turn with victory over former Legacy sidekicks Cody Rhodes and Ted DiBiase and the tag titles were defended by Big Show and The Miz against John Morrison and R-Truth.
Ten divas wrestled in a forgettable match, but the mid-card made a valuable contribution to WrestleMania 26 and went a long way in bolstering the main events of the showcase.
Total: 12/15
Main-event matches: 5/5
The sensational WrestleMania 19 offered one of the more star-studded cards in WWE history, with Brock Lesnar vs. Kurt Angle for WWE Championship headlining the showcase.
Lesnar vs. Angle certainly lived up to expectations, and perhaps even defied them, as the technical mat masters produced a stunning bout with a truly remarkable finish.
Alongside them, The Rock and Stone Cold looked to settle their WrestleMania score, Vince McMahon and Hulk Hogan engaged in a ruthless Street Fight, while Booker T challenged Triple H for the World Heavyweight title.
However, despite occuring midway through the event, the match that arguably stole the show was Chris Jericho's masterpiece with Shawn Michaels, which was also the longest match of the night.
While the seven-month rivalry between the two in 2008 became their defining period, this was the match that initially showcased their chemistry for the world to see.
Magical moments: 4/5
The image of Lesnar's horrific landing from an attempted Shooting Star Press became immediately engrained in fans' heads, as Lesnar suffered a concussion while incredibly managing to finish his match with Angle.
The shock of that incident may be the defining moment of the event, but it was the last ever match of Stone Cold Steve Austin that provided the emotional memory of the night.
After a gruelling, entertaining battle with The Rock, "The Great One" finally overcame his adversary on the grandest stage of them all, before visibly exchanging words with Austin as he lay pain stricken on the canvas.
Mid-card matches: 3/5
Given The Undertaker's historical link to WrestleMania over the years, his handicap match against Big Show and A-Train was fairly underwhelming.
Elsewhere, Matt Hardy defeated Rey Mysterio, Trish defended the Women's Championship against Victoria and Jazz, while there was a thrilling bout for the WWE Tag Team titles.
Team Angle (Charlie Haas and Shelton Benjamin) defended the straps against Eddie and Chavo Guerrero, and Chris Benoit and Rhyno. While Benoit and Guerrero were destined for greatness the following year, the amount of talent in the ring during this match was bountiful.
Total: 12/15
Main-event matches: 5/5
WrestleMania 28 proved hugely successful for WWE, which was in no large part due to the creation of one of the most anticipated main events in pro wrestling history.
The year-long build for John Cena vs. The Rock had fans salivating as the days wore down to their historic clash at the Sun Life Stadium. In a solid encounter, it was the "Great One" who triumphed in his hometown of Miami.
Elsewhere, Undertaker bested Triple H inside Hell in a Cell and CM Punk defended his WWE Championship in a supremely technical match with Chris Jericho. While in a downright perplexing move, Sheamus beat Daniel Bryan in 18 seconds to become World Heavyweight champion.
Sheamus' win proved potentially quite damaging to the PPV's chances, as "Daniel Bryan" chants were heard during the two proceeding matches. But Undertaker's dramatic, gruelling battle with Triple H restored fan harmony.
Their "End of an Era" match, featuring Shawn Michaels as referee, emotionally drained the live crowd in attendance, with all three men giving expert performances to steal the show.
They did more than justify a third battle between the two at this event.
Magical moments: 4/5
While the WrestleMania 27 clash between Triple H and Undertaker ended on a bittersweet note, where Undertaker was carried from the ring, this year's post-match conclusion was beautifully done.
After a battered Triple H struggled to stand, Undertaker and Michaels helped "The Game" up the ramp. The three embraced after four years of WrestleMania wars between the trio, adding a poignant touch to conclude the end of the rivalry.
In the main event, Rock's triumph, coupled with Cena's dejection as he lay sprawled on the ramp was also quite a memorable, long-lasting image from the show.
Brodus Clay's prolonged dancing segment is probably a rare WrestleMania occurrence that fans will want to forget altogether.
Mid-card matches: 4/5
Perhaps indicative of WWE's struggles to elevate many mid-card stars, many of them found themselves in a 12-man tag-team match between Team John Laurinaitis and Team Teddy Long.
This was adequate, but Kane vs. Randy Orton and Cody Rhodes vs. Big Show offered more to get excited over, with both matches extremely fairly stellar affairs.
Another celebrity was recruited for the divas match, as Maria Menounos made her WrestleMania debut.
But with the focus undoubtedly on the main events, WWE still managed to impress on the whole with its all-round card.
Total: 13/15
Main-event matches: 4/5
While the history books were hardly set alight by WrestleMania 22, the quality that was produced at the Allstate Arena was simply sensational, with numerous matches offering thrilling entertainment.
John Cena vs. Triple H for the WWE Championship headlined. But it was Shawn Michaels' No Holds Barred match with Vince McMahon that grabbed the plaudits, as did Mick Foley's Hardcore match with Edge.
Michaels displayed just how truly gifted he was during his battle with McMahon, carrying the WWE chairman to an incredibly exciting match where virtually nothing was on the line.
Both of the aforementioned matches were spectacular. But the World Heavyweight title match also saw a monumental triple-threat encounter as Rey Mysterio, carrying the spirit of his long-time friend Eddie Guerrero, defeated Kurt Angle and Randy Orton to become the new champion.
Magical moments: 4/5
Even the grumpiest WWE fan would have struggled not to feel thrilled upon Mysterio's victory. With this being Angle's last WrestleMania before his WWE exit, the match now carries an extra significance.
While the emotion was fairly limited this night, the highlight reel moments largely occurred as a result of the action itself.
Edge spearing Mick Foley through a flaming table became an instant lock in WWE fans' memories. "HBK" delivering an elbow drop through McMahon on a table was symbolic of the lengths the duo went to in their quest to entertain.
Triple H tapping out to Cena really established the latter as the company's top dog, while Undertaker added Mark Henry to his list of WrestleMania victims in a Casket match.
Mid-card matches: 5/5
Aside from the excruciating handicap match featuring Booker T and Sharmell against The Boogeyman, this was an exceptional lineup concocted by WWE.
After Big Show and Kane defended their World Tag Team titles against Carlito and Chris Masters, Rob Van Dam triumphed in the always entertaining Money in the Bank Ladder match.
Incredibly, there were also two divas matches on the card. Trish Stratus defended the Women's Championship against Mickie James in a dramatic encounter, before Torrie Wilson defeated Candice Michelle in a Playboy pillow fight.
Foley's fight with Edge, while hovering on the periphery of a main event, was the pick of the mid-card action. Meanwhile, John "Bradshaw" Layfield and Chris Benoit had a solid match for the United States Championship.
Undertaker's battle with Henry was also stellar, as WWE ensured on this night that fans were never distracted from the action for too long.
Total: 13/15
Main-event matches: 5/5
Perhaps renowned for its euphoric, emotional ending, WrestleMania 20 impressively managed to showcase over 51 superstars, with each main event offering diverse encounters.
The final match of the night saw Chris Benoit eventually ascend to the top of WWE as he bested Shawn Michaels and Triple H to become World Heavyweight champion.
Eddie Guerrero defeated Kurt Angle to retain the WWE Championship and The Undertaker returned to claim vengeance against Kane. Brock Lesnar battled in a disaster of a match against Goldberg.
Lesnar vs. Goldberg had the potential for greatness, especially with Stone Cold Steve Austin as referee. But with the two behemoths set to leave WWE immediately after the event, the fans in Madison Square Garden in the know were decisively hostile, and the match was doomed from the get-go.
Despite the particular failings of that match, there was enough drama and storytelling to ensure this was a night unlike any other.
Magical moments: 5/5
To this day, there have been few moments as emotionally exhausting as watching Benoit and Guerrero embrace after the former's world title win.
The long-time friends had scaled the heights of the mountain and were sitting atop with fatigued yet desperately happy smiles, as both men let it all go in front of the New York crowd.
With Undertaker returning to his "Dead Man" gimmick and John Cena winning his first singles title (which meant much more back then), WrestleMania 20 is one to fondly revisit and bask in nostalgia.
Mid-card matches: 4/5
The event kicked off with Cena's capturing of the United States title and WWE continued to largely put their best foot forward for the rest of the evening.
A 15-minute contest between Chris Jericho and Christian surpassed all expectations, and Molly Holly had her hair shaved. What more could you want from a divas match?
A Cruiserweight Championship open match was contested, eight teams battled respectively in two four-team matches for the WWE and World Tag Team titles, while The Rock returned to aid Mick Foley against Evolution.
All in all, WrestleMania 20 set the bar extremely high, and in likelihood it will take something truly masterful to knock the event off its perch as the best recent WrestleMania.
Total: 14/15
Thanks for reading folks, and I hope you enjoyed reading this article anywhere near as much as I enjoyed writing it. Follow me on Twitter @JWoodfield365 and don't forget to sound off in the comments section below.