Oregon Football Recruiting Reminder: Ducks' Mariota Was a 3-Star Recruit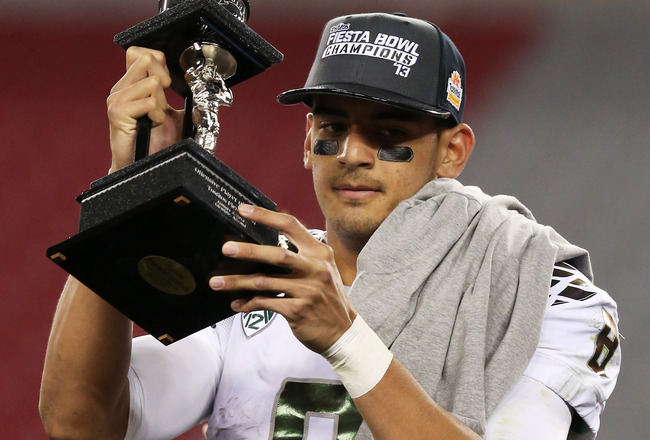 Stephen Dunn/Getty Images
With just a few days to go until recruiting's national signing day, Oregon football fans are at a fever pitch to learn who the newest Oregon Ducks will be. But, recruiting is an art, not a science, and it's important to keep your perspective on the whole process.
If your dream five-star prospect lets you down (talkin' to you, Vernon Hargreaves III and Eddie Vanderdoes), how will you console yourself? Try this tweet from Oregon Assistant AD Andy McNamara:
Signing Day 1 week from today. Key reminder: Marcus Mariota was a 3-star recruit #GoDucks #YouNeverReallyKnow

— Andy McNamara (@McNamaraUO) January 31, 2013
It's true: Oregon's fabulous young quarterback Marcus Mariota was only a 3-star (you should click on this link to Mariota's Rivals.com profile, if for no other reason than to check out his hairdo) prospect coming out of St. Louis High School in Honolulu, Hawaii.
In his first season as the Oregon starting quarterback, all Mariota did was lead his team to a 12-1 record and a convincing BCS Fiesta Bowl win (35-17).
Feel better now? Here are some other recruiting factors for you to consider as you work yourself into a frenzy prior to Feb. 6.
Other Famous 3-Stars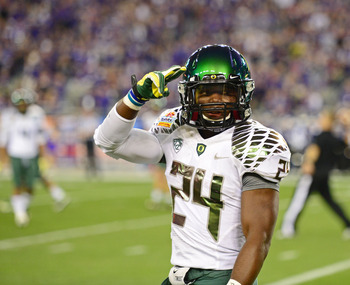 Mark J. Rebilas-USA TODAY Sports
There are so many examples of collegiate superstars who were not highly ranked or even highly sought after in high school. In the next slide, we'll discuss why this might happen, but first let's look at some other names you know.
Oregon running back Kenjon Barner, soon to be off to the NFL, was also a 3-star recruit. Not only was Barner ranked as a three-star by Rivals.com, they had him as the No. 38 running back in the nation.
Good grief.
This might be a good time to remind you that Barner finished as the No. 4 rushing leader in the country, despite clocking out of Oregon's dominating wins early, usually by halftime.
Just for fun, I looked back at the Rivals.com 2008 Prospect Ranking for running backs (Barner's class) to see how many of the players ranked ahead of Barner finished in the top 100 in the rushing category this year.
What's your guess? All 37? 20? 5? The answer is none. Zero. Not a single running back ranked higher than Barner showed up in the Top 100 rushing stats for 2012.
Now, some of the running backs from Barner's class left early for the NFL (Ryan Williams, Jonas Gray, Cyrus Gray), and some changed positions and/or schools. But the vast majority of the 37 backs ranked ahead of Barner coming out of high school are either undrafted free agents, or you've never heard of them at all.
Art, Not Science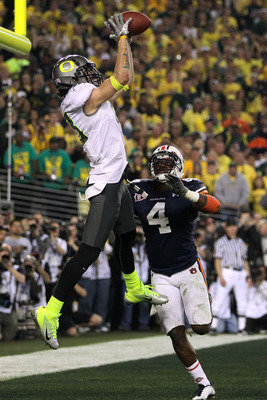 Former Oregon WR Jeff Maehl
Christian Petersen/Getty Images
Statistics play a large role in how the recruiting services evaluate high school players. Actually, who are we kidding, the evaluation process starts in middle school now.
Factors like size, strength and speed can all be measured and help provide a basis for comparison among players.
But professional evaluators can't measure the size of a kid's heart or his determination to succeed. They can't know what really, truly motivates a kid. They can't even know for certain if he is coachable at the next level.
Often, the evaluators might not know something as basic as what position the prospect is best suited for. Former Oregon wide receiver Jeff Maehl, one of the purest, most reliable receivers you ever had the joy to watch, was rated a 3-star cornerback—the No. 47-ranked CB in the nation.
Maehl holds several University of Oregon and Pac-12 Conference records. He also made the longest reception in BCS Championship Game history—an 81-yard pass from Darron Thomas vs. Auburn.
Not bad for a cornerback.
Other Factors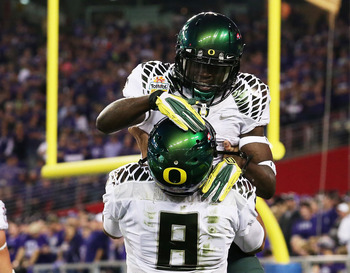 Stephen Dunn/Getty Images
Sometimes the process works well. Case in point: De'Anthony Thomas.
Thomas was a 5-star prospect in the 2011 class, coming out of Los Angeles' Crenshaw High School. If anything, Thomas has exceeded his lofty pre-college expectations.
Thomas has bought into the Oregon system. He has bonded with his teammates and his community. He's a good student. He's even gone camping, for cryin' out loud.
In short, Thomas has blossomed as a Duck. Most likely, he would have been great at whatever school he chose. But it's also possible that this highly-recruited young man needed to get out of L.A. to make the most of his abilities.
I can hear all of you USC fans screaming "foul" right now, and you might be correct. This isn't a slam at you. It's more about kids stretching themselves and having to get away from home to understand what kind of person they are.
It really doesn't have much to do with football at all. That's what makes this recruiting biz such a gamble.
And what makes it so much fun.
Kay Jennings is a member of the Football Writers Association of America.
Keep Reading

Oregon Ducks Football: Like this team?