UFC 156: Bleacher Report MMA Main Card Staff Predictions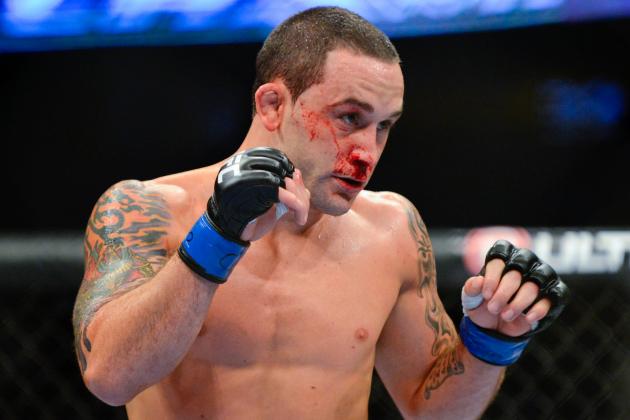 Ron Chenoy-USA TODAY Sports

Frankie Edgar has made his much-anticipated move to the featherweight division and will immediately challenge Jose Aldo for the UFC's 145-pound championship. The superfight will headline UFC 156, which takes place Saturday at the Mandalay Bay Events Center in Las Vegas.
With one of the most stacked main cards in recent memory, UFC 156 could also conceivably produce two top contenders in other divisions.
Elite heavyweight Alistair Overeem will return from suspension for a fight with Antonio Silva, while top flyweights Joseph Benavidez and Ian McCall will try to prove they are worthy of a rematch with 125-pound champion Demetrious Johnson.
As always, Bleacher Report's expert panel will predict the aforementioned fights and the rest of the bouts on the UFC 156 main card.
Begin Slideshow

»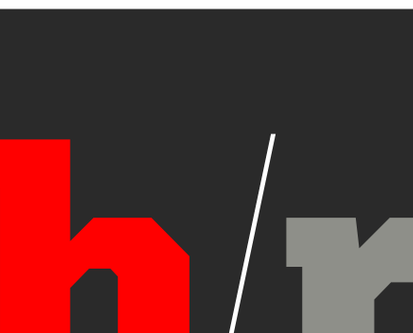 UFC.com
John Heinis: This is a critical matchup in the flyweight division as both fighters have already lost to the division's champion, Demetrious Johnson. McCall may have the striking edge, but Benavidez has a pretty clear grappling edge. "Joe-Jitsu" reigns supreme.
Benavidez, Unanimous decision
Kyle Symes: This fight could determine the next contender at 125 pounds as both men are looking to even the score with Demetrious "Mighty Mouse" Johnson. McCall is tough, but I think Benavidez is the better overall fighter.
Benavidez, Unanimous decision
Scott Harris: When the UFC first announced the flyweight division, a lot of prognosticators handed the belt to Benavidez. Things didn't go that way, but the Team Alpha Male competitor still has a combination of power and wrestling to overwhelm most fighters—McCall included.
Benavidez, Unanimous decision
McKinley Noble: Benavidez and McCall have a commonality in the fact that they could barely keep up with Johnson's speed and wrestling. However, McCall's crisp striking won't help him overcome Benavidez's superior strength. Don't expect a knockout, but the Alpha Male should be fine in this three-rounder.
Benavidez, Unanimous decision
Sean Smith: Considering both of these flyweights came so close to beating current 125-pound champion Demetrious Johnson, this should be a very competitive fight. McCall has been out of action for a while, and Benavidez has a longer track record of success against elite competition, so the Team Alpha Male fighter is a deserving favorite.
Benavidez, Unanimous decision

UFC.com
John Heinis: Holy grappling fest, Batman! An elite Brazilian jiu-jitsu black belt taking on an elite wrestler with ridiculous top pressure and nonstop cardio. Tough call, as it looks like Fitch reinvented himself in his win over Erik Silva, and Maia looks like a killer at welterweight. Maia has shown suspect cardio before, though, which I think will be the difference.
Fitch, Split decision
Kyle Symes: This is a grappling fan's dream. Maia has looked great thus far at welterweight, but Rick Story and Jon Fitch are two different people. Fitch's wrestling is what will be the difference in the fight. Maia will go for broke with a submission attempt, but Fitch's top control will be too much for the Brazilian.
Fitch, Unanimous decision
Scott Harris: Probably the best submissions in the division against the best submission defense. In this case, defense wins. Roll out the sludge barrel.
Fitch, Unanimous decision
McKinley Noble: Even though I've talked a bit of trash about the American Kickboxing Academy veteran, that doesn't change the fact that Fitch is damn near impossible to submit.
Fitch, Unanimous decision
Sean Smith: Maia has looked great thus far at welterweight, but he's about to run into a horrible stylistic matchup. Fitch is the better wrestler here and is one of the hardest fighters to submit in the 170-pound division.
Fitch, Unanimous decision

UFC.com
John Heinis: Every time a fighter is one win away from a title shot these days, they seem to lose, so it doesn't seem too outrageous to pick "Bigfoot" Silva here. That is, if he wasn't facing a walking, talking mountain of muscle who is a far better striker and grappler. Hard to imagine this one going past two minutes of the opening round.
Overeem, KO, Round 1
Kyle Symes: The only chance Silva has at winning this fight is if he gets it to the ground. Unfortunately for him, I don't believe his takedowns are good enough to conquer Overeem. If Daniel Cormier can drop Silva, I have to believe Overeem can do so without any trouble. The only worry I have is how long Overeem has been on the sidelines.
Overeem, KO, Round 1
Scott Harris: It will be like a C.S. Lewis fantasy come to life when the giant faces the centaur. I think Overeem uses his massive forelegs to topple "Bigfoot" Silva and move on to the title bout.
Overeem, TKO, Round 2
McKinley Noble: "Bigfoot" Silva is a strong, capable heavyweight who doesn't get a ton of credit for his recent victories, but Overeem is simply in another league. As long as he comes in healthy, "The Demolition Man" is pretty much just using this fight as a warm-up for Cain Velasquez.
Overeem, TKO, Round 1
Sean Smith: Even with his long layoff due to suspension, Overeem should have no problem making a big statement against Silva at UFC 156. Overeem has the takedown defense to keep this fight standing and the kickboxing to finish "Bigfoot" quickly.
Overeem, KO, Round 1

UFC.com
John Heinis: This is a joke of a matchup. Let's just all pray that Evans calls out Nogueira's Black House teammate, UFC middleweight champ Anderson Silva, after he dominates.
Evans, TKO, Round 2
Kyle Symes:
I'm very confused as to why Evans took this fight if he only cares about big-money fights these days. The only good thing about this fight is Evans should shine, which could put the pressure on Anderson Silva to accept his challenge.
Evans, Unanimous decision
Scott Harris:
"Little Nog" is 36 and looking the part. The oft-injured Brazilian hasn't fought since besting the now-retired Tito Ortiz back in 2011. Evans should ground and pound his way back into the win column.
Evans, TKO, Round 3
McKinley Noble:
From Jon Jones to Anderson Silva, Evans seems to be thinking about a bout with everyone but his UFC 156 opponent. That never bodes well. But if "Little Nog" couldn't beat Phil Davis and Ryan Bader, I doubt that he does much better here.
Evans, TKO, Round 1
Sean Smith:
Phil Davis and Ryan Bader were able to beat Nogueira with their wrestling without much threat of submission on the ground. Evans has proven that he's a better
MMA
wrestler than both of those rising contenders, so he should look even more dominant against the Brazilian.
Evans, Unanimous decision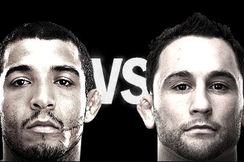 UFC.com
John Heinis: It's so tempting to pick Edgar here. The man has fantastic wrestling and the speed to land combinations without getting his legs battered and bruised with kicks. We don't know how Jose Aldo will do off his back, but we can almost guarantee "The Answer" won't finish him. Therefore, this will be a close decision, and those haven't gone in Edgar's favor of late.
Aldo, Split decision
Kyle Symes: Much is being made about Edgar's quickness and wrestling skills, but Aldo has faced fast and explosive wrestlers before—and conquered them. I'm curious to see if Edgar can employ a similar game plan after cutting weight, but even if he brings his A-game, I don't see it being enough.

Aldo, Split decision
Scott Harris:
I love me some Edgar, but I don't think his wrestling will be "The Answer" in this fight. Aldo's takedown defense is freakish. He'll keep the fight standing and chop Edgar down to size.
Aldo, Unanimous decision
McKinley Noble:
Aldo's coming off injuries and a long layoff, while Edgar has the mental baggage of a two-fight slide. Regardless, I'll pick Aldo. Although the cardio-driven Edgar might go into fights with 100 bullets in the metaphorical chamber, Aldo typically dishes out hand grenades.
Aldo, Unanimous decision
Sean Smith:
Seeing as his first weight cut to featherweight is going smoothly, Edgar's conditioning could give Aldo some serious problems should this fight reach the championship rounds. However, I think Aldo does enough damage to Edgar's legs early on to put his challenger in a hole that he can't climb out of.
Aldo, Unanimous decision