Mick Foley, WWE Hall of Fame Class of 2013: Best Match of Each of His Personas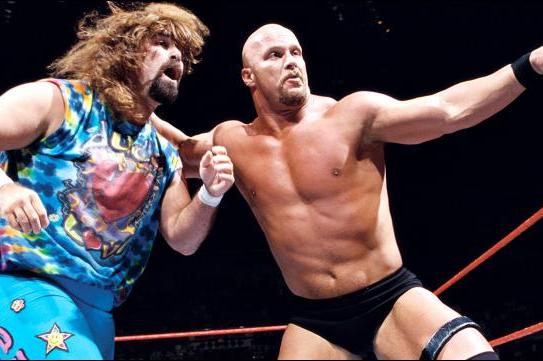 (Photo credit: WWE)
Mick Foley will be inducted into the WWE Hall of Fame Class of 2013 for his matches as Cactus Jack, Dude Love, Mankind and as himself.
Those four faces of Foley each offered a number of classics. Regardless of which name he donned each night, Foley took chances that Evel Knievel might have shied away from.
Not surprisingly Foley's best matches as any of his alter-egos feature street fights and hardcore matches, bent metal and pierced skin. Brutality given and received was his calling card.
For each of his personas, here is the match that we most remember, that most tightly grabbed WWE fans' attention in a stranglehold.
Begin Slideshow

»
Cactus Jack is the gimmick Mick Foley built his career on.
That's who he was in his WCW days facing Vader or Sting. With WWE he pulled it out when the violence and barbarity of a match called for him to return to Cactus Jack.
He tested Randy Orton's pain thresholds at Backlash 2004 as Cactus and battled atop the Hell in a Cell with Triple H.
It's his Royal Rumble street fight with The Game though, that remains his bloodied masterpiece.
This brutal slugfest was powered by a rabid crowd and Foley's willingness to take some nasty bumps.
Trips and Cactus fought hard in a makeshift alley with barbed-wire bats and garbage cans, delivering another vicious match, the blood flowing, the crowd entranced.
Triple H broke a chair over Foley's back. Foley even had thumbtacks protruding from his face when it was all over.
This match remains Foley's biggest and most notable match as Cactus. It is one of his most violent and most entertaining bouts and was against one of his greatest opponents.
As Dude Love, there is little competition for his greatest match as it was his least used persona. Dude Love vs. Steve Austin at Over the Edge is one of the best matches in both men's career.
The story of the odds being stacked against the hero is a well-worn one, but it felt revived and fresh in this brutal battle. Austin wasn't only defending the WWE title against Foley's hippie alter-ego but Vince McMahon, Gerald Brisco and Pat Patterson as well.
This was the WWE version of Custer's Last Stand.
Dude Love was a brawling pawn in the McMahon vs. Austin feud.
McMahon made himself the referee, while his stooges Pat Patterson and Gerald Brisco served as bell ringer and timekeeper, respectively. To make things worse for Austin, the stipulation had been added that if he struck McMahon, he'd be stripped of his title.
Undertaker acted as an enforcer, ensuring McMahon's impartiality.
With those pieces in place, Dude Love and Austin put on one of their finest, bloodiest and most compelling matches.
Loose teeth, bent car hoods and cement smacking flesh highlighted the fight.
As the action went on, McMahon continued to add stipulations. First he made it a No-Disqualification match then a Falls Count Anywhere match. He was much like the annoying kid who keeps changing the rules of the sport during play to avoid losing.
Still Austin fought on, tying the Dude's head in the ropes and swinging away with his fists.
Blood covered Austin's bald head. Excitement throbbed in the arena.
A chaotic ending featured referees getting knocked out, chair shots clanging and eventually Austin taking an unconscious McMahon's hand and counting the three for him.
Later in his career, Mick Foley stripped off his mask, took off his tye-die and wrestled under his real name.
His greatest match under that moniker was a journey through fire and barbed-wire, a man in search of his defining WrestleMania moment..
During the buildup, Edge taunted Foley into the match, calling him soft, past his prime, a teddy bear.
In his interviews leading up to WrestleMania 22, Foley talked of unleashing his old, hardcore self again.
"You've awoken something inside me that was sleeping for too long."
Bloody gashes, barbed-wire whippings and baseball bats continually wowed the Chicago crowd. The story of that night is of two maniacs willing to put their bodies through anything to win, to endear themselves to fans.
It ended with fire searing flesh as Edge speared Foley through a flaming table.
That ending and that match is something Foley burned into our minds forever.
Mankind vs. Shawn Michaels at Mind Games 1996 was the better wrestling match, but the violent spectacle that was the infamous Hell in a Cell match has a bigger place in fans' hearts.
In the end, WWE stars' job is to entertain. If they do it by escaping a wristlock or by falling off the cage, it doesn't matter. Taker vs. Mankind entertained with its insanity, so much so that it's nearly impossible to think of the Hell in a Cell, King of the Ring or the two men involved without thinking about that match.
When Undertaker tossed Mankind from the cell, it looked as if the match, if not Foley's career, was over.
For him to rise up like a zombie and fight on was breathtaking. Taker and Mankind then upped the stakes with another vicious fall through the roof of the cell.
This was more than just two memorable spots though, it was a story of a dominant, merciless monster in Undertaker and a Rocky-like figure getting up off the mat when any other man would have given in to the restfulness of unconsciousness.
This match was Foley's most dangerous attempt to wow fans. It left his body a wreck and the wrestling world forever changed.