Why Taylor Hall's Health Is Vital to the Edmonton Oilers' 2013 Season
Taylor Hall is an integral part of any success the Oilers will have this season.
Rich Lam/Getty Images
The Edmonton Oilers are a team stocked with talented young forwards.
From the cerebral playmaking skills of Jordan Eberle to the energetic exuberance of Nail Yakupov, the team has compiled a number of stars through the NHL draft.
Taylor Hall was the Edmonton Oilers' first-ever No. 1 draft pick, and thus far into his short NHL career, the speedy left winger has suffered numerous injuries varying in severity.
For any team chemistry is essential, but perhaps none more so than for the Oilers as their superstars mature together and develop their NHL games as a unit.
In a shortened season such as this one, the health of core players is paramount. Here are the top four reasons Taylor Hall's health is vital to the Edmonton Oilers this season.
4. Offensive Depth
The Oilers cannot afford to lose Hall, Eberle or Nugent-Hopkins due to injury.
Mike Ridewood/Getty Images
Early into the 2013 season the Edmonton Oilers have struggled to find ways to score even-strength goals.
Though the team has seemingly made up for this offensive drought with a power play that (at the time this article was written) currently ranks No. 1 in the entire NHL, Edmonton will have to find a way to score in five-on-five situations.
Considering that the young stars on the Oilers currently account for most of the team's offensive production, removing Taylor Hall from the lineup due to injury would create a severe hole in the top two lines.
It's safe to assume that Nail Yakupov would get a shot to play alongside Jordan Eberle and Ryan Nugent-Hopkins, but who would take the Russian's spot on the second line?
Magnus Paajarvi has proven to be a valuable penalty killer, but hasn't found his offensive game.
Ryan Jones is hurt.
Without Hall, the Oilers' lack of depth of forwards with offensive capabilities is exposed.
3. He Provides Size and Strength to the Top Unit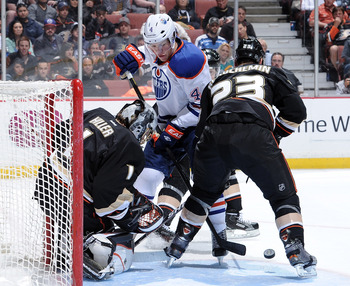 Taylor Hall utilizes the physical aspect of his game more than some fans would like at times.
Harry How/Getty Images
Taylor Hall isn't the biggest player on the ice, but on the Oilers' top line, he is the player seen with the most physical aspect to his game.
Combined with his blinding speed and willingness to throw his body around, Taylor Hall provides more than just a scoring touch to the lineup.
While it is this style of play that Hall is often criticized for and which could ultimately lead to another injury, it is also a part of his game that will likely never change.
2. Chemistry

The young trio of Oilers stars has started to develop amazing chemistry together.

Perhaps the best decision made during the offseason was for Taylor Hall to join his linemates Jordan Eberle and Ryan Nugent-Hopkins in Oklahoma City with the Barons of the AHL.
After recovering from shoulder surgery, Hall quickly picked up where he left off last season and re-established the formidable chemistry that he had with Eberle and RNH with the Oilers.
With Hall and Eberle having recently inked long-term contracts to stay in Edmonton, continuing to develop the chemistry between the two stars is paramount.
1. Confidence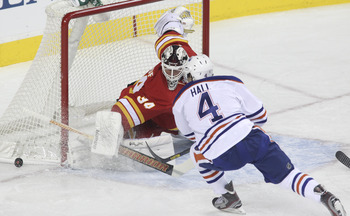 Hall can be a streaky scorer and would not want to lose any confidence in himself or his game if he were to get injured again.
Mike Ridewood/Getty Images
Taylor Hall is the type of player who treads a fine line between offensive flair and physicality, and another setback due to injury could have major repercussions on Hall's confidence going forward.
Hall has had no problem finding the net thus far into the shortened season and would not want the momentum to come to an end due to an injury.
Hall is a major part of the Edmonton Oilers offense and is perhaps the purest goal scorer the Oilers have on their roster, so any missed time by the young left winger could derail any positives that the team puts together.
Keep Reading

Edmonton Oilers: Like this team?