Pittsburgh Steelers' Offseason Strategy for Building a Contender in 2013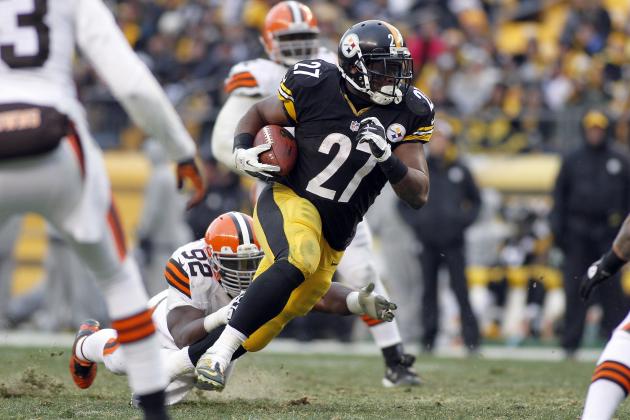 Justin K. Aller/Getty Images

The Pittsburgh Steelers aren't known for long stretches of being out of contention, so it is reasonable to expect the team to reload rather than rebuild.
This 2013 offseason is crucial to that plan, as the team must work to get under the current salary cap while improving its roster talent and getting younger and deeper at several positions.
Here's a look at how the offseason must develop for Pittsburgh to build a contender for next season and beyond.
Begin Slideshow

»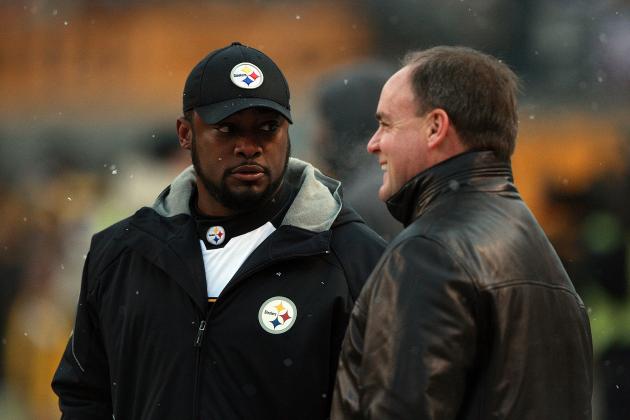 Karl Walter/Getty Images

Let's take a quick, by-the-numbers look at where the Pittsburgh Steelers sit as they enter the 2013 offseason:
Current Players Under Contract: 37
Current Salary Commitments: Approximately $129 million
Projected 2013 NFL Salary Cap: Approximately $121 million
As you can see, the Steelers look to be about $8 million over the cap. That can be recovered by several methods. First, the team needs to consider cutting some older players (Troy Polamalu and James Harrison), either letting them go (Harrison) or bringing them back at heavily reduced rates (Polamalu).
They can also restructure current deals to more team-friendly levels. That should be the case with Ben Roethlisberger, Lawrence Timmons and LaMarr Woodley among others.
Assuming that the Steelers can do everything necessary (as they've done every year when the cap has become an issue), they should be able to clear enough money to operate with $6-7 million to spend on free agents and draft choices.
That's not a lot of money. Here's a look at how to spend it wisely.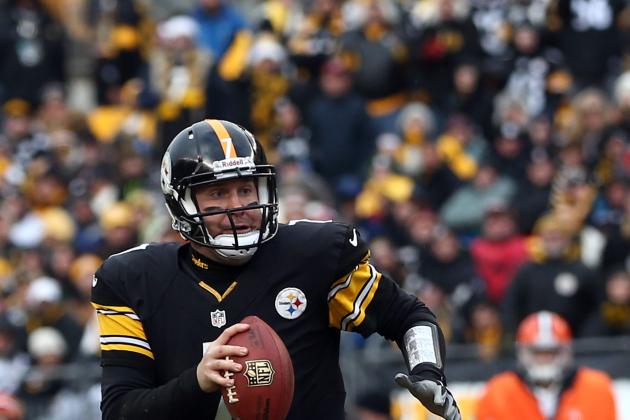 Karl Walter/Getty Images

The Pittsburgh Steelers offense finished 21st in the league last season, a large drop in Todd Haley's first year at the helm as offensive coordinator. Here's a look at places they need to upgrade to improve that ranking in 2013.
Running Back
Jonathan Dwyer projects as the only holdover from the 2012 roster at this position. He showed flashes of productivity, but he was not consistent enough to be leaned on as the certain starter in 2013.
The Steelers badly need a bulldozer in the backfield. They have been missing that since Jerome Bettis retired after the 2005 season. A player like Pitt's Ray Graham would bring that kind of style to the Steelers and should be available in the fourth or fifth round.
If the Steelers desire a true feature back, Wisconsin's Montee Ball is the player to choose in the second or third round of the draft.
Offensive Line
Pittsburgh should not tender contracts to free agents Max Starks, Ramon Foster and Doug Legursky. They should also part ways with expensive and disappointing guard Willie Colon. None of those players is young enough or consistent enough to be a necessary cog in the future of the Pittsburgh line.
This is a good spot for youth and less expense. In other words, this is a spot for a draft pick or two.
While the Steelers do not need to expend a first-round pick at the position, a mid- or late-round choice on a player like Arkansas' Alvin Bailey or UCLA's Jeff Baca would be well spent.
Mike Adams, Marcus Gilbert and Kelvin Beachum represent the replacements for the veterans who are now on the market. The task is simply to rebuild the team's depth.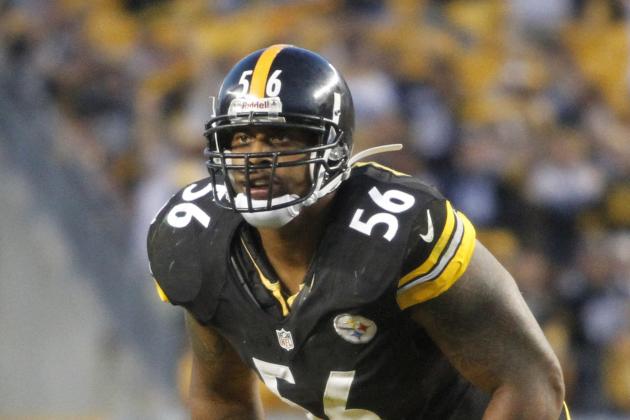 Justin K. Aller/Getty Images

Pittsburgh's defense may have ranked as the league's top unit in 2012, but that statistical achievement hides a unit that is weak and aging fast at several key positions. There is no bigger opportunity to make changes than on this side of the ball.
Here's a look at positions that need some immediate assistance.
Inside Linebacker
Larry Foote, the team's starter in 2012 and a longtime member of the roster, is a free agent. While his price tag won't be high, as he wants to only play in Pittsburgh next year, that spot on the depth chart can be better filled by a younger player.
Sean Spence, whose rookie campaign ended when he was cut down by a knee injury late in the preseason, will get the first crack at replacing Foote as a starter opposite Lawrence Timmons. If he can cut it, he could be the future there.
If not, the Steelers almost always spend a draft choice or two at linebacker. They may need to move outside with that choice, however. James Harrison could be released to help get the team under the salary cap. If he is, general manager Kevin Colbert may elect to draft some help for projected starter Jason Worilds.
Safety
While the immediate need isn't obvious, the Steelers need to start thinking ahead at the safety position. If Troy Polamalu's injury-riddled 2012 season taught them anything, it was that they can no longer rely on one of their franchise favorites.
Opposite Polamalu, Ryan Clark is solid and steady. His age, however, will eventually become a factor. Clark plays with a ferocious style. While that's needed, it will shorten his career in the end.
Florida's Matt Elam is a potential first-round option for the Steelers. He would give them the player they need to replace Polamalu and would also instantly upgrade the depth at safety, where Ryan Mundy and Will Allen will likely be allowed to leave and where Robert Golden is no sure thing to develop.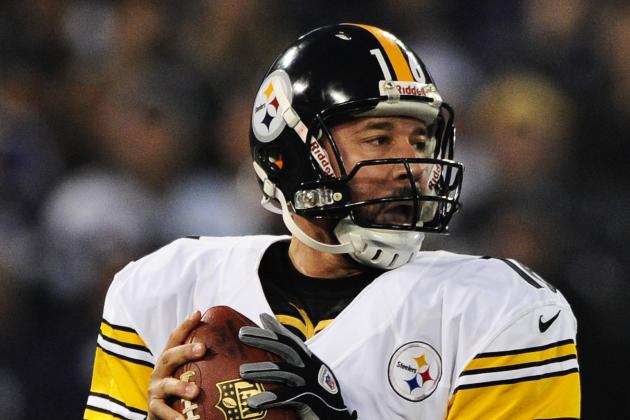 Patrick Smith/Getty Images

While the four positions addressed earlier are the team's most pressing concerns as they move into the 2013 offseason, there are several other positions that could use some new blood.
Backup Quarterback
Ben Roethlisberger doesn't play a full season very often. In fact, only once has he completed a full schedule without missing a start.
In 2012, Pittsburgh found out that Byron Leftwich and Charlie Batch do not succeed in Todd Haley's offense at all. Expect someone new in 2013, either through free agency (Matt Moore could be an option) or in the draft (Landry Jones would be a good developmental prospect).
Wide Receiver
With Mike Wallace set to depart in free agency and some uncertainty around Emmanuel Sanders getting an extension, this could be an area to watch. Only Jerricho Cotchery and Antonio Brown are certain to be back.
The Steelers would be wise to bring Plaxico Burress back in 2013, as he can use his size to create mismatches with opponents. They could also pick up a receiver in the draft late to develop.
Cornerback
If Keenan Lewis departs via free agency, this becomes a bigger need. As it stands now, the Steelers could still use some depth at the position, as Curtis Brown's development has been slow and mildly disappointing.
If Lewis leaves, Cortez Allen moves into the starting role on paper. The Steelers would be wise to draft Johnthan Banks from Mississippi State or another highly regarded cornerback to replace Lewis.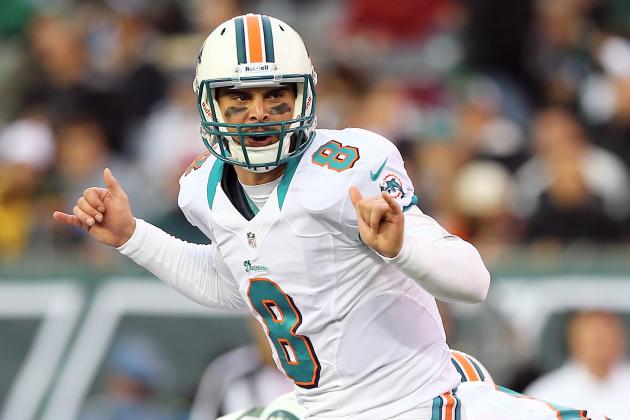 Elsa/Getty Images

Given the earlier discussion about the team's salary cap, the Pittsburgh Steelers figure to have precious little money to spend during the free-agency period. Given the fact that this year's crop is weak in many positions, Pittsburgh is better off holding their money until the draft.
Here's a look at what the approach needs to be in free agency.
Internal Free Agents
GM Kevin Colbert seemed to indicate recently that the Steelers would allow all of their players to test the market. If that's the case, there are some attractive names (Keenan Lewis, Mike Wallace, Max Starks) who will interest several teams.
If the Steelers do decide to bring back anyone, they would be wise to focus efforts on Lewis and Emmanuel Sanders. Both players are young and rising. Sanders is a restricted free agent, so it will be easier to keep him. They both, however, make sense on a roster that desperately needs to let go of the past.
Steve McLendon is another key cog who needs to be resigned at all costs. As a restricted free agent, it will be easier to retain him as well.
External Options
The Steelers don't have the money to go after starters in free agency. This also isn't the way they operate.
Getting a player like Matt Moore or Peyton Hillis could be useful if the price is right, however. Both would give the team valuable role players who fill basic needs. Hillis could be a short-yardage back and could ease the draft need at running back.
Moore is a good backup at the quarterback position and could run Todd Haley's offense without much trouble. He's a big drop from Ben Roethlisberger, but he would allow the Steelers to draft a young prospect to groom for the future.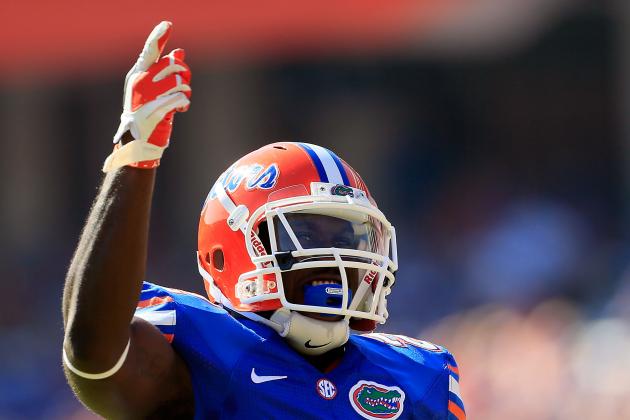 Sam Greenwood/Getty Images

The 2013 NFL draft will be the most important event in the Pittsburgh Steelers' offseason calendar. Nowhere else will they be able to make as big an impact on their status as contenders in the coming seasons than here.
The early rounds must be reserved for taking players who fill needs while balancing the desire not to reach for anyone.
Fortunately for the team's draft strategists, this shouldn't be an issue. There are plenty of needs, and the draft is strong in many of those departments (particularly at cornerback and along the offensive line).
A safety or cornerback makes most sense to start, giving the team a young player to put at either position as a backup in 2013 and as a starter beyond. A young corner would also give the Steelers the flexibility to shift Ike Taylor to safety as he gets older.
After that, the team would be wise to select offensive linemen and linebackers. Both are needs and both positions need an influx of fresh faces.
It would also be a good idea to pick up a quarterback, wide receiver and another defensive back or two late to cover some depth concerns.
The hardest need to place within the various rounds is at running back. If the Steelers can procure a free agent who is either a speedster or a bruiser, they can draft a runner late. If they cannot fill a need in free agency, they'll need to go higher in Round 2 or 3.
The Steelers may be wise as well to trade back in a round or two to accumulate some extra selections. If they feel that the 17th overall choice is too high for anyone on their draft board, they could sell the pick for three or four later ones.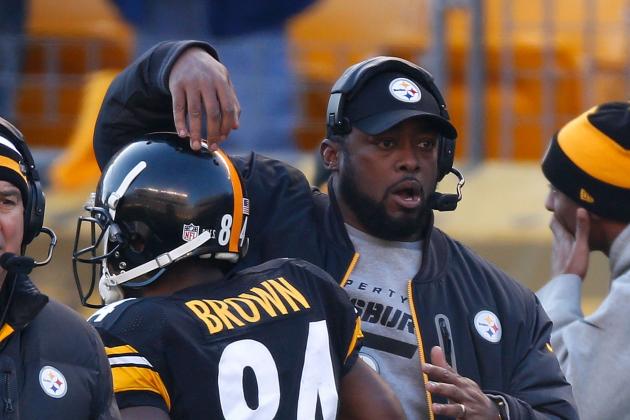 Gregory Shamus/Getty Images

Once the draft and free-agency periods are at an end, assembling the roster becomes the next step in creating a contending team.
The Pittsburgh Steelers have the talent to be a contender in 2013. They had the talent to do so in 2012 but came up short on effort and execution. A more fortified and youthful team should still achieve at a high level with the right coaching.
As for assembling the roster, there are a couple of things to consider.
Running Backs
The Steelers kept a large stable of running backs in 2013, and it didn't seem to be effective. They'd be better off keeping only fullback Will Johnson and three other runners. That would free up a roster spot for another area.
Wide Receiver
The Steelers entered 2012 with only four wide receivers. That plan failed when injuries mounted. Keeping five or six is essential in 2013. The Steelers have the ability to get that much talent, and their offense needs more flexibility here.