Handicapping the Yankees' Logjam of Right-Handed Outfield Candidates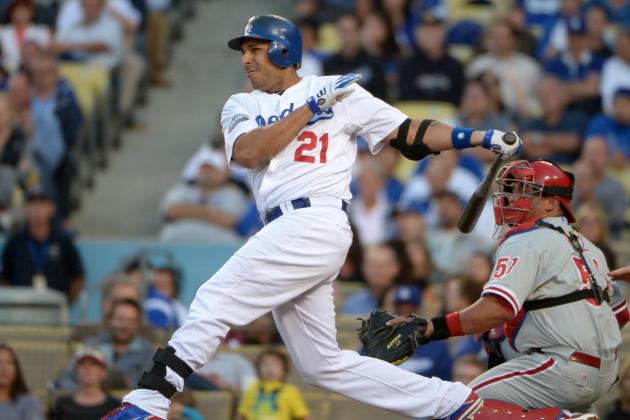 Kirby Lee-USA TODAY Sports
Old friend Juan Rivera is the latest righty hitter to join the Yankees' outfield mix.
The New York Yankees were linked to some big-time players in their search for a powerful righty hitter to add to their outfield depth chart. Justin Upton and Mike Morse come to mind, to name a couple.
Instead, it looks like the Yankees are ready and willing to go into spring training with a motley crew of righty sticks for their outfield and then figure it out from there.
The latest to join the party is an old friend of the organization. As reported by ESPNNewYork.com, the Yankees are bringing aboard Juan Rivera, who first came up with the team in the early 2000s.
According to Matt Eddy of Baseball America, the Yankees also signed former Giants and Indians farmhand Thomas Neal last week. By my count, that makes it six players vying for the right to be the righty-hitting outfielder with power on Joe Girardi's bench: Rivera, Neal, Matt Diaz, Russ Canzler and prospects Melky Mesa and Zoilo Almonte, who are on the club's 40-man roster.
Here's a look at their odds of making the club's Opening Day roster.
Note: Stats courtesy of Baseball-Reference.com unless otherwise noted.
Begin Slideshow

»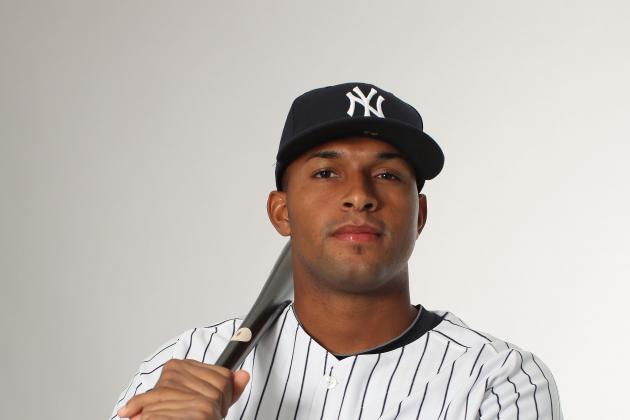 Nick Laham/Getty Images

Unlike the other players on this list, Zoilo Almonte is not strictly a right-handed hitter. He's a switch-hitter, which gives him a leg up in terms of versatility, which is always good.
The 23-year-old Almonte also brings versatility to the table on defense. Though he's played mostly in right field during his minor league career, he has logged time in center field and left field as well.
He doesn't have good defensive numbers as a center fielder, with a low Range Factor per Game (RF/G) and a negative Total Zone Fielding Runs Above Average (Rtz), but that's not a dealbreaker. The Yankees need power for left and right more than they do for center, where Curtis Granderson resides.
Almonte does have power. Per FanGraphs, he's tended to keep his ISO (Isolated Power) over .200 during his minor career, and he owns a career slugging percentage of .434. He's hit 70 home runs, including 21 in 2012, and has also stolen 72 bases.
Almonte is at a disadvantage due to the fact that he has yet to play above Double-A. He's going to have to play very well this spring to draw attention to himself, as the club's decision-makers will also be looking at established major league veterans and fellow prospects who are further along.
As such, Almonte's odds of cracking the Yankees' Opening Day roster are pretty slim.
Odds: 25:1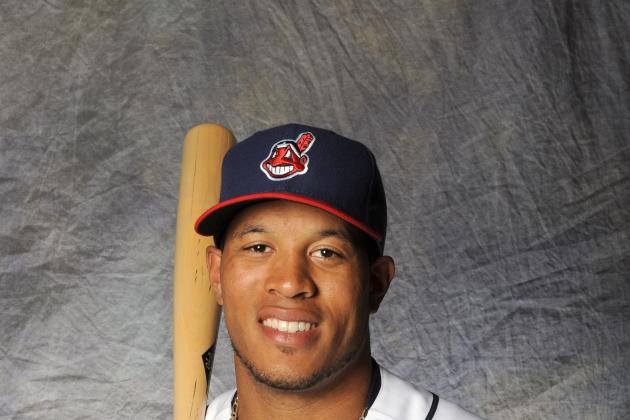 Rich Pilling/Getty Images

Thomas Neal got to enjoy a cup of coffee in the majors with the Cleveland Indians in 2012. The 24-year-old played in nine games, collecting five hits in only 24 plate appearances.
Neal's minor league numbers are more impressive. He owns an .840 OPS in seven minor league seasons, which comes complete with a .464 slugging percentage. He has the general size and shape of a slugger, too, as he's listed at 6'2" and 220 pounds.
Defensively, Neal is like Almonte in that he's more cut out to play on the corners of the outfield than he is in center field. He's logged the majority of his minor league time in left and right field, posting solid numbers in both spots.
Where Neal is at a disadvantage is how his numbers at the Triple-A level measure up against his general career numbers. He may have an .840 OPS in the minors, but his OPS at Triple-A is only .734 in a total of 70 games. Worse, his slugging percentage for these 70 games checks in at under .400.
Neal performed so poorly at Triple-A upon joining the Indians in 2011 that they kept him at Double-A for the entire 2012 season before finally giving him a call to the majors at the end of the season.
Even if Neal impresses the Yankees this spring, they might start him at Triple-A in 2013 just to make sure what they saw was for real. He's going to have a hard time making the Opening Day roster.
Odds: 20:1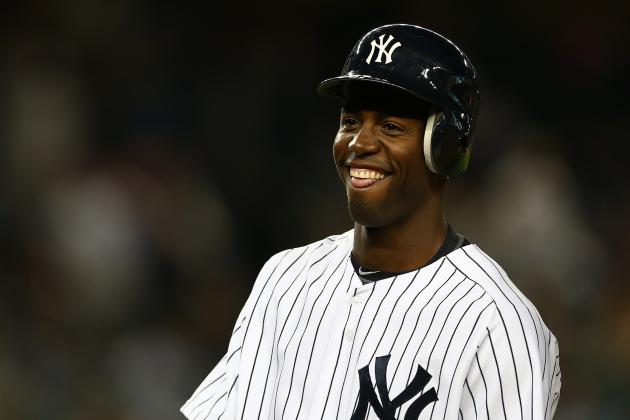 Elsa/Getty Images

Like Neal, Melky Mesa got his first major league cup of coffee in 2012, playing in three games and collecting hits in both his at-bats with the Yankees.
Before joining the Yankees, the 25-year-old Mesa had put up impressive numbers at Triple-A. He only hit .230 with a .271 OBP in 33 games, but he slugged .524 with nine homers. He also stole five bases.
Mesa's minor league numbers in general are pretty good. He strikes out a ton and doesn't walk enough, but he does own a good enough .751 OPS. He's hit 84 home runs and stolen 102 bases.
Mesa has played primarily in center field and right field in his minor league career, but he has played some left field as well. His defense tends to be very strong, as he has a plus-eight Rtz in center field and a plus-14 Rtz in right field.
If there's a flaw in Mesa's game, it's his ability to hit lefty pitching. Per MiLB.com, he didn't fare so well against lefty hurlers in the Dominican Winter League, hitting .174 against them with a .609 OPS.
The Yankees are going to need to see Mesa do well against lefties this spring, and they may also be keeping an eye on his general focus after what happened late in the 2012 season. He could have cost the Yankees a game with a baserunning error in a tight game against the Oakland A's.
In short, he'll have to prove this spring that he can bring more than raw talent to the table.
Odds: 16:1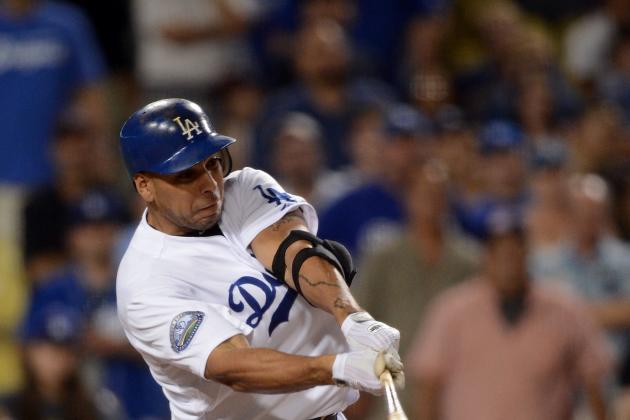 Harry How/Getty Images

The Yankees have tended to load their roster with as many established major league veterans as they can get their hands on, and that will work in Juan Rivera's favor this spring.
Rivera, a 12-year veteran, is coming off a tough 2012 season as a member of the Los Angeles Dodgers, as he managed only a .661 OPS and nine home runs in 109 games. He did, however, have a solid .745 OPS against lefty pitchers. For his career, he has an .820 OPS against lefties.
Rivera's established track record against lefties is another thing that will work in his favor this spring, as the Yankees could determine that he could be used like Andruw Jones was used in 2012.
If so, it bodes well for Rivera that he performed better against lefties in 2012 than Jones did, as Jones only had a .705 OPS against southpaws.
The red flag where Rivera is concerned is that he's not spending much time in the outfield these days. He started to play first base on a more regular basis in 2011, and he played first base more often than he played in the outfield in 2012.
Rivera's legs may not be able to handle everyday duty in the outfield anymore. He's had leg problems pretty consistently throughout his career, and they're probably not going away now that he's in his mid-30s.
Rivera has a solid chance to break camp with the Yankees, but he's not a slam dunk.
Odds: 10:1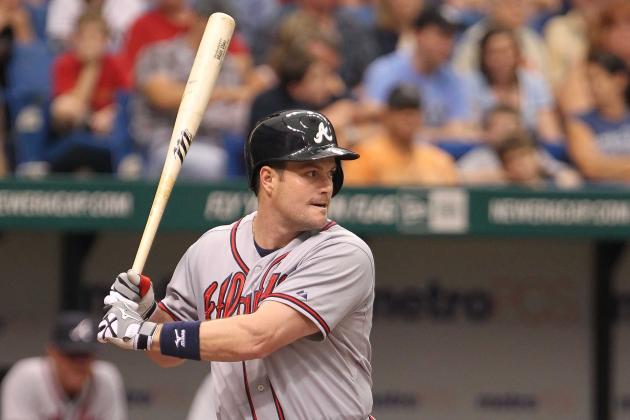 Kim Klement-USA TODAY Sports

Matt Diaz has been in the major leagues nearly as long as Rivera, so he's also going to stand out as an attractive veteran option for the Yankees this spring.
The 2012 season wasn't one of Diaz's finer efforts, as he played in only 51 games and compiled a .613 OPS with the Atlanta Braves. He did manage a .740 OPS against lefties, though, and he owns an .863 OPS against lefties for his career.
Diaz's struggles in 2012 were partly related to a thumb injury that plagued him for a good chunk of the season. He eventually had surgery in August, with the prognosis being that he would need two months to recover. He should be fine now.
Defensively, Diaz is primarily a left fielder, and he's a decent one at that. Per FanGraphs, he rates as about an average left fielder in the eyes of Ultimate Zone Rating and Defensive Runs Saved.
Diaz is less accomplished in right field, but he can play there. He logged a significant amount of time in right field in both 2009 and 2011, when he split time between Pittsburgh and Atlanta.
If Diaz shows that his thumb is healthy and that he can still hit lefties very well this spring, he'll be a strong candidate to start the season on the Yankees' bench.
Odds: 8:1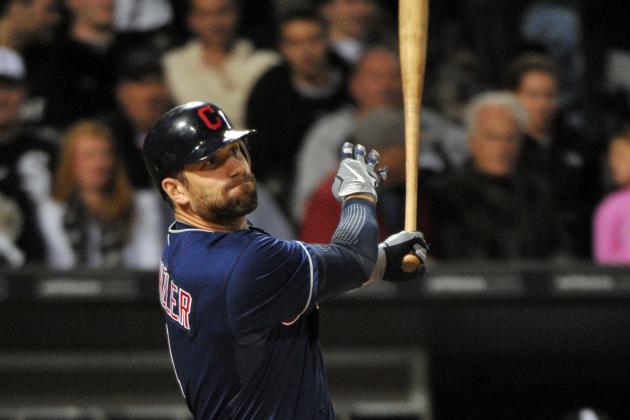 Rob Grabowski-USA TODAY Sports

Russ Canzler doesn't have the experience of either Rivera or Diaz. He's only played in 29 major league games, with 26 of those coming with Cleveland this past season.
What he does have, however, is a potentially lethal bat for Girardi to use against southpaws.
Canzler only compiled a .700 OPS in his 29 major league games, but he's absolutely crushed lefty pitching. In 31 plate appearances against lefties, he owns a .400/.419/.667 slash line with two homers and two doubles.
Canzler boasts some solid minor league numbers as well. He owns an .819 OPS for his minor league career, and an .873 OPS at the Triple-A level.
In addition to his bat, Canzler brings a versatile glove. He can play both left field and right field, and at first base and third base.
That Canzler can play first and third is a big leg up for him. The Yankees could use some depth behind Kevin Youkilis at the hot corner as they wait for Alex Rodriguez to come back in 2013, which may be a while (or not at all). Having additional depth at first base is also a good idea, as Mark Teixeira is becoming more human every year.
Canzler's relative inexperience will be a hurdle for him to overcome this spring, but he has the skills to overcome that hurdle and break camp with the big club.
Odds: 5:1