Washington Capitals: Should Holtby or Neuvirth Spend More Time in Net in 2013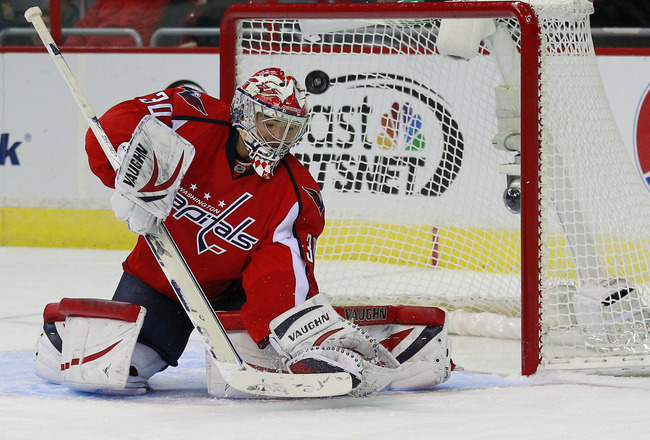 Geoff Burke-USA TODAY Sports
With Michal Neuvirth leading the way, the Washington Capitals beat the Buffalo Sabres on Sunday, 3-2, finally giving the Caps their first win of the season (ESPN).
Not many expected it to take five games for the Caps to get their first win of the 2013 season. Nevertheless, that is what transpired.
These first five games have been difficult, to say the least, for the Caps. Plagued by bad defense and a penalty kill that was worse than abysmal, the Caps stumbled out of the gates losing their first three games by a combined score of 14-6.
During that terrible run, the hero of the 2012 NHL playoffs, Braden Holtby, was in net for the first two games. So many had expected Holtby to come in this season and be as stellar as he was in the playoffs.
That simply did not happen as Holtby gave up six goals to the Tampa Bay Lightning and then followed that up by allowing four goals to the Winnipeg Jets.
This prompted new coach Adam Oates to turn to Michal Neuvirth to try and stop the bleeding. Neuvirth had a rough outing in his first game, a 4-1 loss to the Montreal Canadiens.
But he then was able to salvage a point out of the overtime loss to the New Jersey Devils and then on Sunday, against the Sabres, Neuvirth stood tall as the Caps snatched their first win of the season.
With Braden Holtby and Michal Neuvirth, the Caps find themselves with two very good goaltenders, both of them very capable of being the starting goalie on a regular basis.
It is an enviable dilemma many other teams in the NHL wish they had.
But for the Capitals, the question that now must be asked is this: Which man should see more time in net in 2013?
Should it be Braden Holtby? Should it be Michal Neuvirth?
This article will take a closer look at both goalies in the hopes of being able to answer that very question.
A Closer Look at Braden Holtby

The best of Braden Holtby

Braden Holtby is somewhat of an enigma for the Washington Capitals and their fans.
Prior to the playoffs last spring, the verdict was still out on Holtby. At that time, Holtby had only played in 21 regular season games in his entire career.
His record in those 21 games was a solid 14-4-3 (ESPN).
He had given up 37 goals on 524 shots faced, for a .929 save percentage and a 2.02 goals against average.
Then the 2012 NHL playoffs rolled around and everything changed.
As most will recall, Holtby came from practically out-of-nowhere last spring to lead the Caps to a stunning first-round upset of the defending Stanley Cup champion Boston Bruins and Tim Thomas.
Holtby, proving his stellar performance against Boston was no fluke, then very nearly upended the top seeded New York Rangers and Vezina trophy winner Henrik Lundqvist before falling in a great seven-game Eastern Conference semifinal series.
Along the way, Holtby posted a 1.95 goals against average.
Only Jonathan Quick, who won the Conn Smythe trophy as the MVP of the 2012 NHL playoffs, and Lundqvist had a better goals against average than Holtby, among goalies who played more than 10 playoff games last year.
Holtby also had a .935 save percentage.
Only Quick and Phoenix's Mike Smith had a better save percentage among goalies playing in more than 10 playoff games.
It was pretty much a given that Holtby would enter training camp as the Caps' starting goaltender. But then the lockout came and delayed the continuation of the Braden Holtby story for several months—or at least the NHL version.
During the lockout, Holtby played with the Caps' AHL affiliate, the Hershey Bears.
Holtby played in 25 games for the Bears and logged over 1400 minutes between the pipes.
He was fifth in the AHL with a 2.14 goals against average, third with a .932 save percentage, was second in the AHL with four shutouts and was seventh in saves with 712. He finished with a 12-12-1 mark during this AHL stint which is good but, admittedly, not great.
Holtby had all sorts of momentum once the lockout ended and coach Adam Oates declared that Holtby would start the season opener against the Tampa Bay Lightning.
But things have not gone well for Holtby this far this season. Against the Lightning (ESPN), Holtby surrendered six goals on 34 shots. He had a .824 save percentage. The Caps defense let him down on several occasions, to be sure. But some of the goals scored by Tampa Bay would have had no chance against the Braden Holtby from the 2012 playoffs.
Holtby would get the next start against the Winnipeg Jets. In the Caps' home opener, most felt that Hotby would play better.
It did not work out that way as the Jets beat the Caps, 4-2 (ESPN). Against the Jets, the Caps gave up 39 shots on goal and Holtby stopped 35 of them. He had a .897 save percentage in that game, so there was some level of improvement.
But, again, some of the goals were quasi-soft. One goal banked in off his skate. Another one just seemed to somehow trickle into the net behind him.
In both games, Holtby's glove side was a target and a weakness.
In two games played this season then, Holtby has a 5.03 goals-against-average and a .863 save percentage. You are not going to win many games with numbers like those and if Holtby can't improve those numbers than he and the Caps are in real trouble.
To be fair, Holtby has not gotten much help from his defense. No one seemed to be blocking shots and Holtby faced too many odd-man rushes in the two games in which he played. It is hard to say whether what Holtby is going through is the result of the Caps poor overall play in front of him or whether it is something with his game.
Braden Holtby was something very special during the playoffs last spring. If he hopes to get more playing time during the 2013 season, he must recapture the way he was last spring—and he must recapture it fast.
A Closer Look at Michal Neuvirth

The best of Michal Neuvirth

While everyone in Washington D.C. fell in love with Braden Holtby after his performance in the 2012 playoffs, one man did not seem overly impressed.
While Caps' fans believed that the team had captured their own version of Jonathan Quick in Holtby, one man sat back and wanted his own chance to remind Caps' fans, and the rest of the NHL, that he was pretty good in his own right.
That man was Michal Neuvirth.
Neuvirth's story was a somewhat sad one. Most Caps' fans will recall that Neuvirth had a very impressive playoff run of his own for the Caps during the 2011 playoffs.
Neuvirth was absolutely magnificent during the Caps 4-1 series win over the New York Rangers in the 2011 Eastern Conference quarterfinals.
He then, like the rest of the team, came up rather small in the Eastern Conference semifinals as the Caps were swept by the Tampa Bay Lightning.
Still, over that nine game stretch, Neuvirth had a 2.34 goals against average and a .912 save percentage (ESPN). He also had a shutout, something Holtby did not do during his own stellar 14 game playoff run last season.
Last season, Neuvirth played in a backup role to Tomas Vokoun. He played in 38 games and had a 13-13-5 record (ESPN). He had a 2.82 goals against average and a .903 save percentage with three shutouts.
As the playoffs approached, and with Vokoun dealing with an injury, it seemed as though the Caps would have to lean heavily on Neuvirth once again if the team was going to have any chance at winning that elusive Stanley Cup.
But, as well know, Neuvirth was injured as well, Braden Holtby got the start in net and the rest is history.
Nevertheless, there are several places where Michal Neuvirth has some advantages over Braden Holtby.
One area is experience. Heading into this season, Neuvirth had played in 108 regular season games so he had much more experience than Holtby, who had only played in 21 regular season games. During those 108 games, Neuvirth had a 2.65 goals against average so his numbers were not nearly as impressive as Holtby's.
His .909 save percentage in regular season games was also not as good as Holtby's but, then again, Neuvirth had played in many more regular season games than Holtby so that had to be taken into context.
That Neuvirth was not buying into all the hype surrounding Braden Holtby was made clear during the summer when Neuvirth made some rather unflattering comments about the Caps' presumed new superstar goaltender.
Over the summer, Czech website iSport.cz conducted an interview with Neuvirth.
The interview was translated by several sites, and one in particular, Russianmachineneverbreaks.com, posted the interview.
Some of what Neuvirth had to say raised more than a few eyebrows:
It's true that until now, I have never been an official number one. But I have played just over a hundred games in NHL. That's nothing. I'm starting the season sure that I want to play forty/fifty games and I am really sure that I have the weakest competition (Braden Holtby) I've ever had. I will try to be number one goalie this season. Finally!
Wow! What else can you say.
But when Braden Holtby struggled in the first two games of the 2013 season, coach Adam Oates turned to Michal Neuvirth in what, to a certain extent, seemed to be a "put-up or shut-up" moment.
The first game did not go well as the Caps were routed by the Montreal Canadiens (ESPN), on home ice, 4-1. Neuvirth gave up four goals on just 22 shots for a .818 save percentage. He did, however, make some key stops that prevented the final score from being uglier than it was.
But the next game against the New Jersey Devils was a much stronger effort from Neuvirth. The Caps rallied from two goals down in the third period to tie the game at 2-2 before ultimately losing in overtime (ESPN).
Neuvirth played incredibly well against the Devils as he stopped 32 of 35 shots for a .914 save percentage. In overtime, he was nothing short of spectacular as he stopped seven of eight shots and made some tremendous saves up until Ilya Kovalchuk's game winner, a shot that would have beaten most NHL goaltenders.
And then, on Sunday, Oates rode the hot hand and played Neuvirth against the Buffalo Sabres. Neuvirth responded by leading the Caps to their first win of the season, 3-2 over the Sabres (ESPN).
Neuvirth played well again stopping 22 of the 24 shots he faced for a .917 save percentage.
So, for the 2013 season thus far, Michal Neuvirth has a 1-1-1 record, with a 2.92 goals-against- average and a .889 save percentage.
The play of Michal Neuvirth the past couple of games had made this debate much more interesting—particularly when one considers that there was no real debate at all when the season began.
The Verdict

Michale Neuvirth leads the Caps to their first win of the season against the Sabres

So who should get more time in net during the 2013 season, Braden Holtby or Michal Neuvirth?
You can really make a compelling case for both men.
The Holtby supporters can point to the great playoff performance from last year. They can point to the fact that even with his poor start this season, Holtby's regular season numbers are still better than Neuvirth's.
Holtby currently has a 2.32 goals-against-average; Neuvirth has a 2.66.
Holtby currently has a .921 save percentage; Neuvirth has a .909.
One also has to consider that in the two games he played, Holtby faced a ton of shots, 73 to be exact. Neuvirth, on the other hand, has faced 81 in the three games he has played.
There is little question that the Caps have been playing better the past couple of games and have played better defense for Neuvirth than they did for Holtby.
The Neuvirth supporters will say all that is fine and great, but in the end it is wins and losses that count. And, obviously, there is a lot of truth to that.
The indisputable fact is that the Caps did not pick up their first point of the season until Neuvirth was in net against the Devils.
The Caps did not get their first win with Holtby in net—they got it with Michal Neuvirth between the pipes.
And say what you want about the Caps' porous defense and ghastly penalty kill so far. The fact remains that if you watched the five games played so far, Neuvirth has just looked better. He has been quicker than Holtby, his reflexes look just a bit better and, overall, he has been the more impressive goaltender.
I suspect in a perfect world, Adam Oates would get 24 games out of each man, would have both play equally well and then Oates would have some flexibility for the playoffs. But, of course, Oates likely did not envision the team starting so slowly and, at 1-3-1, the very slim margin for error with which to begin the season has all but evaporated.
The Caps need wins. More importantly, they need to maintain momentum and continue working on team chemistry.
Still, if I was Adam Oates, I would give Braden Holtby the start against the Ottawa Senators on Tuesday. At 3-1-1, the Sens are off to a great start and playing in Ottawa will be a real challenge for the Caps to see if they can beat a young, up-and-coming, and very good team on the road.
Still, I would let Holtby get the nod for this one. Give him a chance to play in that sort of environment with the team actually playing better in front of him. Yes, there will be pressure on him to perform. But, as we all saw last year, when the pressure was on, that was when Braden Holtby played his best.
Plus, Neuvirth has played in three straight games so a night off would not be a bad idea anyway.
If I was Adam Oates, I would let Braden Holtby compete and give him a chance to show what he still has. If he plays poorly again, then it would likely be time to turn to Michal Neuvirth for the majority of the starts.
If Holtby plays well though, then Oates will have the flexibility to play both very good goaltenders as the situation dictates.
What do you think?
Keep Reading

Washington Capitals: Like this team?