Rugby 6-Nations Preview: Predicting the Final Order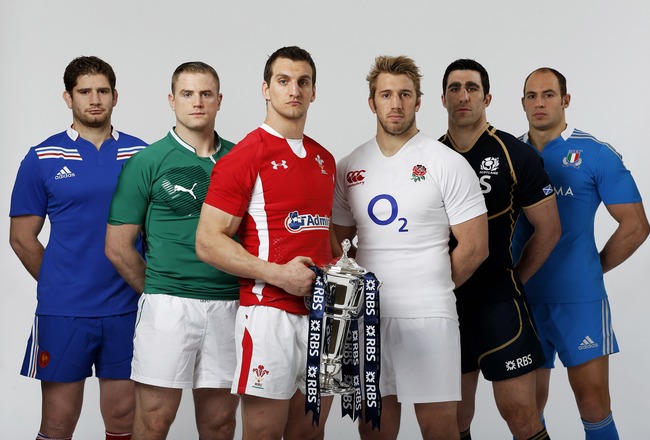 Tom Shaw/Getty Images
It's the oldest international rugby competition in the world, and still remains the cream of European international rugby. Originating as a four team competition comprising of the four home unions, it has grown to include France and more recently Italy to form the Six-Nations as we know it today.
There is a lot riding on the 2013 season.
Certainly some reputations need to be rebuilt after what was a lacklustre performance from the European sides against their Southern Hemisphere counterparts in November. Add to this, the prospect of selection for the British and Irish Lions team, which will tour Australia later this year, and it isn't hard to see that the incentive there will be.
The competition kicks-off this weekend and will continue throughout February and March.
Scotland
Hannah Johnston/Getty Images
Gone are the days of Scotland being a powerful force in the world rugby. In a glorious past, they had the ability to give any team in the world a real run for their money, and would never be written off against anyone.
But a decline in the last decade has seen them stoop below even Italy in the rankings of the powers of European rugby. It's hard to see them ruffling many feathers during this Six-Nations.
Scotland remains a strong team up front, defending well in close, and capable of getting themselves into good attacking positions.
But they just don't have the ability to play any sort of attacking rugby or finish off their chances. Likewise, they struggle defensively when a team decides to implement an attacking game plan, not numbering up and quite often following the ball rather than marking their man.
One player who could make a difference is outside back Sean Maitland, who recently left New Zealand after being unable to crack the All Blacks. Maitland qualifies for Scotland through a grandparent and will bring much of the speed and flair that has been missing from this Scottish outfit in recent times.
While they will let everyone know they've been in a game, it is going to be a long way back for a once proud rugby nation. It is hard to imagine them actually beating anyone, except maybe a home win against Italy.
Key Player: Richie Gray: A big, strong, hard working lock, Richie Gray is as good as any lock in the world at present time and is one of the few world class players Scotland can claim to have. His impact in the tight is enormous and he will need to be huge if Scotland are to be competitive.
Last Year: Sixth
2013 Prediction: Sixth
Italy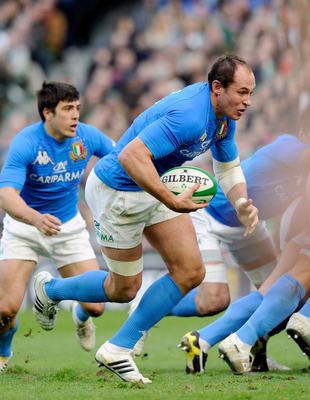 Claudio Villa/Getty Images
The 2013 Italian team is light-years ahead of where they were a couple of seasons ago, and will be the most competitive they have been since being brought into the Six-Nations in 2000.
Traditionally they have boasted a big, strong forward pack but little else. A reluctance to use their backs or chance their arm has seen them develop a strong focus on their set-piece and tight contact situations.
Consequently, they will be tough to crack there.
But with the appointment of Jacques Brunel as the head coach, Italy have changed the way they play and now adopt a game style more notorious with Brunel's native France.
New coaching has made a world of difference, and they have shown themselves capable of throwing the ball around and attacking dangerously, exhibiting some of the flair that has become synonymous with the French.
That said, don't expect them to major contenders in this year's tournament. The gap between Italy and the top four has definitely closed dramatically. But whether they consistently play at a level that will see them contend for a championship is yet to be seen.
Key Player: Sergio Parisse: Having been the backbone of the Italian team for the last decade, Sergio Parisse will be of extreme importance in their 2013 challenge. He is a skillful No. 8, capable of playing both a loose and tight game and will be prominent with ball in hand.
Last Year: Fifth
2013 Prediction: Fifth
Ireland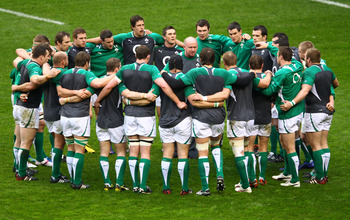 Julian Finney/Getty Images
Fourth might seem a bit low for Ireland to some people. And those people may be right. On paper at least, Ireland is a team capable of big things.
Whether these big things eventuate will depend on whether Ireland can translate this promise into on-field brilliance.
They have showed themselves capable of doing this in 2012, but have equally shown themselves to be capable of capitulating under pressure. During the autumn internationals, they came within a whisker of upsetting the Springboks, before disposing of a good Argentinian side.
Earlier in the year they showed their danger, coming oh so close against the All Blacks in New Zealand in a game they probably should have won. They certainly played well enough to win.
But then, they have also shown their inconsistencies, as could be seen on the games either side of their close shave with the All Blacks.
With Jamie Heaslip taking the captaincy from the long-serving Brian O'Driscoll, it seems there is a changing of the guard happening. O'Driscoll is no longer the player he was, but his experience will remain of great value to this Irish outfit.
They boast a strong forward pack that will play as passionately as anyone and will always start off well. Their loose forward trio is up there with the best in the world, and will be key for them.
How their back line operates will be telling. There is plenty of danger in the back three, but question marks remain over the flighty inside duo and the ageing midfield.
Key Player: Sean O'Brien: Although there were plenty of candidates for this accolade, Sean O'Brien remains possibly the most potent weapon Ireland possesses. A strong ball running flanker, capable of mixing it in the tight situations too, he will be extreme importance to getting the side operating well in the loose. Expect some big performances from him, as he competes with Sam Warburton for the Lions No. 7 jersey.
Last Year: Third
2013 Prediction: Fourth
England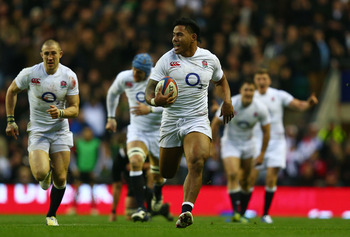 Clive Rose/Getty Images
No team will enter 2013 under more pressure than England. With mounting expectations after their shock thrashing of the All Blacks two months ago, nothing short of a championship will satisfy.
But are these expectations really reasonable?
While it is true they played extremely well against the All Blacks, you can't judge a team based on one game.
Certainly they weren't the lethally expansive team many have made them out to be, rather playing a tight game looking to suffocate the All Blacks, before showing some flair in a ten minute stretch which saw them score three tries.
It was an England team under fire after two losses and an All Black team who had suffered from a virus earlier in the week. From this, it makes it hard to definitely judge the English outfit based on this one performance.
If they can adopt the same strategy of smothering their opposition they will indeed be tough to beat. However, this may not have quite as large effect against the European teams as it did against the All Blacks, as the European nations will look to play a more conservative game anyway.
Their forward pack is strong and capable of bullying others at the breakdown, whilst their is enough in their back line to cause some problems should they be able to execute.
Key Player: Owen Farrell: Since the decline of Jonny Wilkinson, the major problem have had has been in finding a new flyhalf. Inevitably then, it is going to be the man who fills this position that will be the key man, particularly with the reliance England place on their No. 10.
Although still very young, Owen Farrell has shown glimpses of brilliance and could be a key man in England's challenge this year. That is, if he wins the jersey from Toby Flood, whom in turn will become the key player should he get the nod.
Last Year: Second.
2013 Prediction: Third.
Wales
Laurence Griffiths/Getty Images
It might seem like a brave prediction to have Wales in the top two. Certainly, recent form indicate that they will struggle especially after a series of dismal performances during the autumn tests which saw the team in complete disarray.
But they are defending champions for a reason. Completing the Grand Slam in 2012, this is a side who is capable of playing good rugby and have a point to prove.
It must be remembered that their recent form slump occurred against southern hemisphere opposition. One must go back to Rugby World Cup 2011 to find the last time Wales lost to a fellow European team.
They have a history of slipping up to teams such as Samoa, where the flair and lack of structure is something Wales don't always handle that well.
But this sort of rugby isn't the favoured brand played in the Six-Nations. The majority of the teams tends to adopt a more conservative brand of rugby, which sees more kicking and more emphasis on the tight.
The return of Warren Gatland to the coaching position will make a difference too, as he will look to continue his successes with his adopted nation. Under Gatland, Wales will look to execute the way they did through late 2011 and early 2012 when they were amongst the best in the world.
They have a strong forward pack, where their tight five will hold its own and the loose forwards will look to get the better of their opponents. They posses, arguably, the best back line of the Six-Nations too, with flair out wide, a dangerous midfield and a world-class half back. The one question remains over the No. 10 jersey, which could determine how good or bad Wales are in this competition.
Key Player: Sam Warburton: At the breakdown there are few better than Sam Warburton, capable of effecting turnovers by the bucket load. He will lead this Wales side, and there will be a lot of responsibility on his shoulders to get this Welsh team firing the way they know they can.
Last Year: Champions and Grand Slam Winners
2013 Prediction: Runners-up
France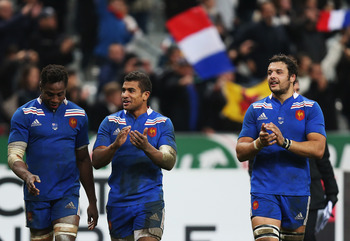 Bryn Lennon/Getty Images
As always, the big question surrounding France will be which team will turn up. Will it be the one that showed their class and almost caused the upset of the century at the 2011 World Cup, or the one that won just two games in the 2012 Six-Nations?
At their best, they are undoubtedly one of the two best teams in the world. They showed this in November, with big wins over Australia and Argentina, showing themselves to be far better than their No. 4 world ranking would suggest.
Unlike the other teams, France can claim to have a hard edge up front, whilst also possessing genuine flair which has made them so dangerous over the years. This combination makes them the most well-rounded team heading into the competition, but as is the case every year, it will depend on the consistency of which they perform that will determine how far they will go.
Don't be surprised to see this team get up though, carrying on from their form of two months ago.
Injuries could be the big player for France, already having lost star winger Vincent Clerc. Add to this the fact that they will play three away games and their task doesn't get any easier.
But if they perform the way they have shown us they can, France have all the tools to emerge victorious, and it won't be a surprise to see them walk away with the spoils.
Key Player: Wesley Fofana: Perhaps the most dangerous player in the competition, the young talent of Wesley Fofana could be the difference maker for France. What he lacks in experience, he makes up for in flair and ability that has seen him recognised as one of the world's top midfielders. Yet, he will still have his doubters being in the infancy of his career. Expect some big performances as Fofana strives to show himself to be the real deal at international level.
Last Year: Fourth
2013 Prediction: Champions
Keep Reading