Ranking the Best Sports Uniforms in the History of New York City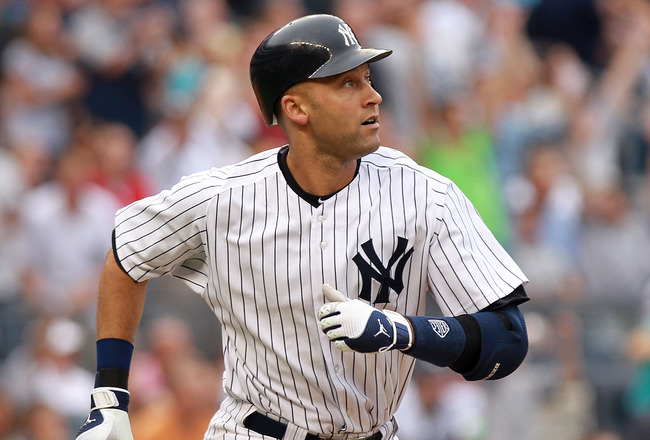 Nick Laham/Getty Images
New York City has the richest history of professional sports than any other metropolis in the world. The Big Apple is host to nine teams across four major pro sports.
Consequently, New York also has the richest history of pro sports uniforms.
There are the New York Yankees and New York Mets, New York Giants and New York Jets, New York Knicks, Brooklyn Nets, New York Rangers, New York Islanders and New Jersey Devils.
Aside from the Islanders' Nassau Veterans Memorial Coliseum, which is way out on Long Island, you can reach any of those teams' homes by driving no more than a dozen miles from Grand Central Terminal.
There have been so many glorious jerseys donned by these nine teams, it's hard to wrap your mind around them.
Some of the uniforms have been sublime while others have been loud and obnoxious. But what could be more New York?
I have patented a groundbreaking algorithm that computes the originality, stylishness and legacy of each team's uniforms to decide the best of the best. Each jersey worn by every team has been calculated using this incredible formula.
The NASA-esque complexity of the results would be mind-boggling and take up many hundreds of pages, so I have distilled the ratings to just 25 concise slides.
These are the 25 New York uniforms that no one within reach of a commuter train from Penn Station will ever forget.
25. New York Islanders 'Fish Sticks'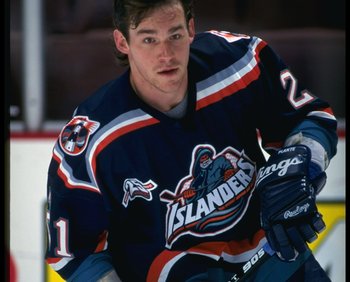 Glenn Cratty/Getty Images
The New York Islanders were originally created for the 1972-73 season. Their color scheme was similar to the New York Mets and evoked the colors on the New York City flag (blue and orange), even though Long Island is not part of New York City proper.
After winning four Stanley Cups in four years from 1980-83, the Islanders entered a dark, depressing period that led them to create new jerseys depicting a man who closely resembled the Gorton's fisherman.
They wore these from 1995 to 1997 before abandoning the crazy logo, but the kept the watery wave and unfortunate teal accents around the shoulders until 1998.
These are the jerseys that led New York Rangers fans to refer to the Islanders as "fish sticks" for two years. But darn it, if they aren't creative and memorable!
24. New Jersey Devils Throwbacks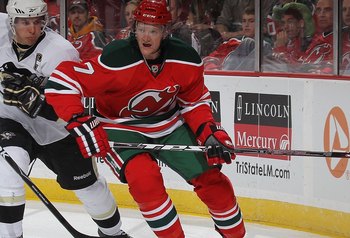 Bruce Bennett/Getty Images
The New Jersey Devils were established in 1982 after moving from Kansas City by way of Denver. I guess there was a fare saver on their flights.
From 1982 until 1992, they sported these truly heinous uniforms, although, I suppose their ugliness was fairly devilish (there used to be even more green). The shorts really tie the uniform together. It is a little hard to appreciate the subtlety of the green on these, but it's a treat up close.
The red, green and white color scheme should have been reasonably festive, but it ended up being the only thing that could make a child hate Christmas. Still, I always smile when I see a fan wearing one of these throwbacks.
Even the current Devils sport them from time to time, like on St. Patrick's Day 2010.
The Minnesota Wild's management appears to have purchased the remainder of these uniforms at some sort of consignment sale.
23. New Jersey Nets Tie-Dye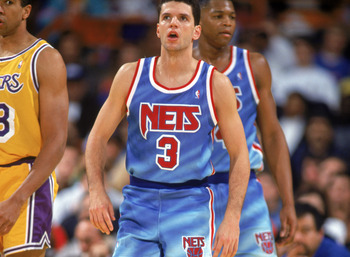 Ken Levine/Getty Images
Well, at least you can't accuse the New Jersey Nets of being unoriginal. For the 1990-91 season, the Nets sported these crazy tie-dye jerseys.
It's unclear if a case of Bomb Pops melted in the equipment room or if they were merely trying to cash in on the acid wash jeans craze, but these were definitely unique.
They also help us remember the legacy of Drazen Petrovic, whose No. 3 jersey was retired by the Nets.
22. New York Jets Throwbacks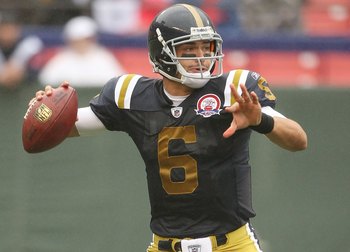 Al Bello/Getty Images
The New York Jets were originally the Titans of New York. The Jets uniforms that have become familiar today originated in 1963 when the team was renamed.
The throwbacks were re-introduced in 2007 as a celebration of the franchise's heritage, but maybe they should have left that heritage in a box with Woody Johnson's World War II memorabilia.
These are fun, but only as long as they're restricted to once per year. On that Sunday, slather your six-foot sub with extra mustard.
21. New York Islanders Third Jersey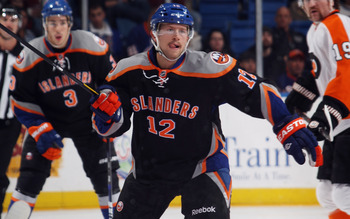 Bruce Bennett/Getty Images
In 2011-12, the New York Islanders introduced these unique third jerseys.
In 2012-13, the Islanders announced that they would be moving off of Long Island to take up residence at the Barclays Center in Brooklyn. They won't move until 2015, but if they keep wearing these sweaters, the fans may run them out of town before then.
I intensely disliked these when they were first rolled out, but they're starting to grow on me. It could be the start of a beautiful friendship. But probably not.
20. New York Mets Alternates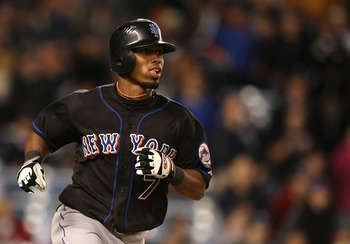 Al Bello/Getty Images
The New York Mets have a very busy person designing their uniforms.
In 1997, an alternate home uniform was introduced, which was solid white with no pinstripes and worn with a white cap. In 1998, a black alternate jersey was introduced, which was exactly like the white alternate home uniform...only black.
In 1999, a black alternate road uniform was introduced, which was exactly like the gray road uniforms...only black. The player names were also removed from all three home uniforms for one season, then added the next season.
For the next decade, no one was ever sure which hats went with which jerseys or even if they were playing at home or on the road. At least black goes with everything. These tended to look better on the fans sporting them than on the players standing in 105-degree summer heat.
19. New York Knicks Late '90s
Otto Greule Jr/Getty Images
By 1969, the New York Knicks uniforms had attained their classic look. This is also when they ditched the belt on the shorts (and elastic was invented?). They wore these until 1978.
The uniforms, especially the road jerseys, were truly different and bizarre from 1979 to 1983, and then they returned to their familiar classic jerseys in 1984.
In 1998, they added wide blue panels to the home jersey and black panels to the away jersey as well as some louder piping. They kept this look for quite some time, though in 2002, the panels were made vertical instead of flared.
No one is clear as to why the Knicks needed to add this paneling, but surely James Dolan had some controlling interest in adding black to practically every jersey in the NBA.
18. New York Rangers Statue of Liberty Third Jersey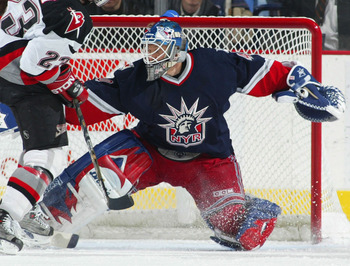 Rick Stewart/Getty Images
I'm a little partial to these, probably because I bought one as soon as it came out and I still own it to this day.
In 1996, the New York Rangers introduced this navy blue third jersey featuring the head of the Statue of Liberty and "NYR" written across the bottom. For the 1998-99 season only, a white version was introduced.
This alternate was scrapped altogether in 2007.
I assume the one I own is appreciating in value as I write this. After all, I can't think of any other jersey to feature one of the country's most iconic landmarks.
17. New York Giants Red Alternates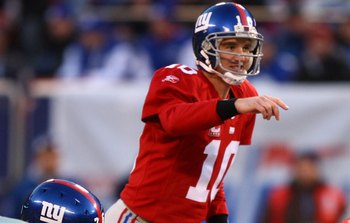 Al Bello/Getty Images
The current New York Giants uniforms closely resemble what the team wore from 1954 to 1964.
Prior to that, the home jersey was red with white numbers (instead of blue). After 1964, the road jersey was white with blue numbers (instead of red numbers as currently worn). In 1961, the lowercase "NY" was added to the blue helmet.
So, to be clear, the current Giants jerseys are basically just throwback jerseys.
These "alternates" are actually from 1950, which was before color TV, so no one had their retinas burned back then. After modern fans with hi-def TVs complained, these alternates were scrapped in 2009.
16. Brooklyn Nets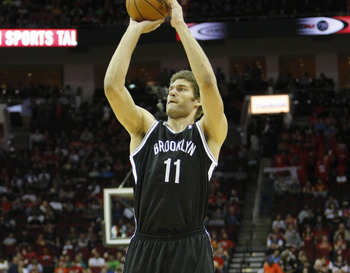 USA TODAY Sports
Allegedly, the Brooklyn Nets used to play in New Jersey, but I can't find any evidence of that being true.
These jerseys are black. And white. The font seems to be Arial, which is the bog standard. The logo is a basketball. With a "B" on it. Okay. It's a very complex and intricate design.
They're pretty stylish, but they're also putting me to sleep.
Did we mention that Jay-Z owns a tiny portion of the team? Ah, that's what makes the whole organization so "pimpin'."
15. New York Islanders New 'Old' Jerseys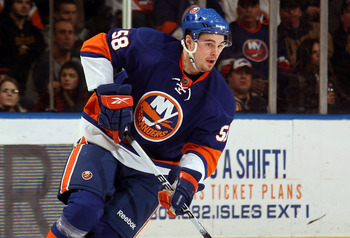 Bruce Bennett/Getty Images
After the New York Islanders abandoned the Gorton's fisherman sweaters in 1998, they returned to the logo of their heyday. They also kept the blue much darker than it had been in the era of Mike Bossy.
Then it got worse. In 2002, a garish alternate was introduced that was mostly bright orange. Incredibly, this was retained until 2007, at which point the road and alternate jerseys were combined into an unfortunate mixture that lasted until 2010.
Mercifully, they also introduced this classic look in 2008. The blue isn't as royal as it was during the 1980's, but this jersey ended an era of crazy designing out on Long Island.
Here's hoping they retain this sweater when they move to Brooklyn and don't adopt some all black uniform with a white logo and numerals.
14. New York Yankees Throwbacks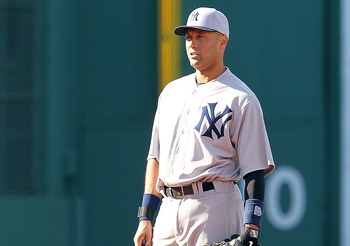 Jim Rogash/Getty Images
What would it look like if Derek Jeter had played on a team with Jack Chesbro? We found out when the New York Yankees helped the Boston Red Sox celebrate Fenway Park's 100th anniversary on April 20, 2012.
The jerseys had no numbers, so we don't know what anyone's stats were.
But unsurprisingly, the Yankees won the game 6-2, which perfectly encapsulated the previous 100 years.
Both teams' uniforms were plain, plain, plain. It was interesting to see how far design has come in a century, but I don't think anyone will be calling for a return to these baggy grays more than once in a blue moon.
13. New York Mets Road Throwbacks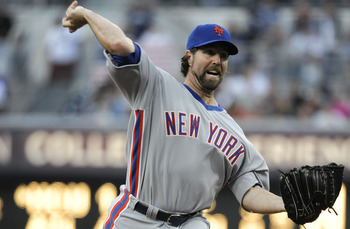 Denis Poroy/Getty Images
The New York Mets were created in 1962. Five years earlier, the New York Giants had departed for San Francisco and the Brooklyn Dodgers went to Los Angeles.
According to the Mets' website, the team colors honor the heritage of NL baseball in the city—blue for the Dodgers and orange for the Giants. The cap logo is the same as that used by the Giants and the blue cap recalls the royal blue of the Dodgers.
But don't be fooled, the above pictured jersey is not the 1986 version.
In 1987, the "Mets" script on the road jersey was replaced by "New York" in script. The next season, they reverted to "New York" in block lettering on the road jersey and player numerals were removed from the road jersey's front.
With this change, the road uniforms basically looked like ugly Yankees jerseys. But it's still a nice Mets jersey.
12. New York Giants Road Uniforms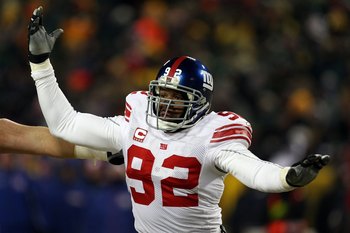 Jonathan Daniel/Getty Images
The New York Giants wore these uniforms in Super Bowl XLII when they beat the previously undefeated New England Patriots 17-14.
They also wore them in Super Bowl XLVI when they again beat Tom Brady and the Pats, this time by a score of 21-17.
They are forever linked to glory. Enough said.
11. New York Yankees Road Uniforms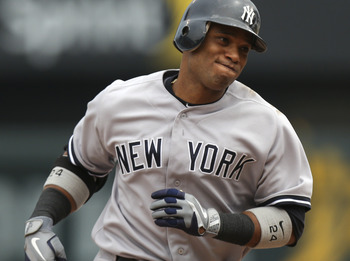 Ed Zurga/Getty Images
If this picture was in black and white, it could be a photo of a New York Yankee from practically any time since the invention of the television. These are simple and supremely classic.
10. New York Giants '80s Uniforms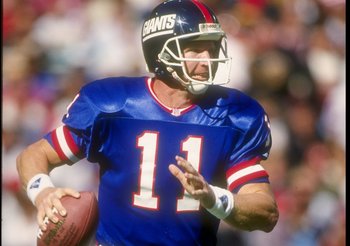 Rick Stewart/Getty Images
Don't you just love the '80s? So do I.
It was a pretty good decade for the New York Giants once they drafted Lawrence Taylor. Primary colors, "GIANTS" in block lettering and L.T. were all they needed.
By the way, what's Phil Simms up to these days? From what I hear, irritating everyone who plays Madden 13. I wouldn't know. I still rock Madden 94.
9. New York Rangers Broadway Blueshirts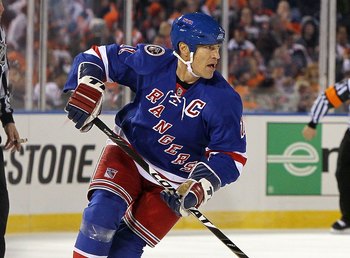 Jim McIsaac/Getty Images
The New York Rangers have basically wore these uniforms since 1929. Soak it in.
At the same time, they've only won three Stanley Cups in those 83 seasons, so perhaps it's time for a change?
Nah. All you need is 1994.
8. New York Nets ABA Throwbacks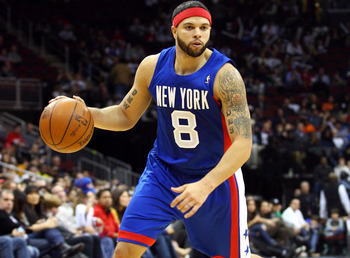 Chris Chambers/Getty Images
The New Jersey Nets wore these fresh throwbacks during their last season in the state before moving to Brooklyn. They must have really hated it over there!
But it does remind us of a time when they had Julius Erving instead of Kris Humphries.
7. New York Rangers Current Third Jersey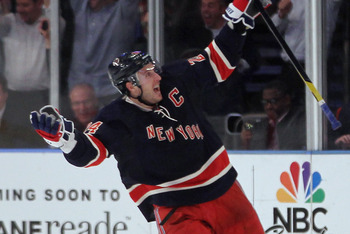 Bruce Bennett/Getty Images
After the New York Rangers scrapped the Statue of Liberty sweater, it took them three years to come up with a new third jersey. It was worth the wait.
In 2010, a vintage-looking alternate was introduced. It is dark blue with "New York" written diagonally across the chest in more vertical lettering than the signature "Rangers." The neckline also has laces on it.
This jersey is worn on Sundays and for games played against "Original Six" teams. The goalie typically wears gear that resembles the bygone, untreated leather pads used prior to synthetic materials being employed.
These really take me back...to the Rangers' greatest period of success—the 1930's.
6. New York Jets '80s Uniforms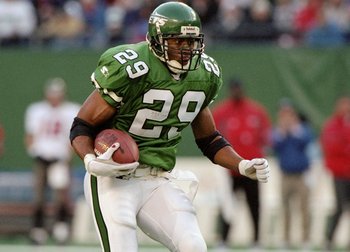 Ezra Shaw/Getty Images
The original logo for the New York Jets was a green airplane that said "Jets" across the fuselage.
From 1964 to 1977, it was some version of a football with the word "Jets" in the foreground and "NY" in the background, which is exactly what it is now.
But from 1978 to 1997, the logo was merely a stylized version of the word "Jets." This logo was displayed on a solid green helmet and it accompanied these splendiferous jerseys.
That green is so lush, it's like walking through an Irish meadow on a dewy morn. Unfortunately, running against the Jets defense in the early- to mid-'90s was sometimes just as pleasant.
Since 1998, the color green on the jerseys has been made significantly darker, which is a shame. These really pop! It's just too bad I couldn't find a photo of Ken O'Brien.
5. New York Mets Home Throwbacks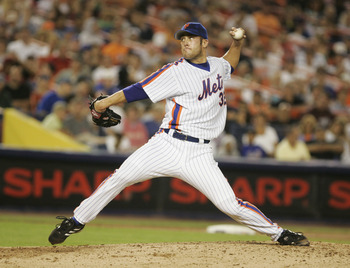 Bryan Yablonsky/Getty Images
In 1983, the Mets added loud, thick "racing stripes" to both the home and road jerseys, and the collar was changed to a v-neck.
Three years later, they won the World Series. That cannot be a coincidence.
Perhaps Bill Buckner had that ball go through his "five-hole" because he was so mesmerized by the racing stripes on Mookie Wilson's uniform.
For some reason, these jerseys also have no buttons, but that was probably to prevent Keith Hernandez's cigarettes from falling out of his shirt.
4. New York Knicks 2012-13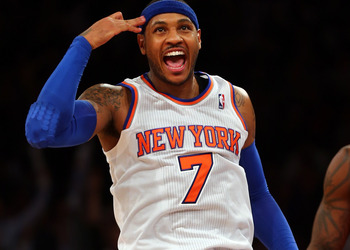 Elsa/Getty Images
The New York Knicks introduced new jerseys for the 2012-13 season. And they're pretty much exactly like the old jerseys. Let's just forget the side paneling ever happened.
The team wore a remarkably similar version of the current uniforms from 1969 to 1978, and again from 1983 to 1998. The only change is that the lettering of "New York" is less arched. In fact, it's almost flat.
But they look remarkably like the uniforms worn during the most successful Knicks seasons, namely the championship years of 1970 and 1973, as well as the Patrick Ewing and Pat Riley era in the early '90s.
And what's the added bonus of the redesigned uniforms? Really cheap Jeremy Lin jerseys in last season's design—even cheaper than Chauncey Billups jerseys.
3. New Jersey Devils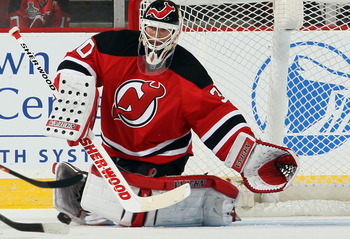 Elsa/Getty Images
The New Jersey Devils accomplished one of the greatest uniform redemptions in the history of professional sports.
Perhaps someone was watching Michael Jordan and the Chicago Bulls dominate their competition, but by some stroke of genius, they realized that black and red look really, really good together.
In 1992, they ditched the Christmas uniforms they had been wearing for 10 years and came up with these. They still wear practically the same exact design to this day.
They won three championships over the next 11 seasons. Since the redesign, they've only bothered to make the logo a (slightly) darker shade of red in 1999, and they (slightly) changed the design of the shorts in 2007.
Also, something about these uniforms provides Martin Brodeur with eternal youth.
2. New York Giants Big Blues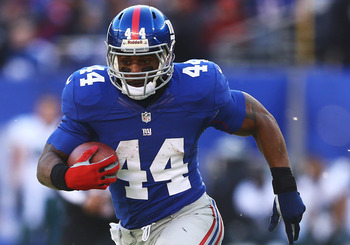 Al Bello/Getty Images
The New York Giants have been wearing blue for a long time. Hence the nickname "Big Blue." But something happened at the turn of the millennium.
In 2000, the blue on the home uniform was made slightly darker, and the TV numbers were moved from the side of the shoulder to the top of the shoulder.
Since then, the G-Men have appeared in three Super Bowls, winning two of them. That designer deserves a raise.
They should wear these for the entire century.
1. New York Yankees Pinstripes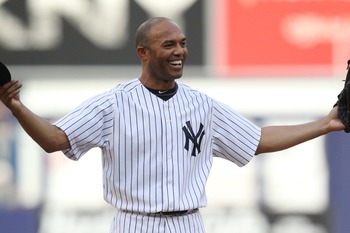 Debby Wong-USA TODAY Sports
According to the New York Yankees' official site, the interlocking "NY"—the "most recognizable insignia in sports"—was first used by the New York Highlanders in 1909.
It was "created in 1877 by Louis B. Tiffany for a medal to be given by the New York City Police Department to Officer John McDowell, the first NYC policeman shot in the line of duty." That's right, the interlocking "NY" comes from the world famous Tiffany's.
In 1912, the traditional white uniforms received black pinstripes for the first time, "creating a look that would become the most famous uniform design in sports history." Unaware of this fact, the team got rid of the pinstripes for two seasons before restoring them in 1915.
Aside from the cap, the uniform has remained essentially unchanged in its design ever since. Interestingly, from 1917 to 1936, the "NY" monogram was removed from the jersey, so Babe Ruth never wore the interlocking "NY" on his uniform. It didn't seem to matter however.
These pinstripes should probably be hanging somewhere in the Metropolitan Museum of Art.
Keep Reading