WWE Royal Rumble 2013 Results: Winners, Twitter Reaction and Highlights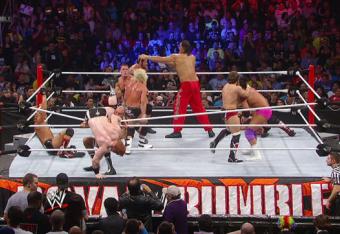 Photo courtesy of WWE.com

The Road to WrestleMania has officially begun.
Fans at the US Airways Center in Phoenix were treated to the infamous Royal Rumble—easily one of the most anticipated events of the year—on Sunday, and as always, it didn't fail to entertain.
The 30-man mega rumble that the event is named after was obviously the most intriguing attraction, and as such, would seemingly be impossible to follow. But CM Punk took on "The Most Electrifying Man in Sports Entertainment," The Rock, in what will go down as one of the more memorable one-on-one matches of all time.
Throw in several other titles being on the line, and it was a night that lived up to expectations.
Let's take a look at what happened.
Antonio Cesaro (C) Defeats The Miz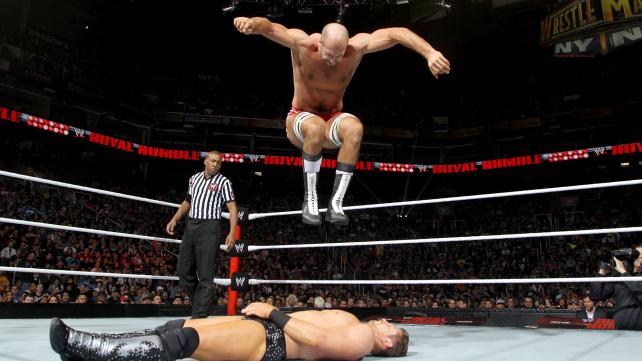 During the pre-show, The Miz attempted to land the figure-four leglock, but Cesaro was able to escape.
The champ then landed "The Neutralizer" to keep his belt and winning streak.
Alberto Del Rio (C) Defeats The Big Show
Early on, Del Rio was able to land some chair shots on the seven-footer, but The Big Show managed to recover by landing a massive chokeslam. The champion made his way to his feet after a nine-count, but stumbled through the ropes, sending the match to the outside.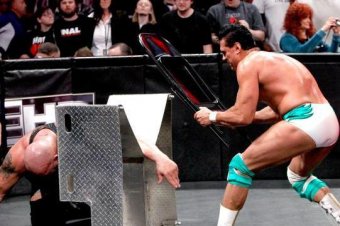 That turned out to be bad news for Del Rio.
The two went up the ramp, where Big Show set up a table. He then pulled Del Rio up part of the set and proceeded to toss him down through the table.
Once again, Del Rio stumbled to his feet after a nine-count.
After smashing Big Show's arm between a chair and iron steps, Del Rio was able to get back into the ring and lock in the cross armbreaker.
Ricardo Rodriguez duct-taped Show's feet to the ropes, allowing the ref to count to 10, giving Del Rio the win.
Team Hell No (C) Defeats The Rhodes Scholars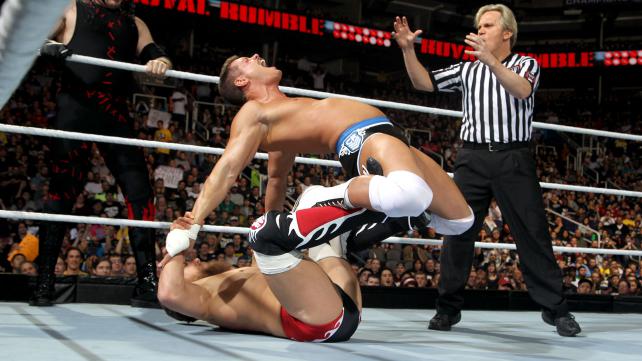 Many were expecting a breakup for Kane and Daniel Bryan, but it didn't come in this match.
Instead, the duo was just as dominant as ever, taking it to Cody Rhodes and Damien Sandow in an entertaining back-and-forth match.
Eventually, Kane attempted a double chokeslam, but was reversed into a suplex.
Fortunately, that freed up Bryan—who was the legal man—to land a missile drop kick on Sandow before locking in the "No Lock."
Sandow was forced to tap out in what was a good all-around showing from all four men.
John Cena Wins the Royal Rumble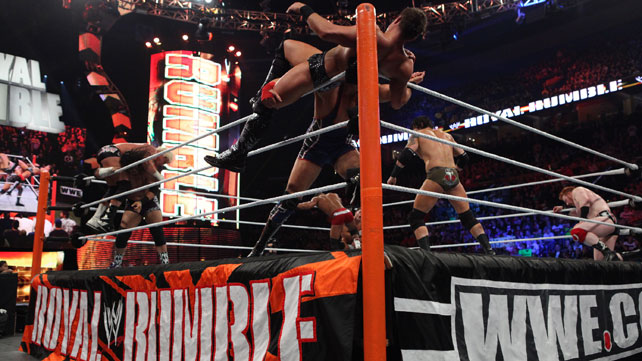 Ryback got the lucky final entry, and when he came out, he seriously cleaned house, eliminating Damien Sandow, The Miz, Sin Cara and finally, Randy Orton and Sheamus, who both had great showings.
How would you grade the Royal Rumble match?
In the end, however, John Cena, who entered at No. 19, was able to get the big man over the ropes for the win.
Cena may have been a predictable choice, but that doesn't mean this epic event wasn't incredibly entertaining.
Dolph Ziggler, Chris Jericho, Sheamus, Bo Dallas, Kofi Kingston and Orton all put on very memorable performances, while Goldust and The Godfather made surprise entrances only to be tossed out shortly thereafter.
Thrilling is the only way to describe the 55-minute match.
| | | | |
| --- | --- | --- | --- |
| Draw | Entrant | Order Eliminated | Eliminated By |
| 1 | Dolph Ziggler | 27 | Sheamus |
| 2 | Chris Jericho | 25 | Dolph Ziggler |
| 3 | Cody Rhodes | 12 | John Cena |
| 4 | Kofi Kingston | 9 | Cody Rhodes |
| 5 | Santino Marella | 1 | Dolph Ziggler |
| 6 | Drew McIntyre | 2 | Chris Jericho |
| 7 | Titus O'Neil | 3 | Sheamus |
| 8 | Goldust | 5 | Cody Rhodes (brotherly love) |
| 9 | David Otunga | 4 | Sheamus |
| 10 | Heath Slater | 11 | John Cena |
| 11 | Sheamus | 28 | Ryback |
| 12 | Tensai | 7 | Kofi Kingston |
| 13 | Brodus Clay | 6 | Darren Young and several others |
| 14 | Rey Mysterio | 13 | Wade Barrett |
| 15 | Darren Young | 8 | Kofi Kingston |
| 16 | Bo Dallas | 21 | Wade Barrett |
| 17 | The Godfather | 10 | Dolph Ziggler |
| 18 | Wade Barrett | 20 | Bo Dallas |
| 19 | John Cena | | |
| 20 | Damien Sandow | 22 | Ryback |
| 21 | Daniel Bryan | 16 | Kane |
| 22 | Antonio Cesaro | 18 | John Cena |
| 23 | The Great Khali | 14 | Kane and Daniel Bryan |
| 24 | Kane | 15 | Daniel Bryan |
| 25 | Zack Ryder | 17 | Randy Orton |
| 26 | Randy Orton | 26 | Ryback |
| 27 | Jinder Mahal | 19 | Sheamus |
| 28 | The Miz | 24 | Ryback |
| 29 | Sin Cara | 23 | Ryback |
| 30 | Ryback | 29 | John Cena |
The Rock Defeats CM Punk for the WWE Championship
Punk, of course, came out attacking The Rock's abdomen, as it was well-known that the Brahma Bull was still recovering from internal damage caused by The Shield. He completely controlled the beginning of the match, and The Rock looked in bad shape.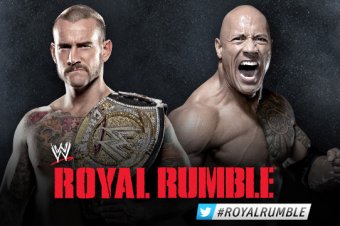 However, Punk tweaked his surgically-repaired knee mid-match, giving each wrestler an area to focus on.
After a few missed Rock Bottom attempts, The Rock decided to go after that knee the best way possible: with the Sharpshooter.
It was only appropriate that the challenger executed it to perfection with Bret Hart in the building. Punk, however, was able to get to the rope and the action was taken outside.
It appeared The Rock was going to land the Rock Bottom on the announcer's table, but it collapsed under both wrestlers. Still, The Rock recovered and hit Punk with his finisher on the outside.
But it wasn't enough.
The match returned back to the ring, where The Rock was ready to land the People's Elbow for the WWE title.
How would you grade this PPV as a whole?
But the lights in the building went out, allowing The Shield to come out and triple Power-Bomb (at least according to play-by-play man Michael Cole, who was the only one who could see it) The Rock.
The lights came back on, and CM Punk brought the Brahma Bull back into the ring to earn the pin and the win.
Not so fast.
Vince McMahon appeared and looked set to strip Punk of his title, but The Rock wanted to do it himself. McMahon granted the People's Champ his wish and started a second match.
After a few minutes, The Rock landed the People's Elbow, and after 10 years, once again became the WWE champion.
Fans won't enjoy the predictability of the event, but it's hard to call it anything but entertaining.
Twitter Reaction
Alberto Del Rio's transition to face received another rub when Bret Hart appeared to give him some advice before the champ's match with The Big Show (via WWE Universe):
#HITMAN @brethart with words of encouragement for the champ! #RoyalRumble #BestThereIsBestThereWasBestThereEverWillBe!

— WWE Universe (@WWEUniverse) January 28, 2013
Apparently, the talk worked, as Del Rio was able to grab the win after his buddy duct-taped Big Show to the bottom rope. Seth Mates had an idea with what to do with the big man from there:
I really, really, really would love it if they just left SHow there the rest of the show #Royalrumble

— Seth Mates (@SethMates) January 28, 2013
Meanwhile, Jim Ross had some advice for Big E Langston, who decided to interview Dolph Ziggler himself backstage:
@bigelangston is a beast..love his upside...but ixnay the newsman voice. Just whip ass and never be an errand boy long term. Future champ.

— Jim Ross (@JRsBBQ) January 28, 2013
Wrestling News Source, much like the rest of us, was surprised that Team Hell No held on to its tag team titles, but isn't ready to give up hope that the teammates will split in time for WrestleMania:
Team Hell No retain....Didn't see that one coming at all! Kane vs DB at WM! #royalrumble

— WrestlingNewsSource (@WNSource) January 28, 2013
This wrestling fan summed up the electric feeling when Jericho surprisingly came out to take on Dolph Ziggler to start the Rumble:
I have chills already. This Rumble is going to be FUN! Chris Jericho!

— Ross (@rossbramble) January 28, 2013
That meant, of course, that Mick Foley had quite a bit riding on Y2J:
I've got @iamjericho in my #RoyalRumble pool. Numbers 2, 11, 20, 25 & 27. Come on Y2J..you win, I'm $18 richer!

— Mick Foley (@realMickFoley) January 28, 2013
When Goldust became the second surprise entrant, WWE Creative Humor wondered if this was indeed 2013:
Tensai, Goldust & Jericho in the Rumble and @therock is challenging for the title. What year is this? #RoyalRumble

— WWE Creative Humor (@WWECreative_ish) January 28, 2013
Nostalgia is a beautiful thing.
WWE ring announcer Justin Roberts gave us a look at how creative Kofi Kingston had to be to survive just a few seconds longer:
He is unreal! @truekofi STILL in!! twitter.com/JustinRoberts/…

— Justin Roberts (@JustinRoberts) January 28, 2013
Kingston then used a chair to pogo-stick his way back to the ring, but was quickly eliminated. Still, though, he remains one of the most entertaining athletes in the business.
Jim Ross broke down a few of the underrated winners from the Rumble:
How over is @wwedanielbryan? Nothing but $$$. Give him more carries/touches. #sauceit @antoniocesaro another star. Gr8 exposure 4 Bo Dallas

— Jim Ross (@JRsBBQ) January 28, 2013
Dallas, in his WWE debut, actually lasted over 10 minutes and eventually eliminated Barrett, the Intercontinental champion.
ESPN's Todd Grisham wasn't exactly thrilled to see Cena win the Rumble:
John Cena wins the Royal Rumble Match! Nice to see someone who doesn't get to many big moments to win such a huge match. #shocker

— Todd Grisham (@GrishamESPN) January 28, 2013
This article is
What is the duplicate article?
Why is this article offensive?
Where is this article plagiarized from?
Why is this article poorly edited?