Oregon Football: 5 Things Mark Helfrich Must Tell Recruits to Keep Their Pledges
Harry How/Getty Images
LaMichael James' NFL success is a major selling point for running backs.
The recent coaching switcheroo has left the Oregon football program in a precarious position with less than two weeks until national signing day.
The Ducks have an impressive list of recruits, but with schools like Ohio State coming after the commits in the wake of Chip Kelly's departure, it's up to new coach Mark Helfrich to convince the current class to stay put.
There are a million reasons why Oregon is an attractive destination for talented football players. Many of the recruits have already visited, so they'll have heard the Ducks' pitch.
Nevertheless, Helfrich needs to reiterate many of the positives about Oregon football that caused the current recruits to commit in the first place. In some cases, presenting new information may also help seal the deal.
Here are five things that Helfrich must tell recruits in order to keep them committed.
Begin Slideshow

»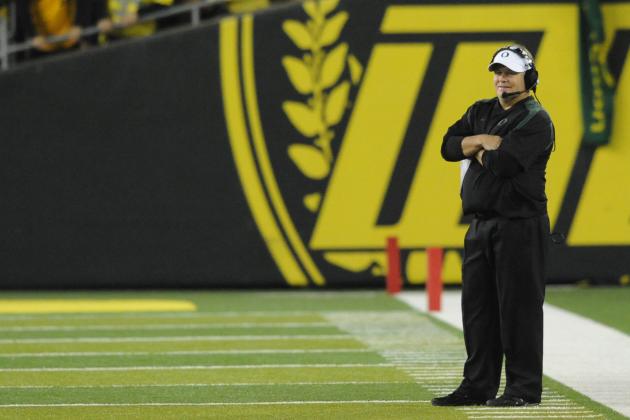 Steve Dykes/Getty Images
Former coach Chip Kelly standing on the Autzen Stadium sideline.
This isn't the athletic program your grandfather remembers.
Oregon's current facilities are among the very best in the nation, and they include a variety of modern amenities. From the weight room to the locker room and everything in between (which includes a very large indoor practice facility), Duck commits can be assured that they'll be honing their skills in an ideal environment.
But it doesn't stop there.
The Casanova Center unveiled plans for expansion last year, and the project should be completed by summer. It will be a modern marvel in the world of collegiate athletics, and just like everything else Oregon does, it's further proof that it knows how to stay ahead of the game (with major help from Phil Knight, of course)
Picking a school isn't just about football, however., and Oregon's Jacqua Center, which opened just recently, ensures that academics are given an equally high priority when it comes to student-athlete development.
Recruits should know all about facilities if they visited the campus. But it can't hurt to remind them of the perks of being a Duck, right?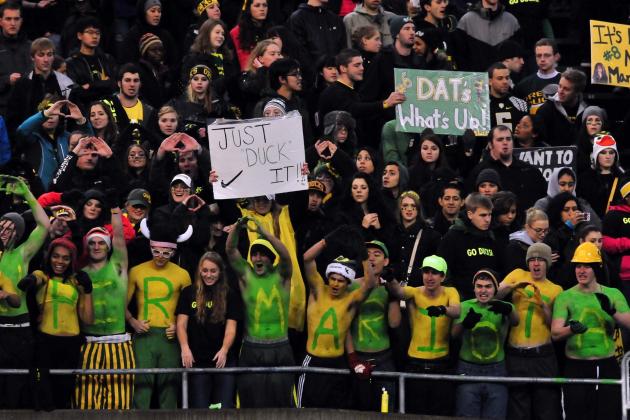 Steve Dykes/Getty Images
The student section goes crazy at games.
Football may be almost life-and-death in the SEC and parts of Big 12 country, but Oregon fans can nearly match their passion.
Autzen Stadium is beautiful on its own, but it's truly special because of the 55,000-plus screaming fans on Saturdays in the fall. It is loud, rowdy and ready to explode at any moment.
Beyond intimidating opponents, the passion displayed by fans creates a big-time environment. You can't watch college football highlights on Saturday night without seeing the Ducks in the first part of the show.
And if recruits come to Oregon and fulfill their potential, they'll be given instant rockstar status. Just look at current RB/WR De'Anthony Thomas, who became a fan favorite just several games into his freshman season.
Few places care about football as much as the University of Oregon, and Helfrich can't stress this enough to the current recruits.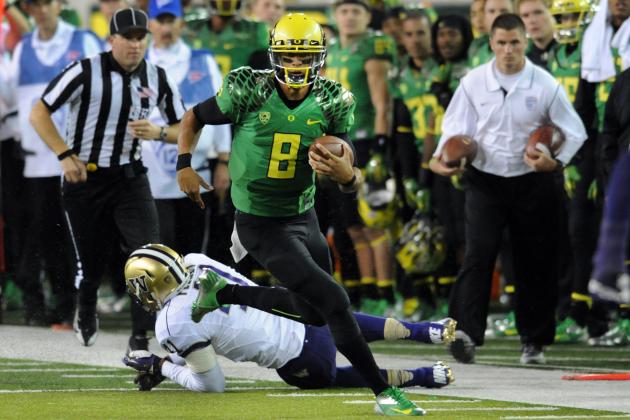 Steve Dykes/Getty Images
QB Marcus Mariota has become a household name in just one season.
In addition to the big-time atmosphere created by a rowdy fanbase, the Ducks have a spotlight on them every time they take the field.
And while being the center of attention doesn't appeal to everybody, it's vital to incoming recruits hoping to make it to the NFL.
At some schools, it takes three or four productive years to even get noticed around the country. At Oregon, playmakers will find themselves in the limelight almost immediately. Quarterback Marcus Mariota had a target on his back before playing his first game.
This point is magnified when it comes to Oregon's offense, which has dominated the competition over the last four seasons. Playing quarterback or running back in the Ducks' offense guarantees recognition from the college football world.
A lot of kids want to play in the SEC because it's the best conference and just about everyone can name five to 10 players on each team. Oregon is slowly achieving that same status, and playing for the Ducks will ensure kids of a chance to be seen by everyone.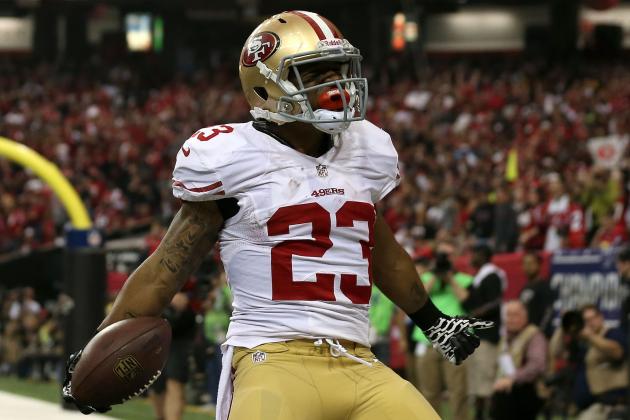 Streeter Lecka/Getty Images
San Francisco 49ers' RB LaMichael James, a former Duck.
Quick: which school has the most players in this year's Super Bowl? OK, it's Miami, with five players. But Oregon is in a tie for second with four players, ahead of such programs as Alabama, LSU, South Carolina, Notre Dame, Oklahoma and USC.
The Ducks are slowly developing an NFL pipeline that rivals many of the top programs around the country.
Look at the tight end position. In the last 12 years, Oregon has sent George Wrighster, Justin Peele, Tim Day, Dante Rosario, Ed Dickson and David Paulson to the NFL. It's a safe bet that current starter Colt Lyerla will make the jump someday as well.
The running back position, though, not to be outdone, has also sent a host of players, from Maurice Morris to Jonathan Stewart and now LaMichael James, among others. Center Max Unger, a former Duck himself, is the leader of the Seattle Seahawks' offensive line.
But Oregon doesn't play defense, you say? Actually, the Ducks' secondary is consistently putting guys in the NFL. Off the top of my head, Patrick Chung, Jairus Byrd, Walter Thurmond III and T.J. Ward, just to name a few. Arguably the best defensive player in the league, Haloti Ngata, played at Oregon.
OK, point made. But the stigma is that only SEC schools send elite players from both sides of the ball to the NFL, and that's simply not true. Oregon has developed its own pipeline and is now a school where, if you contribute, you're guaranteed to get a look from the pros.
Oh, and if this whole spread thing works out in the NFL (and it seems to be doing just fine), Oregon instantly becomes the top school for offensive stars wanting to show off their talents in a spread system.
Here's a guess that Marcus Mariota's draft stock has been helped, oh, just a little bit by the recent play of Colin Kaepernick.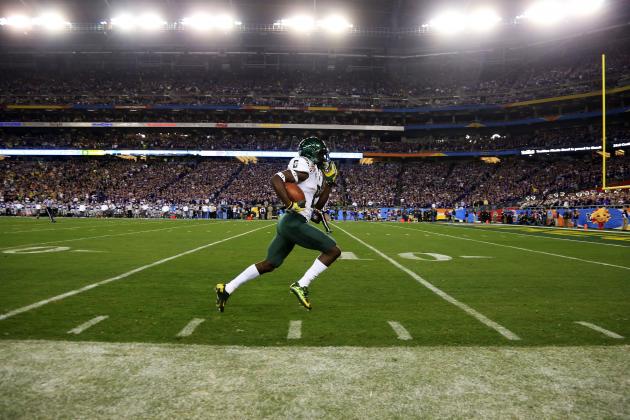 Doug Pensinger/Getty Images
RB/WR De'Anthony Thomas scored on the opening kickoff of the Fiesta Bowl.
This is the most important component of Mark Helfrich's pitch.
Because of the coaching change, everyone is wondering if the Ducks can continue to build off their recent success.
The answer is an emphatic "yes." There's more talent in place than ever before, and Helfrich isn't about to fix what isn't broken.
But recruits may not be as confident, so Helfrich needs to reassure them that things aren't going to change anytime soon. The offense is still going to score points, and the win column will continue to reach double digits each season.
The hesitancy is understandable. Chip Kelly had a meteoric rise to become the face of Oregon football and the spread offense in general. Questions will arise with his departure.
But Oregon is and always will be more than one person. If there's one thing that Helfrich must tell recruits, this is it.
"Win The Day" may have arrived in Eugene with Kelly, but it's staying in Eugene with Helfrich. And if that means success like anything the team experienced over the past few years, staying on board should be a no-brainer.