5 Ways a WWE Superstar Can Find Themselves Eliminated from the Royal Rumble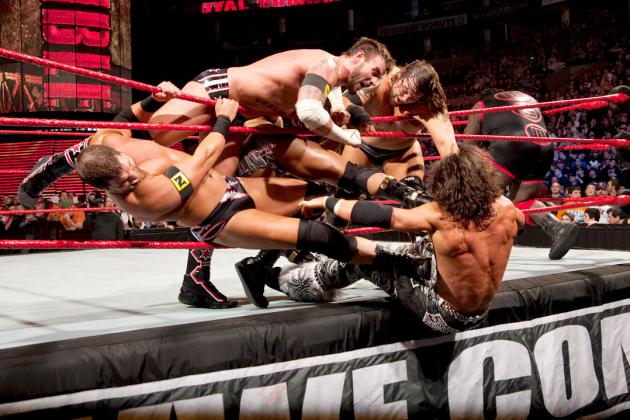 The most common way to be eliminated is simply to be overwhelmed. (Image obtained from WWE.com)
Whatever happens in the Royal Rumble, all but one of the entrants will find themselves eliminated from the match.
This means that the WWE has to come up with a range of different ways to eliminate wrestlers.
To stop the Rumble from becoming repetitive, the WWE schedules the match to have several highlight moments. A common example is when one of the company's resident giants enters the ring and produces a number of quick eliminations in a row. Alternatively, there can be an orchestrated moment where two long-term allies fight for the first time.
These are the highlights that stick in the memory, and which have helped build the Rumble's reputation as a premium pay-per-view on the calendar.
However there are also a number of ways that wrestlers can be eliminated during the rather less eventful periods of the match. These exits keep interest flowing, and gives the match a sense that anything can happen.
These eliminations tend to occur when there is not a dominant Superstar in the ring. This means that they are often caused by deliberate mistakes rather than by someone forcibly throwing, or clotheslining, an opponent onto the floor.
Here are five common examples of a Superstar doing something that will get him eliminated from the Royal Rumble in a quiet period. It is highly likely that all five will happen at Sunday's event.
Begin Slideshow

»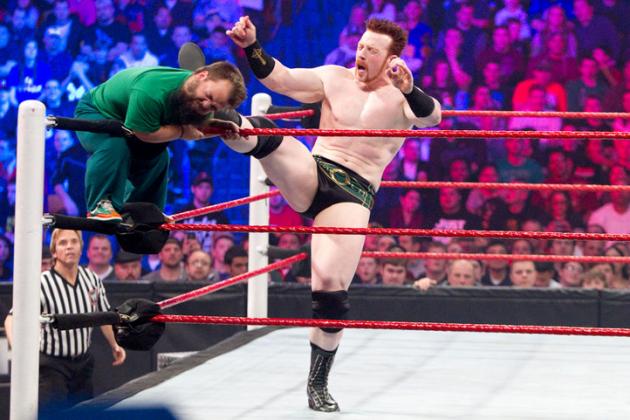 There are few ways of being eliminated more painful than this (Image obtained from WWE.com)
The most stupid way for a wrestler to get himself eliminated from the Royal Rumble is to voluntarily climb the ropes. Doing this puts an athlete in a position where the merest knock could send him toppling out of the event.
Yet every year at least one Superstar finds himself out of the event in this way.
Unsurprisingly, those who usually fall victim to such circumstances are wrestlers who use a high-flying offence.
However, in recent years there has definitely been a move to stop these types of eliminations happening early in a performer's time in the ring. Instead, performers have chosen to make what appears to be an odd decision later in their run.
This is a clever decision by WWE's creative team—assuming it is deliberate—as it reflects actual sports, where tiredness often leads to mental mistakes.
Wrestler Type Most Likely To Be Eliminated In This Way: A high-flyer who has been in the Royal Rumble match for more than 20 minutes.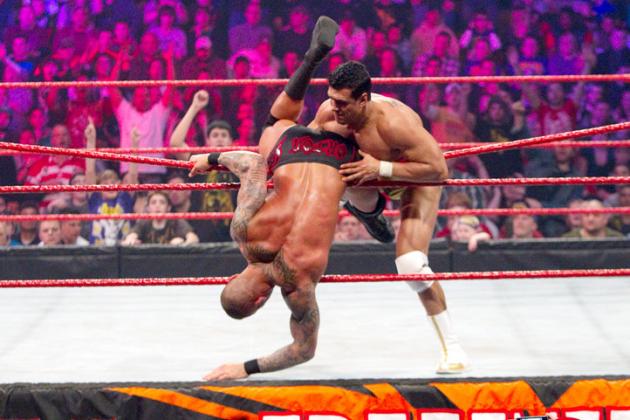 Alberto Del Rio capitalizing on Randy Orton's hubris in 2011 (Image Obtained From WWE.com)
Considering how dynamic the Royal Rumble is, it is surprisingly common for two superstars to get locked on to each other. This can lead to a titanic battle, where both come close to being thrown to the floor until one comes out victorious.
As the victor celebrates he leaves himself vulnerable to attack. Another competitor blindsides him, dumping the gloater out of the Rumble too.
What makes this type of elimination so useful is that anyone can fall victim to it. This allows big surprises to occur, and seemingly unbeatable behemoths to be removed by foes half their size.
It would not be surprising for Ryback to suffer this type of elimination if he enters but does not win the Rumble. This is due to him being the most dominant individual over the last few months, and his tendency towards grand-standing could make him vulnerable.
Wrestler Type Most Likely To Be Eliminated In This Way: Anyone, although look for those with midcard titles and Ryback to be especially vulnerable.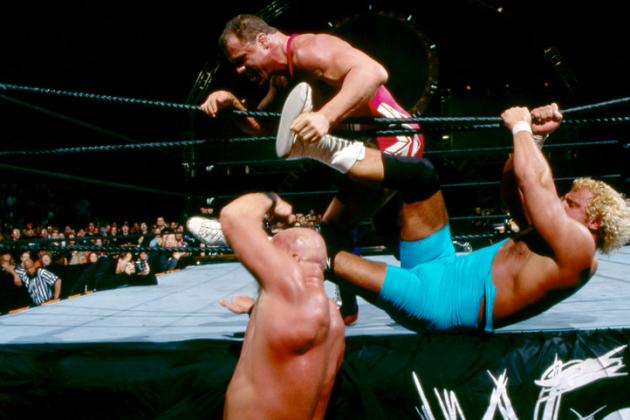 Kurt Angle was great at sneaky eliminations (Image Obtained From WWE.com)
The rules of the Royal Rumble state that a superstar must go over the top rope and touch both feet to the floor for him or her to be eliminated. Therefore it is not uncommon to see someone desperately holding onto the ropes to avoid landing on the ground. Through this tactic he or she can remain in the matchup.
This situation is often as dangerous to the person doing the eliminating as the one who is nearly eliminated.
Essentially, the person trying to untangle his opponent from the ropes has his back to the ring. This leaves him or her vulnerable to being toppled over the rope themselves. In fact, it is often easier to remove someone in this way due to the integrity of the ring-rope being compromised by the force of the other wrestler.
Wrestler Type Most Likely To Be Eliminated in This Way: Someone trying to eliminate a member of a tag team or faction—such as Rhodes Scholars—who has an ally in the ring.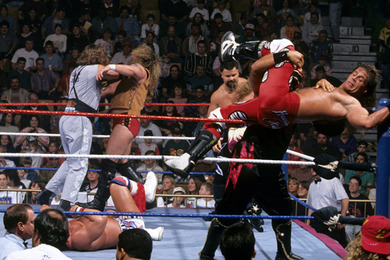 Shawn Michaels getting caught after a high risk move (Image Obtained From WWE.com)
This method of elimination depends on the wrestler's size, and it has a weird yin-and-yang nature to it.
If a wrestler is small, and leaves his feet to attempt a flying attack, there is a very good possibility that he or she will end up being caught and deposited over the top rope. Adversely—if a big man chooses to pick up the smaller individual—it is common for that smaller wrestler to escape and use his opponent's momentum to gain the elimination.
In both scenarios, it is usual for the eliminated wrestler to have had previous success with that tactic. Therefore there is an element of surprise when the move backfires so badly against them.
Wrestler Type Most Likely To Be Eliminated In This Way: Someone who has been on a run of eliminations themselves.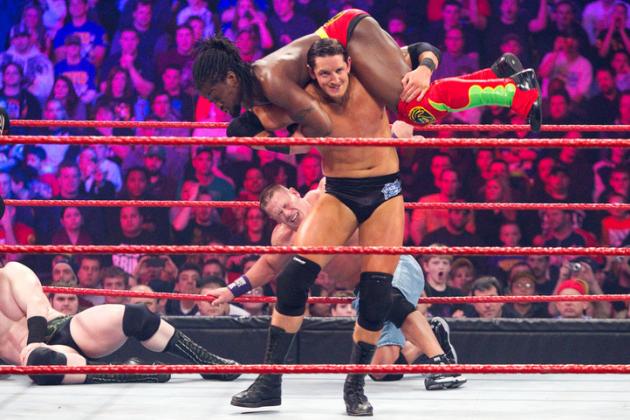 Wade Barrett looked dominant here but was quickly eliminated (Image Obtained From WWE.com)
An athlete performing his finishing maneuver before being being quickly eliminated is a surprisingly repetitive theme in all elimination-style matches.
Such occurrences will be seen in the Elimination Chamber in February, and will be seen several times at the Royal Rumble on Sunday.
Why this should happen is somewhat baffling, as a wrestler who is in the position to do his finisher is likely to be in ascendancy at the time. Yet over and again this proves to be the undoing of such athletes. One possible explanation is that the effort put in to performing such a high powered move is exhausting, leaving them vulnerable.
What is even odder is that the wrestler receiving the move will often—approximately half the time—last longer in the match though.
Another reason could be that someone who is dominating is seen as a bigger threat, so others gang up on him. This has some truth to it, although there have been occasions when this has not happened. Yet, Big Show and Kane have been recipients of this on more than one occasion in their careers.
Presumably, this big move is considered that particular wrestler's cue to leave the match. It is an odd reality that performing a finisher in the Rumble can doom a wrestler as much as it can lead him to victory.
Wrestler Type Most Likely To Be Eliminated In This Way: A dark horse for the win, or someone who has a recent WWE or World Heavyweight title run. Team Hell No may well suffer this indignity.