Pittsburgh Steelers Mock Draft: 7-Round Projections After Senior Bowl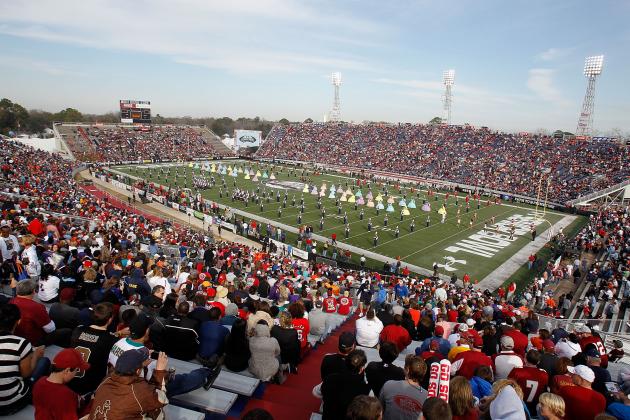 Sean Gardner/Getty Images

The Senior Bowl is an opportunity for NFL teams to get a closer look at some of the top senior prospects in this year's draft.
Not only do the prospects get a chance to play in one more game, but they get to do so under the watchful eye of an NFL coaching staff.
Besides practicing all week with an NFL staff, several prospects have the opportunity to practice at a new position, but more importantly, they have the chance to meet with NFL scouts, coaches and general managers.
The draft is always a priority for the Pittsburgh Steelers, but it is even more important this offseason, as Kevin Colbert and Mike Tomlin have plenty of work to do to reassemble a roster that is capable of competing for a playoff spot.
Colbert said that no position is "off limits" (per Ed Bouchette of the Pittsburgh Post-Gazette) in the draft, which leaves the Steelers with many options.
With the Senior Bowl now in the books, it is time to see if any players made a big enough impression to be considered by the Steelers in the draft. Here is the latest mock draft for the Steelers.
Begin Slideshow

»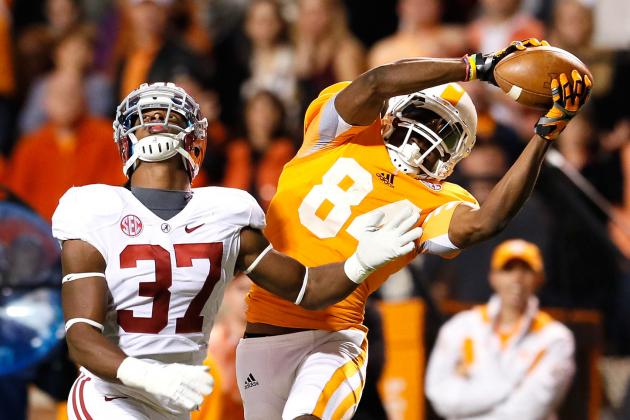 Kevin C. Cox/Getty Images

The big name from Senior Bowl week was Ezekiel Ansah from BYU, and he would fill an area of need for the Steelers.
Despite an excellent showing in the game itself, Ansah is a much better run defender than he is a pass-rusher at this point and would be a pretty big project to convert to a 3-4 outside linebacker.
With this under consideration, the Steelers should instead look to the offensive side of the ball and draft Cordarrelle Patterson.
At 6'3", 205 pounds, Patterson is a big, physical receiver from Tennessee who would ease the likely loss of Mike Wallace to free agency.
Patterson would give the Steelers a physical presence at receiver who can beat the press. His size would be an asset for Ben Roethlisberger—especially in the red zone—so Roethlisberger would have some leeway with his passes.
Right now, the Steelers have a lot of speed and quickness at the receiver position with Antonio Brown and Emmanuel Sanders (assuming they re-sign him), but need a physical presence who can develop into a top receiver.
Roethlisberger is on the back end of his career now, and the Steelers need to make sure that he has the necessary weapons to be successful. Patterson would help provide this.
Patterson is one of the most talented receivers in the draft, and he is also one of the most versatile ones.
Last season, he had 46 receptions for 778 yards and five touchdowns as well as 25 carries for 323 yards and three touchdowns. He also had a punt and a kick return for a touchdown.
Adding a strong, fast receiver with a large catching radius who can also contribute in the return game would be a huge addition for the Steelers offense in the first.
Previous selection: Kenny Vaccaro, S, Texas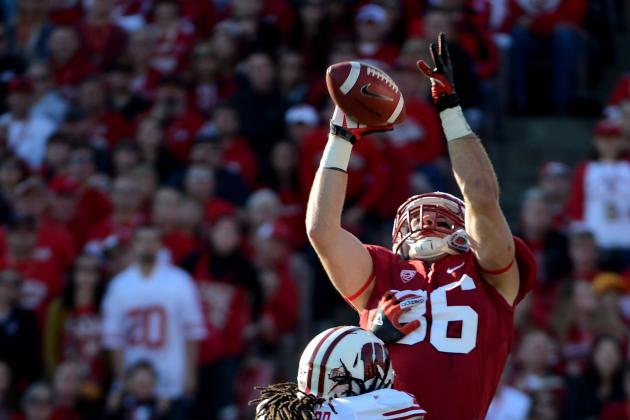 Harry How/Getty Images

There are a number of directions that the Steelers could go in the second round, and while drafting a player such as Chase Thomas to play outside linebacker is tempting, getting a player with the talent of Zach Ertz would be too good to pass up.
The Steelers need talent and need players who can scare the opposition. Ertz can do just that.
Even after spending a first-round draft pick on a big receiver, adding Ertz in the second round would give the Steelers a second receiving threat at tight end.
While David Paulson had an impressive rookie year, Ertz is a more polished player and should be able to contribute right away either as a starter, while Heath Miller is out, or as a very scary second tight end in the two tight end sets.
Though drafting a tight end would mean that the Steelers would once again pass up the chance at an impact defender, the Steelers would likely be getting one of the highest-rated players on the board, and one who would help boost the red-zone offense.
Ertz is 6'6" and had eight touchdowns last season and would provide another big body for Roethlisberger to throw to.
An offense with Patterson and Brown on the outside and Miller and Ertz in the middle would be very difficult to defend.
Previous selection: Mike Adams , OT, OSU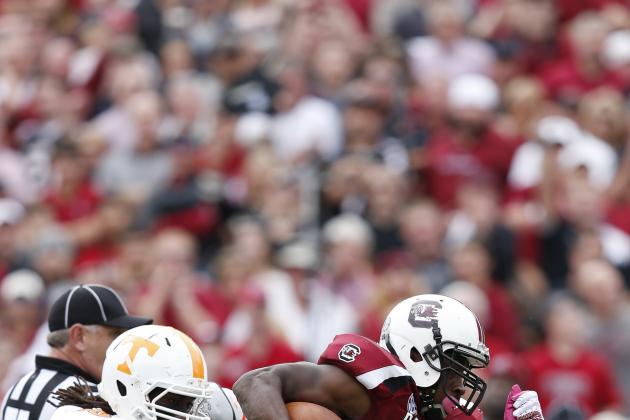 Joe Robbins/Getty Images

The Steelers are in need of a top-flight running back, and while players such as Eddie Lacy, Stepfan Taylor and Mike Gillislee should all be on the radar, Marcus Lattimore is the most talented of the bunch.
Though he suffered a devastating knee injury for the second time in his brief career this past fall, Lattimore told Dan Wolken of USA Today that he expects to be ready for the start of the season.
Whether he is ready or not, Lattimore is a worthwhile risk for the Steelers in the third round.
Lattimore is the workhorse back who would help revitalize the running game. He can run to all parts of the field, has pretty good hands and is a capable blocker. In other words, he is a three-down back.
If the team doctors feel confident in Lattimore's recovery, not only would the Steelers be getting a quality running back with high character, but they would also be getting the steal of the draft.
Previous selection: Sean Porter, LB, Texas A&M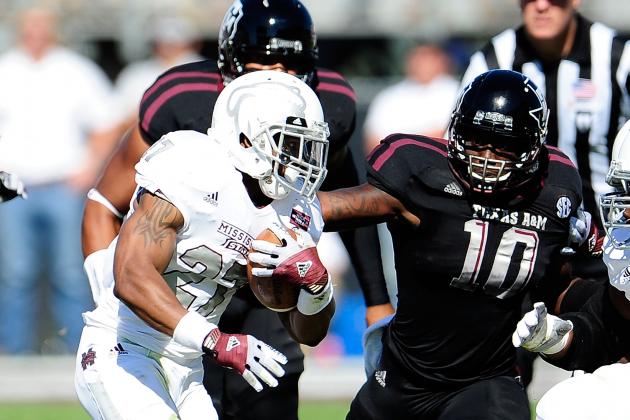 Stacy Revere/Getty Images

With young talent on the offensive line and three new playmakers on offense, it is finally time to address the defense.
The Steelers have a need at both outside and inside linebacker, and Sean Porter could potentially fill either spot.
The versatile linebacker from Texas A&M had success as a pass-rusher in college but has the ability to shift inside if needed to in a 3-4 defense.
Porter is on the small side at only 230 pounds, but his 6'2" frame is big enough that he could comfortable add 10-15 pounds without becoming too bulky. Plus, with a low center of gravity, he could have an advantage when taking on the taller tackles in the league.
The lack of size will hurt Porter at taking on blocks and when defending the run, but he has the necessary speed and athleticism to successfully drop into coverage. But, what will be most important is his ability to rush the quarterback.
As a junior, Porter had 9.5 sacks while playing as an outside rusher, but his role changed as the team switched to a 4-3 this past year. He only had 2.5 sacks in 2012.
Despite his low numbers during the season, Porter made a positive impression during Senior Bowl practices, as he earned the honor of being the top performer at linebacker from Bleacher Report's draft guru Matt Miller.
Previous selection: Gerald Hodges, LB, Penn State
Robert Mayer-USA TODAY Sports

The Steelers like intelligent players playing on their defense, and Jonathan Cyprien fits that bill.
A favorite of Bleacher Report's Matt Miller during Senior Bowl week, Cyprien made a great impression on scouts.
Cyprien will likely see his draft stock rise after a good showing at the Senior Bowl, but there is still room to go with the draft process.
Cyprien is a nice sized safety a 6'0", 209 pounds, and has the ability to step up against the run as well as drop into coverage. He is willing to make the big hit but still needs to develop as a wrap-up tackler.
As a senior, Cyprien led Florida International with 54 solo tackles and four interceptions. He's also very durable with 45 starts in college.
There will be a bit of a learning curve and a jump in competition for Cyprien, but he has all of the tools that you look for in a safety.
Previous selection: Ray Graham, RB, Pitt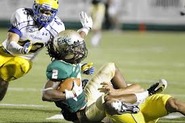 Kaitlin McKeown/Daily Press
Mike Tomlin could look to his alma mater to add more depth to the defensive backfield.
B.W. Webb is an athletic cornerback from William & Mary who could step in and compete with Curtis Brown for a spot on the roster.
Webb is very experienced with 48 starts in college and has an upside as a potential nickelback.
At only 5'10", 183 pounds, Webb will be overmatched with the bigger receivers in the league as well as stepping up when defending the run. However, he has been very successful at the collegiate level, earning first-team league honors for three straight years.
For his career, Webb has 11 interceptions and has also made an impact as a punt returner. He was the CAA Co-Special Teams Player of the Year with an average of 11.2 yards per punt return and one touchdown.
Teams can never have enough good cornerbacks, and Webb has the talent to succeed in the NFL as a cornerback and a returner.
Previous selection: Alex Carder, QB, Western Michigan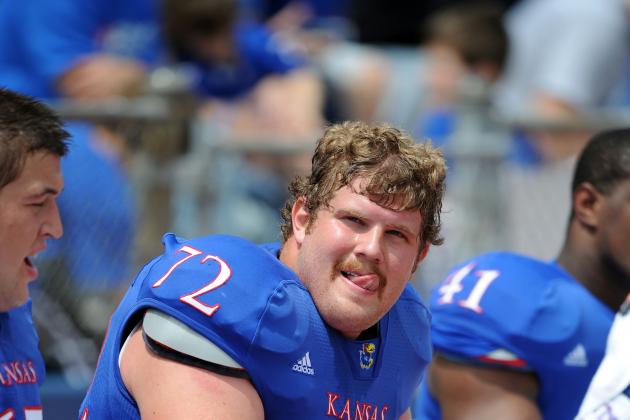 John Rieger-USA TODAY Sports

The Steelers could potentially lose three or four offensive linemen from their 2012 roster.
Max Starks, Ramon Foster and Doug Legursky are all free agents, while Willie Colon could potentially be released after finishing the season on injured reserve for the third straight year.
Regardless of how many linemen the Steelers lose, they will look to add young depth late in the draft. That will come will come with Tanner Hawkinson.
Hawkinson has experience at both left and right tackle and could probably even be tried out inside at guard if the Steelers need him to play there.
At only 295 pounds, Hawkinson needs to add some strength. With a 6'6" frame, he should be able to add weight without losing much quickness or athleticism.
Hawkinson's best attribute may be his durability.
The Steelers have had so many injuries along the offensive line in recent years, but Hawkinson has recorded 48 straight starts in college.
Hawkinson is a quality developmental lineman to grab late in the draft.
Previous selection: James Hurst, OT, North Carolina