Jon Daniels: Ranking Each of His Offseasons as Texas Rangers GM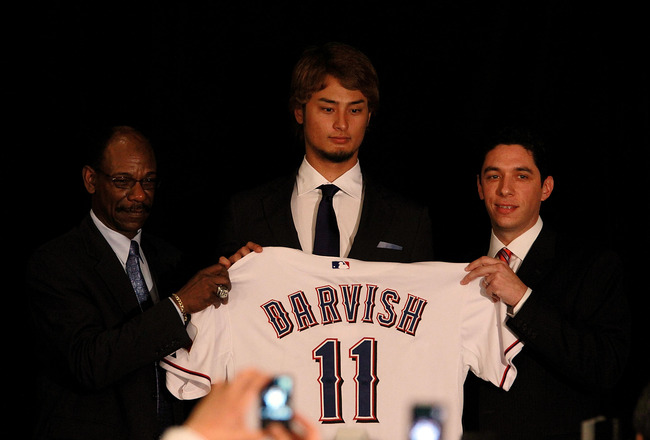 Ronald Martinez/Getty Images
Since Jon Daniels was hired as general manager after the 2005 season, the Texas Rangers haven't had many quiet offseasons.
Although he has done a lot of his best work at the trade deadline, Daniels has also made many key additions during the offseason. There have been a few misses too.
The offseason isn't technically over yet, but there's a good chance the Rangers won't make any more moves.
So, with that in mind, here is how the Rangers' offseasons rank during the Jon Daniels era.
8.) 2013
Layne Murdoch/Getty Images
Let's start with Daniels' most recent offseason simply because its value hasn't been determined yet.
What is certain is that the 2013 offseason saw a great amount of turnover on the roster. Josh Hamilton, Mike Napoli, Koji Uehara and Mike Adams all signed with other clubs as free agents.
The Rangers made a run at Zack Greinke, but couldn't keep up with the Los Angeles Dodgers' inflating payroll.
The biggest moves this offseason are the trades Daniels didn't make. He refused to gut the team's farm system for players he wasn't totally sold on.
The 2013 offseason could very well move up these rankings after this season, especially if these prospects tap into their full potential and become household names.
Only time will tell.
7). 2006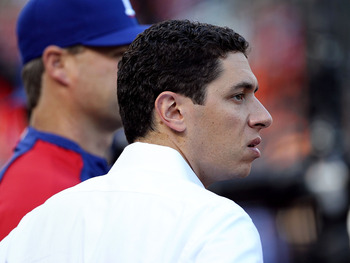 Ronald Martinez/Getty Images
Jon Daniels was named the Texas Rangers' general manager following the 2005 season. At 28 years old, he was the youngest GM in major league history.
Apart from signing Kevin Millwood, his first offseason was not his most memorable.
One of the first moves Daniels made was trading All-Star second baseman Alfonso Soriano to the Nationals for Brad Wilkerson, Terrmel Sledge and Armando Galarraga. This return netted almost nothing for Texas.
The one bright spot was that the Soriano trade opened the door for a young second baseman named Ian Kinsler.
The second big move was trading Chris Young, Adrian Gonzalez and another outfielder to the San Diego Padres in exchange for Adam Eaton, Akinori Otsuka and a catcher.
Eaton battled injuries and rarely saw the field, and Otsuka played just two seasons in Texas. While in San Diego, Young enjoyed success the next four years, and Gonzalez emerged as one of the elite first basemen in baseball.
6). 2009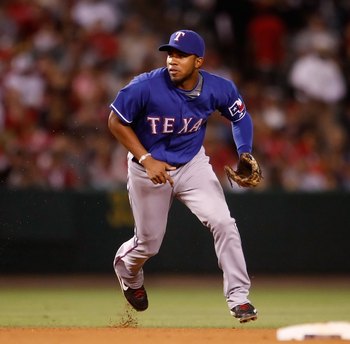 Jeff Gross/Getty Images
The biggest story during the 2009 offseason wasn't who the Rangers were going to sign, but how they would keep Michael Young happy.
Young was asked to slide to third base to make room for rookie Elvis Andrus. Although initially resistant, he eventually relented and his move improved the team.
Free-agent activity this offseason was minimal. Daniels signed Omar Vizquel, Andruw Jones and Kris Benson to small contracts. Each made various contributions to the team in 2009.
Additionally, in 2009, the Rangers' farm system was named the best in baseball, according to Baseball America. This commitment from Daniels to build from within would prove very wise in coming years.
5). 2007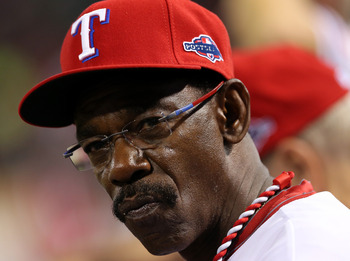 Ronald Martinez/Getty Images
The 2007 offseason involved another trade that didn't pan out the way Daniels hoped.
The Rangers sent young lefty John Danks to the Chicago White Sox and in return received Chicago's young pitcher, Brandon McCarthy.
McCarthy pitched effectively when healthy, but he landed on the DL so often the next four years, it was sometimes easy to forget he was on the roster.
Meanwhile, Danks has compiled 57 wins, pitched over 900 innings and struck out 744 batters the past six seasons.
Daniels did manage to make up for this, however. He hired Ron Washington that year and later pulled off the most important trade in franchise history at the 2007 deadline. The deal with the Atlanta Braves (who traded Mark Teixeira and Ron Mahay for Elvis Andrus, Matt Harrison, Neftali Feliz, Jarrod Saltalamacchia and Beau Jones) gave the Rangers three future All-Stars and laid the foundation for the team's recent run of success.
4). 2012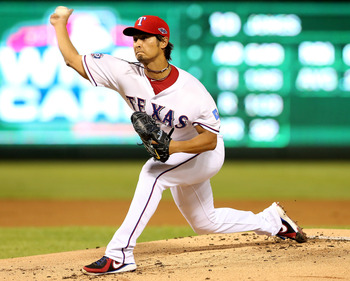 Ronald Martinez/Getty Images
The Rangers had just capped off their second straight trip to the World Series, and yet Daniels was still looking for ways to improve the team.
The priority was adding another pitcher to the rotation.
C.J. Wilson, the team's top starter the year prior, was a free agent and looked for a big contact. He eventually received one, but not from the Rangers. Instead, Jon Daniels and the rest of the organization gathered their resources to sign Japanese sensation Yu Darvish.
Despite a few growing pains early, Darvish became the pitcher the Rangers had hoped for. If he continues to progress, this move will pay dividends for years to come.
Also, after moving Neftali Feliz to the bullpen, Daniels signed Joe Nathan to be his closer.
3). 2011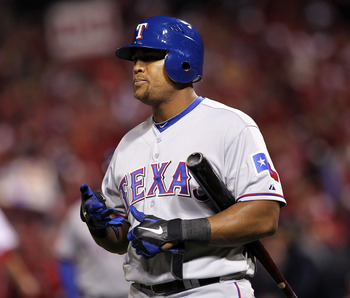 Ezra Shaw/Getty Images
The major storyline during the 2011 offseason was the team's chase to re-sign Cliff Lee.
Under new ownership, Jon Daniels had much more financial flexibility. The Rangers were there at the end, but ultimately Lee signed with Philadelphia.
Not all was lost, however.
The Rangers inked third baseman Adrian Beltre and traded for Mike Napoli instead—moves that worked out pretty well.
Napoli had his best season as a big leaguer in 2011 and was the Rangers' best hitter in the World Series.
In his two seasons in Texas, Beltre has made two All-Star teams and won two Gold Gloves. He is also an invaluable leader in the clubhouse.
2). 2008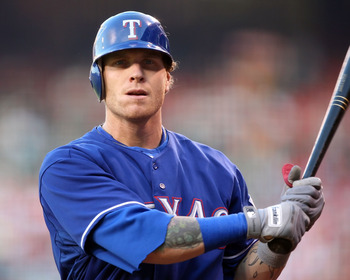 Lisa Blumenfeld/Getty Images
After the previously mentioned blockbuster trade at the 2007 trade deadline, Jon Daniels really hit his stride.
The Rangers needed a center fielder in 2008 when they dealt one of their top pitching prospects for a then-unknown Josh Hamilton.
They couldn't have hoped for a better outcome.
In five years in Texas, Hamilton was voted to five All-Star teams, won three Silver Sluggers and an AL batting title and was named 2010 AL MVP and ALCS MVP.
Despite injuries and occasional drama, he was one of the top players in the game.
Daniels also signed Milton Bradley to a one-year contract. He was voted to the All-Star team in his lone season in Texas and finished the year with a .321 batting average.
1). 2010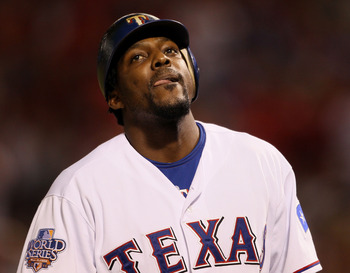 Elsa/Getty Images
The 2010 offseason didn't involve any blockbuster trades or lavish free-agent signings. That is what makes it so remarkable.
Daniels had to get creative to improve an ballclub that was fighting its way through bankruptcy.
With almost no money to spend, Daniels signed Rich Harden, Colby Lewis and Vladimir Guerrero to small contracts. While Harden didn't pan out, both Lewis and Guerrero played vital roles on the team that won the American League pennant.
Guerrero had a resurgent season in 2010, batting cleanup and leading the team in RBI. Lewis was returning from a two-year stint in Japan and became an invaluable arm in the rotation.
Although the Cliff Lee deal at the deadline gets most of the notoriety—which it deserves—the Rangers wouldn't have accomplished what they did that year without Lewis and Guerrero.
Daniels deserves all the credit in the word for his creativity during this rough stretch for the Rangers organization.
Keep Reading

Texas Rangers: Like this team?