5 Reasons Vladimir Tarasenko Is the Clear 2013 Rookie of Year Favorite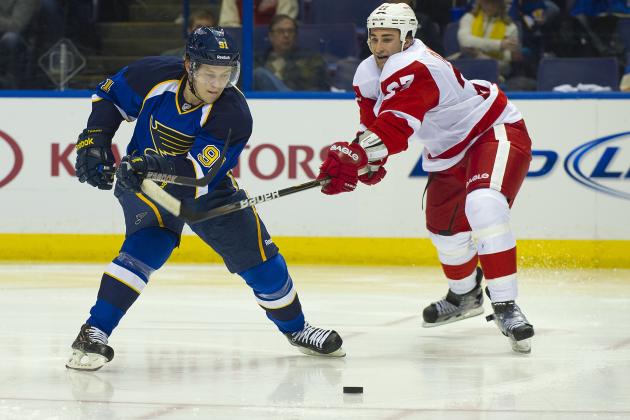 USA TODAY Sports

The return of the NHL means that the focus that was on the board room and negotiating sessions is now back on the ice.
The season is just a week old and there are already solid on-ice stories that are starting to unfold.
One of the most notable stories involves the outstanding play of the rookies around the league.
Edmonton's Nail Yakupov and Justin Schultz, along with Boston's Dougie Hamilton, have already made key contributions to their teams, but the most eye-catching rookie has been St. Louis Blues winger Vladimir Tarasenko.
The Blues have won three of their first four games, and Tarasenko has scored four goals and two assists.
It may be tough for him to keep up his goal-per-game production—not to mention his assists—but Tarasenko has the inside track on winning the Calder Trophy as the NHL's rookie of the year.
Begin Slideshow

»
Tarasenko scored two goals in the Blues' season-opening 6-0 victory over the Detroit Red Wings.
Not only was that a great way to introduce himself to Blues fans, it demonstrated his knack for goal scoring.
He comes by it honestly, as he is from a hockey family. His father is a coach in the KHL and the 21-year-old has been around the game his entire life.
Why can he score goals? Start off with his great hands. He has the kind of hands that allow him to get rid of the puck quickly and accurately, according to Hockeysfuture.com
In the video above, Tarasenko displays an asset that nearly all great goal scorers have: great vision.
After he takes the breakaway pass, Tarasenko skates with speed and confidence as he attacks the net. His head is up and he is looking for the spot to attack.
As soon as he sees an opening over Detroit goaltender Jimmy Howard's right shoulder, he measures the shot and delivers the puck into the net.
If he wasn't able to skate with speed and confidence and keep his head up, Tarasenko would never have been able to find the opening.
Tarasenko is not just going to blaze in toward the net and fire a shot.
He will do that on occasion and have success with it, but like other great goal scorers, Tarasenko has an array of moves that he can pull off without any issue.
In the video above, you can see the ease with which Tarasenko can feint and pull off his moves, easily going from backhand to forehand and finding the openings before letting go of the puck.
The most shocking part of Tarasenko's game may be his power once he corrals a loose puck.
Tarasenko is listed a 6'0" and 211 pounds, and he uses his frame to bull his way out of the corner or out of other scrums with the puck.
Tarasenko plays with excellent leverage, and when he dips that shoulder, he can get underneath the defender and push him out of the way.
Combine that with his skating ability and his desire to have the puck on his stick, and Tarasenko is going to emerge from the crowd more often than not.
Tarasenko has all the tangible skills that are needed to become a great hockey player, including speed, strength, shooting ability and balance.
In addition, he wants the pressure to be on his shoulders and he wants to carry his team. So far, it has shown in practice and in games.
It has impressed head coach Ken Hitchcock and his teammates.
Blues forward T.J. Oshie said his team's defensive strength and discipline are very important, but they have needed a player like Tarasenko who could put the puck in the net.
"He's a great player," Oshie told FoxSportsMidwest. "I've said this before and I'll say it again, he wants to score and you can tell every time he gets the puck he's looking for a way to put the puck in the net."