Winter X Games 2013 Results: Medal Tracker and Competition Highlights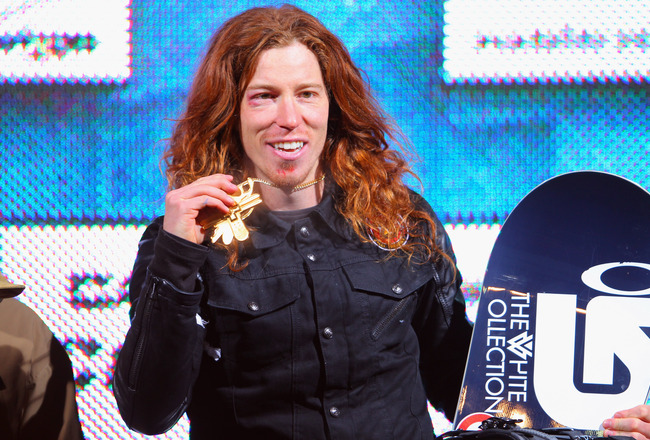 Doug Pensinger/Getty Images
The 2013 Winter X Games kicked off on Thursday in Aspen, Co., bringing us all the thrills and spills we yearn for in an event that boasts some of the best skiers, snowboarders and snowmobile riders in the world.
The first medal event of the 2013 Winter X Games was the snowmobile freestyle final on Thursday.
There is plenty more where that came from, ranging from slopestyle skiing and snowboarding to the always-popular SuperPipe challenges.
Don't forget the snowmobile trick competition.
Here's a look at the updated results.
Men's Snowboard SuperPipe
Gold: Shaun White
Silver: Ayumu Hirano
Bronze: Markus Malin

Nothing was going to stand in the way of Shaun White's bid pull off a six-peat in this event.
White got over 21 feet of air on his first jump, and wasn't going to be denied as he cruised to a sensational 95.00 opening run. Incredibly, White went on to top that with a 98.00 the next time out, which clinched the gold.
Ayumu Hirano is just 14 years old and weighs only 75 pounds, but he was not to be underestimated in his bid to take down the perennial champion White. The teen phenom posted a 92.33 in his second run, which netted him the silver medal.
Finland's Markus Malin had an exceptional run of 91.33 to get to the podium with the bronze.
Iouri Podladtchikov won the elimination round of the men's superpipe, but the teen whose nickname is "I-Pod" had to withdraw from the final due to illness.
Snowmobile Speed and Style
Gold: Levi LaVallee
Silver: Cory Davis
Bronze: Joe Parsons
Levi LaVallee won his second gold of these games with an impressive gold medal run that left Cory Davis in the this dust.
Davis was expected to have the edge in the speed department, as he had the fastest time in qualifying, but he fell behind by the end of the first turn.
This was bad news for Davis, as he had no shot of making up ground in the tricks department.
LaVallee won 90.95 to 85.66.
Men's Slopestyle
Gold: Mark McMorris
Silver: Maxence Parrot
Bronze: Seppe Smits
The highly anticipated Slopestyle showdow between Shaun White and the events defending gold medalist, Mark McMorris, never really materialized.
White couldn't hold up his end of the bargain as he finished fifth.
McMorris nailed his third run to earn a 98, and propel him to a convincing victory.
Women's Slopestyle
Gold: Jamie Anderson
Silver: Sarka Pancochova
Bronze: Spencer O'Brien
Jamie Anderson nailed her first run to earn a 93, and then coasted to the gold.
Sarka Pancochova pulled off a thrilling run on her last attempt, and it was good enough to get Anderson worrying as they announced the score, but her 90 came up just short.
Men's Snowmobile Freestyle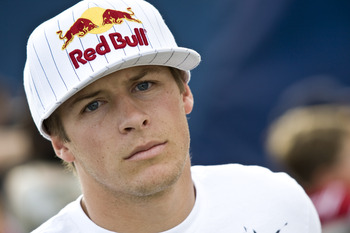 Handout/Getty Images
Gold: Levi LaVallee
Silver: Joe Parsons
Bronze: Justin Hoyer
Levi LaVallee walked away with the gold medal in the men's snowmobile freestyle on Thursday to kick off the medal events at the 2013 Winter X Games.
His second run catapulted him past the competition, scoring an 89.0 to edge Joe Parsons and Justin Hoyer.
Parsons finished with an 88.66, good for the silver medal, and Hoyer ended up with the bronze medal (85.66).
Both Caleb and Colten Moore wrecked on their first runs and weren't able to continue.
This is LaVallee's fifth gold medal at the Winter X Games and his first gold since the 2010 Aspen Games.
Snowboard Street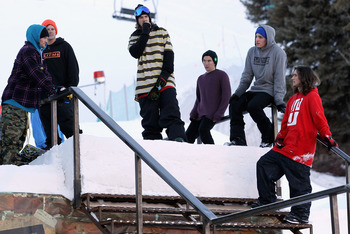 Doug Pensinger/Getty Images
Gold: Louis-Felix Paradis
Silver: Dylan Alito
Bronze: Dylan Thompson
Louis-Felix Paradis of Canada won the gold medal in the snowboard street competition on Friday, posting two runs scored 42.0 and 33.0 to finish with a 75.0, well above the rest of the group.
Dylan Alito of Evergreen won the silver medal, posting two runs of 36.0 and 26.0 to finish with a 62.0 for the competition.
Dylan Thompson came in third, registering two runs of 32.0 and 27.0 to edge Jaeger Bailey with a combined score of 59.0.
Women's Ski SuperPipe
Ezra Shaw/Getty Images
Gold: Maddie Bowman
Silver: Roz Groenewoud
Bronze: Megan Gunning
Maddie Bowman, who won the silver medal in the superpipe at the Winter X Games last year, did one better this year, earning a gold medal with a run of 91.33.
Roz Groenewoud was the defending champion in the event after posting a record score of 93.66 in last year's Winter X Games. She ended up with the silver medal this time around with a score of 86.66.
Megan Gunning, who won silver in the 2010 Winter X Games, grabbed a bronze medal on Friday, posting a run of 85.0 and edging out Keltie Hansen.
Men's Ski SuperPipe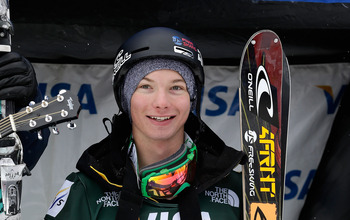 Ezra Shaw/Getty Images
Gold: David Wise
Silver: Torin Yater-Wallace
Bronze: Simon Dumont
David Wise of Reno posted an eye-opening score of 95.66 to come away with the gold medal in the men's ski SuperPipe event. Perhaps what was even more impressive was that he did so after he posted a 94.33 in his first run (which also would have qualified for gold).
Torin Yater-Wallace, who became the youngest Winter X Games medalist in history when he won silver in the event in 2011, grabbed another silver medal for his collection with a score of 93.00.
Simon Dumont of Maine picked up the bronze medal with a score of 85.66, edging Kevin Rolland. It's Dumont's eighth Winter X Games medal (seven have come in the SuperPipe event).
Men's Ski Slopestyle
Gold: Nick Goepper
Silver: Henrik Harlaut
Bronze: James Woods
18-year-old American Nick Goepper continued the tradition of no repeat champions in this event since 2004, capturing the gold medal with a winning third run of 94.00.
It was a lot of sitting and waiting in anxious anticipation for Goepper, as he finished seventh in the elimination round and posted his eventual winning score before many of the competition's premier skiers took the slopes.
Henrik Harlaut posted a strong run of 92.66 not long after Goepper's impressive showing, but it ultimately came up short. However, the Swede certainly won't be disappointed in taking home the silver, and he additionally has the Big Air gold under his belt.
Great Britain's James Woods won the elimination, which only heightened the suspense as he went last. Unfortunately for Woods, his final run of 92.00 was not quite enough to take the top prize again, as he settled for bronze.
Snowmobile SnoCross Adaptive
Gold: Mike Schultz
Silver: Doug Henry
Bronze: Garret Goodwin
Entering this race, Schultz was the prohibitive favorite as the two-time reigning champion. But after an early tangle sent him off of his snowmobile in the opening seconds of the race, he found himself in dead-last.
Unfazed, Schultz proceeded to storm back after the first lap mishap, eventually finding his way to the front of the pack and winning his third consecutive gold medal with a time of 4:51.882.
Henry was visibly fatigued after such a tough race, yet was gracious in defeat. After all, there isn't much shame in placing second to the most dominant rider in the field, and he finished with a time of 4:53.151.
Goodwin is an X Games rookie, and will certainly be pleased to bring home the bronze in his maiden appearance. He registered a time of 4:58.204.
Women's Ski Slopestyle
Gold: Tiril Sjåstad Christiansen
Silver: Kaya Turski
Bronze: Dana Howell
Another teen prodigy emerged victorious in the women's slopestyle event as the youngest skier ever to win gold.
Tiril Sjåstad Christiansen posted an exceptional second run of 91.33, only to best it with a 92.33 in the third. The 17-year-old Norwegian demonstrated prowess on the rails and pulled off a 900 to cap off her winning run.
Kaya Turski was the heavy favorite as a three-time defending champion, but fell on her first two runs and couldn't recover.
She wrapped up the event with a solid 90.00 to capture the silver, leapfrogging Canadian compatriot Dara Howell, whose second run of 89.33 landed her the bronze medal.
Fourth-place finisher Ashley Battersby crashed into the fence on the last jump of her final run. Initial reports from the ESPN broadcast indicate that Battersby suffered a left leg injury. Here's to wishing her all the best.
Snowmobile SnoCross
Gold: Tucker Hibbert
Silver: Ross Martin
Bronze: Tim Tremblay
Two action-packed hours featured two Round 1 heats to set the top-10, then a Last Chance Qualifier for the remaining 13 riders to round out the field of 15 for the final.
The events preceding the 16-lap finale were eight laps apiece, making it a particularly grueling Sunday for many competitors. Tucker Hibbert locked up the No. 1 position in the first heat as he eyed an unprecedented six-peat in the Winter X Games.
When the snow settled, Hibbert indeed emerged with the gold medal in a truly dominant performance. He began to lap the field in the middle of the race, eventually posting a winning time of 16:39.999.
Ross Martin and Tim Tremblay won silver and bronze, respectively, but the story here is Hibbert's prowess.
Shaun White will attempt to match Hibbert's historic feat in the snowboard SuperPipe final on Sunday evening.
GoPro Snowmobile Best Trick
Gold: Daniel Bodin
Silver: Joe Parsons
Bronze: Heath Frisby
Unlike most Winter X Games events, these trick specialists only get two runs for their shot at glory.
Sweden's Daniel Bodin posted a strong first run of 92.33, and it proved to be enough to capture his second Best Trick gold medal.
Joe Parsons performed what he calls, "The Gator Hator" in which he did a backflip, twisted in the air and landed with his vehicle facing forward, but with him facing the rear. He brought home the silver with a score of 91.66. It was his 12th career medal, second only to Shaun White's 17.
Heath Frisby's first run of 89.00 was solid, but he needed something special to leapfrog Parsons and Bodin. Unfortunately, he wiped out on his final run, yet he still took home the bronze.
Keep Reading