Detroit Red Wings: Predicting Stats for the Top 10 Players in 2013 Season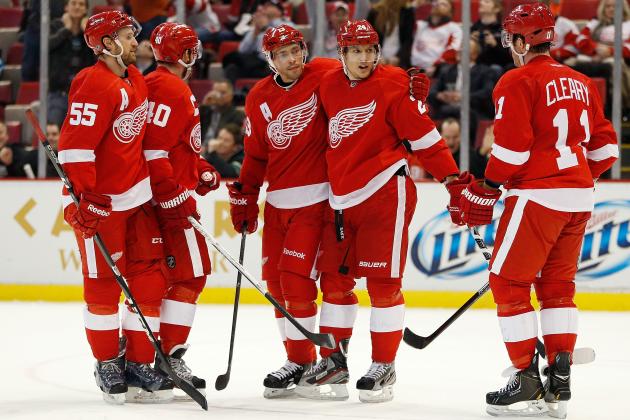 Gregory Shamus/Getty Images

It seems rather pointless to predict offensive statistics with the Detroit Red Wings having scored just five goals in three games.
At that rate, the Red Wings are on pace for a mere 80 total goals in this 48-game season.
But the Red Wings are far better than they have showed in the first three games. Detroit's top offensive potential has yet to be seen with a rash of injuries to players early in the season.
Because the next 45 games will likely look a lot better than the first three games, now is the time for predictions.
Here are predictions for who will finish in the top-10 for the Red Wings this season.
Begin Slideshow

»
Kirk Irwin/Getty Images

Last year Ian White primarily played with the best defenseman in recent history, Nick Lidstrom.
When playing with someone as offensively gifted as Lidstrom, one is bound to get a few more points added to their point totals than normal.
White finished the season with seven goals and 25 assists last year, with 10 points coming on the power play.
This year, White has one goal and no assists in three games, and he does not look to be on a top pairing with a defenseman anywhere near the caliber of Nick Lidstrom.
Unless White gets bumped up to the top line or sees a substantial boost in playing time or the Detroit Red Wings start clicking on the power play (they're currently 0-15 on the season), look for White to finish the season with six goals and 12 assists.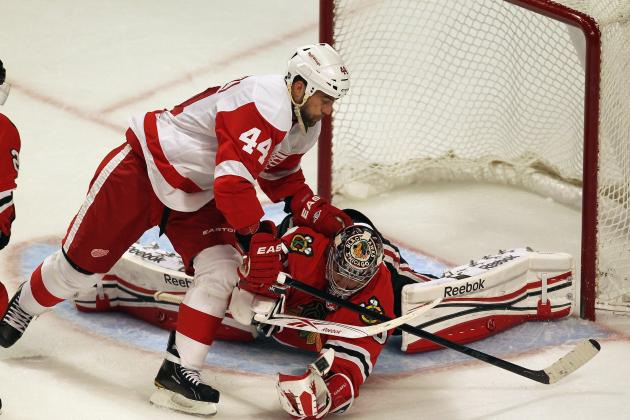 Jonathan Daniel/Getty Images

Todd Bertuzzi had 38 points last season, playing as a top-six forward for the Detroit Red Wings.
Bertuzzi has not stepped on the ice yet this season as he was mistakenly diagnosed with mononucleosis before sitting out the past week with the flu and a sore groin.
According to reporter Chuck Pleiness of the Macomb Daily, Bertuzzi has been practicing with Valtteri Filppula and Pavel Datsyuk.
If he stays on this line, expect Bertuzzi to get plenty of chances for points in the coming games.
Bertuzzi should be somewhere in the neighborhood of eight goals and 11 assists in this shortened season.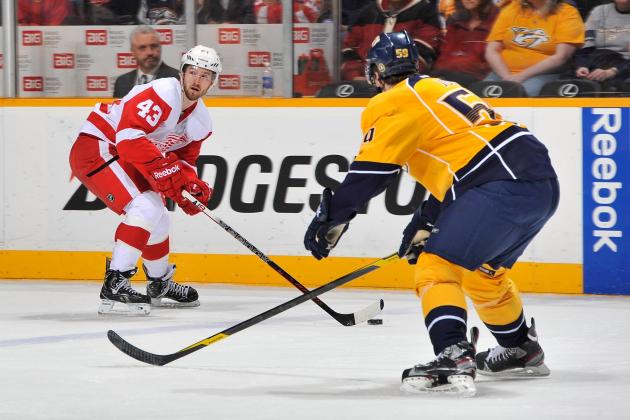 Frederick Breedon/Getty Images

Darren Helm will finally back on Friday according to an article by Chuck Pleiness of The Macomb Daily.
For a lot of Detroit Red Wings fans, it has been a long time coming.
Mike Babcock considers Helm to be "the best third line center" in the NHL, so obviously this is a huge lift for the Red Wings.
Don't look for Helm to come on too strong offensively considering his recent string of injuries, but expect Helm to inject some instant energy into the Red Wings lineup.
Offensively, look for Helm to have a bounce-back season this year in terms of shots-per-game from last year's 1.82 shots per game (compared to 2.15 shots-per-game in 2010-11).
Predicting Helm's statistics could be difficult if he struggles initially offensively, but look for him to get nine goals and 10 assists this season.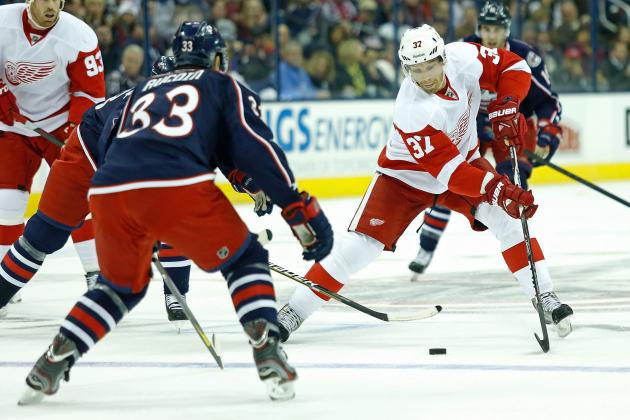 Kirk Irwin/Getty Images

Mikael Samuelsson could move to the third line with the return of Todd Bertuzzi, but that doesn't mean he will completely disappear offensively as he will still be on one of the two power play units with his right-handed shot.
Samuelsson put up 31 points in 54 games last year between the Vancouver Canucks and the Florida Panthers.
Playing on the third line means that Samuelsson won't be in the top-six forward group on a consistent basis, but his time on the power play (3:04 per game through three games) means that Samuelsson is a threat whenever he plays.
Samuelsson's point total will hover around the 20-point mark this season. He should put up around nine goals and 11 assists.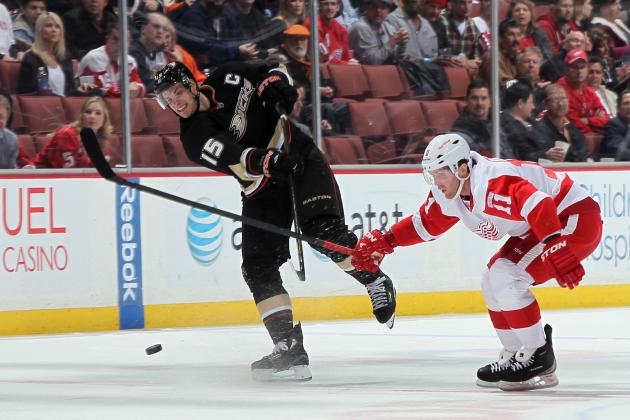 Victor Decolongon/Getty Images

A healthy Dan Cleary is a dangerous Dan Cleary.
Cleary is healthy for the first time since the 2010-11 season when he had 26 goals and 46 points.
Although he may be playing on the third line, Cleary has been averaging over three-and-a-half minutes on the power play through three games this season, meaning he will be taking over Tomas Holmstrom's duties in front of the net on power plays.
Because of Cleary's awareness around the net, he is extremely dangerous in front of the net, and will be first in line to get any rebounds off of shots from the blue line and stuff them in the net if they are not cleared.
Because of this extended power play role and his returned health, Cleary should put up around 11 goals and 13 assists this season.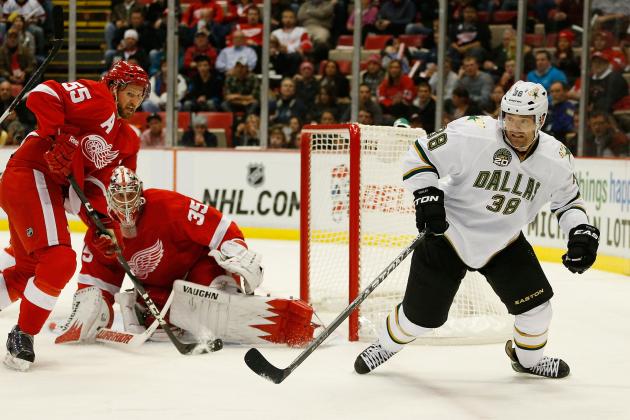 Gregory Shamus/Getty Images

Niklas Kronwall put up 15 goals and 21 assists last year with 14 of those points coming on the power play.
This year, Kronwall is the number one defenseman in Detroit and averages over four-and-a-half minutes on the power play.
If Kronwall doesn't get too tired out from the nearly 25 minutes of ice time that he is playing per night and if Detroit's power play (currently 0-15) ever comes to life, Kronwall's point total will take off.
Count on Kronwall for at least six goals and 19 assists over this shortened season.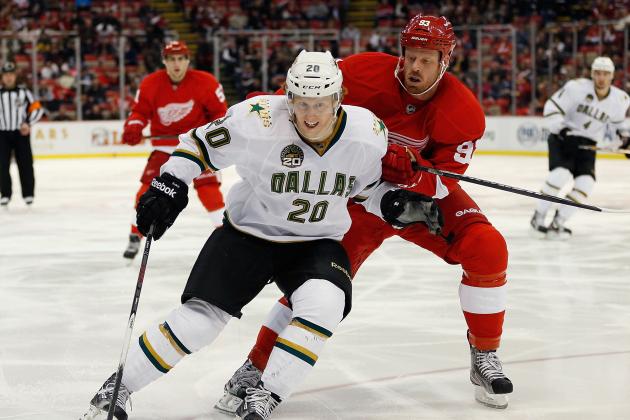 Gregory Shamus/Getty Images

Johan Franzen is always a prime contender to lead Detroit in scoring.
Unfortunately, "The Mule" is about as inconsistent as they come in terms of scoring.
Playing in the top-six on a line with the likes of Pavel Datsyuk, Henrik Zetterberg and Valtteri Filppula means that there will be plenty of opportunities to bury scoring chances.
That is...if Franzen doesn't take plays or games off.
Franzen will likely end up with somewhere around 15 goals and 16 assists during this shortened season.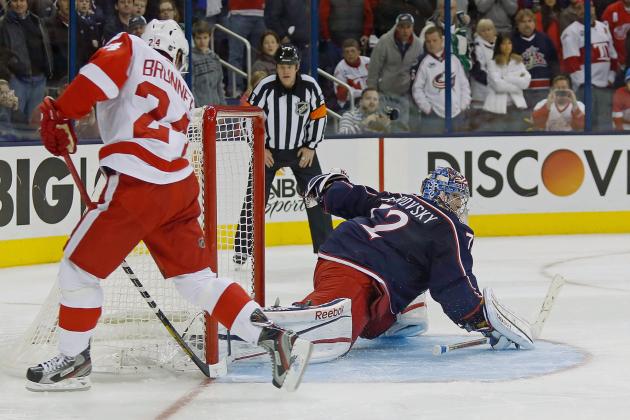 Kirk Irwin/Getty Images

Damien Brunner has a shootout goal and a regulation goal so far this season.
The Swiss phenom has clearly shown the willingness to shoot, with 15 shots in three games.
Questions remain as to how much he will score, even though he averages five shots a game (or 240 shots over a 48-game season) through three games.
Expect Brunner to put up somewhere around 19 goals and 15 assists as he is playing on Detroit's top line and averaging almost five minutes on Detroit's top power play unit.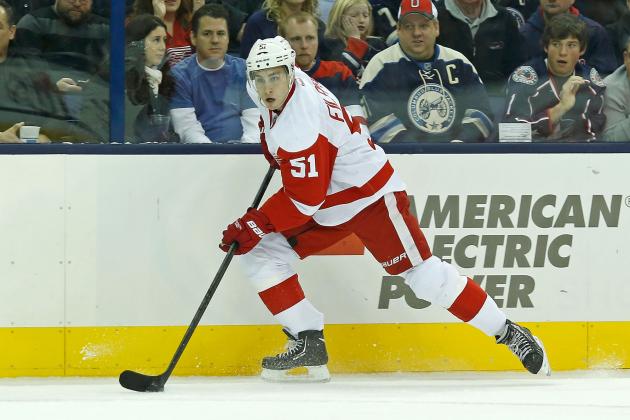 Kirk Irwin/Getty Images

Valtteri Filppula put up a career high in points last year with 66 points in 81 games.
Although he won't be playing on the top line, Filppula averages almost 18 minutes a game, with almost three-and-a-half minutes of that coming on the power play.
Filppula contributed 11 of his 66 points on the power play last year.
If he plays with either Pavel Datsyuk or Henrik Zetterberg, Filppula will be in the top-three in Red Wings scoring once again.
Look for Filppula to come out of this season with 14 goals and 20 assists.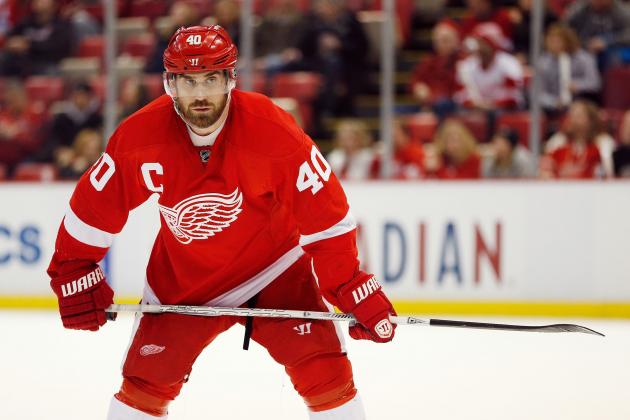 Gregory Shamus/Getty Images

Henrik Zetterberg already has two points (both assists) in three games this season.
The new Detroit Red Wings' captain needs to give his team a shot in the arm offensively as his team currently sits out of a playoff position.
With 69 points in 82 games last season, Zetterberg will be a key part of resurrecting the Red Wings' power play this season, as he averages five minutes, 15 seconds of power play time through three games.
If he can get the power play back on track, Zetterberg should have at least 20 goals and 24 assists this season.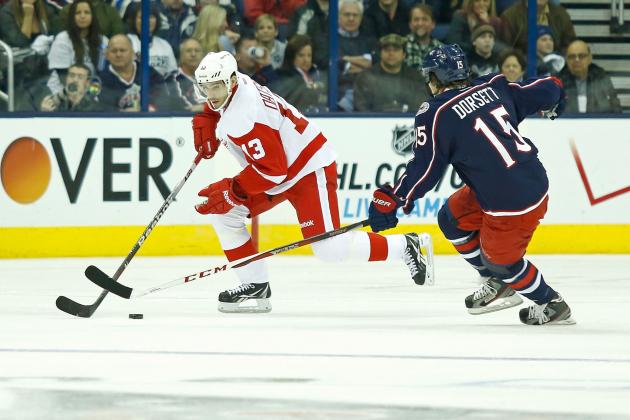 Kirk Irwin/Getty Images

The most creative player in the league is at it again this year as Pavel Datsyuk already has a goal and two assists in three games.
If anybody is going to have an impact on the Detroit Red Wings' power play, it is going to be Datsyuk. Last year, Datsyuk saw 23 of his 67 points come on the power play.
If coach Mike Babcock splits up Datsyuk and Henrik Zetterberg in practice, he might want to move Datsyuk back to center as Datsyuk seems rather lost on the wing.
Look for Datsyuk to lead the team in points again this season with 18 goals and 28 assists in the 48-game season.
For more article updates, Follow @isaacesmith91