Minnesota Vikings' 2013 NFL Draft Wish List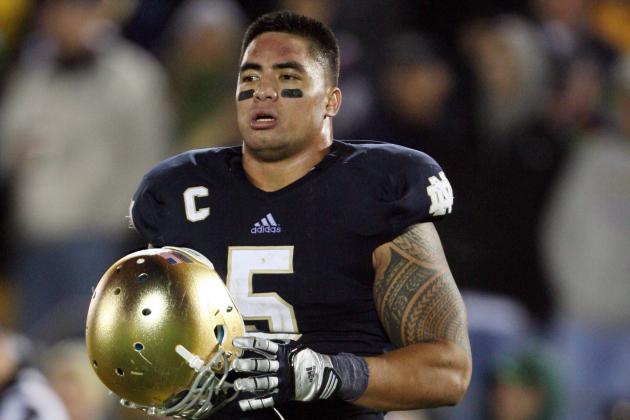 Brian Spurlock-USA TODAY Sports
If Minnesota were to draft Manti Te'o, it would go a long way to solidifying its interior defense.
The season's over. The dream is gone.
But there's always next season.
And one of the highlights that kick-starts next season is the NFL draft. More specifically, the first round, which is the portion that typically attracts the most attention.
For the Minnesota Vikings, it's easy for fans to point and say that Minnesota should take a wide receiver in the first round.
But there are plenty of needs on this roster that could warrant a first-round pick.
This slideshow features 10 players Minnesota should consider taking with the 23rd overall pick, if they are available. The list includes players who could conceivably be available at No. 23.
The players are listed in order based upon their perceived value not only as individual talents, but also relative to what Minnesota needs.
Begin Slideshow

»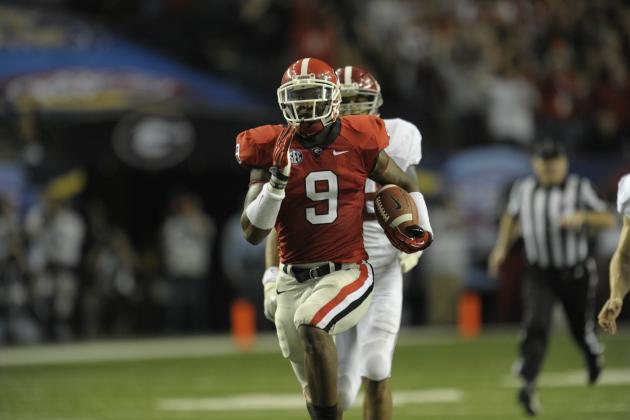 USA TODAY Sports
Alec Ogletree can cover the field sideline to sideline and could stabilize Minnesota's interior defense.
Just a few weeks ago it seemed like Alec Ogletree could very likely fall to the Minnesota Vikings with the 23rd overall pick.
Now it seems like that isn't likely to happen. But this is an extremely long process, and there will be plenty of twists and turns between now and draft day.
What we know is that the Minnesota Vikings cannot be fully satisfied with the play of their middle linebacker, Jasper Brinkley, last season.
Middle linebacker is the quarterback of the defense. Minnesota hasn't had an exceptional player at that position for the past two seasons, and the run defense has slipped (in part) because of that.
Ogletree can stop the run and play sideline to sideline with his combination of size and speed (6'3" and 232 pounds). His frame suggests there's room for more muscle, which will help.
He had 111 tackles, 11.5 tackles for loss, three sacks and an interception in 10 games (he was suspended the first four games for a failed drug test).
E.J. Henderson played a strong middle linebacker during his Vikings tenure, but he struggled against the pass for most of that time. Ogletree could be the complete middle linebacker Minnesota hasn't had in the 21st century.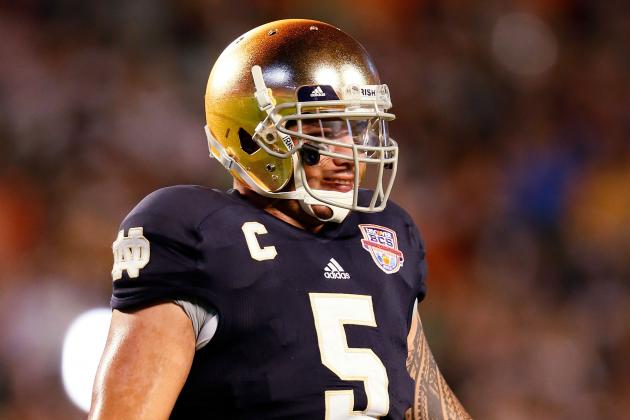 Kevin C. Cox/Getty Images
Off-field issues may scare some teams away from Manti Te'o, but Minnesota shouldn't be one of them.
There was originally zero chance that Manti Te'o slipped to Minnesota at No. 23.
But with his off-the-field issues, Te'o could be there. Most mock drafts had him going somewhere between fifth and 15th. With concerns about his mental stability, given reports about his fake girlfriend, it's possible many teams atop and in the middle of the draft decide they don't want to take a chance on Te'o.
At 23rd overall, Minnesota has little to lose and everything to gain by taking Te'o. Yes, this story surrounding the Notre Dame linebacker is odd. It's weird. It's crazy.
But these mental concerns don't raise flags that should destroy his football career.
Minnesota could use a game-changing middle linebacker. Te'o recorded 113 tackles, 5.5 tackles for loss, 1.5 sacks and seven interceptions in 13 games and has a skill set that reeks of an NFL playmaker.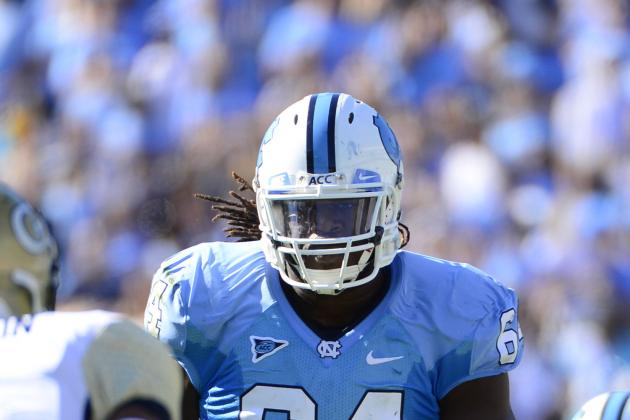 USA TODAY Sports
Jonathan Cooper is regarded as one of the top guards in this draft.
While Manti Te'o and Alec Ogletree can at least suffice as sexy first-round picks to ease a fanbase, Jonathan Cooper won't serve as the spark plug to ignite the Minnesota faithful.
But Matt Kalil didn't get many people's juices going either. That seemed to work out pretty well for the Vikings, who now have one of the game's best budding left tackles.
Now, Cooper isn't a similar prospect to Kalil. That's clear. But Cooper is a top-15 talent and is the consensus No. 2 guard in this draft.
Better yet for the Vikings, Cooper played left guard at North Carolina. Cooper could replace Charlie Johnson and give the Vikings one of the game's best left sides (Kalil, Cooper, John Sullivan) over the next few years.
Given that this team goes as Adrian Peterson does, it would be best to ensure Peterson has the best blockers at his disposal.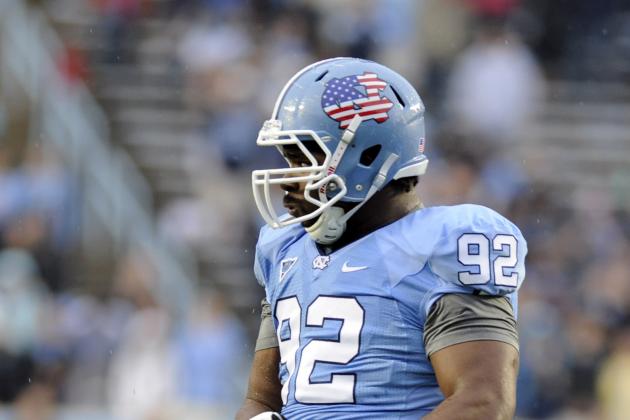 Liz Condo-USA TODAY Sports
Sylvester Williams is a well-rounded defensive tackle who can create a pass rush and stuff the run.
While linebacker and wide receiver dominate most discussions about needs for the Vikings, it's important to not overlook the gaping hole in the interior of the defensive line.
Kevin Williams is nowhere near the player he once was. Letroy Guion showed glimpses of being worthy to start but far from demonstrated that he should be handed a starting spot in 2013.
The Vikings have to take a strong look at Williams, who has a two-year option to decide on before the 2013 campaign. It will pay him $16.7 million over 2013 and 2014, according to the St. Paul Pioneer Press. He may not be back next year. He's 32 years old and continuing to deteriorate (his 30 tackles and 2.0 sacks were the lowest and second-lowest totals of his career, respectively).
Sylvester Williams is a similar player to a younger Kevin Williams in that he's a well-rounded defensive tackle. He's strong against the run but can also provide a pass rush. The two are similarly built (Sylvester at 6'2" and 320 pounds and Kevin at 6'5" and 311 pounds).
In 2012, Sylvester Williams had 42 tackles, 13.5 tackles for loss and six sacks. Kevin Williams had 54 tackles, 10 tackles for loss and four sacks in his final season at Oklahoma State.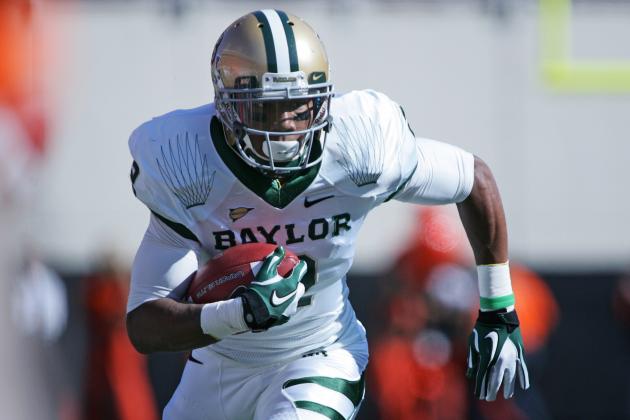 Brett Deering/Getty Images
Terrance Williams is best known for his sideline catches but is capable of making plays across the field.
Addressing this position in the first round would appease much of the fanbase.
And Terrance Williams would be a strong selection.
The Baylor receiver caught 97 passes for 1,832 yards and 12 touchdowns in 13 games. He's known for his work along the sideline but has the size (6'2" and 205 pounds) and ability to make plays across the field.
He would provide a stable deep threat that would compliment Percy Harvin nicely, presuming he's still a Viking in 2013.
In his first mock draft, available to ESPN insiders only, Mel Kiper Jr. says:
[Williams] is first a player who can use his size and speed to stretch the field and take the top off a defense, but he also can make big plays on the sidelines, where he'll tiptoe and make the catches as well as any pass-catching target in the draft. Williams also will beat you with the ball in his hands as a nifty runner with good size.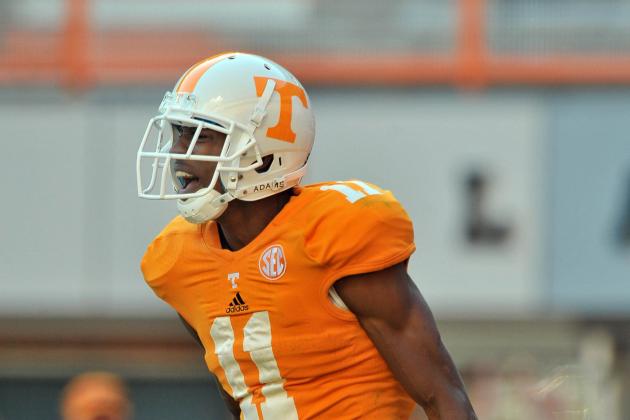 Jim Brown-USA TODAY Sports
Justin Hunter has the size (6'4" and 205 pounds) and speed to be a difference maker for Minnesota.
Tennessee's Justin Hunter is another possibility for Minnesota at the wide receiver position in the first round.
Hunter (6'4" and 205 pounds) is slightly bigger than Terrance Williams but possesses a very similar skill set. He led Tennessee in receptions (73), receiving yards (1,083) and touchdown receptions (nine) in 12 games.
Hunter reminds me of Sidney Rice with more speed. He can be a difference-maker in the red zone who would allow Christian Ponder to merely have to put the ball in his radius to ensure a touchdown reception.
Bleacher Report's own Matt Miller wouldn't approve of Minnesota selecting Hunter in the first round, as he currently presides 53rd on Miller's big board. But he and I can disagree on this one.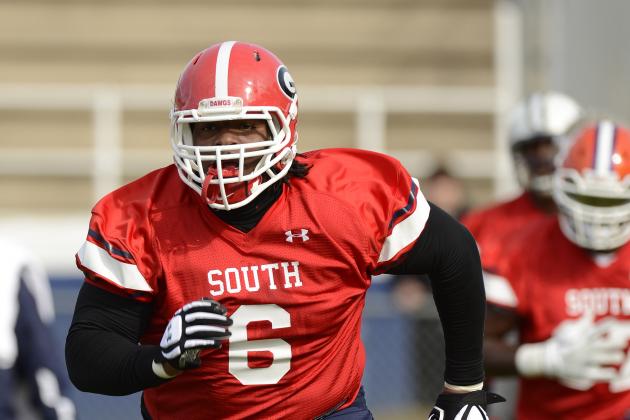 USA TODAY Sports
John Jenkins could do for Minnesota what Pat Williams used to: stuff the run and nothing else.
Back to defensive tackle.
While Sylvester Williams is a well-rounded tackle who mirrors Kevin Williams, John Jenkins is a run-stuffing defensive tackle who mirrors former Minnesota defensive tackle Pat Williams.
Jenkins is a load (6'3" and 358 pounds) who makes Pat Williams look small (he weighed in at 324 pounds for his final season in Minnesota).
Jenkins recorded 50 total tackles, two tackles for loss and one sack in his final season at Georgia.
His specialty is eating up space and shutting down the offense's run game up the middle. That's a skill Minnesota's defense lacked in 2012 and would gladly welcome in 2013.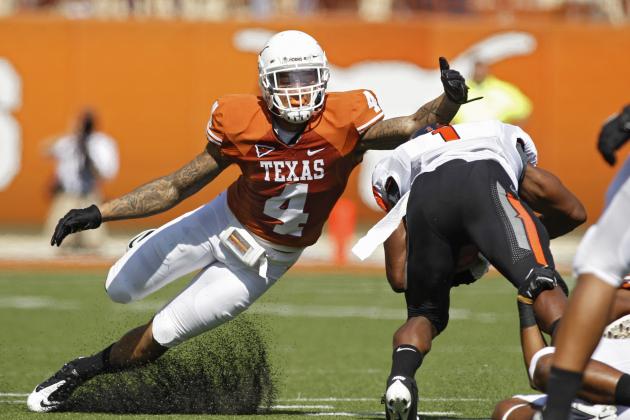 Erich Schlegel/Getty Images
Kenny Vaccaro is a play-making safety who could team with Harrison Smith to form a dynamic defensive backfield.
Now this suggestion may leave many of you scratching your heads.
But think about it.
Look at the division Minnesota plays in.
The Green Bay Packers are led by quarterback Aaron Rodgers and a prolific passing attack. Matthew Stafford teams with Calvin Johnson to form arguably the game's best quarterback-receiver hookup in Detroit. And Jay Cutler has Brandon Marshall and a new head coach, whose sole purpose is to improve Cutler and the offense's play in 2013.
Minnesota has a bright starting duo at corner in Josh Robinson and Chris Cook.
It has a future Pro Bowl player at safety in Harrison Smith, whom the Vikings selected 29th overall in 2012.
With those three, it may not be the most logical move to select a safety. But Kenny Vaccaro is a play-making safety in a similar mold to Smith. Vaccaro is physical yet has good ball skills.
Bleacher Report's Matt Miller has him as the 15th-best prospect. That's a talent that would be tough to pass up should he fall to No. 23. And given that he and Smith are do-it-all safeties, a defensive backfield with those two plus Robinson and Cook could develop into the game's best.
Vaccaro (6'1" and 218 pounds) led Texas with 107 tackles, had four tackles for loss, intercepted two passes and forced two fumbles.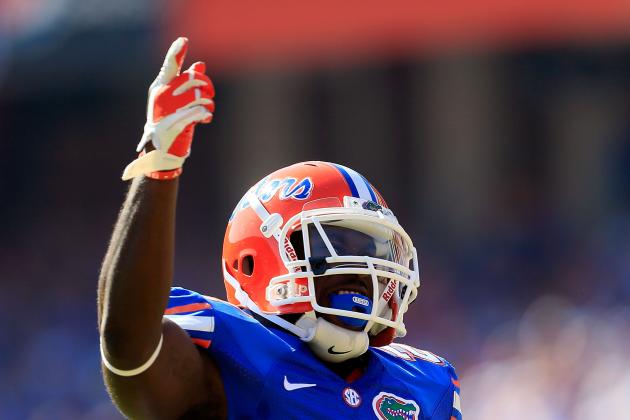 Sam Greenwood/Getty Images
Matt Elam is very similar to Minnesota's Harrison Smith in that both are versatile safeties who just make plays.
Matt Elam is a versatile, play-making safety who could team with Harrison Smith to form the game's best safety duo.
Whether Elam or Kenny Vaccaro are worthwhile first-round selections depends on your outlook on Jamarca Sanford or Mistral Raymond.
Elam and Vaccaro's presence on this list illuminates that I don't believe Raymond or Sanford should be handed a starting spot in 2013. I also believe Elam and Vaccaro would be too talented to pass up should the seven non-safeties in front of them be off the board.
Elam recorded 76 tackles, 11 tackles for loss, two sacks, four interceptions and a forced fumble last season. He's not the biggest safety (5'10" and 202 pounds), but he's not afraid of contact. He welcomes it.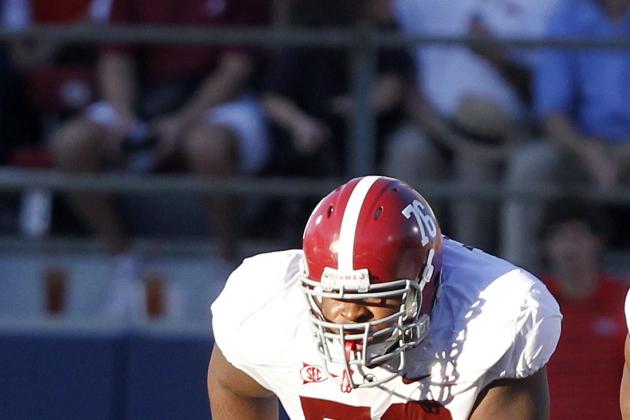 Butch Dill/Getty Images
D.J. Fluker would only be a worthy first-round pick for Minnesota should the Vikings part ways with Phil Loadholt.
This pick could either make a lot of sense or make no sense at all. It all depends on Minnesota's ability to re-sign right tackle Phil Loadholt.
All indications are that the Vikings want to re-sign their 2009 second-round pick from Oklahoma. They reportedly opened negotiations during the 2012 campaign but didn't reach an agreement.
D.J. Fluker isn't a prospect of Matt Kalil's stature, but he's very much worthy of a first-round pick. Should Minnesota fail to re-sign Loadholt, then Fluker would shoot up this list.
But Loadholt appears headed back to Minnesota. You just never know until it's official.