Indianapolis Colts 2013 Salary Cap: Where Is Money Best Spent?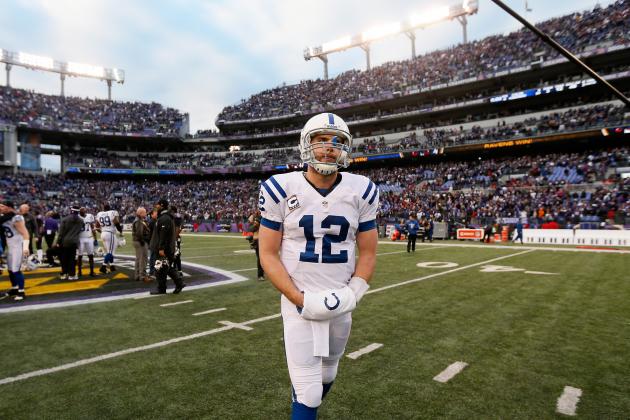 Rob Carr/Getty Images

It was a heck of a season for the Colts. Not many people predicted that they could go as far as they did. Making it all the way to the Wild Card Round was an amazing accomplishment for Luck and company.
Luckily, the Colts have about $46 million to spend in 2013, according to John Clayton of ESPN.com. This is more cap space than any other team. It's time to look ahead to where the Colts needs are.
Where is the money best spent?
Begin Slideshow

»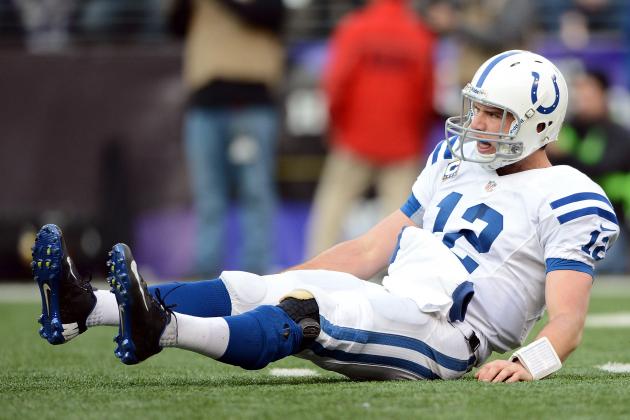 Patrick Smith/Getty Images

The offensive line in general needs help. This is the biggest need the Colts have right now. Andrew Luck has to get hit less, getting sacked a total of 41 times this past season. He was the most pressured quarterback in the league with 268 dropbacks (and he still did so well this season!).
Whether the Colts pick up a free agent or a rookie, this position needs to be filled with a capable player. Protecting the Colts franchise quarterback has to be first priority.
Ryan Clady, Jake Long, Jermon Bushrod and Branden Albert are a few of the available free agents that could fill this role. Jake Long may be the best man for the job—but it will cost them.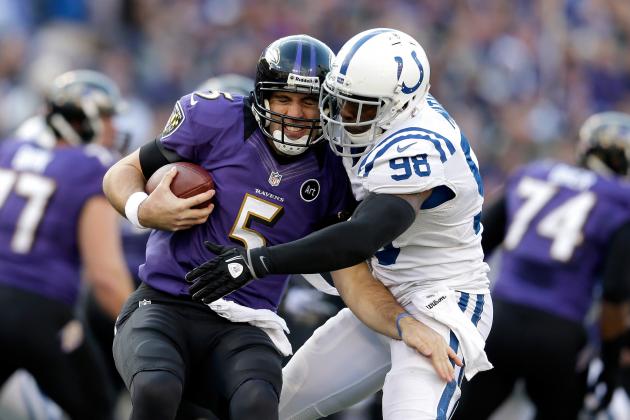 Rob Carr/Getty Images

The Colts need an outside linebacker.
They had a tough time stopping the run the entire season. The Colts had a lot of yards eaten up against them this season due to not sealing the edge. Freeney will be gone next season and Mathis had a less than stellar season. Mathis is getting up there in age and will most likely need to be replaced soon. It's also hard to say what's going on with Jerry Hughes. The Colts need a new face in the OLB spot.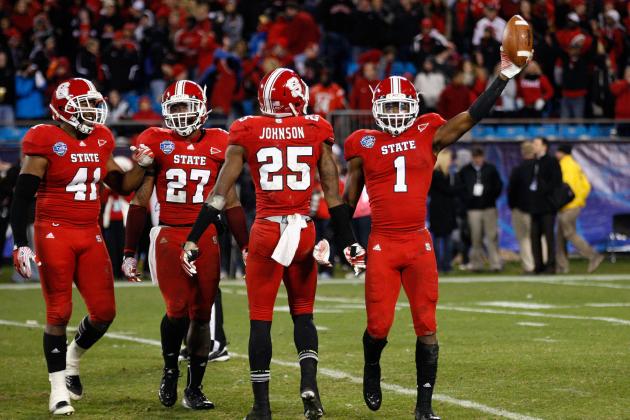 Streeter Lecka/Getty Images

The Colts need a breathe of fresh air in the cornerback position. They need guys who can cover wide receivers, in a zone and man-to-man. Cassius Vaughn is awful and although he's inexpensive, he should walk. Powers was also less than amazing.

David Amerson would be a great addition to the team. He will most likely go in the top 10 and the Colts should be there. He's a big kid with the ability to be a game-breaker. Otherwise, Hyde would be a good player to pick up. He can play safety and return punts. He will be a second rounder and therefore a strong second-round pick.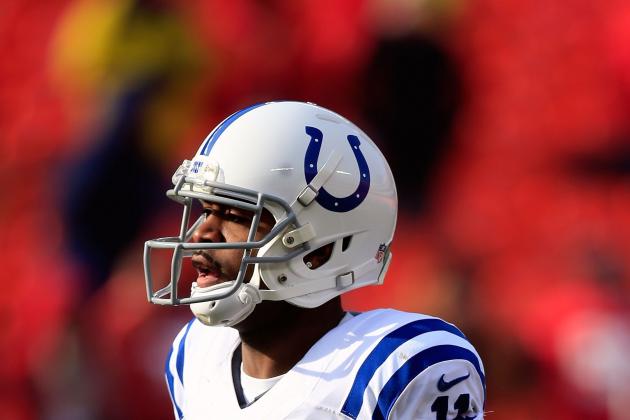 Jamie Squire/Getty Images

Wayne and Hilton had a solid season with the Colts, but Donnie Avery? Not so much. Avery had a pretty awful season and the fans know it. There is little chance that he will be brought back. The Colts are fourth in the league for dropped passes and Avery was a big part of that.
He ranked 79th of 82 wide receivers in drops per catchable balls. For example, look at the Ravens game. He dropped two out of four balls. Of course Hilton had his fair share of dropped passes—but he made big plays. Wayne also had his worst record for dropped passes in the last five years. As amazing as Wayne is, he's getting up there.
I would say that a receiver is more important than a running back at this point due to the drop percentage. Ballard is young and shows talent. He has potential to be a great back in the league with a better O-line.
The Colts need a solid wide receiver.