Indiana Basketball: 5-Step Plan to Earning No. 1 Overall Seed in NCAA Tourney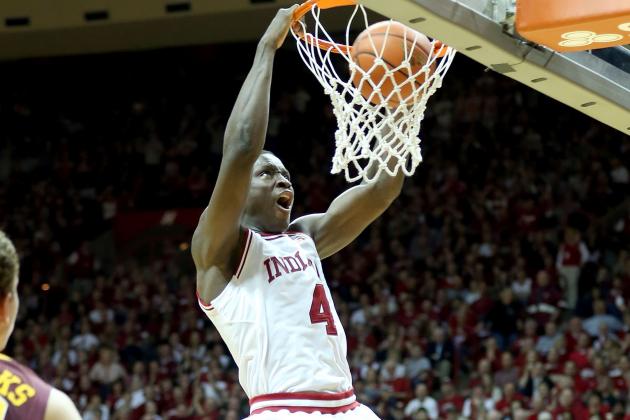 Andy Lyons/Getty Images

Indiana basketball fans are concerned. A surprising home loss to Wisconsin followed closely on the heels of an alarming rally by Minnesota that nearly resulted in another Assembly Hall defeat.
Are the Hoosiers as strong as the No. 1 preseason hype advertised? Yes and no.
According to Ken Pomeroy, Indiana is one of only three teams with both a top-10 offense and top-20 defense. The others are Duke and Florida, both on track to earn No. 1 NCAA tournament seeds.
The downside is that IU players who needed to be battle-tested by now received little seasoning from a non-conference schedule ranking 302nd in America per KenPom.
The question at hand, though, is how the Hoosiers can get back to the top ranking their potential promised in October and earn the tournament's top overall seed in March.
Certainly, it can still be done. Here's how.
All statistics through games of January 20.
Begin Slideshow

»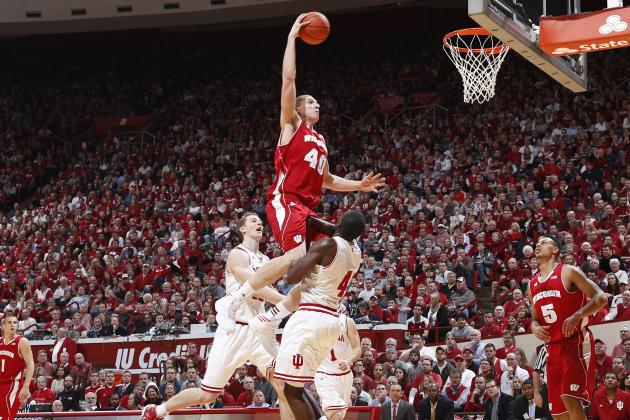 Joe Robbins/Getty Images

The sight of Jared Berggren posterizing Victor Oladipo is a fitting metaphor to describe the surprise value of the Badgers' win over IU. Just like Wisconsin's not supposed to have athletes who can throw down thunderous dunks like this one, this was supposed to be the year that Tom Crean had enough talent on his roster to finally beat Bo Ryan.
As it turned out, not so much.
More talented opponents than Wisconsin will be making the trek to Bloomington. Michigan State and Ohio State still face the Hoosiers twice.
Most dangerous of all will be the visit from Michigan on February 2. ESPN's College GameDay will set up shop at Assembly Hall, bringing its inherent distractions, and one of the country's most potent offenses will test the true mettle of Indiana's defense.
If Indiana is going to reclaim a top seed, let alone the top seed, it must win out at home. Wins over the Spartans, Buckeyes and Wolverines are now essential to bolster the resume.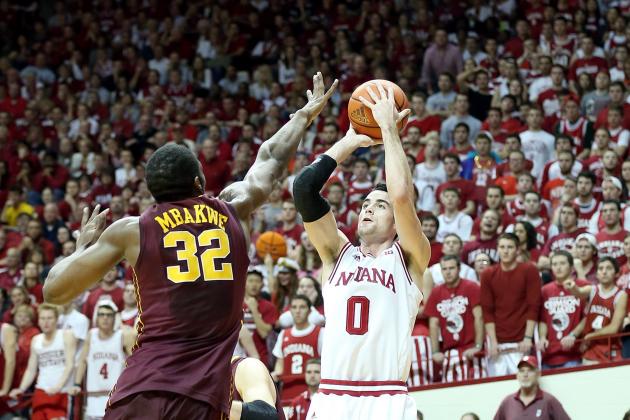 Andy Lyons/Getty Images

Since Big Ten play began, the encouraging early play of men like Remy Abell and the potential of freshmen Jeremy Hollowell and Hanner Mosquera-Perea has largely dissipated.
The Hoosiers have all of 45 bench points in their five Big Ten games, only 11 in their past three.
Veteran sixth man Will Sheehey accounted for 21 points against Iowa and Penn State before being shut out against both Minnesota and Wisconsin. He scored six in Sunday's win over Northwestern, but no other reserves joined him in the scoring column.
The depth of Crean's bench and the talent of the freshman class were supposed to be the element that put IU over the top, but both appear highly suspect at the moment.
Abell still needs to prove his early success wasn't a function of poor opposition, although his double-figure games against Bryant and North Dakota State continue to look better as those teams play well in their respective leagues.
Hollowell and Perea have averaged a combined 11 minutes per game in conference play, and neither looks like he'll be prepared for more in the event of an injury. Perea's NCAA suspension appears to have put him behind in his development, but if he can be serviceable by season's end, he could play a role in March.
The loss of junior Maurice Creek and senior Derek Elston haven't helped, but Elston made his return for a cameo against Northwestern. Creek has made practice appearances without a walking boot and Crean had expressed optimism that he, too, could return against Northwestern. That never materialized, but Creek's return could be imminent.
For nervous Hoosier fans, it's not a moment too soon.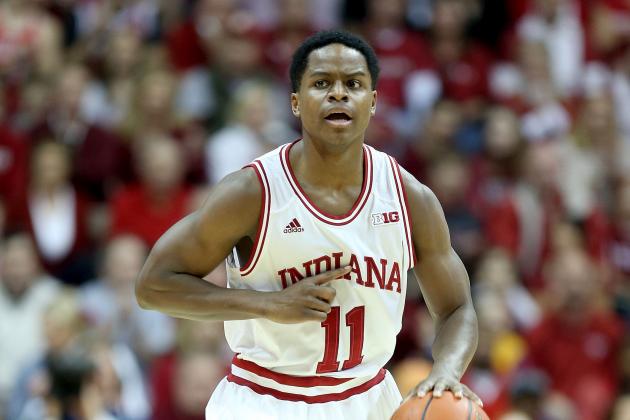 Andy Lyons/Getty Images

Wisconsin dedicated itself to getting back on defense and not letting Indiana's athletic roster get out and run. Butler employed a similar game plan to defeat the Hoosiers in December.
Successful blueprint? Perhaps, if one has the talent and will to execute.
None of Indiana's remaining opponents are as prepared as Wisconsin was to sell out to stop IU's transition game. Still, some will try, and the Hoosiers need to be prepared for that.
Freshman Yogi Ferrell (pictured) has the quickness to break down a defense in the halfcourt, as does Victor Oladipo. Starting off with those players showing some early offensive aggression should make defenses question their assignment discipline and draw some attention away from Cody Zeller inside and Jordan Hulls on the perimeter.
Wisconsin refused to leave Hulls at any cost, and future opponents may try to similarly take him out of the game. Without him, IU's perimeter shooting is inconsistent at best. If forced to choose between allowing three-point attempts from Hulls or dunks from Oladipo, however, which would you choose?
Against man-to-man defenses, the Hoosiers can gain traction by clearing Zeller out of the lane, as well. He's a better transition and face-up player than low-post banger, and most opposing centers' first instincts will be to leave him and defend the rim on a drive. Ferrell can rack up plenty of easy assists if he can exploit those openings and feed the Big Handsome.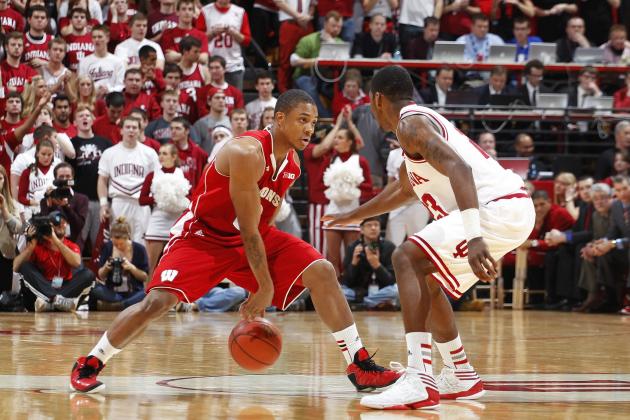 Joe Robbins/Getty Images

Wisconsin's offense was its usual methodical self against IU, receiving a hefty dose of luck on several last-second shots.
According to Statsheet.com's play-by-play summary, the Badgers worked for 30 seconds or more on 16 possessions, with seven resulting in points, either via a basket or free throws. The last one may have been the dagger, even if the video clearly shows Ryan Evans' pivot foot moving a good two feet away from where it was first established.
As mentioned before, few other teams in the Big Ten like to milk the clock the way UW does as a habit. If IU can continue keeping pressure on the ball, however, some possessions will end up that way out of offensive confusion. The Hoosiers will need to maintain discipline and not leave any openings at inopportune times.
This also goes for overplaying and looking for the steal. Indiana's defense habitually feeds its offense, but gambles that went unpunished against Sam Houston State and Coppin State will hurt dearly against Michigan State and Michigan.
Oladipo, Ferrell, et al. will have their chances to pick pockets and start breaks, but it's not something that can or should be forced.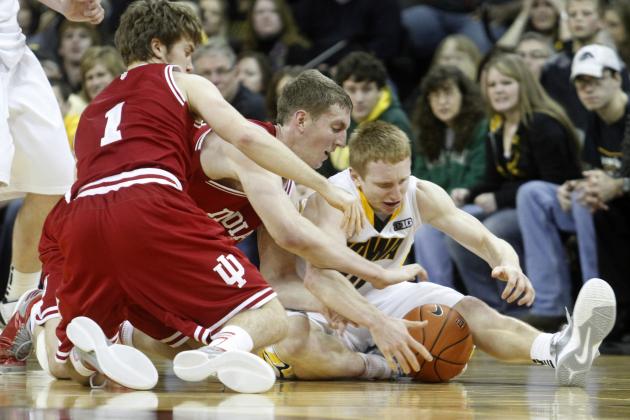 Matthew Holst/Getty Images

Coming off of the Wisconsin loss, Indiana should have been motivated to blow Northwestern off the court on Sunday. For 20 minutes, that appeared to be the case, but the Wildcats clawed back to within five points in the closing minutes.
There are games that any team, no matter how talented, would like to win, and then there are games that a talented team must win.
The Hoosiers have all the most brutal matchups (Michigan, Michigan State, Ohio State) still to come, but they can't look past any of the lesser opponents littering the road.
Games remain against Penn State and Nebraska, plus Iowa at home. After narrowly surviving the conference opener in Iowa City, the Hoosiers know what the Hawkeyes can do, but they must avoid looking at the others as mere rest stops.
Then, there's Purdue.
If it's possible for the annual meetings with Purdue to be trap games, it's this season. Both in-state battles against the unheralded Boilers precede IU's games against the Michigan heavyweights. The Hoosiers travel to Mackey Arena three days before ESPN invades Bloomington for the Michigan game.
Purdue has no problem serving as a trap game, as long as it can watch Indiana fall in.
At this point, any loss to an unranked opponent would be fatal for IU's top-seed aspirations.
For more from Scott on college basketball nationwide, check out The Back Iron (now on CollegeBasketballTalk's #NBCMustFollow College Hoop Directory).